Managing marketing projects involves many moving parts. Whether you're defining timelines, prioritizing tasks, determining goals and metrics to measure by, and more, it is crucial to strategically plan your marketing projects in order to successfully complete them.
In this guide, we'll explore various tools, tips and tricks to ensure that you are on the right track to managing your marketing projects in an organized and efficient way. Let's dive right in!
Use a template to easily get started
To help you seamlessly get started with managing your marketing projects, check out our pre-made templates! Throughout this guide, we'll explore the "Marketing Plan" template board, as well as views, automations and more that you can find pre-set in this template which you can customize to your own liking.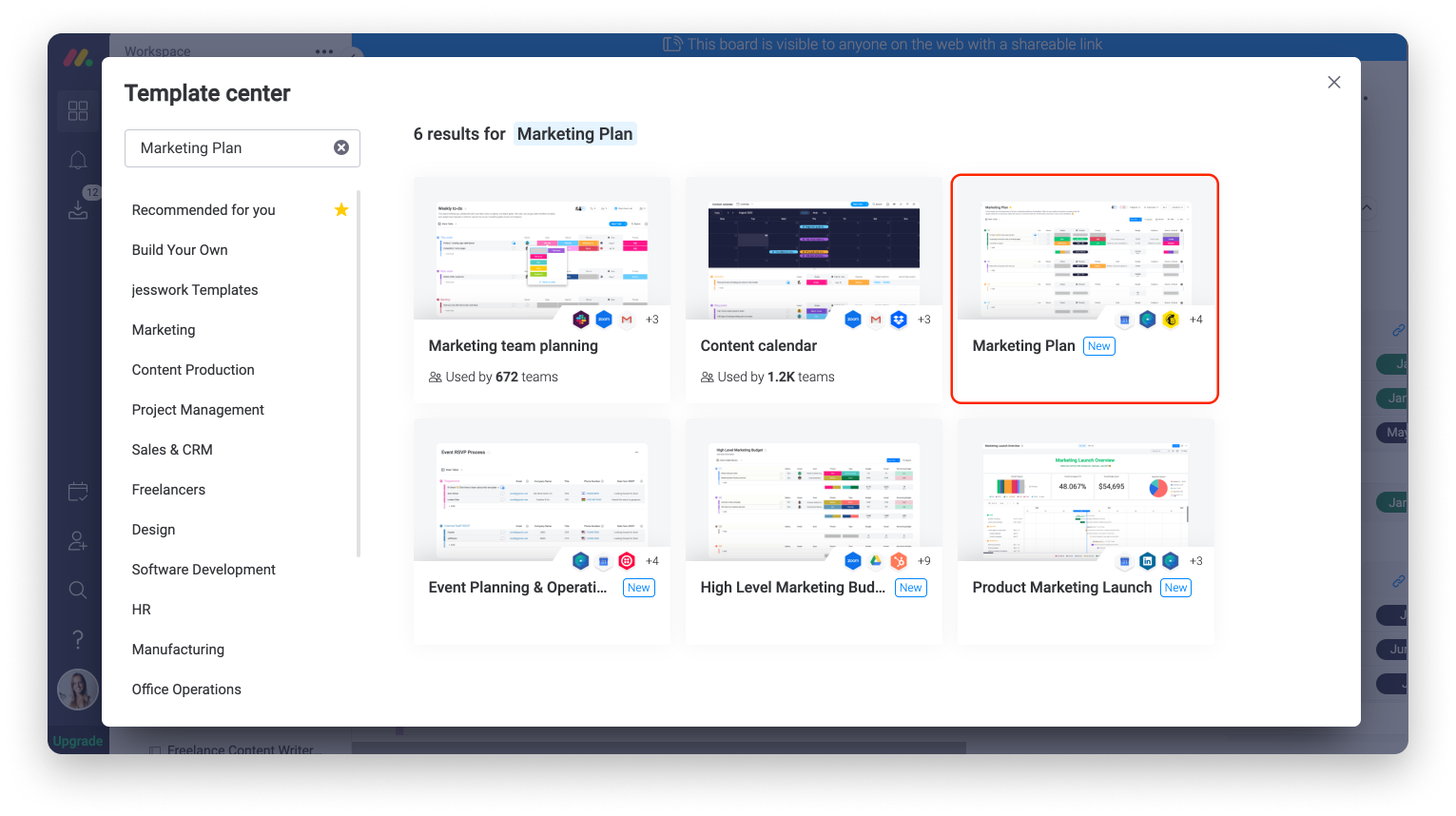 Marketing plan board
The marketing plan board template is the prefect basis to begin strategically planning your marketing projects and to create a high-level plan for the year ahead together with your team. With this board in place, you can plan your budget, identify and select your audience, set goals and metrics to measure by and ensure that you are reaching your deadlines all together at once!
How this board is structured
Groups: the groups on this board represent the quarters which each marketing project will take place in. As with every monday.com board, you can change the group titles to reflect any relevant information you need whether it be weeks, client names, the phase in which the project is in and more!
Items: in this workflow, the items represent the various marketing projects that are running or being worked on.
Columns: The columns on the board help each marketing project come to life by allowing us to visualize various data points that we are looking to track in our projects. You can really get creative with the column types that you choose to use here!
Use subitems to zoom into project details
On this board, since each item represents a high-level project, we chose to utilize subitems to provide us with the lower-level details that we need to see within each one. For instance, for our competitor analysis project, we are working on multiple different tasks such identifying the competitors, evaluating the UX/UI of their websites, graphing out the marketing position and more, in order to complete that specific project: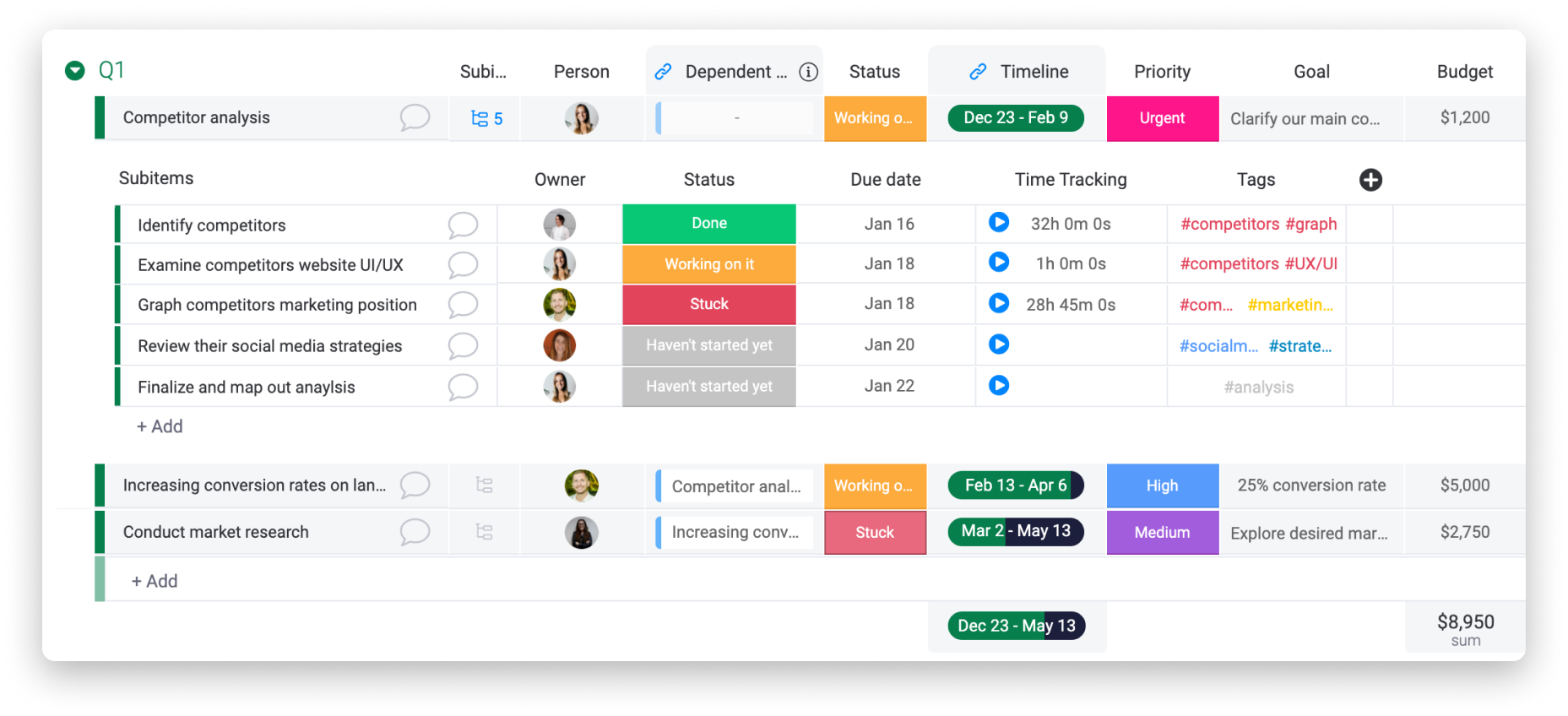 Tip: Subitems can be customized to have a different column structure than the parent items on the board, allowing you to display any project details that you need!
Furthermore, through the column settings of nearly any subitem column, you can choose to set up an aggregated view of that column directly within the parent item. Doing so will allow you to see summarized, low-level subitem details at a glance!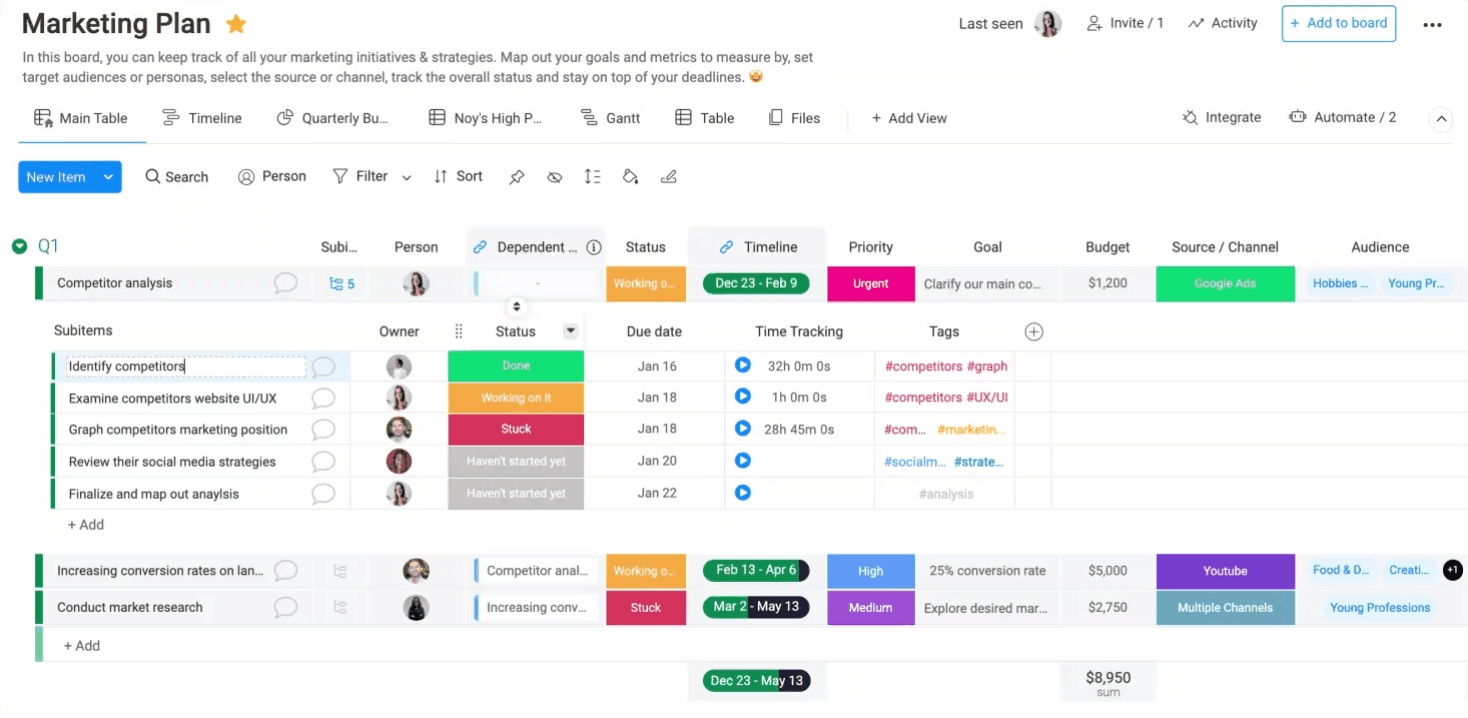 Focus on important project parameters
Within any robust workflow, it can be really useful to extract specific pieces of information in order to better understand certain areas of the data that you are needing to see. For this reason, we decided to filter our board to get a clean view of specific parameters of our projects.
For our workflow, since we are looking to see all of the marketing projects taking place in Q1 or Q2 with an "Urgent" priority label, we've defined the advanced filter as so: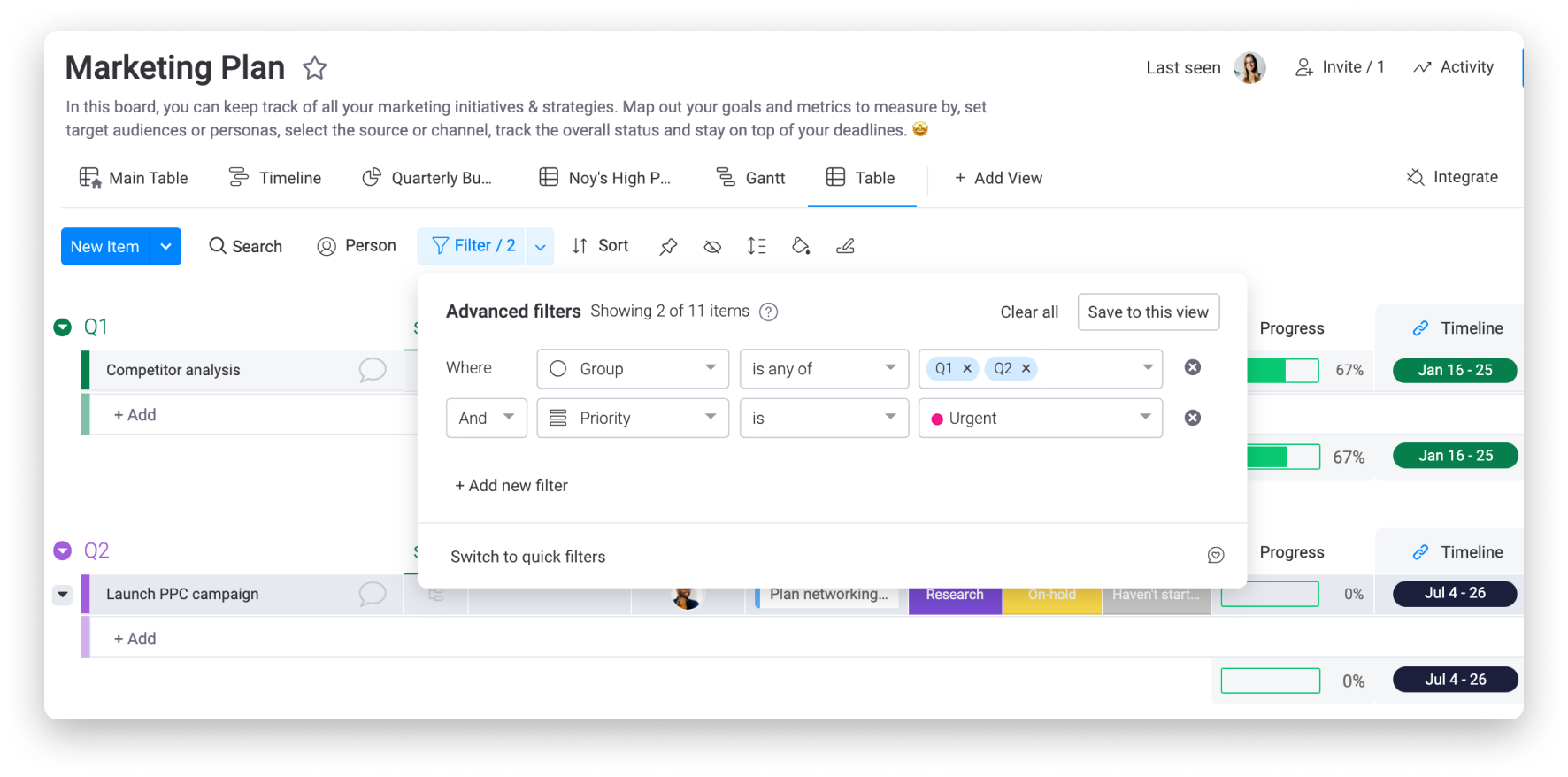 Tip: You can save a filter as a "new view" onto your board for easy access in the future. To read more about the board views, check out this article.
The Board Views transform the data on your board into customizable visual displays, allowing you to understand and work with your data in the ways that you wish! We've added a few different views to our board so that we can display our project data in multiple formats.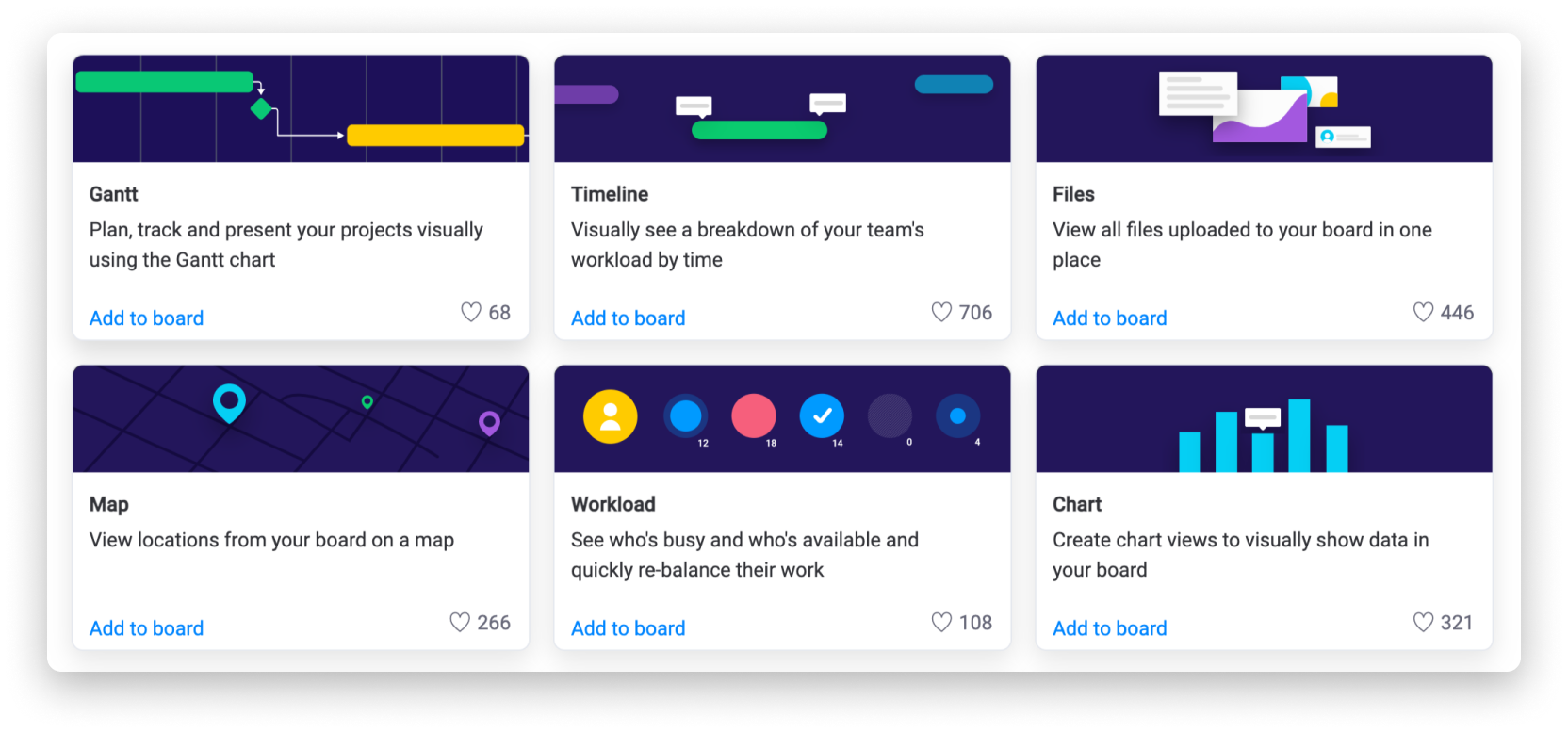 Using the Gantt View to bring project durations to life
When managing multiple marketing projects that are all dependent on each other, it is super important for us to be able to easily oversee the timelines of our projects in a robust, high-level view and to visualize the relationships between each of our projects as well. For this reason, we've chosen to add the Gantt View onto our board as it works together with our board data to provide us with a clear, colourful, and organized visualization of our project plans: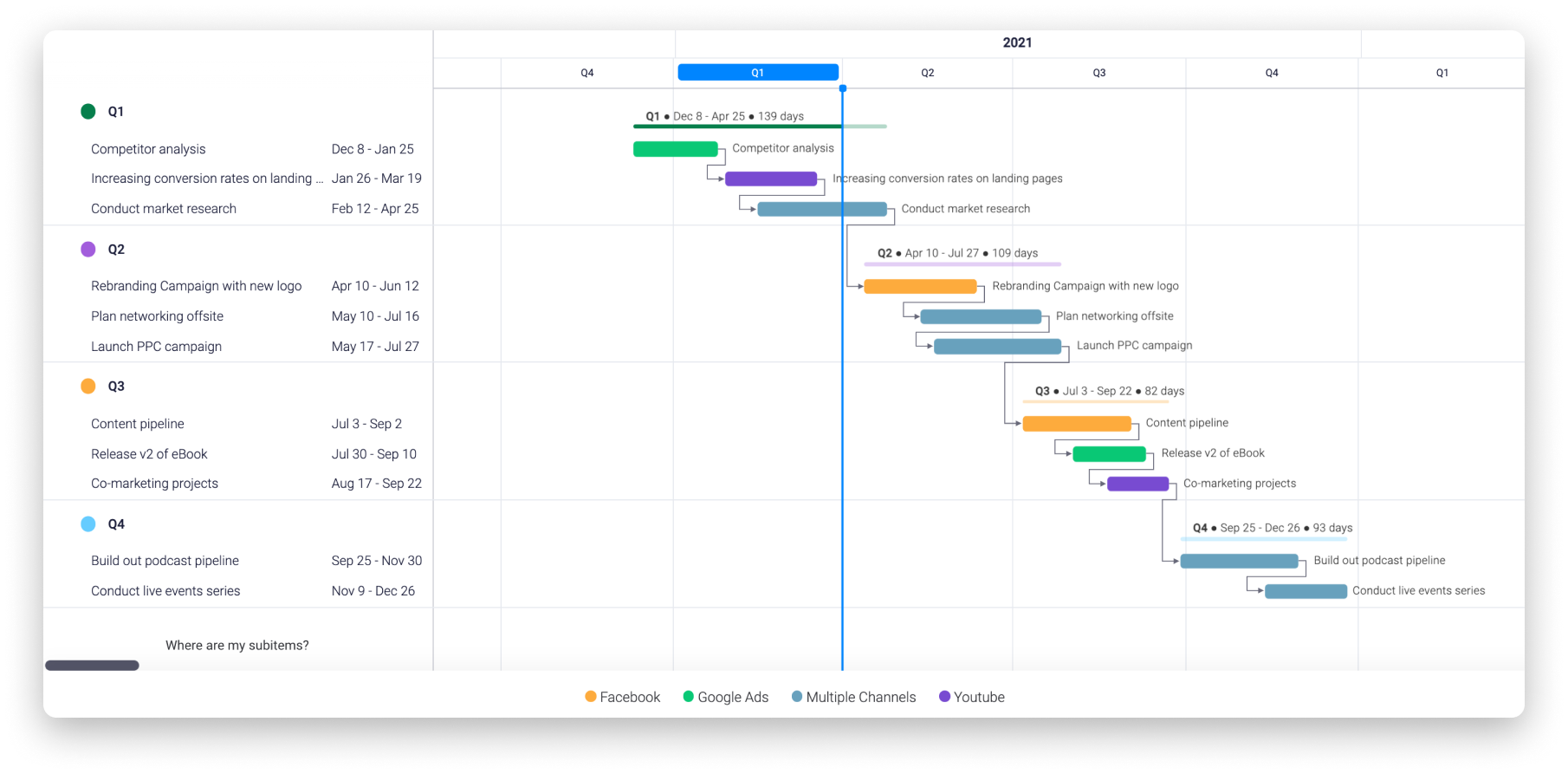 By using this view, we can gain a clear overview of our planned and running marketing projects in relation to one another, organized according to what we are looking to see.
Since we wanted to easily understand the projects running for each quarter and the source or channel that they take place in, we've grouped the Gantt according to the groups on our board (i.e. the quarter that each project is in) and labelled it according to the "Source/Channel" column. Additionally, we chose to display dependencies so we can understand the relation between each project, defined through the dependency column, at a glance. 🙌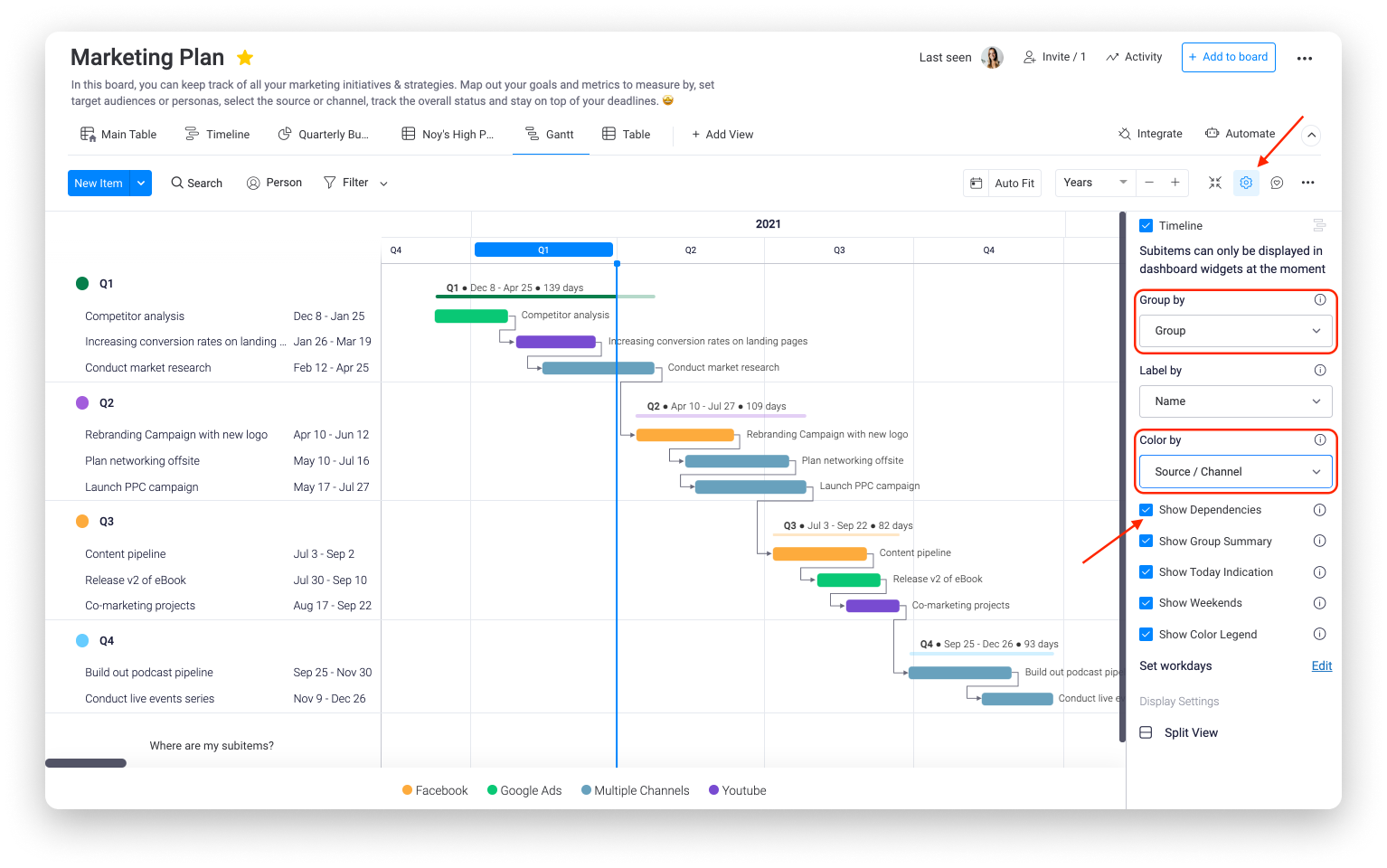 Analyze project data with the Chart View
The Chart View converts the information from your board into a custom-made graph, providing you with a visual breakdown of board parameters that you need to see. By having this view in place, our team can then analyze the breakdown displayed in order to make necessary and informed decisions regarding the marketing projects that we are running!
For our workflow, we're looking to see a breakdown of the budget allocated to our projects per quarter that they take place in. To display this, we've configured the chart settings as so: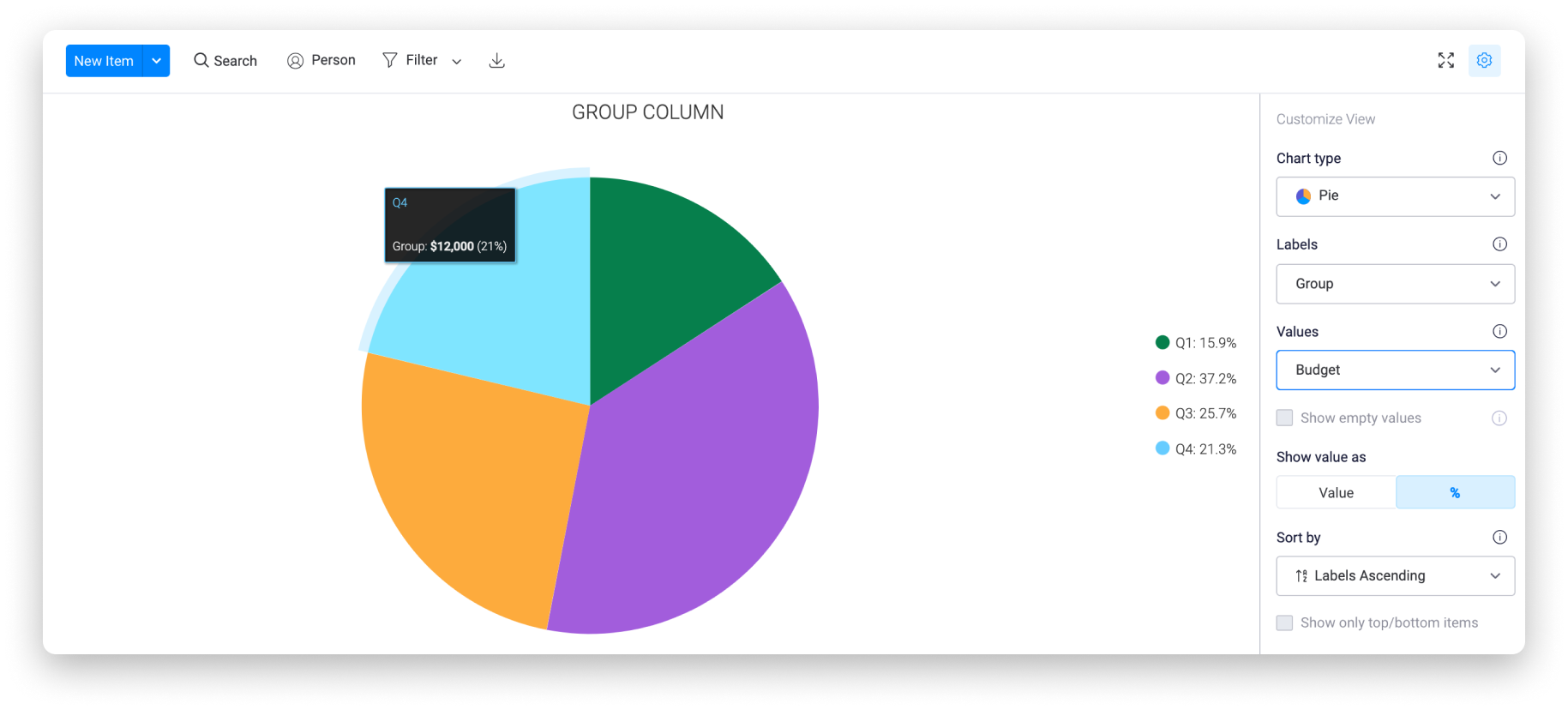 By having this graph in place, we can easily understand how our budget is distributed amongst our projects in order to help make any necessary adjustments moving forwards!
Centralize project files
Running multiple projects often means that there are lots of files to manage as well. For this very reason, we offer the Files View which allows you to consolidate all of the files from your board into one gallery-like overview, making file management a breeze.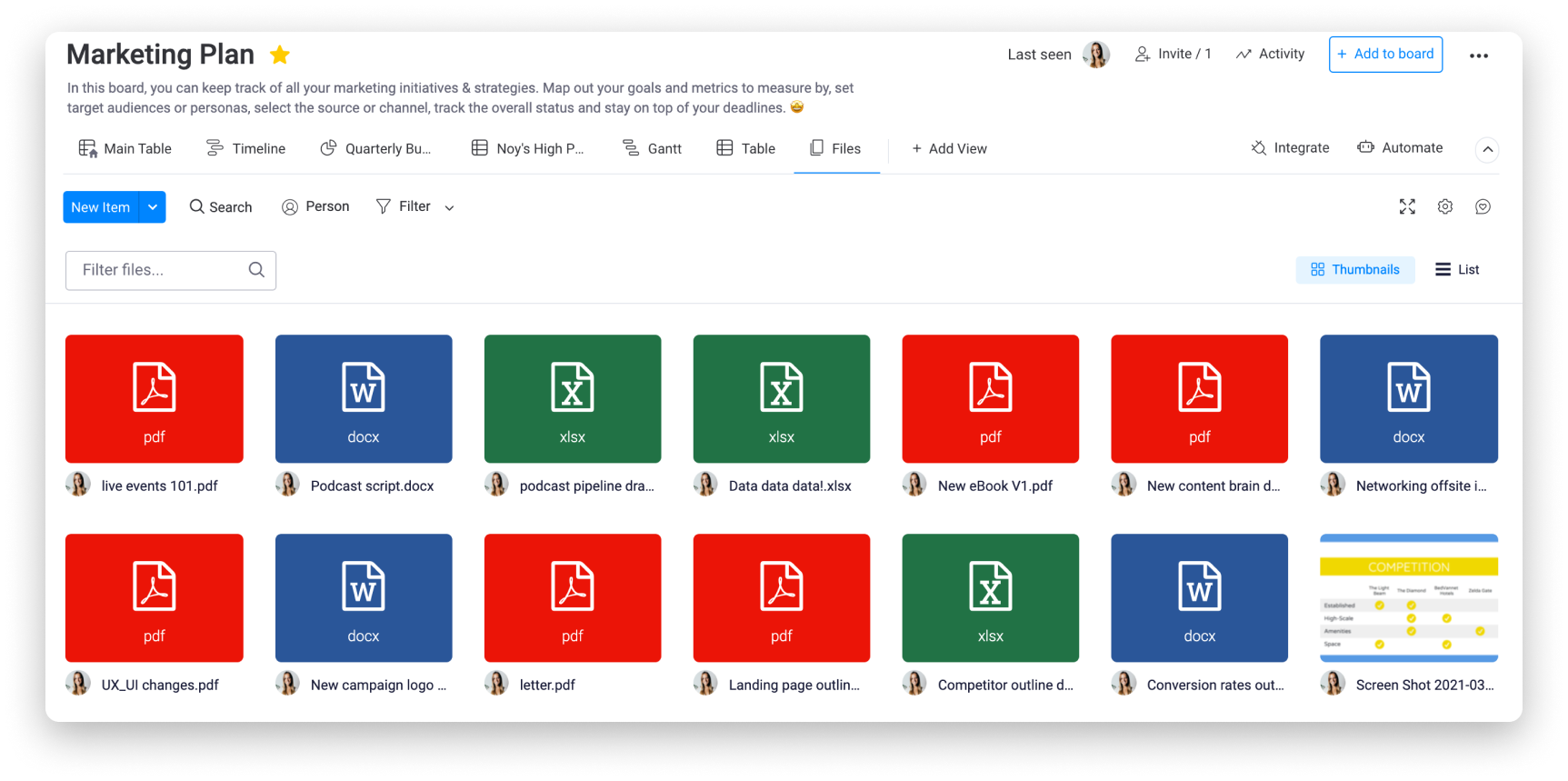 This view is perfect for our workflow so we can preview and access our files easily without having to search through our board or other platforms that they may be stored in!
Automate it!
While working to complete complex projects in tight deadlines, reducing any tedious work can be a great time saver! To make your life a little easier and to cut down on manual work that you do, check out our monday.com automations. For our workflow, we chose to add a couple of different automations:
Using the below recipe, we can automatically start and stop our subitem time tracking column without having to worry about pressing the play or pause button!

For our next automation, remember the dependency column we've added and the relationships that we set for each of our items? Well, for our workflow, we'd like any changes in our project timelines to automatically be reflected in the dependent item timelines as well. To achieve this, we've gone ahead and added in the following dependency automation so that each item's timeline can be adjusted according to the changes made in the item that it is dependent on!

Now, when needing to make any date-related changes directly from the Gantt view, we can simply adjust a project that has been delayed and sit back while all of the dependent dates shift accordingly - amazing! 🤩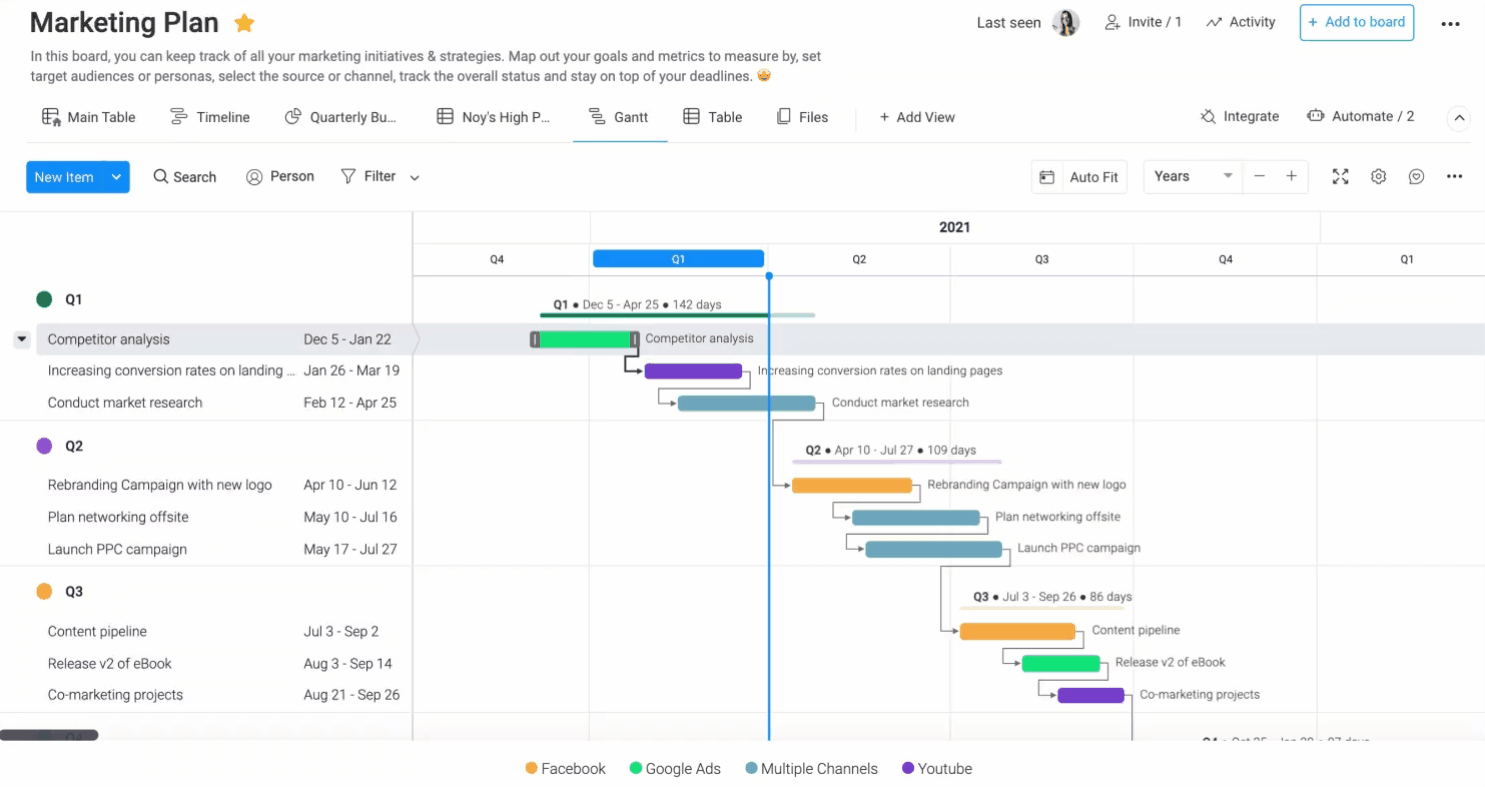 Integrate with other platforms
With integrations, you can connect your favorite external platforms to your monday.com account and board in the click of a button. For our marketing plan board, we chose to incorporate the below integrations to help streamline various processes and to take our workflow up a notch!
Email integration to keep relevant stakeholders in the loop
For each of our marketing projects, we have at least one important stakeholder involved, indicated on our board through the Text column called "Stakeholder(s)". With this said, it is imperative for our workflow that each stakeholder will be updated on important project progress or milestones right away. To help automate this, we've added in the below Gmail Integration recipe onto our board to instantly send out an email to them with any relevant project details, as soon as a project has been marked as "Done"!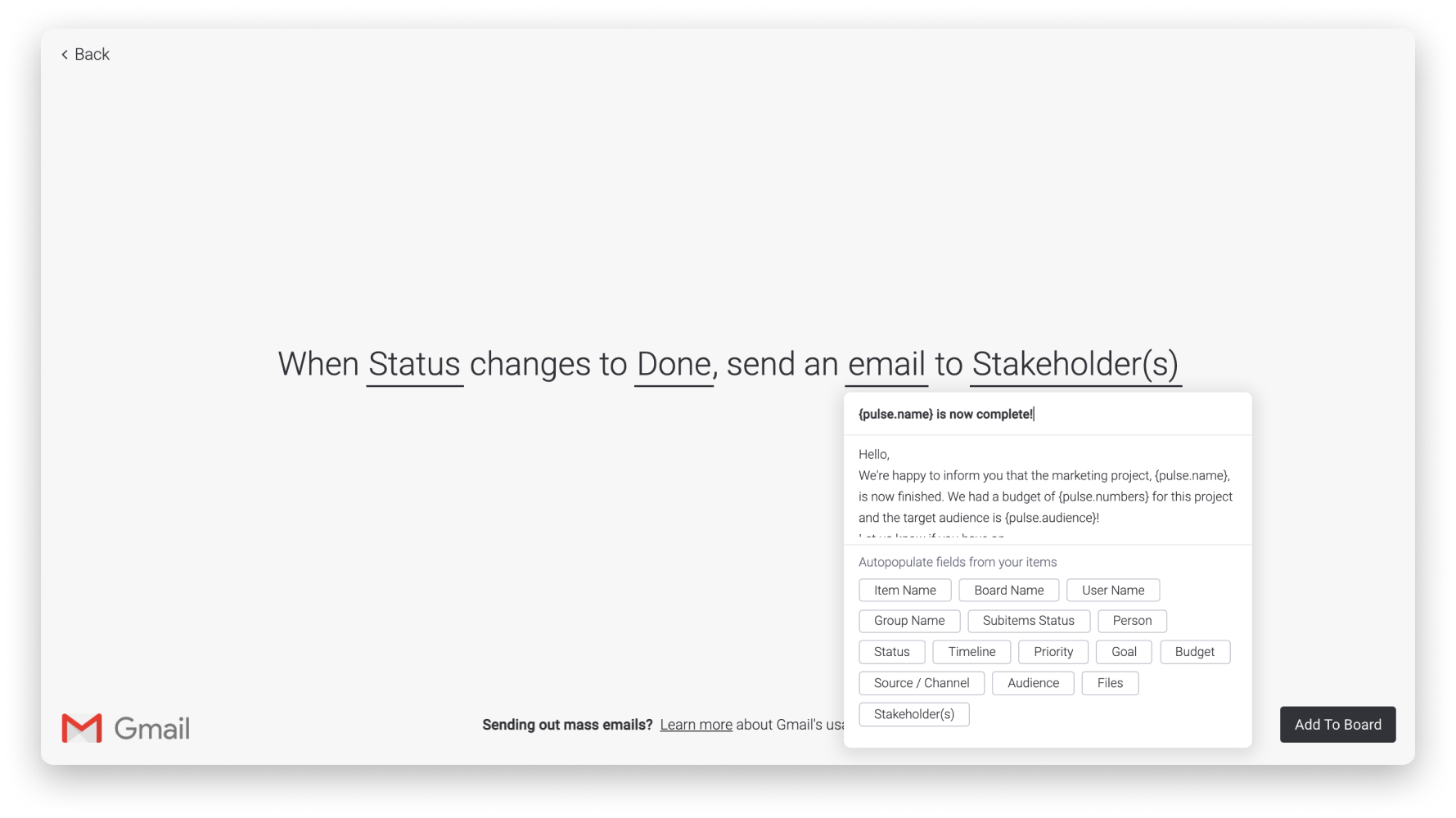 Tip: By selecting specific fields under the email editor, each email will be auto-populated with the specific column details from the item that triggered the integration, allowing us to personalize our emails in a breeze!
Mailchimp integration to automatically sync contacts
As a marketing firm, we often use Mailchimp to run campaigns or other marketing-related processes. For this reason, we chose to add in the below recipe onto our board so that every time a new stakeholder is added to our board, a new contact will automatically be created in our "Marketing List" audience within Mailchimp: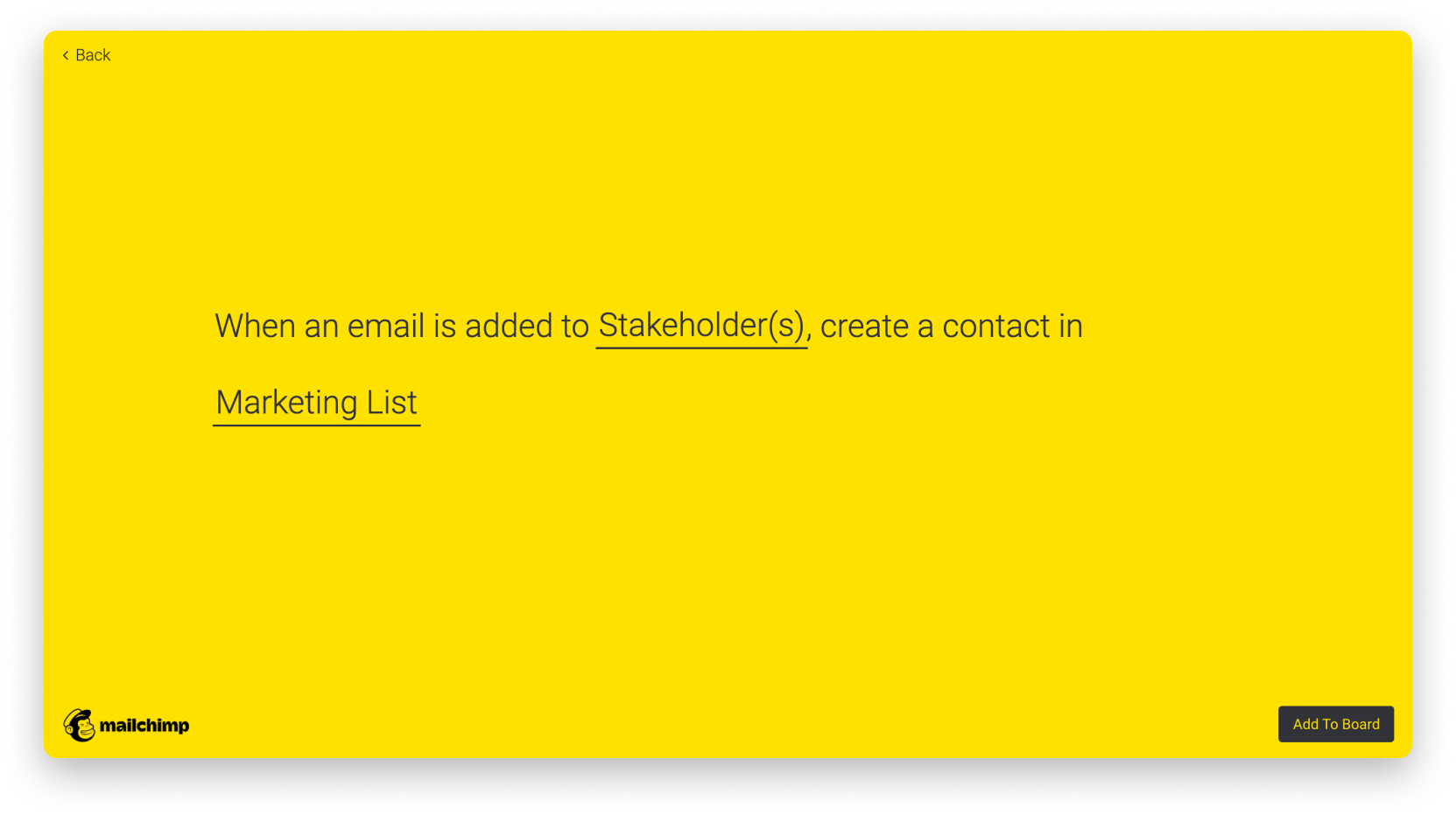 By having this integration in place, we can ensure that the email address of any new stakeholder will automatically be added to our Mailchimp audience so that they can be instantly included in our upcoming campaigns if necessary!
Note:
You can really elevate your marketing workflows in many ways with the various Mailchimp integration recipes that we offer! You can read all about this integration
here.
Use the dashboards to create reports and analyze project data
And finally, to get a clear and visual overview of all our marketing project data aggregated into one place, we've created the below dashboard loaded with apps and widgets!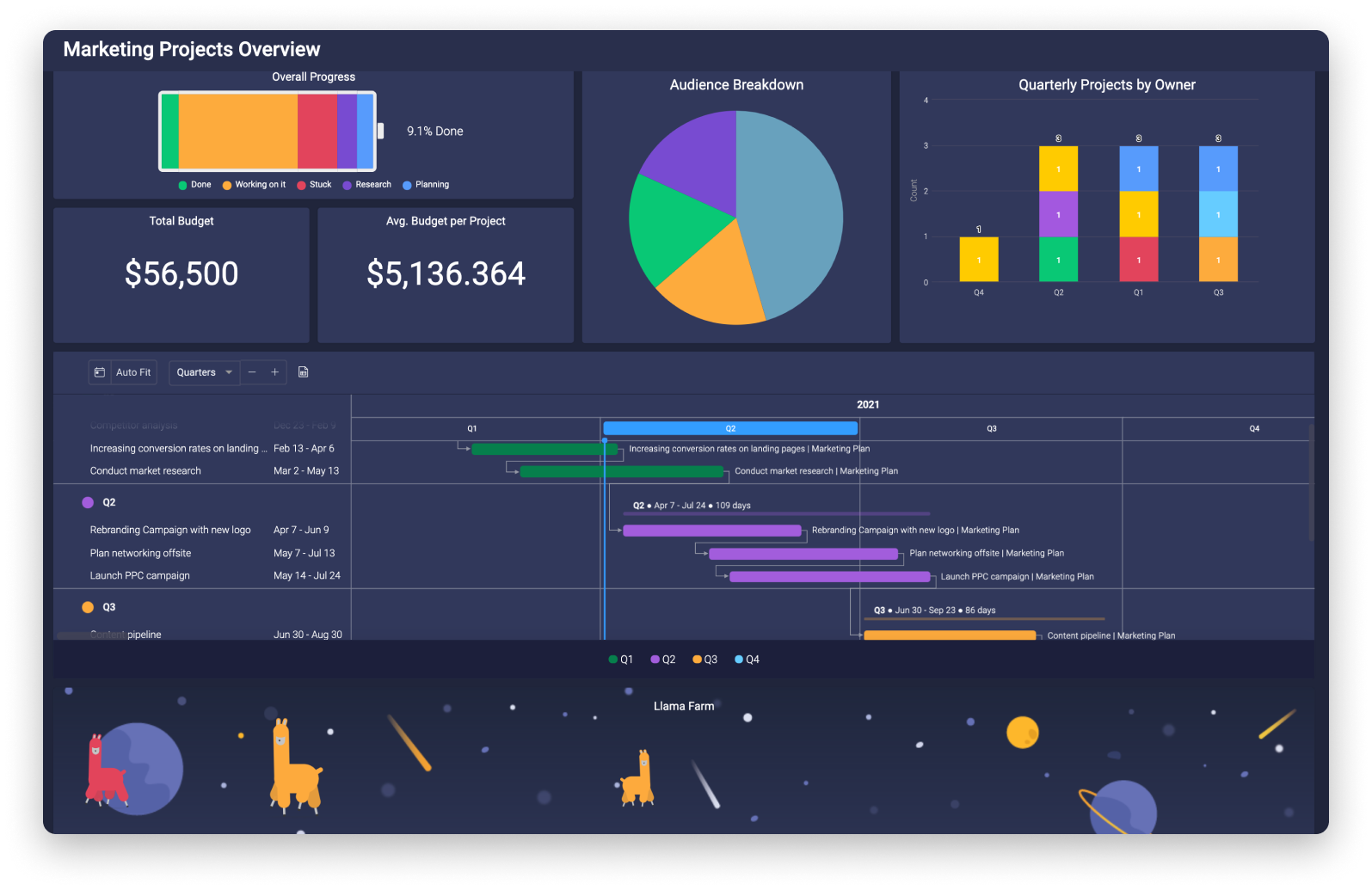 Tip: Dashboards allow you to pull in data from multiple boards at once! While we only connected the "Marketing Plan" board here, you can use the dashboards to summarize data from several boards in one place.
Let's check out a few widgets that are useful for our marketing project reports:
Have fun with it!
These boards, views, automations and more are intended to be a starting point to help you get started on the right foot with your workflow! You can use these exact boards if they're right for you, but don't be afraid to experiment and test out all of the amazing features on monday.com! Make sure to check out other prepared templates and explore the Columns Center to see all of the ways you can use columns as building blocks to build out your own unique board! You can also customize your own automations, enable loads of integrations, and pull in data from multiple boards into high-level dashboards to really connect the dots in your marketing workflow. 🤩
If you have any questions, please reach out to our team by using our contact form. We're available 24/7 and happy to help!