What is a Roadmap?
Everyone loves a great project roadmap - a concise, clear and simple high-level view of how a process is coming along. Roadmap's are great for displaying major goals and desired outcomes as well as an anticipated completion date. Wouldn't be great if you could share major milestones with everyone in your organization or even your customers? With a roadmap, you'll be able to in no time!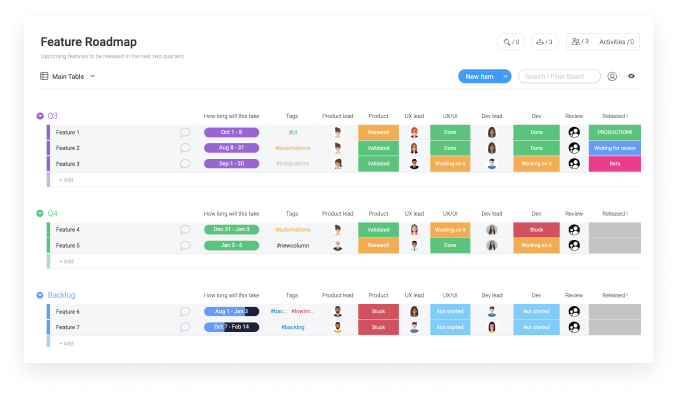 Who uses it and why?
Feature roadmaps are created by product teams with the ability to share with important internal team members and external users. It's a great way to communicate what new features are currently in progress and when they will be released. Let's start building out your board!
We've provided a 5 step guide below to show you how to create a Feature Roadmap!
How to build your Feature Roadmap in 4 Easy Steps
Step 1 - Get started by adding one of our predesigned templates
You can use the Features Backlog or Start from Scratch to build your Board, then customize it to best fit your teams' needs!
You can also check out this monday.com story that we've created especially for you, and add it directly to your board.
Step 2 - Customize your board
Start by creating your board, then listing out all of your company's long term projects. You can organize your projects however you like using groups and items. Add a few status columns and you've really got a process coming to life here!
On our Feature Roadmap board, we've divided each group by quarter. This way you can keep an eye on releases across the year and can easily communicate with internal stakeholders and users about upcoming release dates. You could also group them by type of feature, priority or product leads. You can customize it to make it work well for you and your team!
Columns help ensure that we have all the relevant information in one place for each feature and to ensure that we're moving through the process of product management, UX design, and final development and review. We also want to make sure we know who is assigned to each individual step of the process. We have over 20 different columns allowing you to customize your board.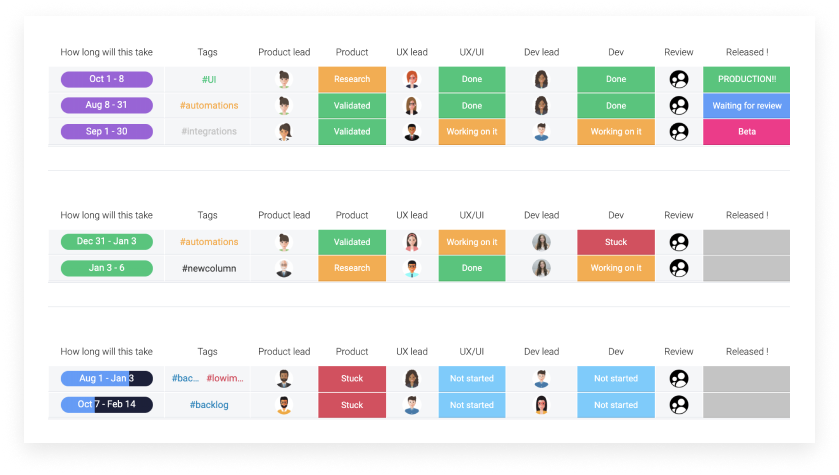 People Column: There are going to be many teams involved along the way from multiple teams such as: Product, Development, and UX. The people column allows you to assign each team member, making it clear who's responsible for what part of the process! Adding multiple People columns allows members across teams to communicate and interact when needed.
Tag Column: In order to keep track of what areas of our software we are adding features in we can use the Tag column. This is a great way to add hashtags and track the number of features you add within a certain area. For example, at monday.com we have a lot of upcoming features within Automations and Integrations. Now, we will be able to search across our account by using these tags.
Timeline column: The Timeline column makes it easy to see how many days or weeks a feature will take to be developed. If a start or end date changes you can easily click on the beginning or end of the Timeline bubble to adjust the date. In this case, I am extending the deadline for Feature 1 from October 8th to October 18th due to an unforeseen delay.
Step 3 -Track progress visually
If you're looking for a more visual way to see the progress of your roadmap, consider adding a chart view to complement your board. Whether you're using a bar graph or pie chart, this will make it easier to see a rollup of all statuses on your roadmap.
Step 4 - Add an automation to alert the next team member to get started on the next feature
When each step of releasing a feature gets completed, you can automatically alert the next team member that they can start the next step in the process to release this feature.
For example, when the product team has validated the feature, we want the UX lead to be alerted that they can begin design.
Now, the UX Lead will get the above notification as soon as the Product Lead changes the status to validated!
Embed your roadmap
We can now embed roadmaps into other sites if you're looking to share it to the world! Take a look at how to share and embed your roadmap by using our share views
Anyone with the shareable URL can access your board via a web browser. That's pretty cool!
Why is having a roadmap so important?
Whether you're in need of a nifty way to share your teams milestones or just need to keep everyone on track, roadmaps can help to keep your team on the same page. They promote deep thinking and explain the trajectory of a project so that everyone is clear on the communal progress and aware of tasks to come.
By following these quick steps, you're all set and ready to get started using monday.com to manage your Feature Roadmap! If you have any questions at all, feel free to comment below and we will be happy to help you!
If you have any questions, please reach out to our team by using our contact form. We're available 24/7 and happy to help!