The Updates Section is where you can communicate and collaborate with all your team members and collect important details of your item. Every item on your board has an Updates Section, where you can discuss the item and upload important files and relevant information! Keep reading this article to learn about everything you can do with the Updates Section!
Updates allow you and your team to communicate social media style inside an item, keeping all the conversations about a specific task or project in the same place and in context. This section is for the dynamic communication between your team and yourself. Below is a list of all the things you can do.
By '@mention'ing a person or, if you have created teams in your account, '@mention'ing a team, you will ensure that the right people see your update. Team members receive a notification in their notification bell when they or a team they are a part of are '@mentioned'. You can even @mention or 'everyone on this board' or 'everyone on this item', which will notify all subscribers of an item, the creator of an item, or all people assigned to the item in the People Column.
To @mention, simply click the "@ Mention" button, or type the "@" symbol and select a team or team member from the drop-down menu.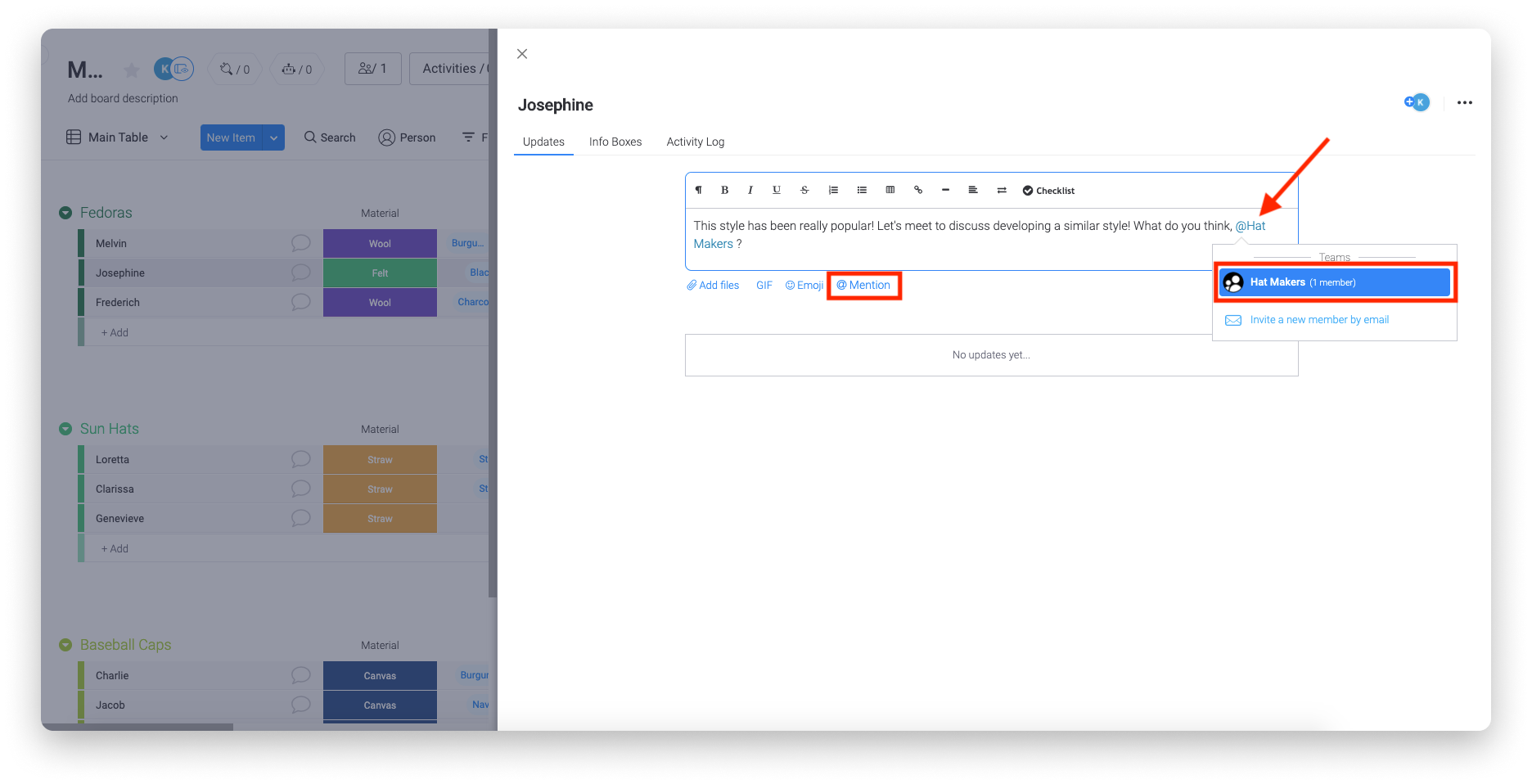 Note: When using the "@everyone" mention,
only users who are subscribed to the item or subitem will be notified. I
f you are subscribed to the subitem only, you will not be notified of item mentions.
Team members can give your update a thumbs up, or reply with GIFs, files, emojis, and @mentions! You can see who has seen an update by hovering your mouse over the eye icon under your update.
You can find out more about communicating with your team using monday.com here.
Note: At this time, you cannot recover deleted messages from the update section or info boxes.
You can format your text will all kinds of special effects and colours! Underline, bold, or strikethrough your text! You can even change the colour or highlight of your text, like we did below: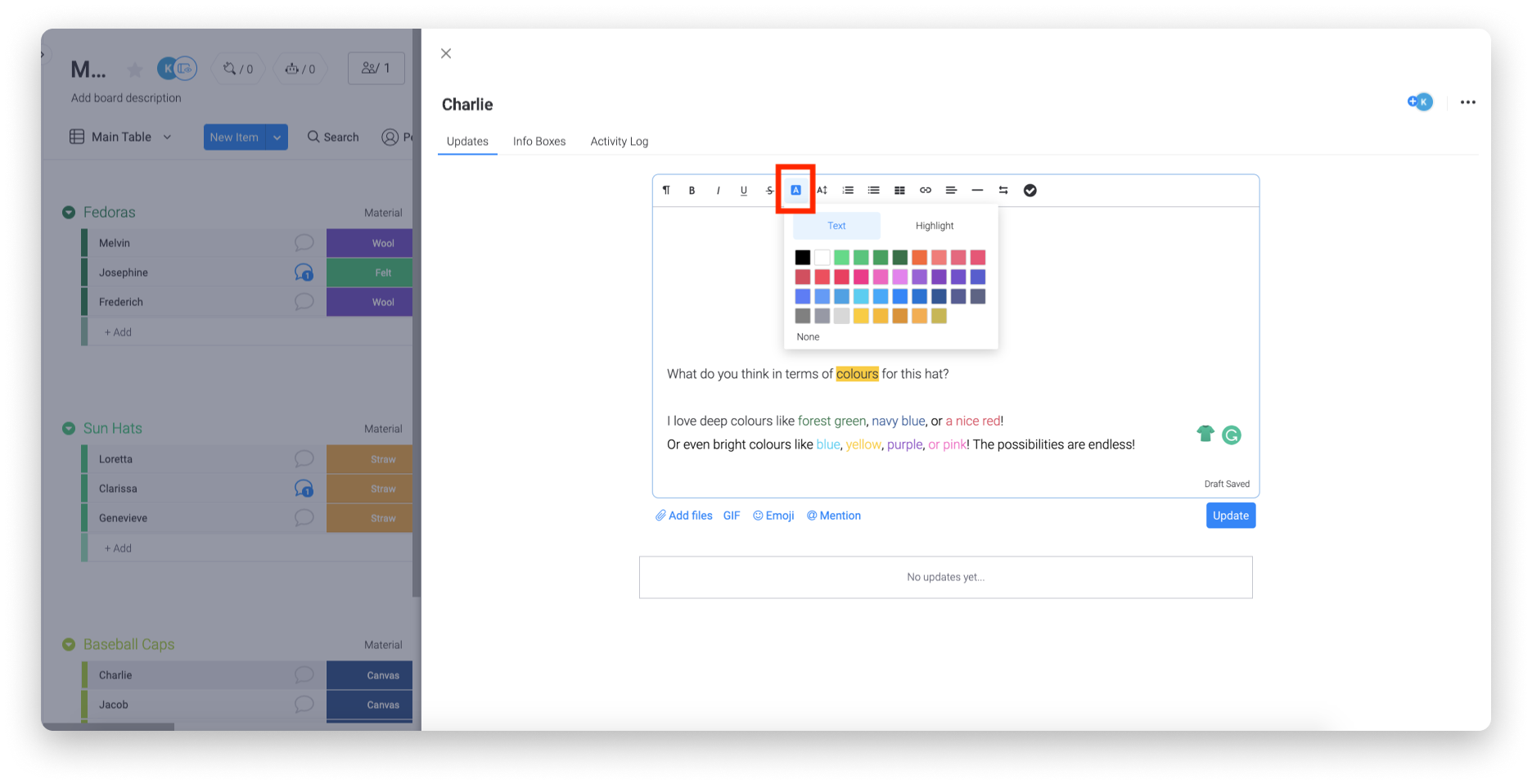 Don't forget about the size of your text, for when things need a little emphasis!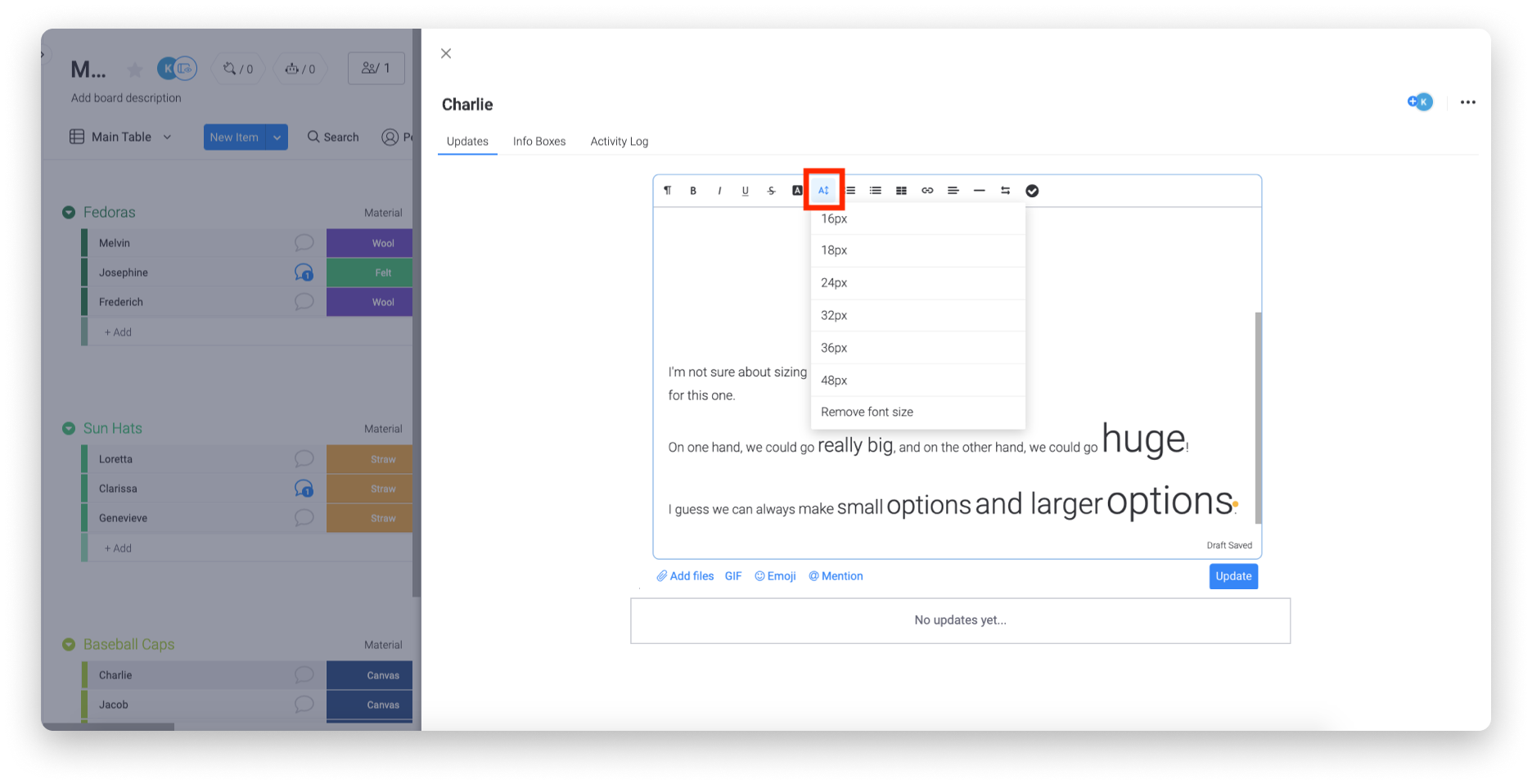 Add dynamic GIFs and images to your updates and update replies! Throw in some emojis to punctuate your updates with some flair!
You can copy and paste an image from your clipboard right into your update anywhere you want within the text! If you want to move it around, you can just drag it to the right spot within your update!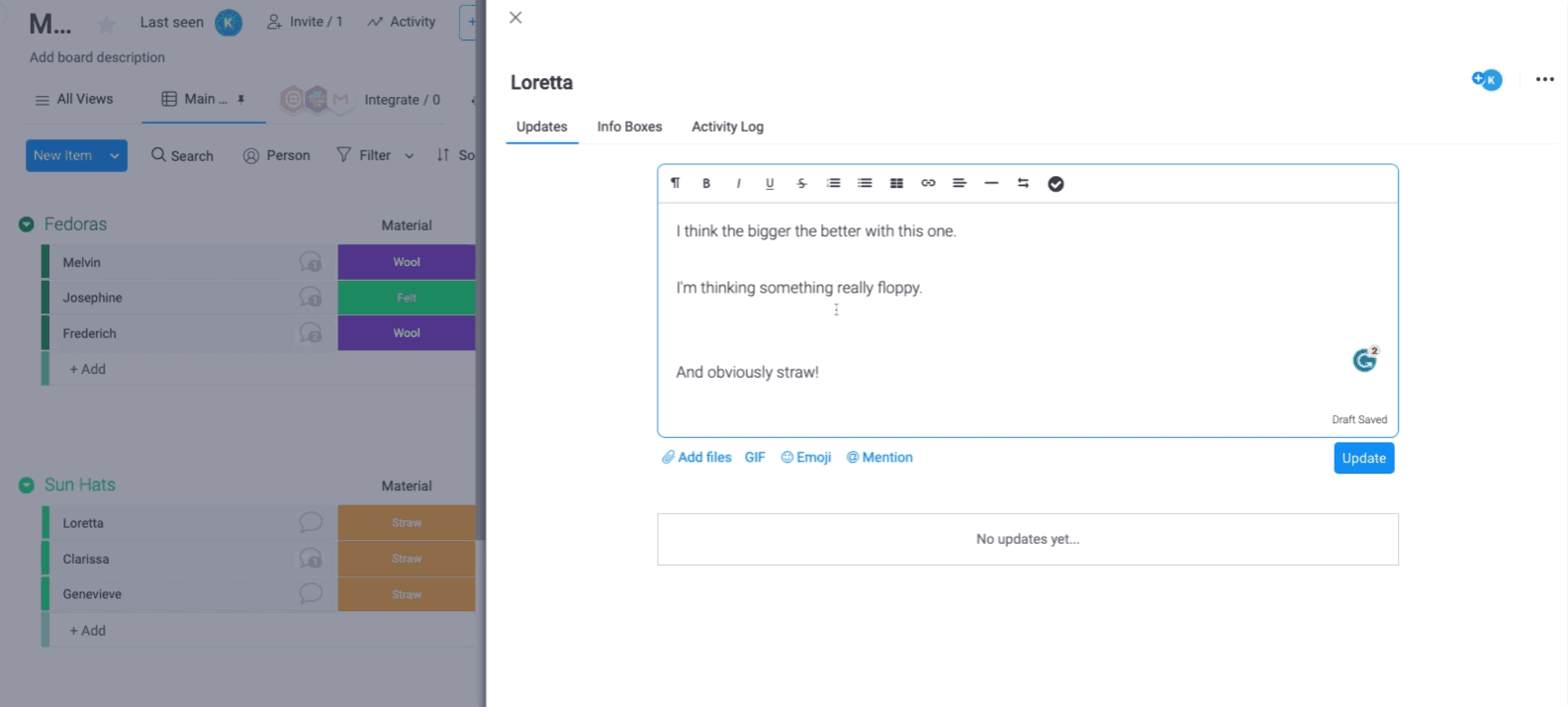 Want to resize the image? Hover over one of the corners until you see an arrow and just drag it to resize!
You can upload documents from your computer, Google Drive, Dropbox, or Box.com into an update or reply. Just click "Add files" and select the source!
Once the file is uploaded, a large downloadable preview of the document will be shown!
You can add a checklist into an update to add another layer of information to your items! Click "Checklist" to import the checklist structure. When you've completed a task, you can click the bubble to check it off your list!
Tip: No need to edit the post, you can check things off your list while simply viewing updates.
Do you have an update that you need to be reminded of later in the day? Are you busy in a meeting now, and want to have a notification about a certain update later on? To set a reminder for an update, simply click on the bell icon at the top right of any update and select the time in which you'd like to be reminded of it.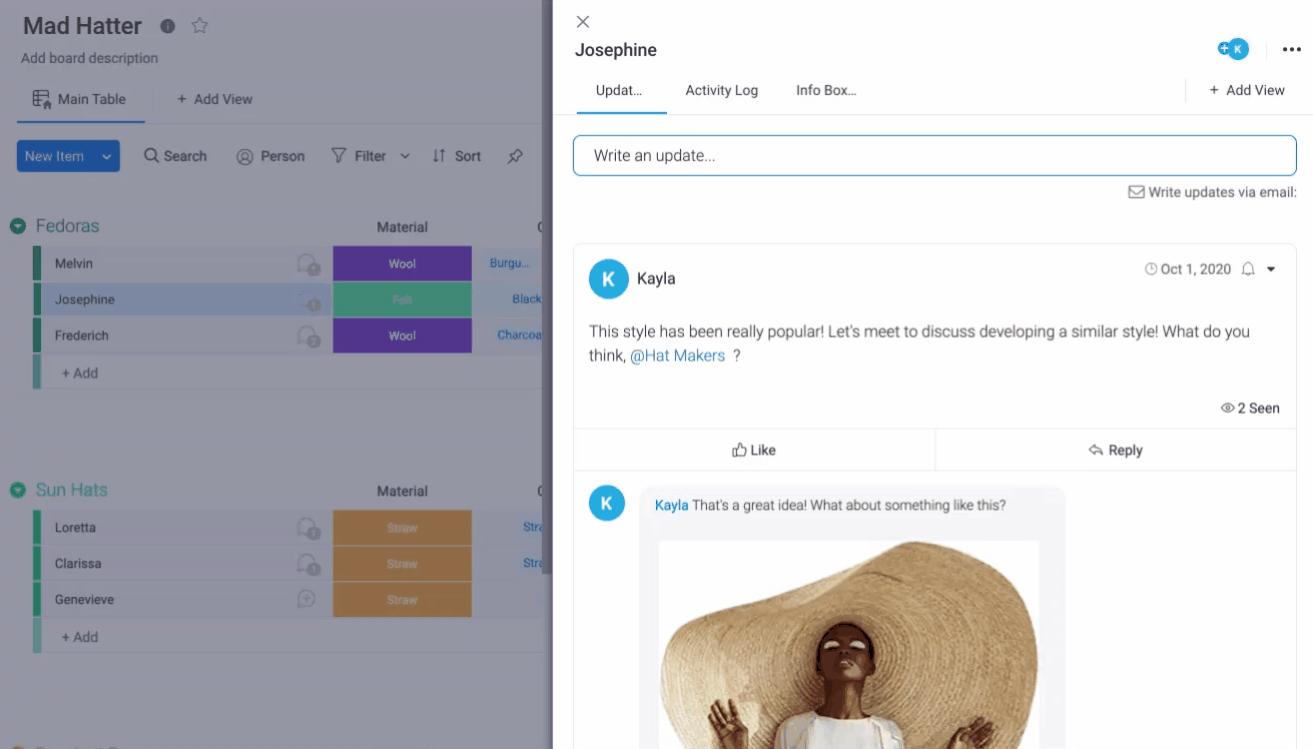 As soon as that time frame is up, you'll receive a bell notification reminding you of that update!
If you need to keep one particular update at the top of your updates feed, all you need to do is pin it to the top! Once you pin the update, it will stay there, even as your team continues to add more updates to that feed. Just click the arrow at the top right corner of the update and select "Pin to top", like this:
Like an old school thumbtack board, you can bookmark an important post to refer to frequently! Or think of it as a "favorite post." Just click the arrow at the top right corner of the update and select "Bookmark", like this:
Once you bookmark your post, you can find it in your Inbox.
Share updates
If you want to share an update with someone who isn't a member of your account, you can send it by email! Just click the arrow at the top right corner of the update and select "Share update", like this:
Next, just type your colleague's email address into the pop-up window and hit "Send"!
You may have noticed that some of the update icons on your board are grey, while some appear blue!
Whenever an update is grey, it means that no one posted any new updates for more than 7 days. When your update icon is blue, it means that this item has updates that have been posted within the past 7 days. This way you can keep track of which items have recent activity, and which have been quiet lately.
Additionally, you may have noticed that the update itself is outlined either in purple, red, or without a color. The color shown here goes according to the board type that the update is on!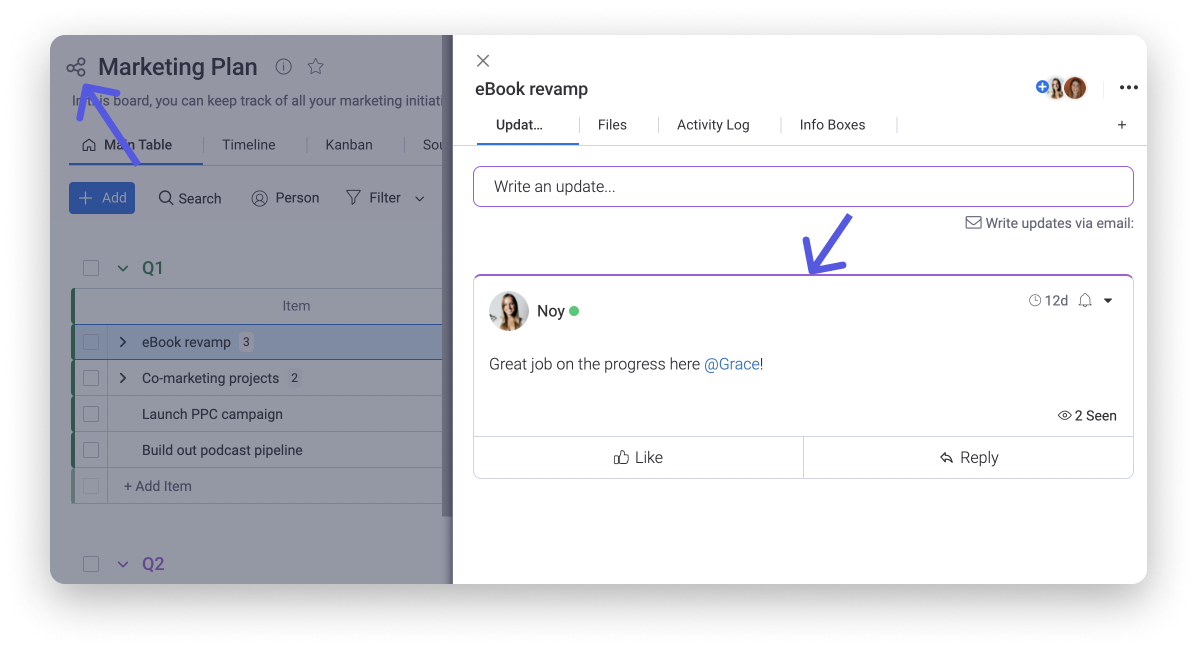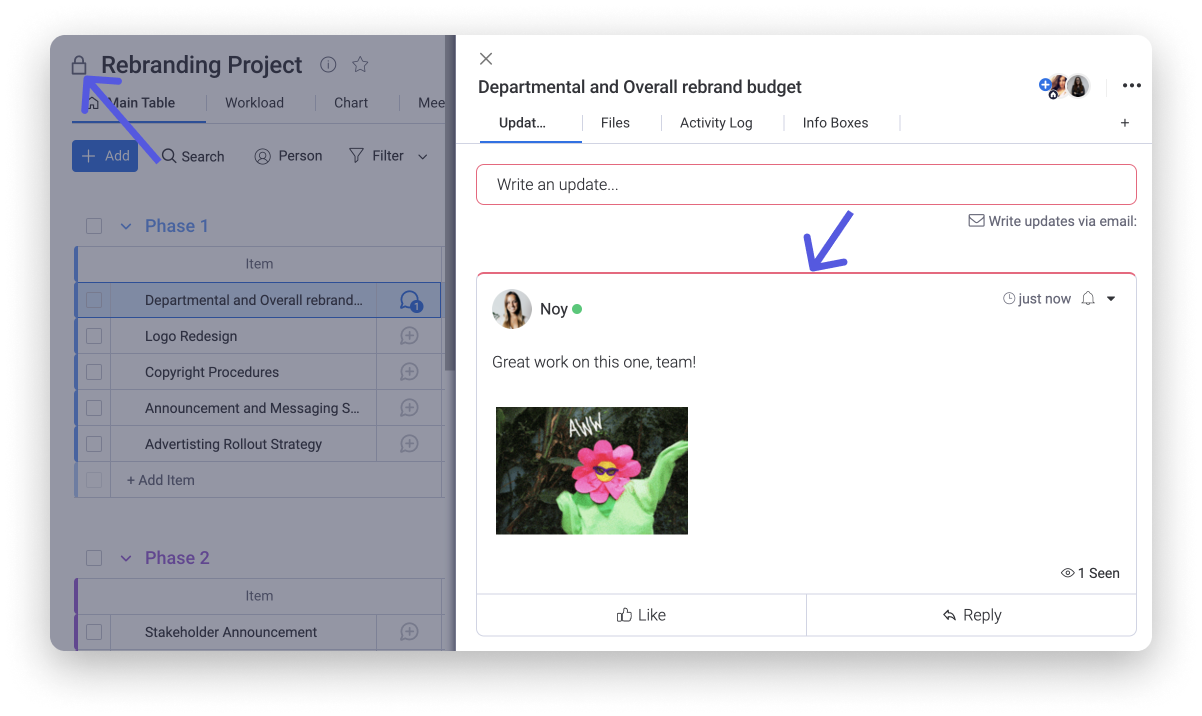 Finally, the update will not be outlined in any color on a Main Board 😊
If you have any questions, please reach out to our team by using our contact form. We're available 24/7 and happy to help!