"My Work" is a great way for you to see everything you and your team need to accomplish! It works by collecting all the tasks across your monday.com account that have been assigned to you, and organizes them based on when they were assigned! With My Work on mobile, visualize all of your work in one place from wherever you are! 📆
Note: This is a brand new feature that is currently only available in the mobile app and is open only to trial users! If you aren't a trial user and would like to test out My Work on your mobile app before it's released to everyone, you're welcome to reach out to us right here! Stay tuned - it will be available in your browser and desktop app soon!
How does it work?
To get to My Work, click the 3 bars icon to open up the left pane in your mobile app. Next, click "My Work"!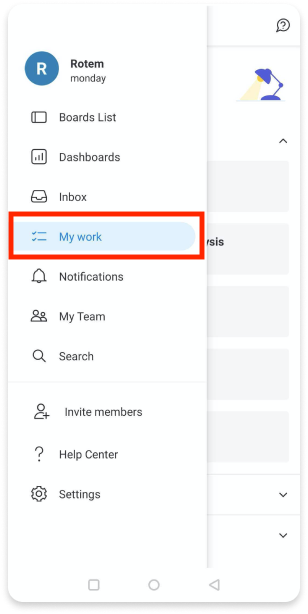 Here, you will find all of the tasks that have been assigned to you on any of the boards in your account! This means that in order to see an item appear in My Work, you will need to first make sure that there is a People Column on the board, and that you are assigned!
The items in My Work are organized according to when they were assigned to you, but no other factors have been taken into consideration. For example, due dates or timelines are not considered when categorizing the items into sections. Other columns such as the priority or status of your items are also not considered, which means that some of your items may already be completed.
What order do the items appear in?
The items that appear in My Work are items that were assigned to you, or that you have assigned to yourself! They are organized into 3 sections. Beside each section, there is a number that indicates how many items are in the section. Let's check them each out:
Assigned in the past week
This section is at the very top of your My Work page, and shows you the items that were most recently assigned to you! Everything assigned in the past 7 days will appear in this section and move to the next section automatically after 7 days.
Assigned in the past month
The items in this section have all been assigned to you between 7 and 30 days ago!
All of the items in this section have been assigned to you more than a month ago.
Note: The items that appear here are categorized into sections based on when they were assigned, and have nothing to do with the due date of the items!
If you don't need to see older items, you can collapse sections to hide them from My Work, and then expand them when you want to refer back to them!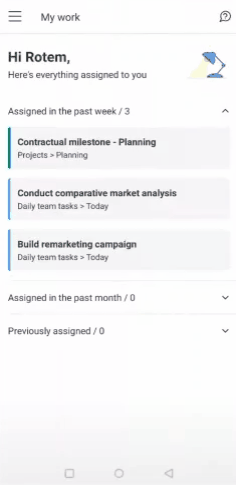 What information can I see here?
The items in My Work show the item's name in bold on the top line. Below is the name of the board, followed by the name of the group! The color on the left side of the item represents the color of the group that item is found in on it's board!
If we want to see more information, we can click the items to open up the item card in full screen! Here, we can see all of the item's columns and even make changes directly from this screen!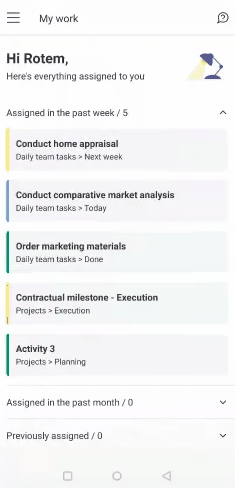 If we want to view the board that the item belongs to, we can click the name of the board at the top of the item card.
Add items from My Work
Have you ever been scrolling through your upcoming to-do's in My Work and thought of a task you need to add to one of your boards? Well, you can now add new items to any of your boards directly from My Work when you're on the go!
To add a new item, click the blue plus sign at the bottom right corner of your My Work screen, and then type the name of your new item into the field in the pop-up window. Next, you can select the board and group you'd like to add this item to. To do this, click "Choose board" and select a board by scrolling through the list of recently visited boards, or type the board's name into the search bar. You'll then automatically see a list of all the groups in that board to choose from! Click the one you wish to add your item to and voila! Now, just click "Add" and you'll see it on your board the next time you visit!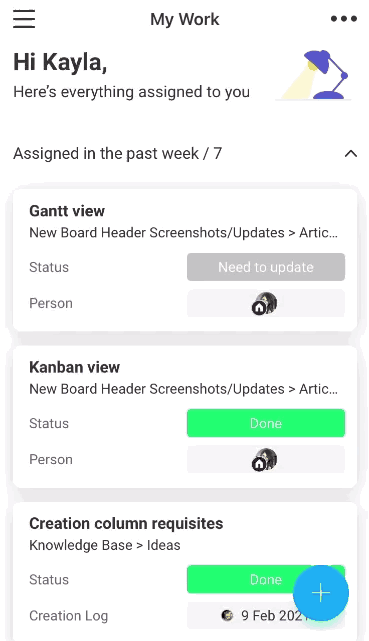 Note: This feature is currently only available from your mobile app.
What's next?
This is a brand new feature that has just been released! We have big plans so you can expect lots of awesome improvements coming soon! Up next will be the ability to sort, search, and filter the items in My Work! We'll also be adding the option to hide certain items from view so that you don't have to see completed tasks, or items that you don't need to keep an eye on.
If you have any questions, please reach out to our team by using our contact form. We're available 24/7 and happy to help!