3 min read
Feature
My Work is a great way to see everything you and your team need to accomplish in a convenient, easy-to-use space. It works by showcasing all tasks across your monday.com account that have been assigned to you. Visualize all your work in one place and stay on top of your tasks wherever you are with My Work mobile! 📆
What is My Work?
My Work collects all of your assigned tasks so you can take a look at all items in one place. Rather than having to jump between boards and dashboards to check what's happening, My Work centralizes this information for your convenience. You can also customize it according to your needs! 🎊
How does it work?
To access My Work, click on the hamburger menu located at the top left of your screen and select "My Work."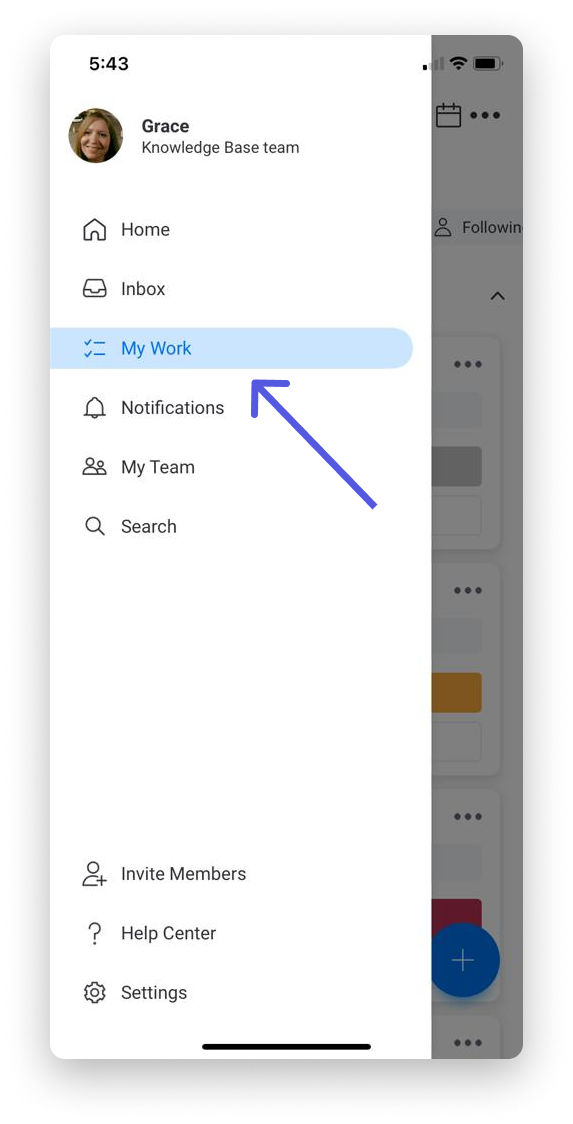 Here, you will find all tasks assigned to you from all the boards in your account. This means that in order to see items appear in My Work, it is crucial that you have a People Column and you are assigned to the items you wish to see.
Note: You can also see tasks assigned to anyone else in your account by choosing them in the "Following" filter section in the upper right hand corner of My Work.
How do items appear?
Items are categorized in six sections according to date (or no date) and there is a number next to each group that indicates how many items are in each section: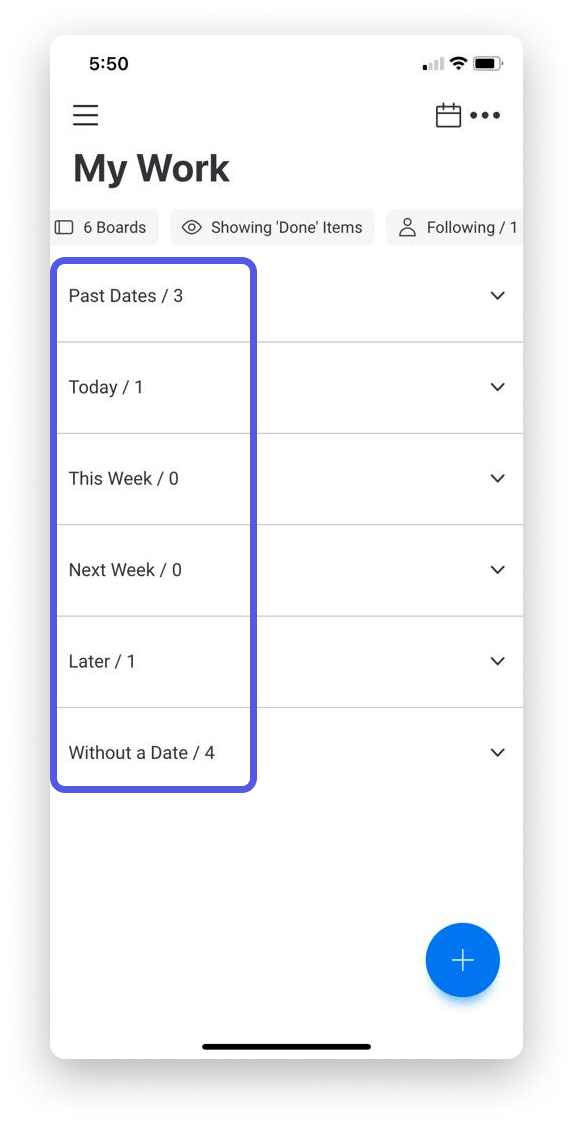 Note: Items will appear in the "Past dates", "Today", "This week", "Next week", and "Later" sections based on the date assigned in the Date Column. However, it is not mandatory for items to have a Date Column to be shown in My Work and items without a date will be showcased in the "Without a date" section.
If you do not want to see certain sections at times, you can collapse sections to hide them from My Work and expand them when you want to refer back to them! Just click on the dropdown arrow next to the section: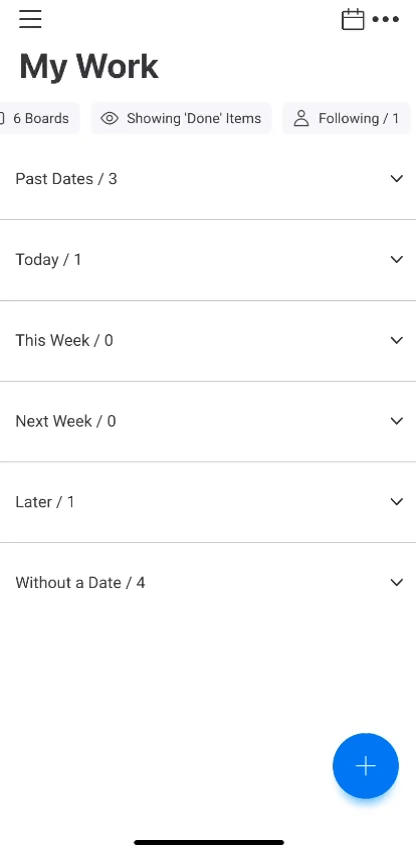 Hide done items
While My Work is a great place to see everything in the entire account that has been assigned to you, you may find it more helpful to view only upcoming tasks you have yet to complete. For this reason, we've added the option to hide done items! Click on the "Hiding Done Items" filter option and My Work will take your Status Column into consideration and filter out any items that have been marked as "Done".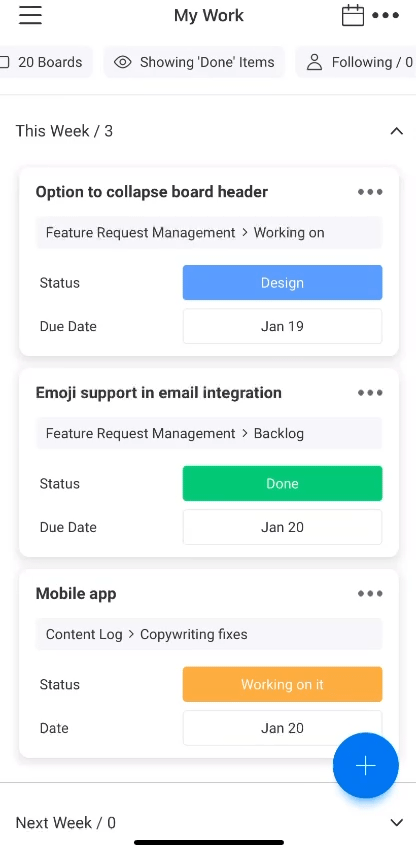 Tip:
Check out
this article
to learn how to define which label and color mean your item is "Done"!
What information can I see here?
My Work shows the item's name in bold on the top line. Below is the name of the board, followed by the name of the group, Status Column, and Date Column.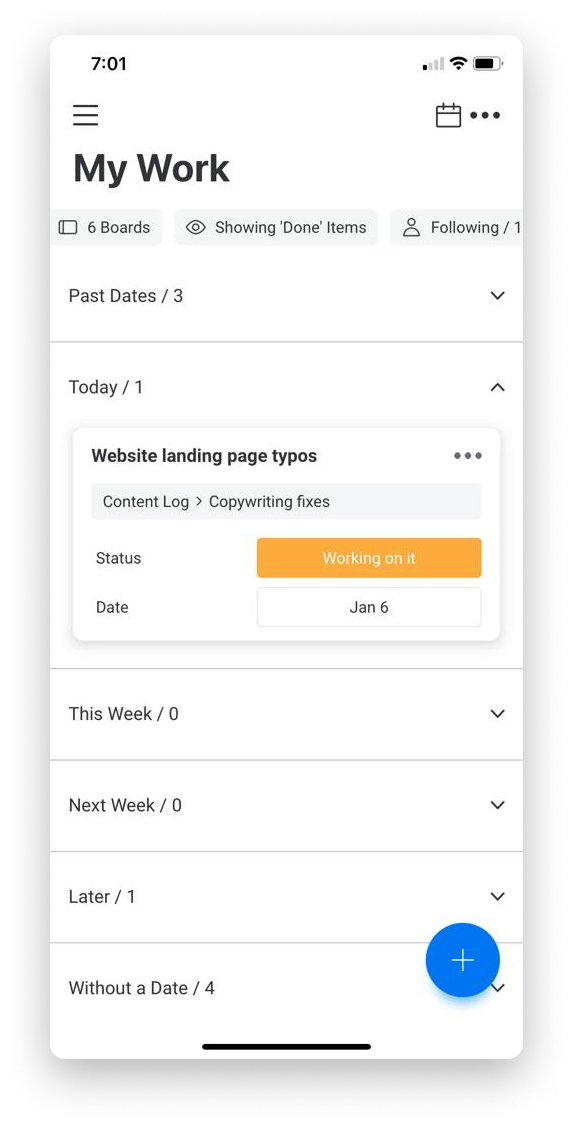 For more information, click on the three dots at the top of the item to open up the Item Card in full screen! Here, we can see all of the item's columns and even make changes directly from this screen! You can edit anything right from the Item Card, including Updates, and changes will be automatically reflected on the board.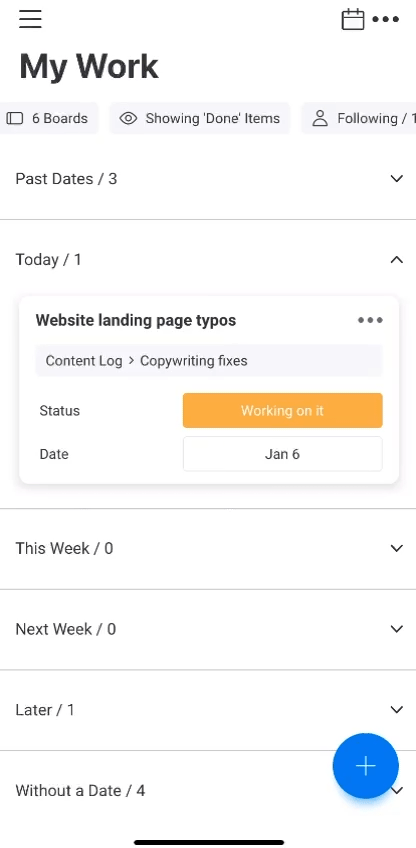 If you want to view the board that the item belongs to, click the name of the board and the group the item is in at the top of the item card: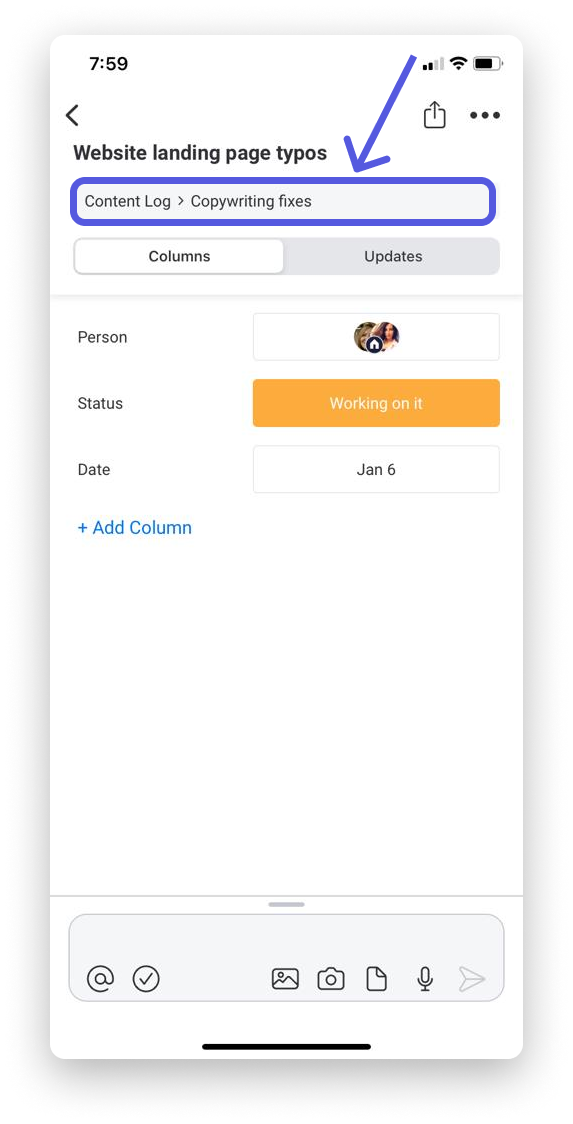 Customize what you see in My Work
From choosing which boards appear to the specific people you're following, you can customize your My Work settings based on your preferences.
You can select whose assigned items you want to appear in My Work. Click "Following" in the upper right of your screen. Choose yourself or any of the team members or guests in your account!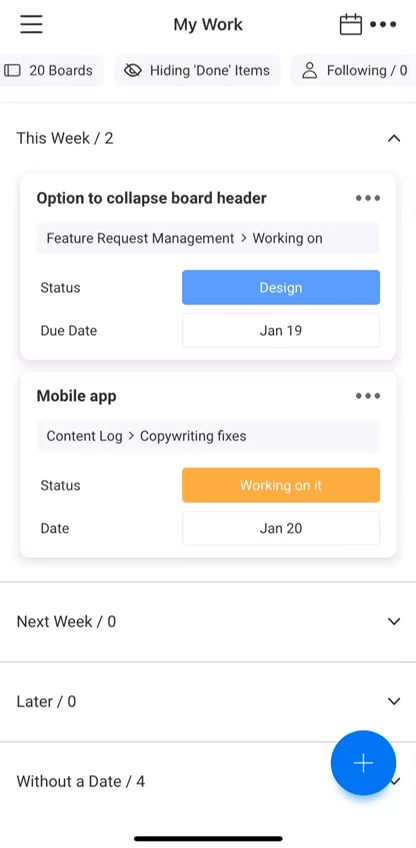 You can choose to display or hide items from certain boards in your account! By default, all account boards are visible in My Work. To hide a board, click on "Boards" in the upper left corner of your screen and uncheck any board you wish to hide.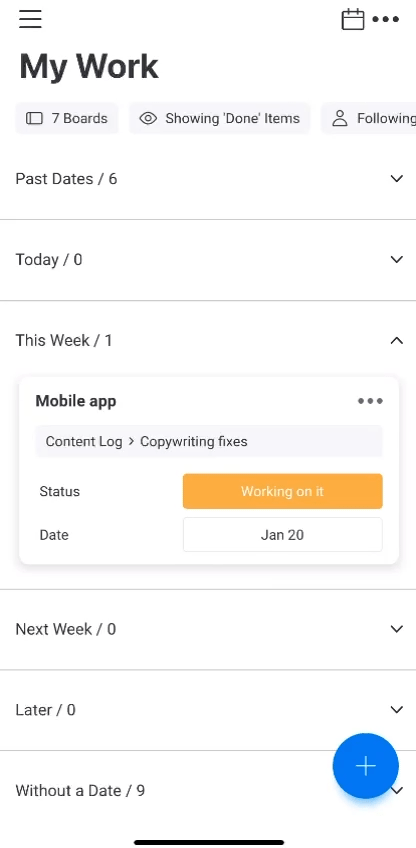 Note: The boards you hide in My Work are only hidden within My Work and not anywhere else in your account.
Add and edit items directly from My Work
There's no need to maneuver back and forth between My Work and your boards to add or edit items! You can edit items straight from My Work by clicking any of the items to open the Item Card! You can edit anything right from the Item Card, including Updates, and changes will be automatically reflected on the board.
To add a new item, click the blue plus sign at the bottom right corner of your screen, and then type the name of your new item into the field in the pop-up window. Next, you can select the board and group you'd like to add this item to and edit the item as you wish in its Item Card. 🎊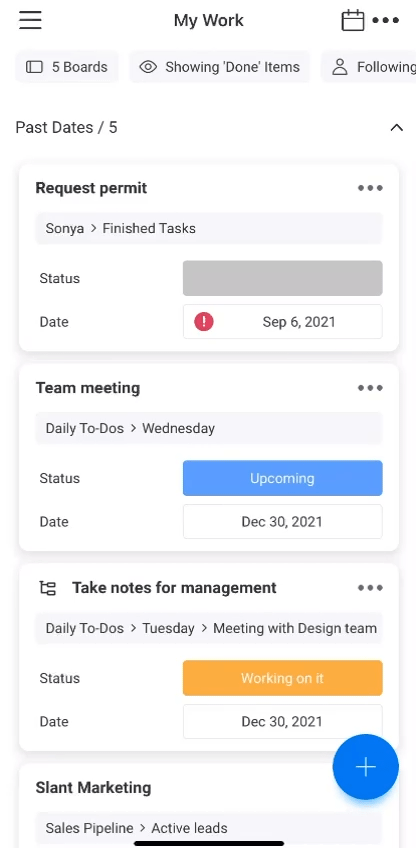 Connect My Work to your phone calendar
Attention:
This feature is currently only available for iOS users, but we are working on implementing it for Android users!
Keep track of your work easily everyday by syncing My Work with your phone calendar! This allows you to see your monday.com items on your phone calendar and helps you stay on top of everything with one click. Activate this feature by clicking on the calendar icon in the upper right hand corner of your screen. Provide monday.com access to your calendar via your device settings and you're ready!
If you have any questions, please reach out to our team by using our contact form. We're available 24/7 and happy to help!