8 min read
Feature
At monday.com we're all about making your work simpler and more efficient! Using our forms, you can create a custom-made, shareable form where the questions are aligned with the columns on your board.
You can then send out a link to this form to anyone, or embed it in a website, and each response will populate directly onto its respective board for you to track and analyze!
How to create a form
There are two different ways that you can go about creating a monday.com form:
Adding a new form onto your account directly. Doing so will then create a board where the Form responses will be populated into.

Creating a new board first, or using a previously existing board, and then adding on the Form View onto it.
We'll go through each of these different methods, below!
Add a form straight away
The first option to create a form is done by adding a new form directly to your account. When doing this, a new board will simultaneously be created where the columns will be aligned with the form questions that you create. Additionally, the form responses will enter this board directly once they are submitted.
Follow the steps below to add a new form straight to your account!
Step 1: Add a new form
To add a new form, simply click on the "+ Add" button on the left side of your screen and select "New Form" as so: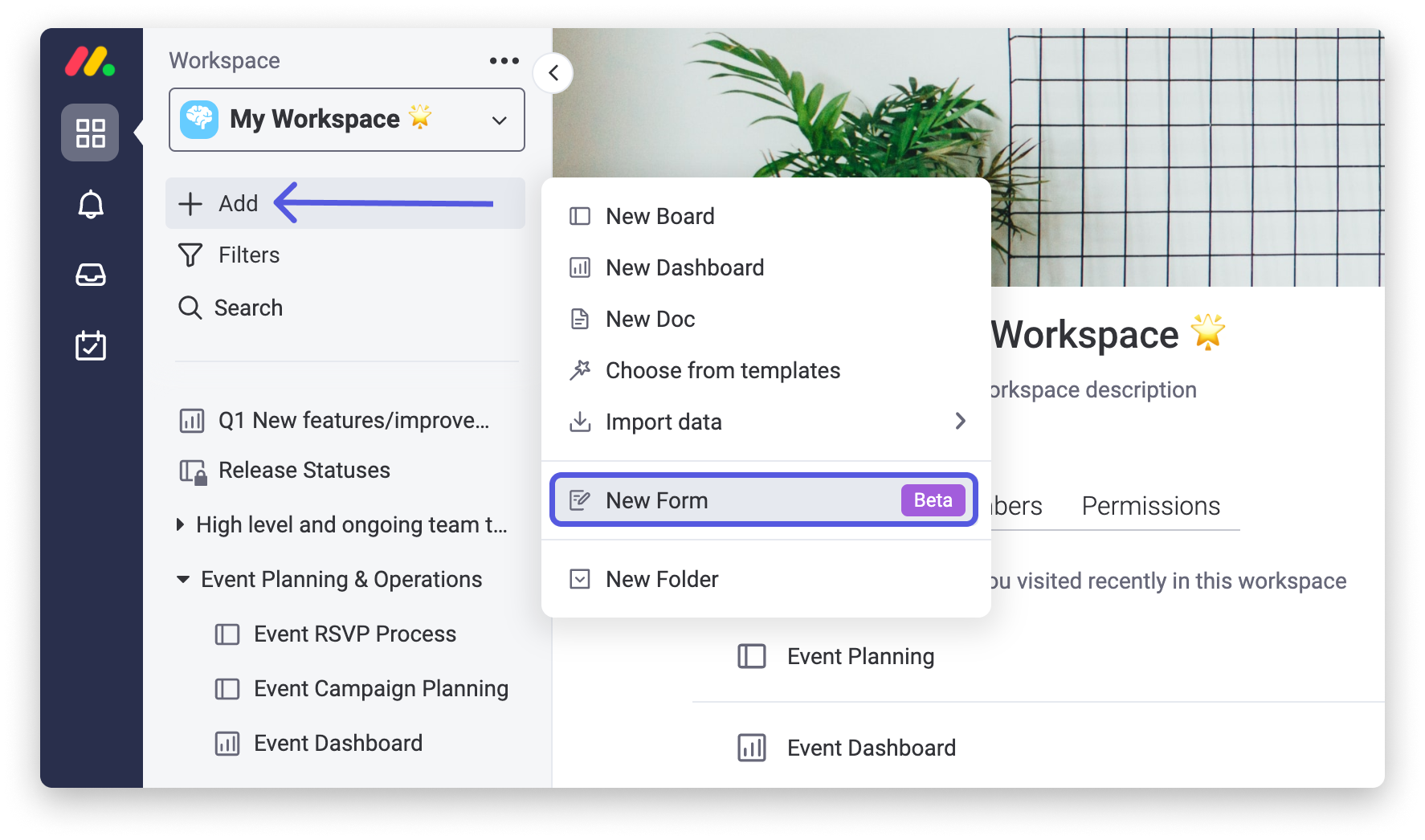 Step 2: Add a name and description to your form
First and foremost, when creating a new form, it will appear with a title of "New Form" by default. To customize it to your own, simply click on it and type out your title as you wish! You can also add a description beneath it if you'd like.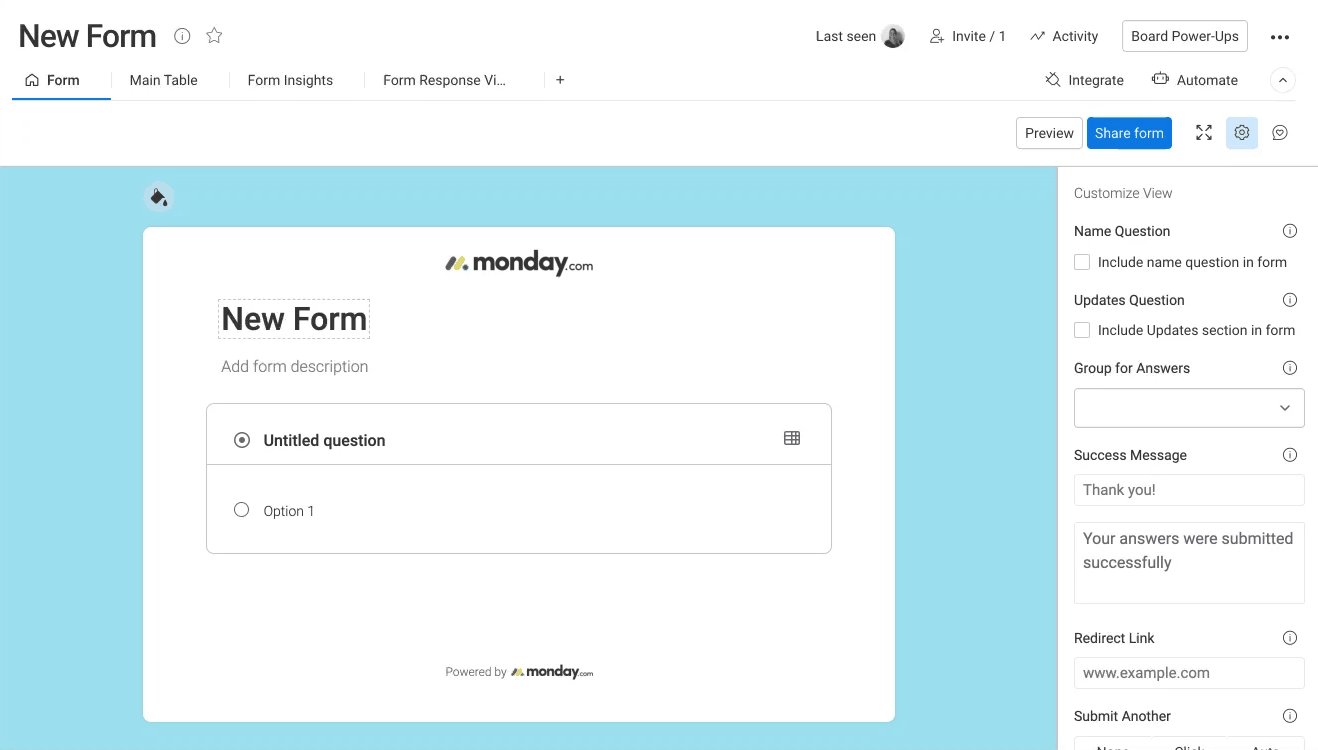 Step 3: Customize the form questions and answer choices
Now that you've added a title and description (if you so choose), it's time to add and customize its questions! To begin, you can customize the "Untitled question" that appears by default and then the answer choices below it. Then, to add new questions, select "Add new question" and choose the type of question that you want it to be!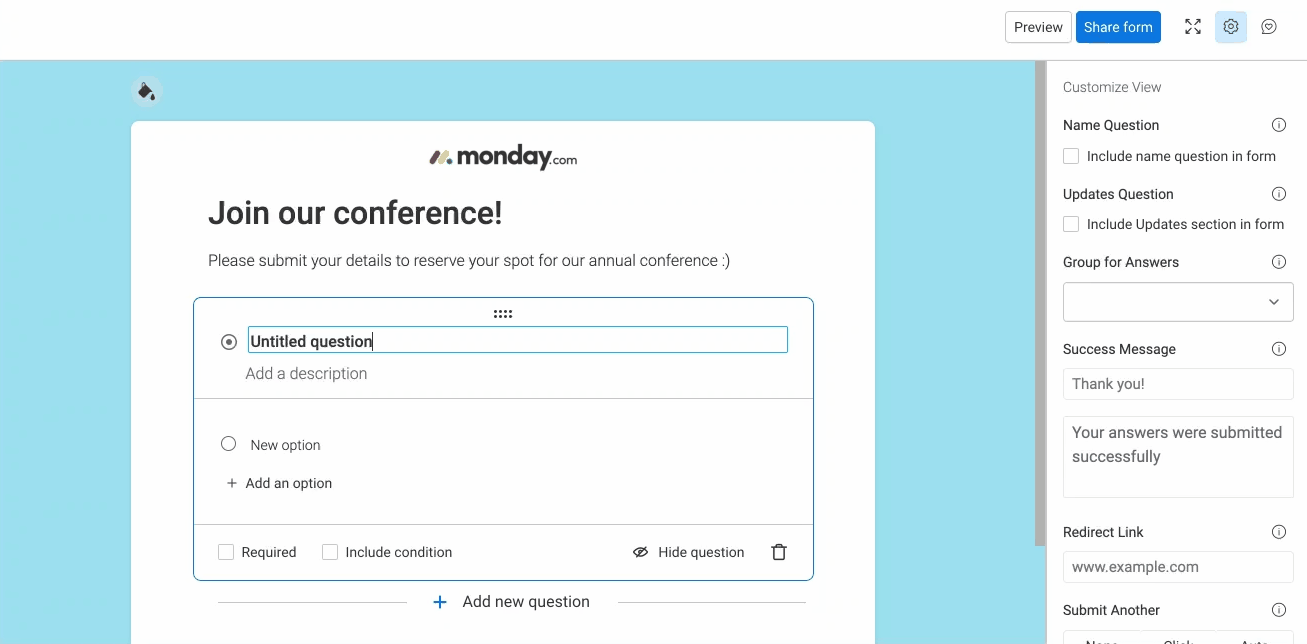 Note:
The question type that you choose here will dictate the
type of column
that will be added onto your board. You can learn more about what this means in
this section
of the article.
To include a Name question field on your form, simply tick the "Name Question" box through the form settings on the right side of your screen. Once the Name field has been added, make sure to select "Show question" so that it will appear as visible once you share the form!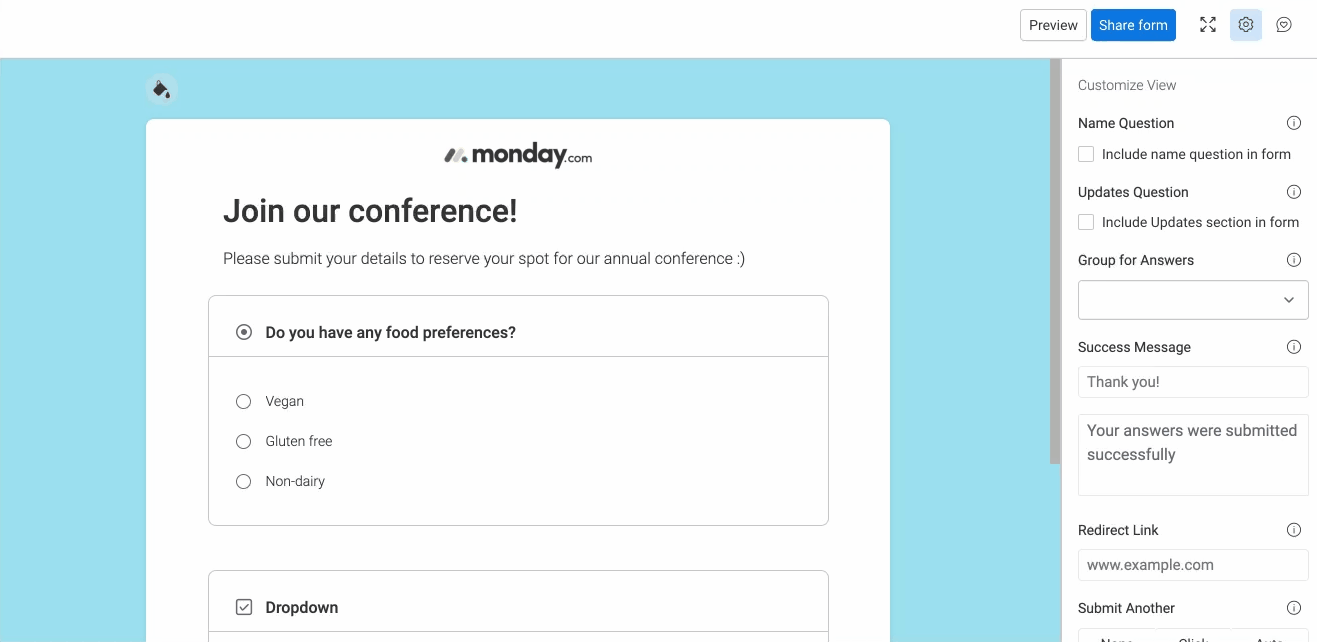 Create a board with a Form View
The second option to create a new form is by first adding a board onto your account (or use a previously existing one) and then adding on the Form View on top of it.
Follow the steps below to use this method of creating your form!
Step 1: Open up a board
Using this approach, the form will be created based on the column types that you have on your board (the names will be editable, of course!). Therefore, in this first step, either create a new board by pressing on the "+ Add" sign at the top left of your screen, or select an existing one from the left side of your account which your form will be based off of.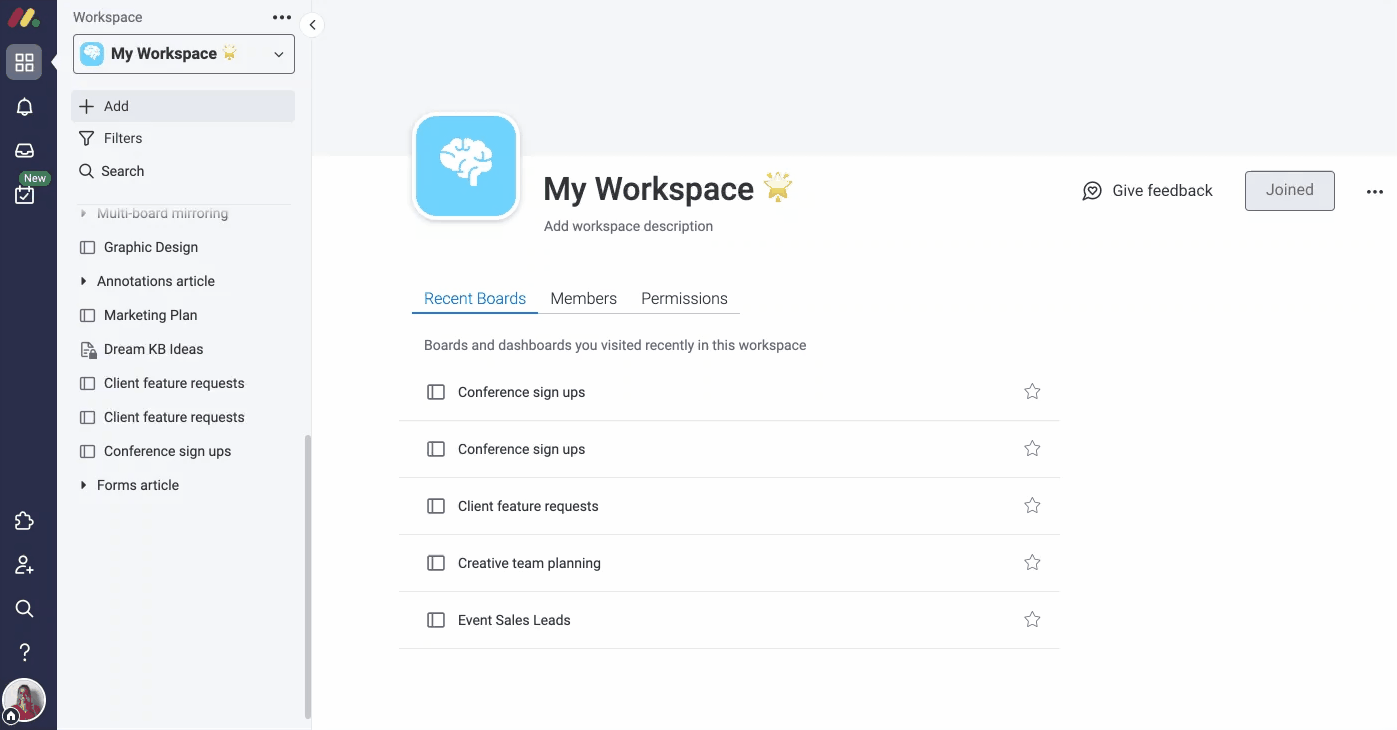 Step 2: Add the Form View onto Your Board
To add a Form View, click on the "+" button located on the top left of your board. From the resulting menu, click on "Form" as seen below: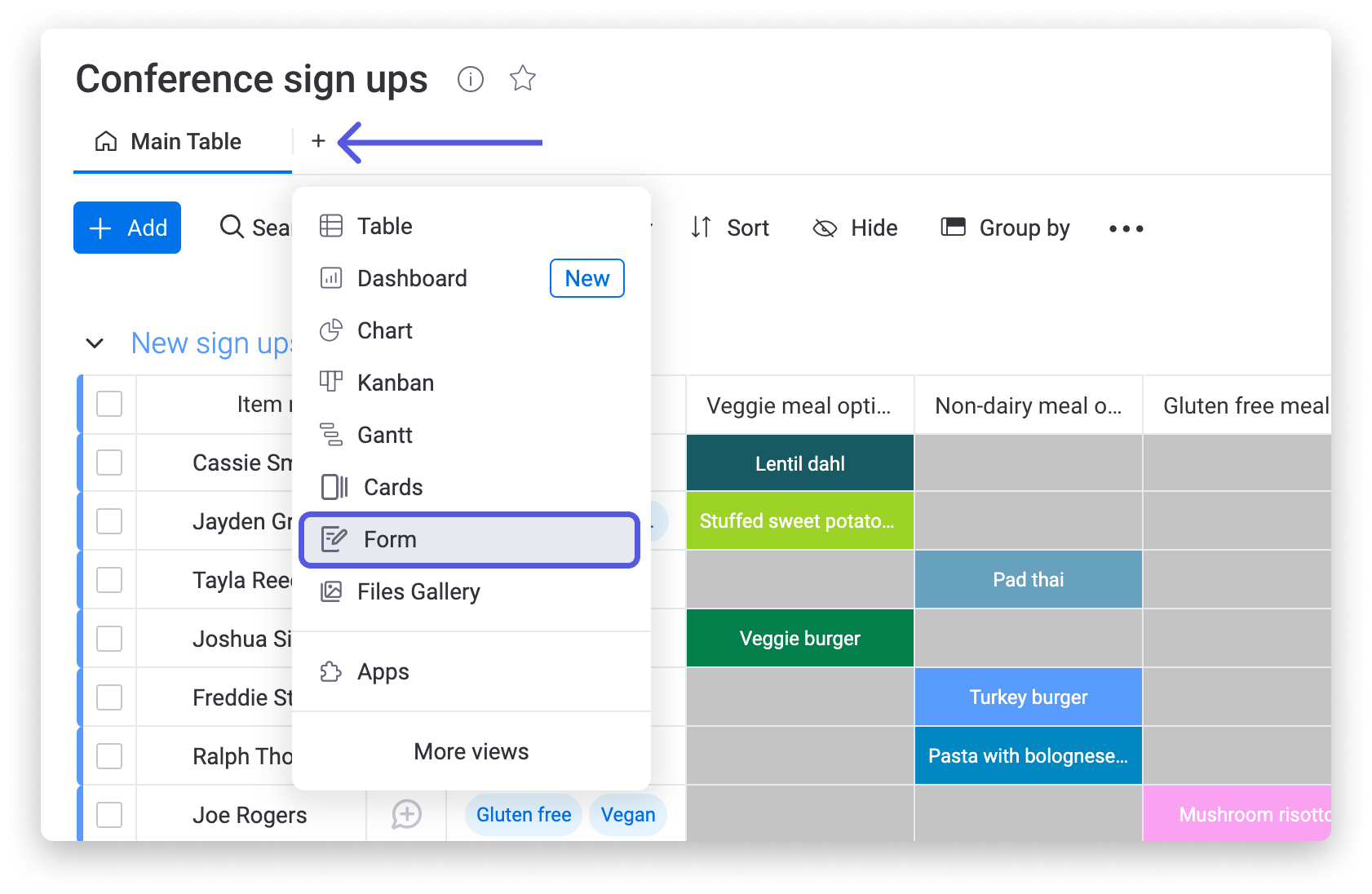 Step 3: Customize the form name and questions
Similar to step 2 in the first method, now that the form has been added, it's time to customize the questions on it!
At first, the form will be generated with the board's name as its header and the column names as the questions. Hovering over the header as well as the Form's optional description will allow you to edit them. Additionally, hovering over each of the blocks on the Form will allow you to edit the question and the question's optional description.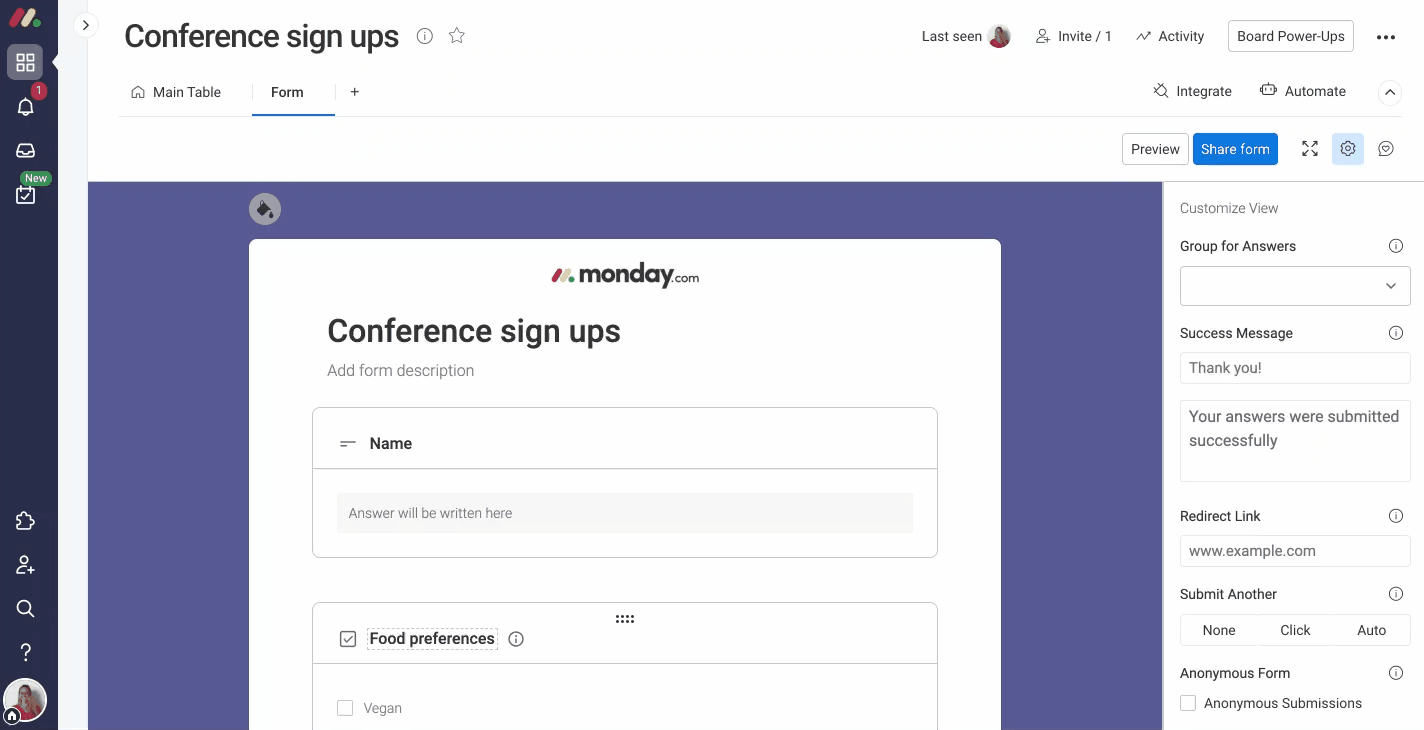 Note: Leaving the description fields unedited will mean it won't appear in your published version. Feel free to click "Preview" to see it first hand.
The moment that you've been waiting for is here, you can now create conditional questions on your form! This way, you can decide to display a certain follow-up question in response to a specific answer that the form submitter provided. 🙌
Note: Conditional logic is only available on the Enterprise plan and the monday marketer product.
To create conditional questions on your form, begin by clicking on a single or multi-select question that you'd like to create a condition for and select "Include condition" as so: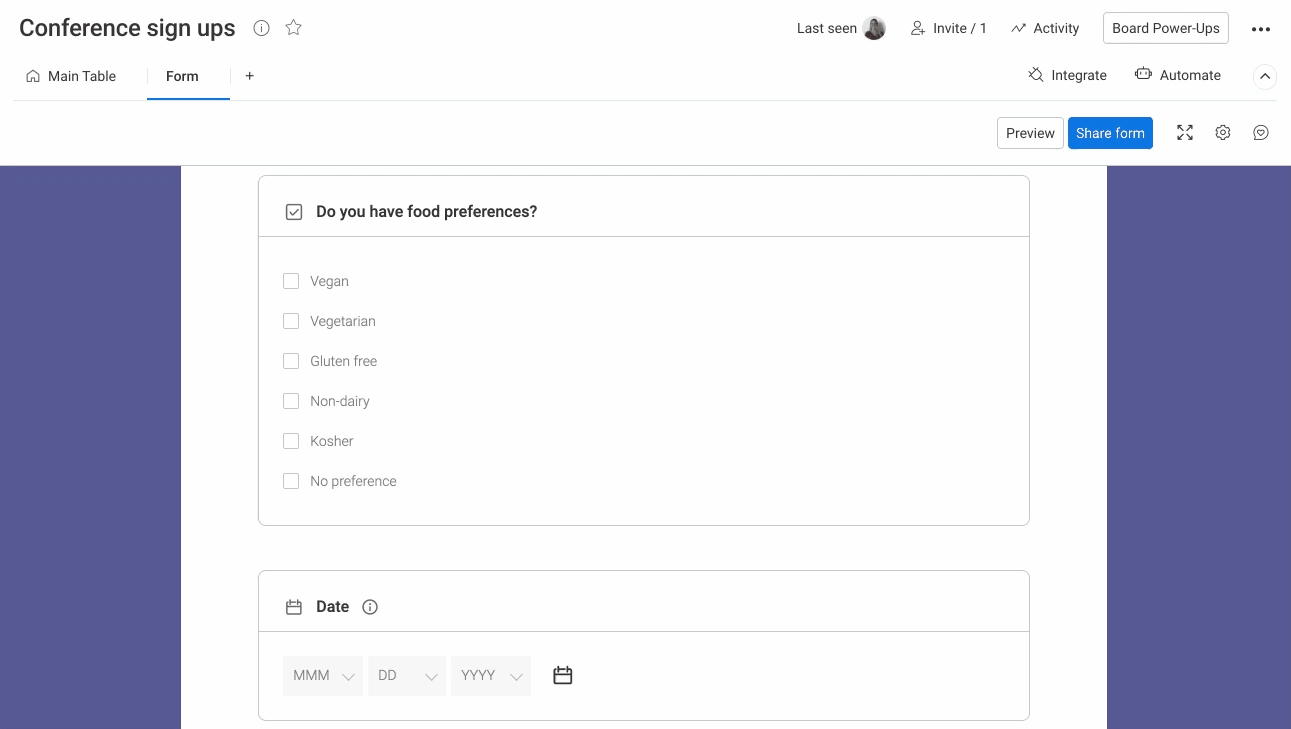 From there, choose one or more responses and then select "Add new question" to add the follow-up question.
As an example, we wanted to add an additional question in response to someone selecting the answer choice "Vegan". Therefore we selected "Vegan" as the response, and then added a single select question that states "What main dish would you like?". This allows us to create a specific follow-up question with choices that fit the vegan dietary requirement!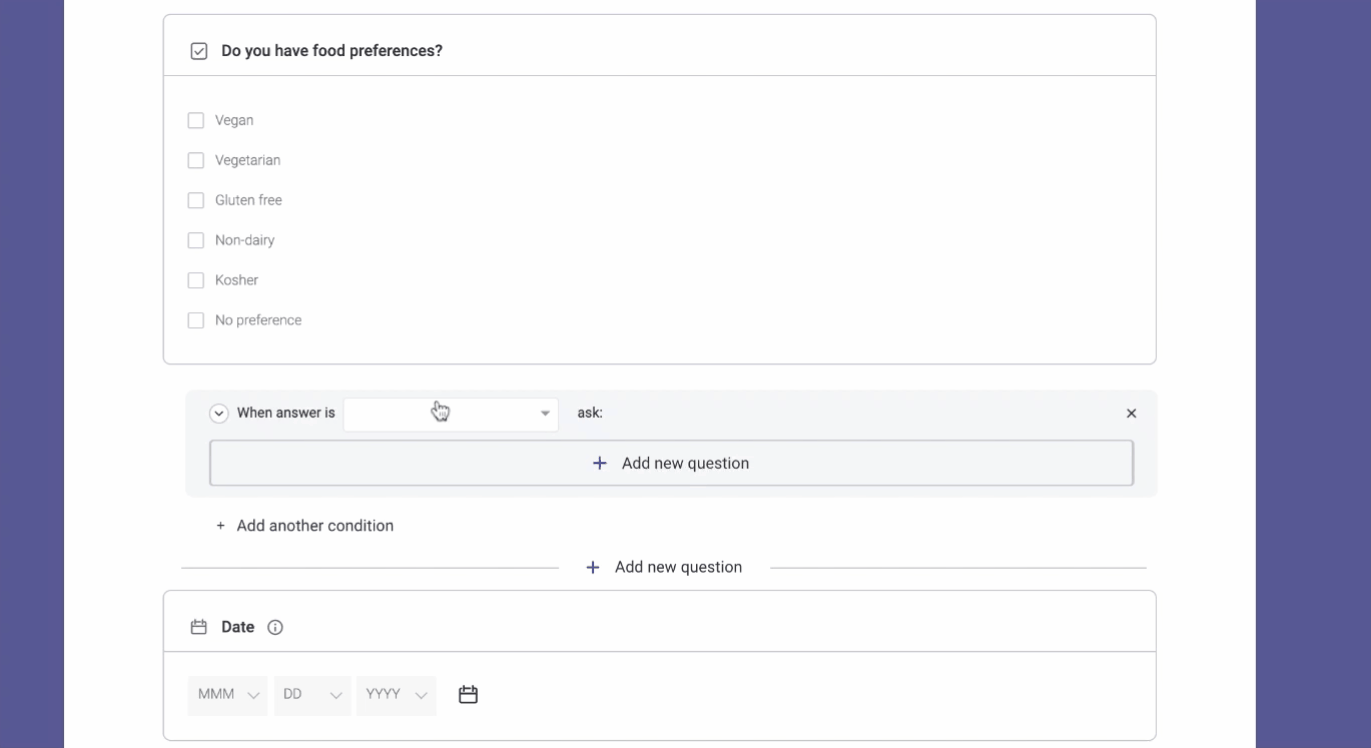 After your question has been added, it's time to customize the conditional question answer choices! Click on an existing response option to edit it and choose "Add an option" if you'd like to add additional responses.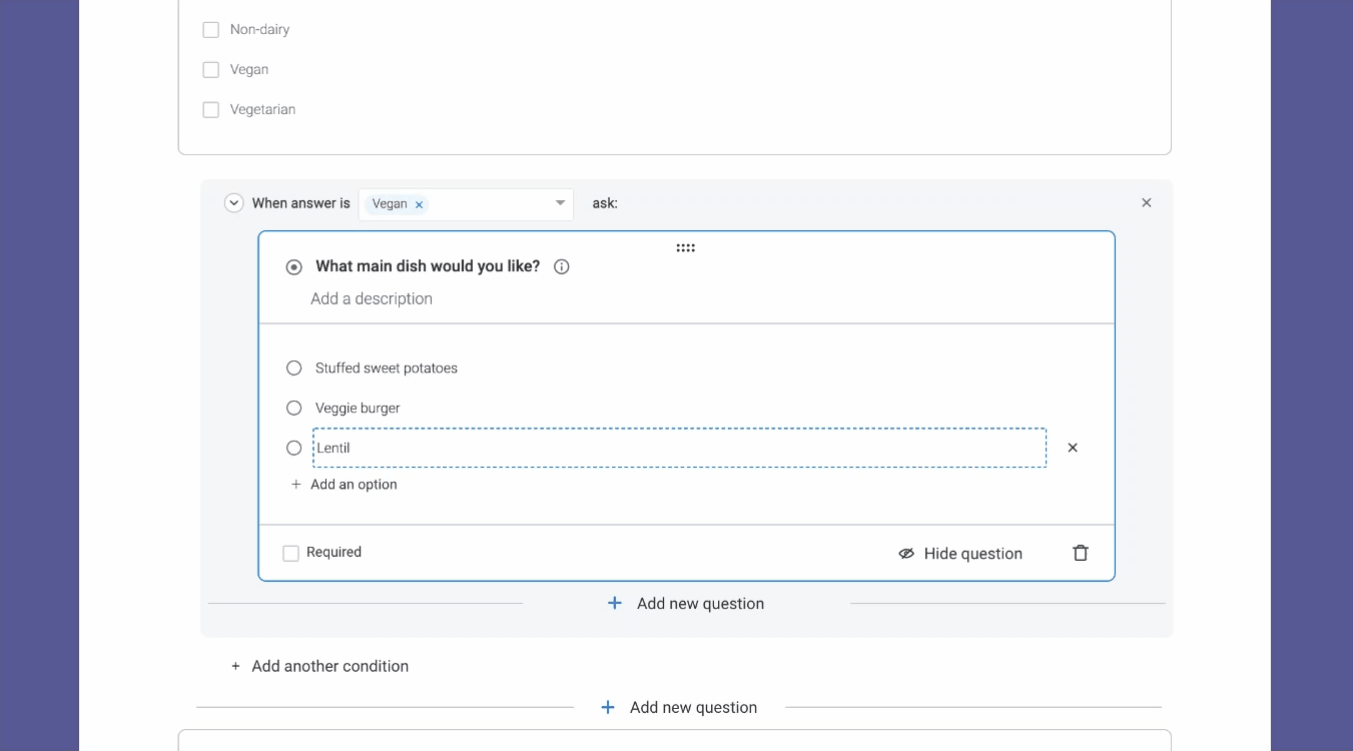 Tip: You can continue adding multiple conditions for the same question to really build out your form in the way that you wish!
Additionally, you can add multiple different conditions under each separate question by clicking "Add another condition" so that every separate response will lead to its own follow-up question!
In our case, we've added a different "What main dish would you like?" question and answer choice according to each food preference that is selected. Just watch how the question and response choices change accordingly thanks to the multiple conditional questions that we set up.💥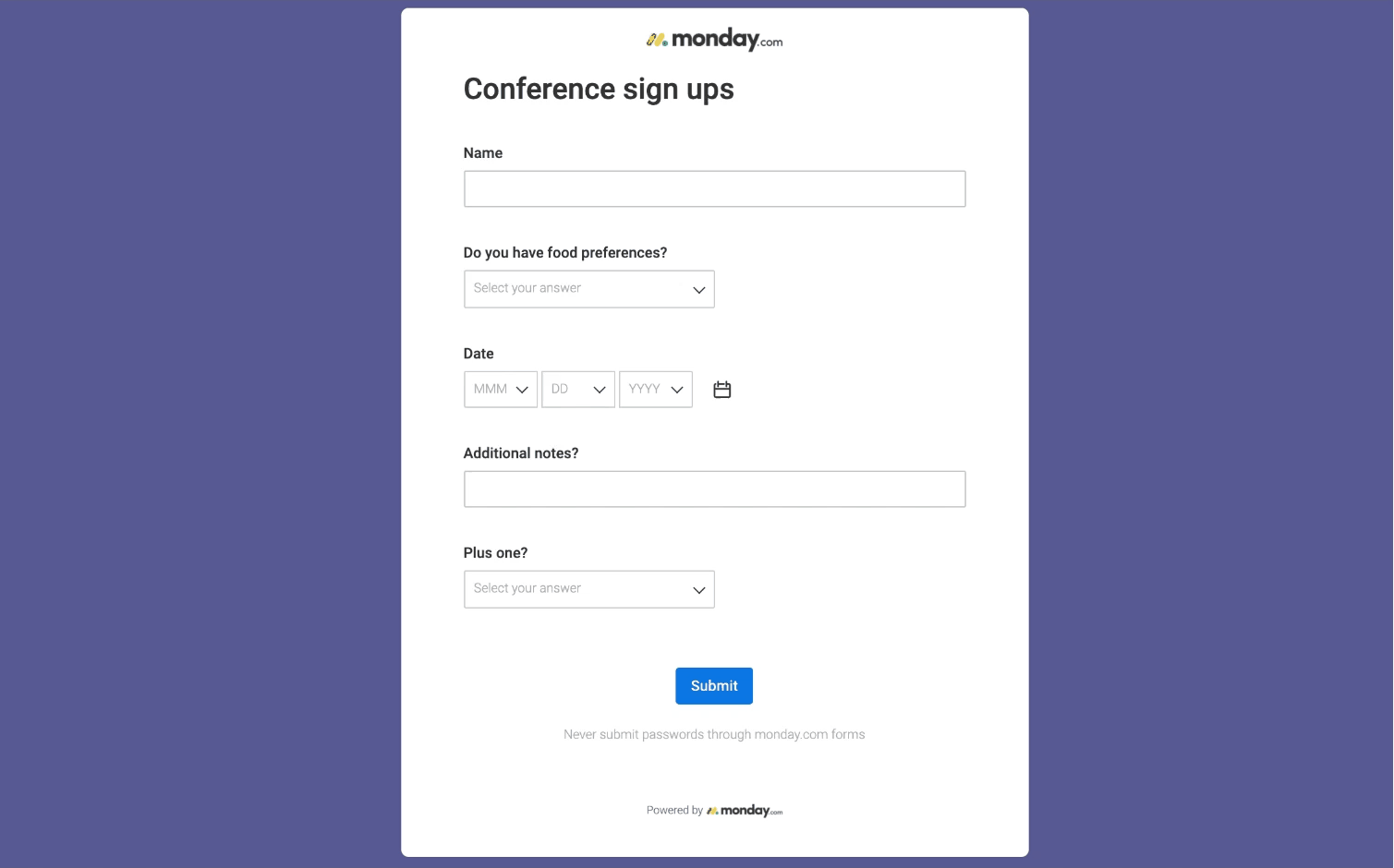 You control what columns (question fields) appear on the form and which will remain hidden, as well as whether they will be required or not. To customize them, click on a respective response block and you'll see an eye icon appear on the bottom right corner allowing you to hide or display that question.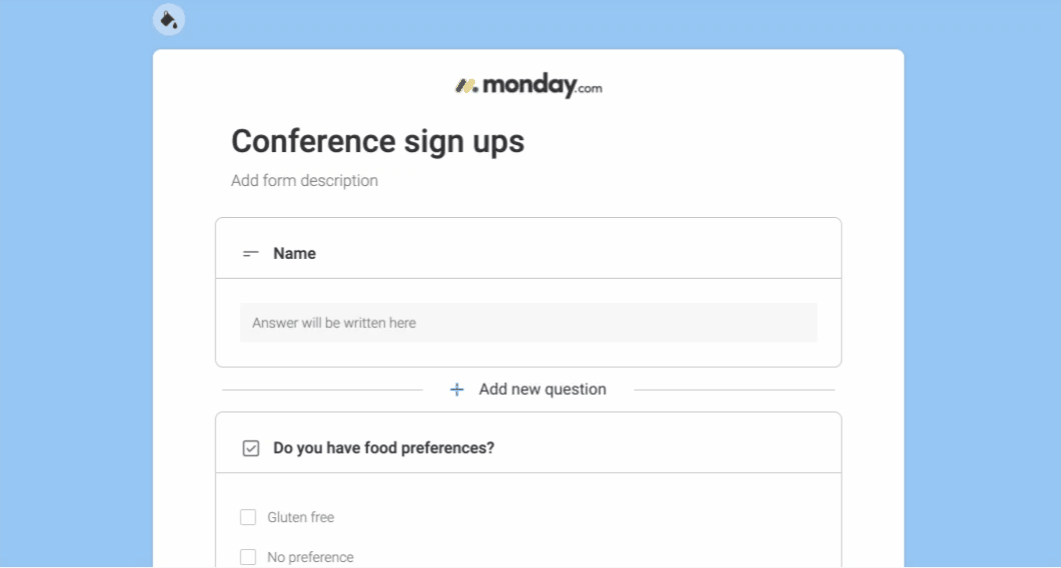 You can also tick the "Required" to make a certain question field mandatory.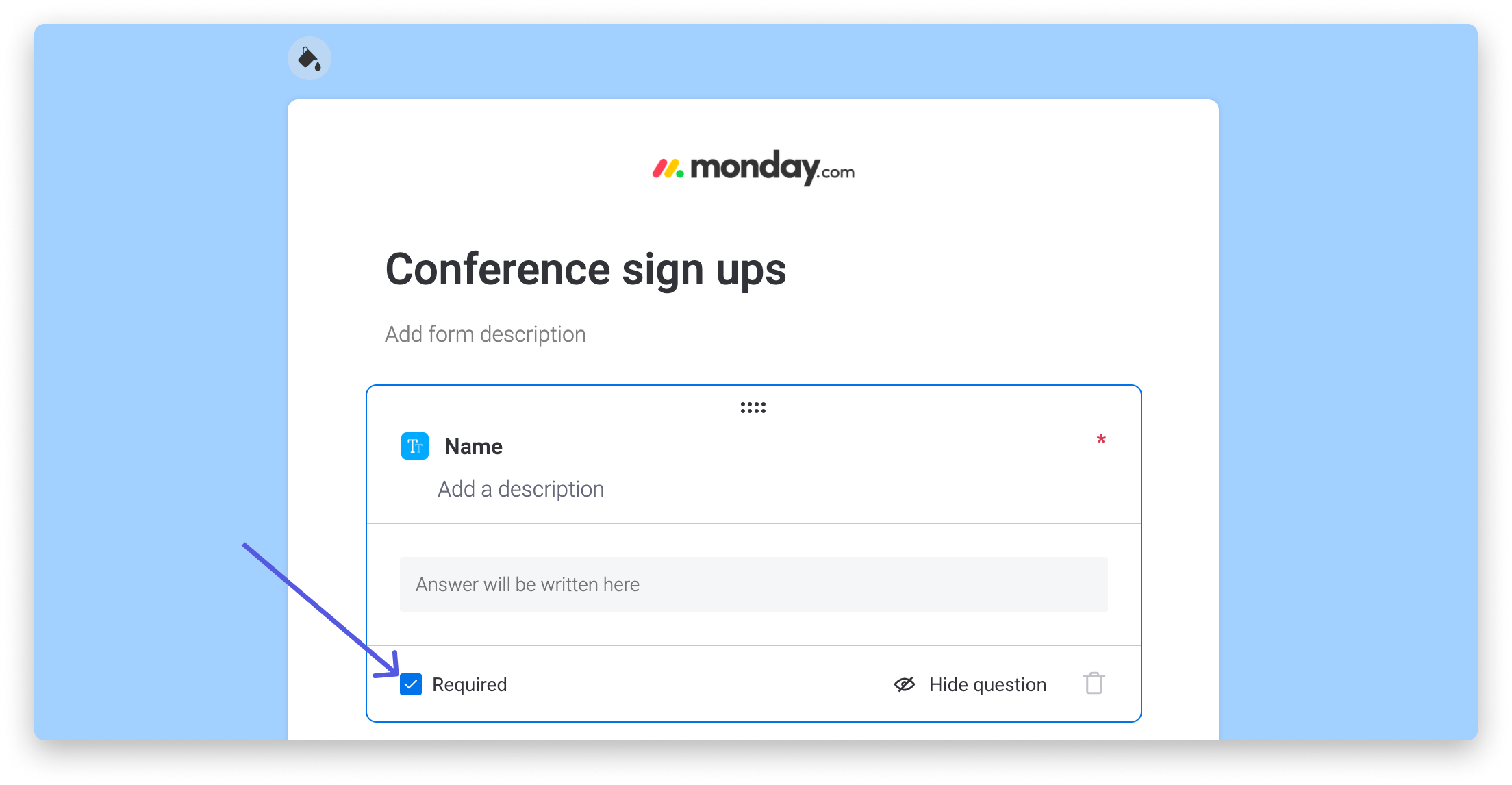 Your form can and will be sent to (or be seen by) your target audience, whoever they are. We love the fact that you want to use monday.com to reach new audiences and manage your findings within the platform. That's why we've included options to input your logo and customize the background.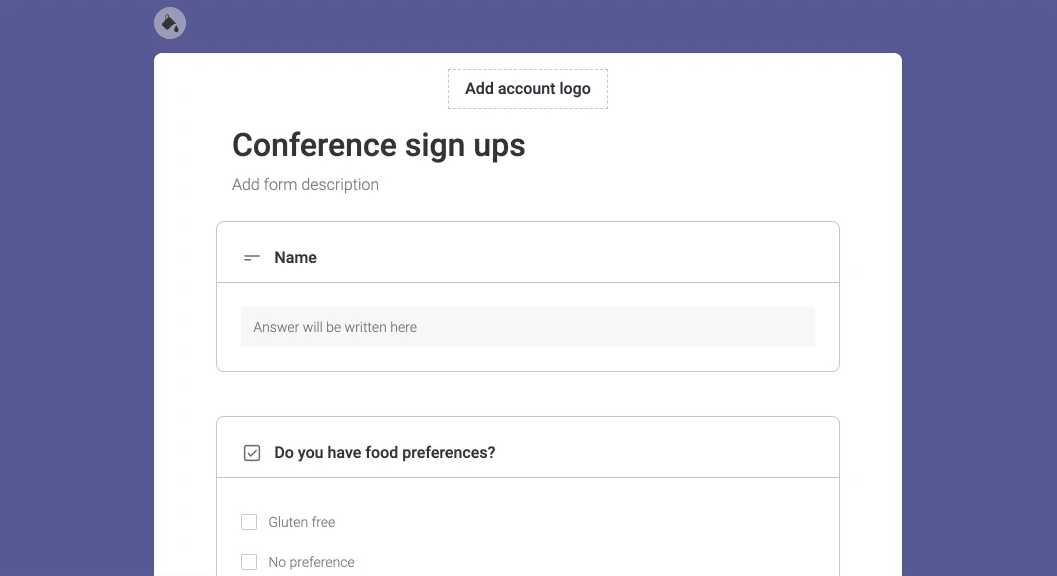 If you have a Pro or Enterprise account, you can even hide the monday.com logo at the bottom of the form! Just click the cogwheel at the top right corner to launch the form's settings, and then under "Form branding" click "Hide monday.com logos" like this: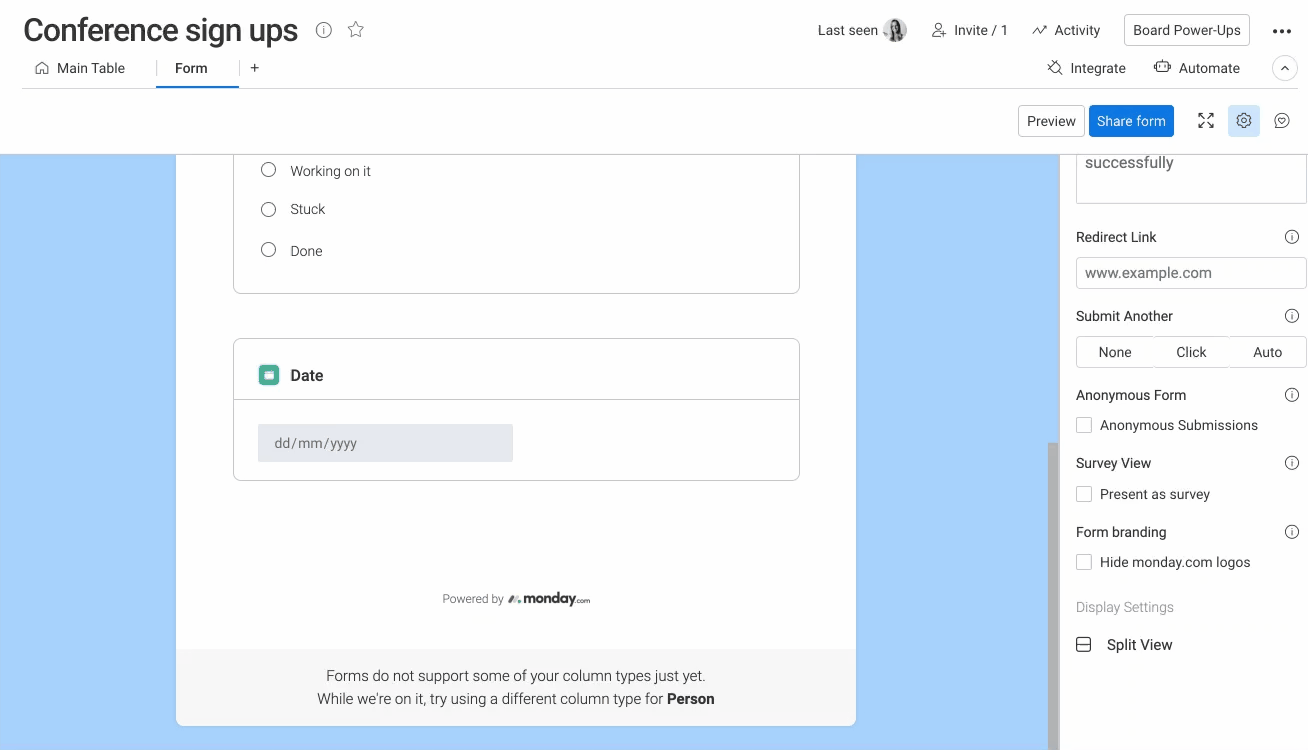 Now you can see that the monday.com logo has disappeared from the bottom of your form!
When creating your form questions, you'll be able to choose the type of question each one is. The question choice will also dictate the type of column that is created on your board in turn, and vice versa.
Below, we've listed each question type and the column type that it will correspond to on your board!
Although the People Column is not supported in the Forms, we have a couple of suggestions that may be used as a work-around to easily gather the names of the form submitters!
You can use the Text Column to collect names of the form submitters. This can be useful whether the form submitters are members of your account or not.

If members of your monday.com account are submitting form answers and you want to assign them to the item, you can use a Status Column with labels for each team member. Then, you can set an automation that will assign the relevant team member according to the status label that was set!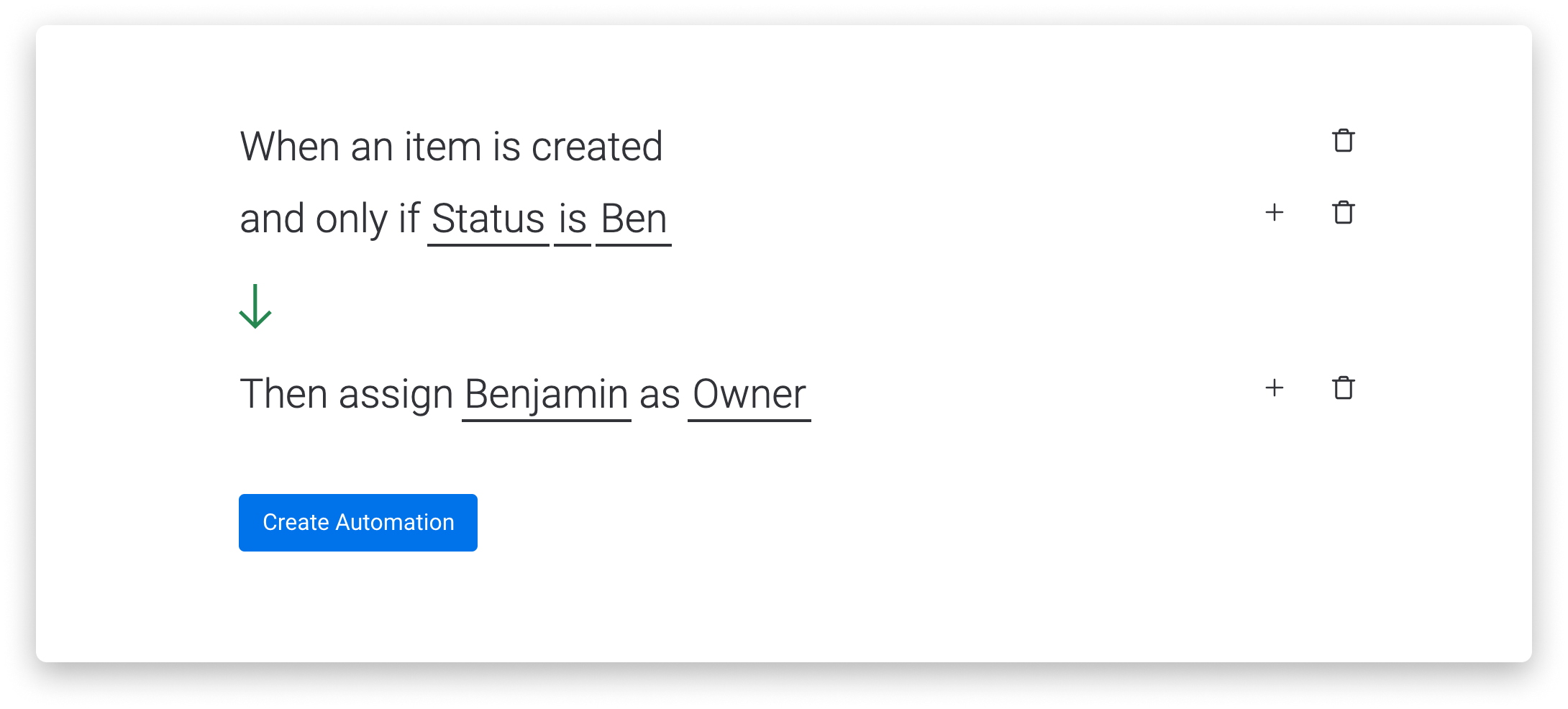 Note: There currently is a limit of 40 status labels per Status Column. Keep this in mind if you choose to use the second work-around!
Once you have your ideal form layout with superb questions and descriptions (if you so chose), it is time to move on to the finalizing stage! From the form settings (cog wheel on the top right of the screen) we recommend you take a look at:
Group for answers:

In this setting, you can define which group

on your board the form responses will enter to. We've chosen the "New sign ups" group here so all of our form submissions will go directly there!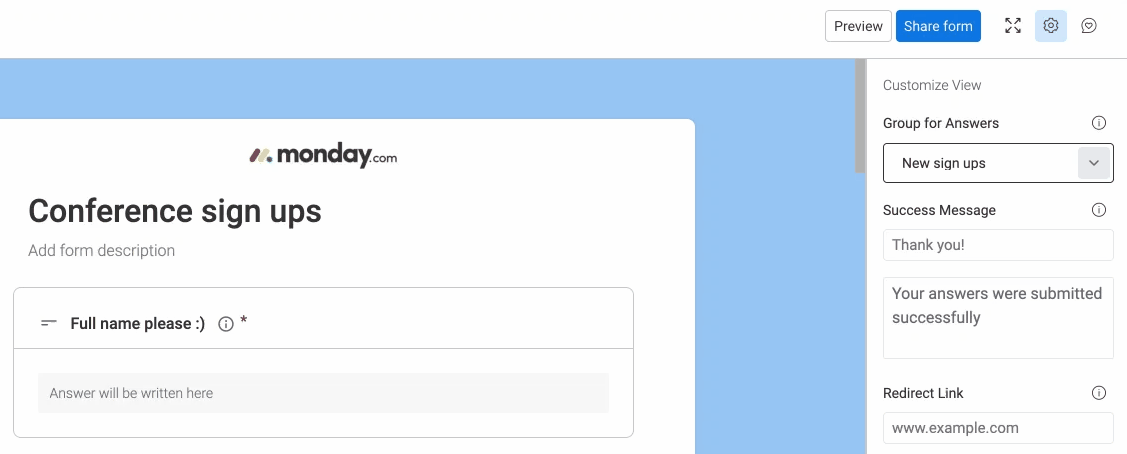 Success message:

Here, you can customize the message that will appear to the form submitter as soon as they've completed the submission of it.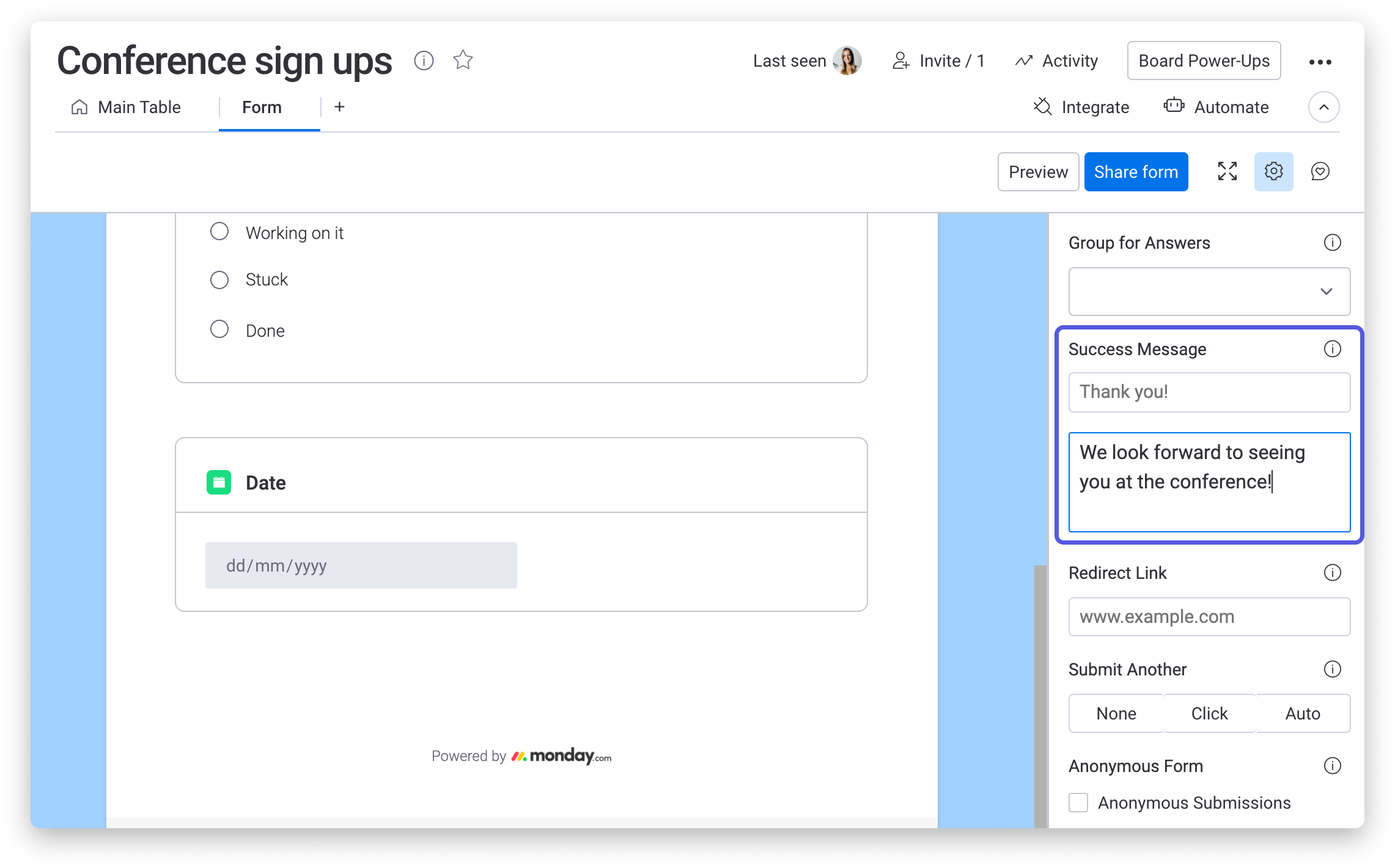 Redirect link:

This option allows you to send the form responders to a URL of your choice after a few seconds, such as your website for example. :)
Submit another:

This option is meant to help you make it easier for responders to send over more answers!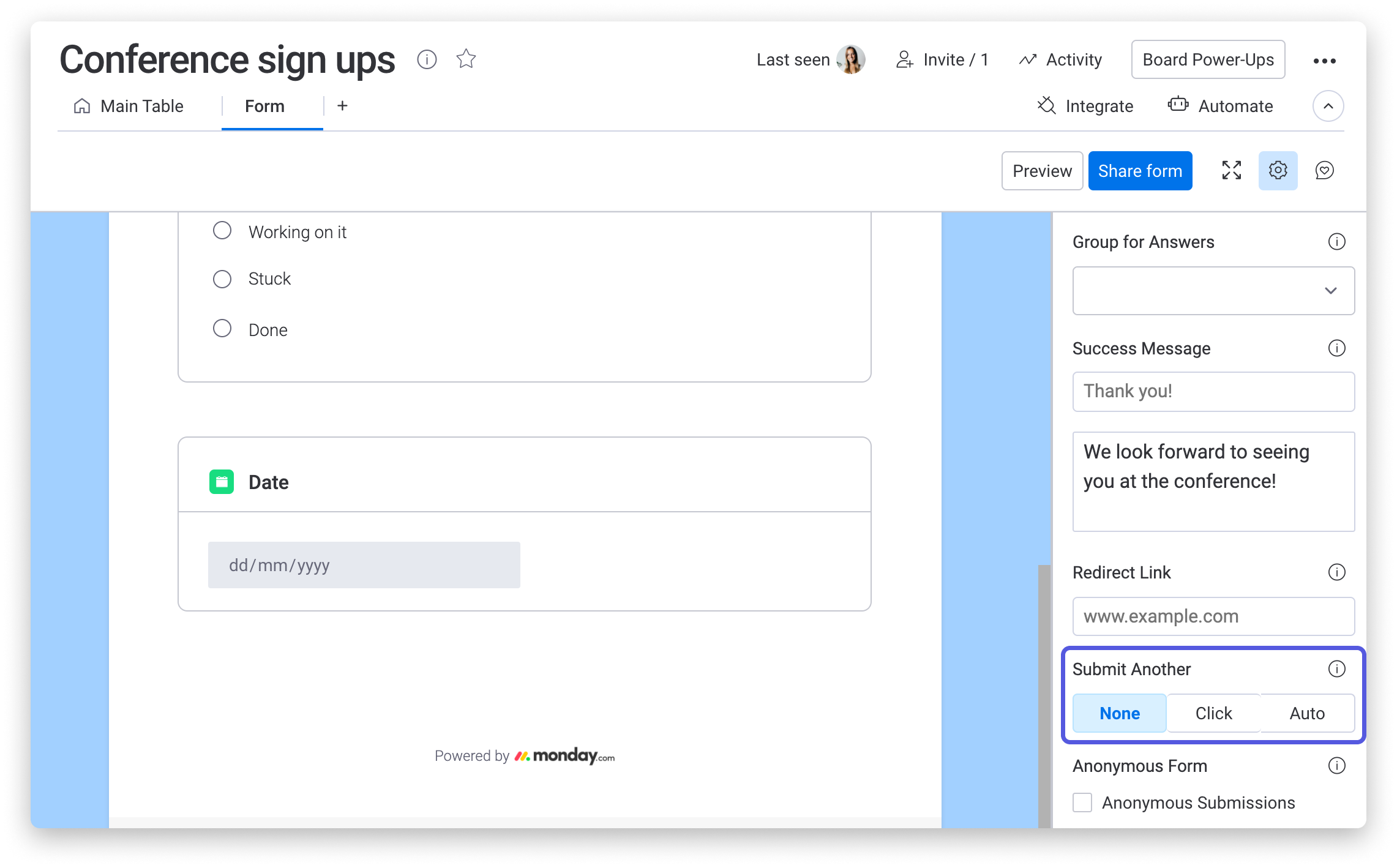 We have three options here:
-"Click" will open up a button for your responders to click on after successfully submitting a form if they wish and it will appropriately read "Submit again"
-"Auto" will re-direct a form submitter from the successful submission page back to the form for another go after 4 seconds
-"None" will keep things as they were so far, where the form submitter will only be able to submit another response if they re-access the form link
Additional customization options
And finally, at the bottom of the form settings, you can choose whether to have anonymous form submissions, to present your form as a survey, include the Updates Section as a question on your form, and to hide the monday.com logo (from the Pro plan and above).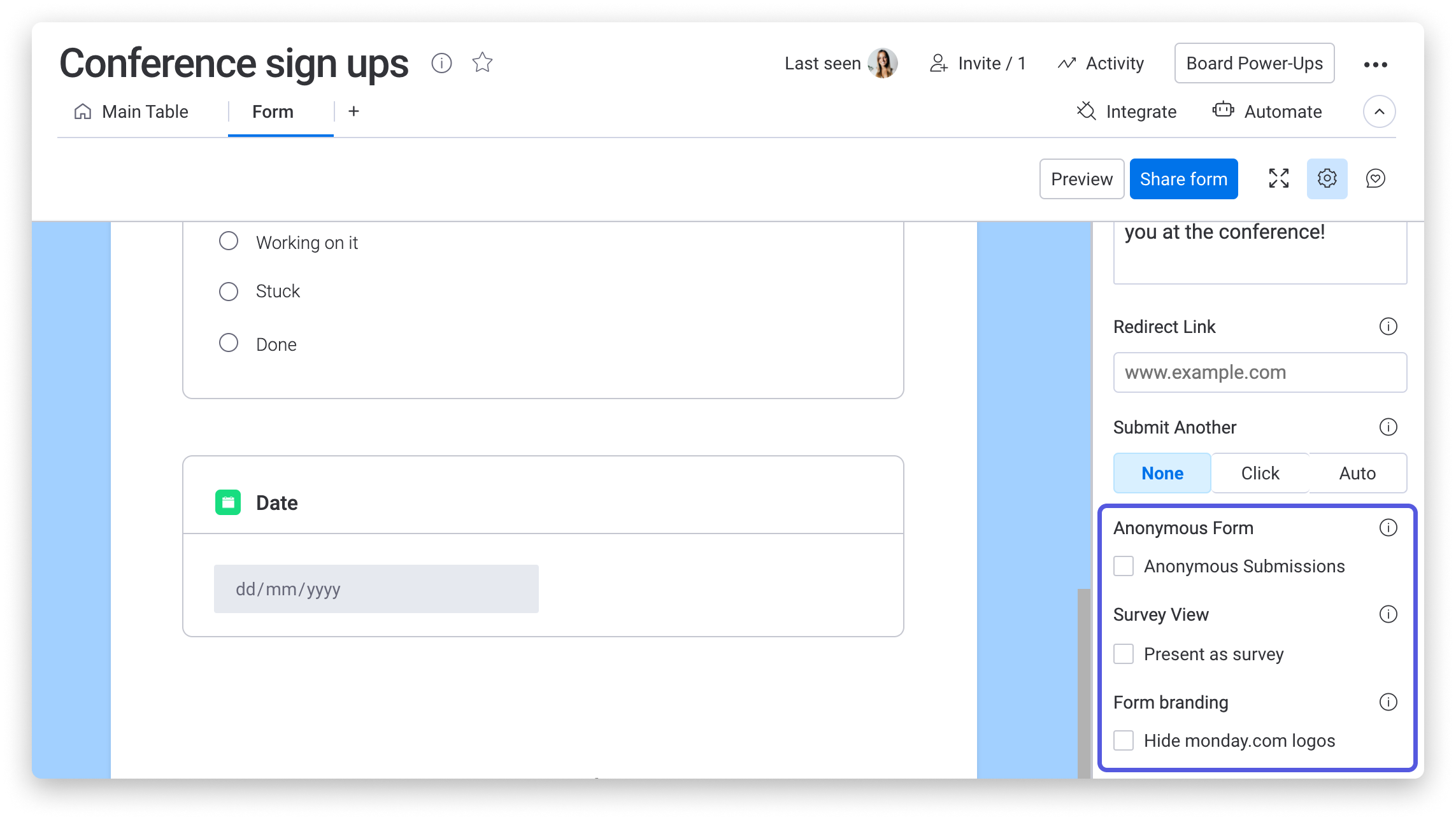 Preview your form
Clicking on the button will open up another tab, allowing you to preview your finalized form. Here, you'll be able to view and enter submissions to the form, just like your responders will after you click "Share Form".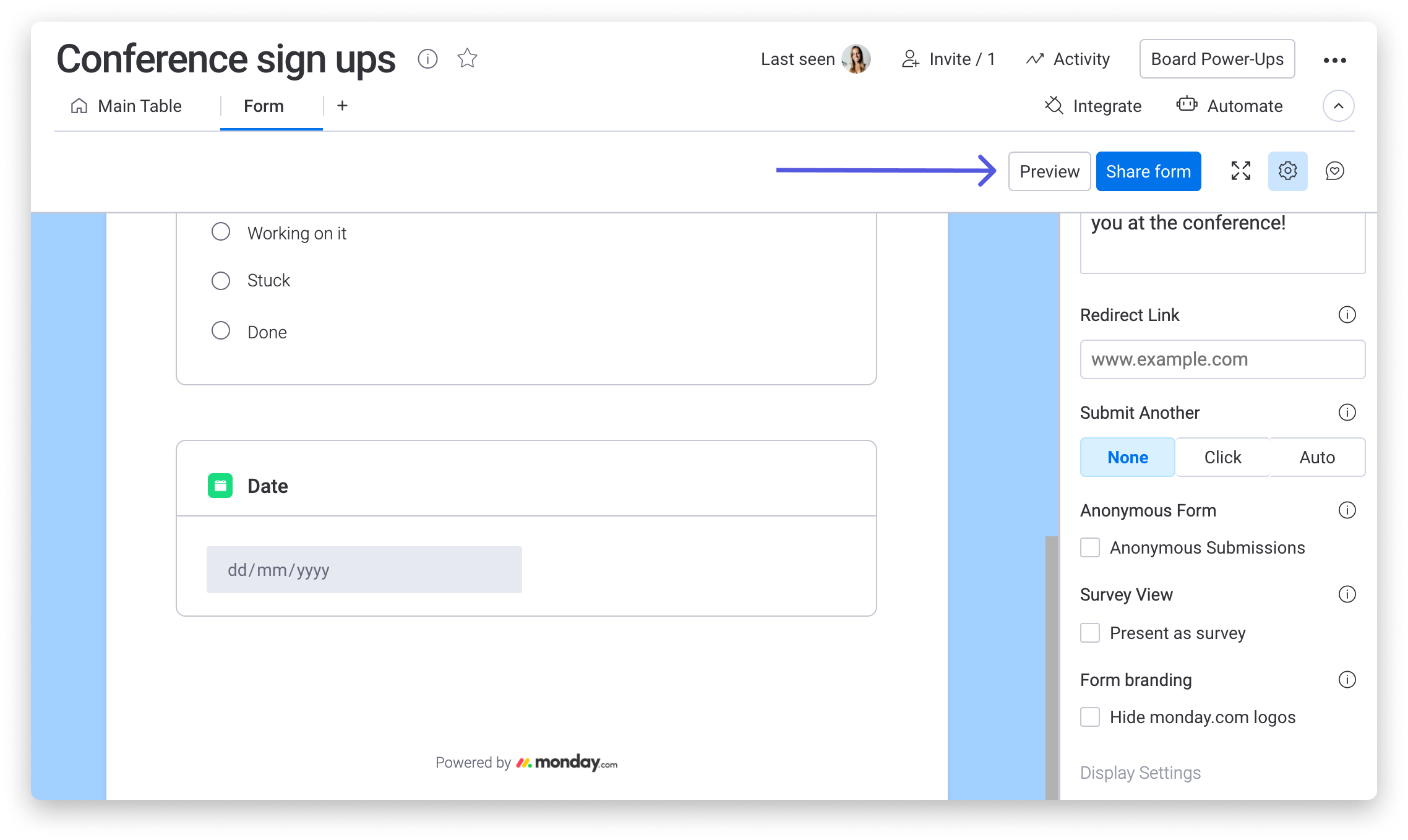 The magic moment has arrived, it's now time to share your completed form! To do so, click "Share Form" in order to view and copy the share link or embed code: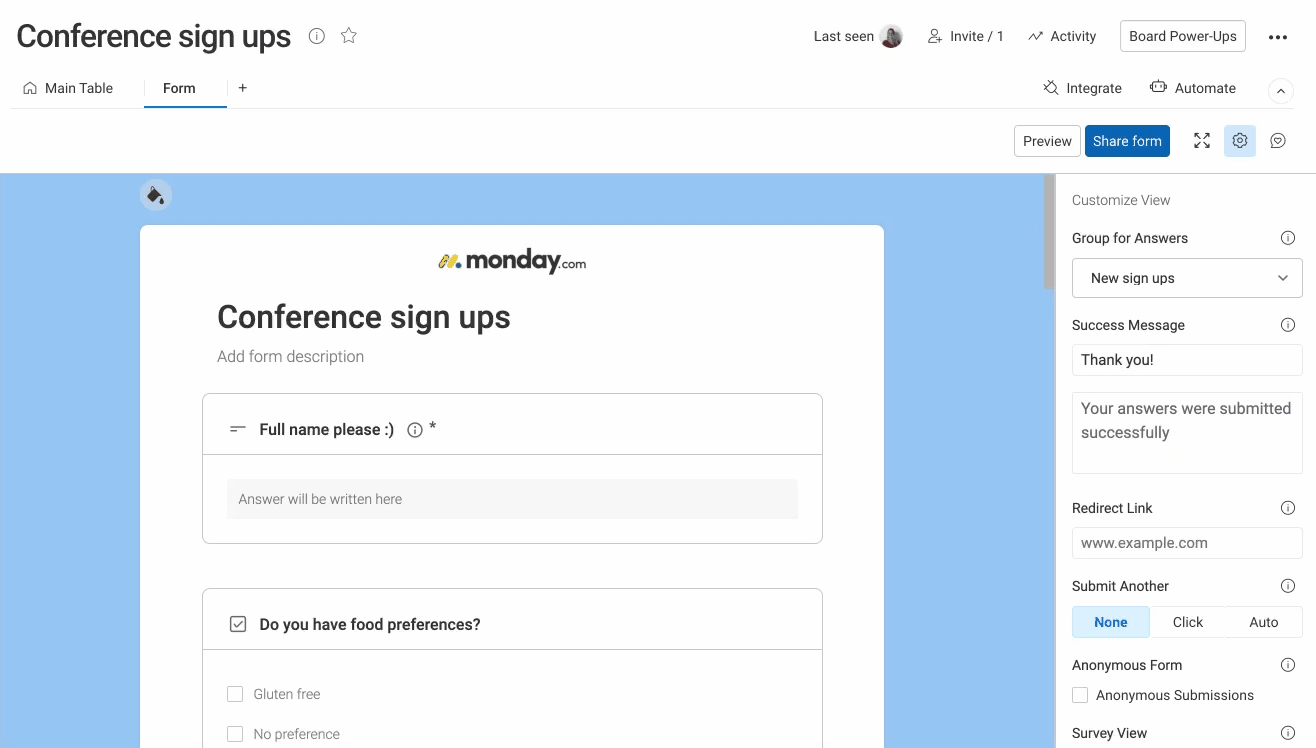 Note: Once you click on the "share form" button, the form will be live. However, no one will see it until you actively share it with them.
The results
Once the form links are sent out or embedded in a website, you'll receive any incoming submissions directly as new items on your board! This allows you to centralize, track, and analyze all of your form responses all in one place. 🙌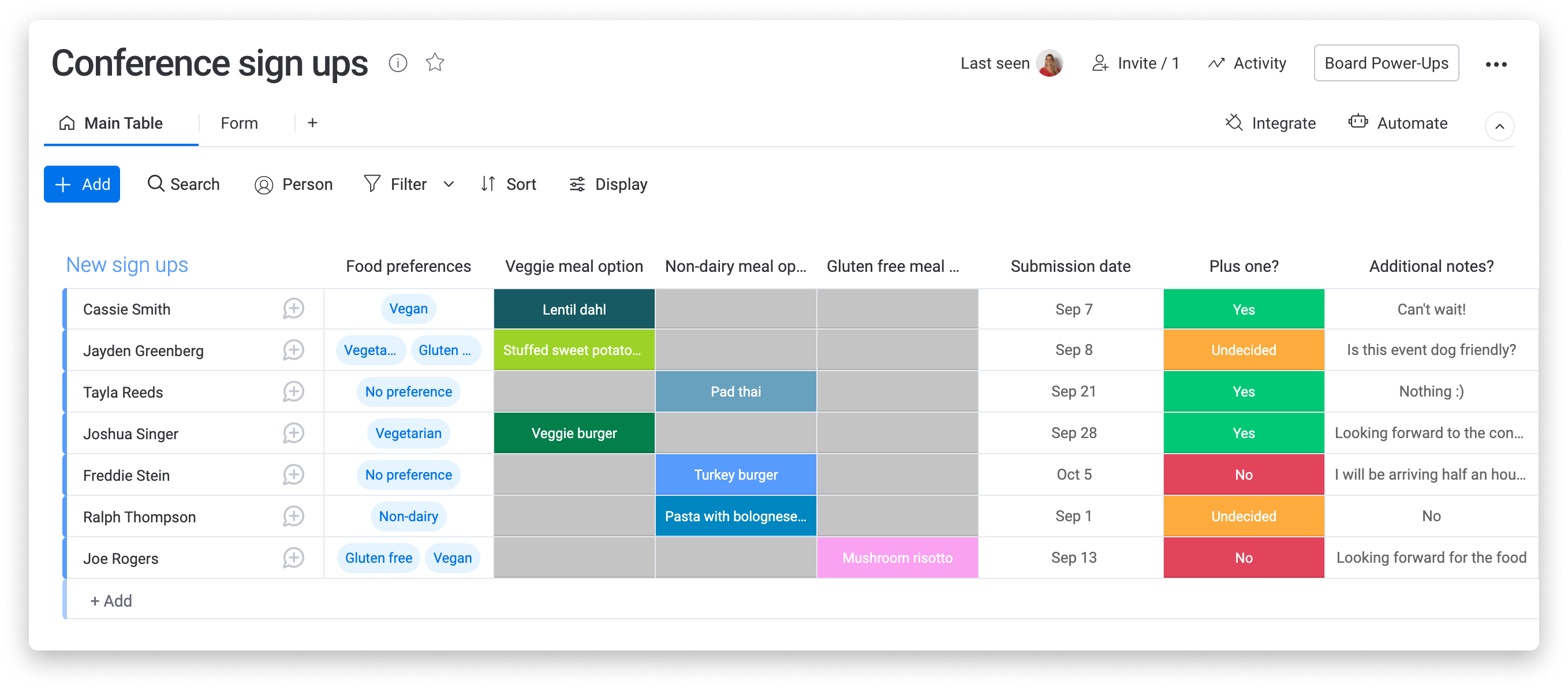 FAQ's
Anyone and everyone, just as long as they have access to the shareable link or embedded form.
What columns are supported?
The following are the supported column types: Text, Long Text, Numbers, Status, Date, Rating, File, Phone, Email, Dropdown, Checkbox, Location, Country and Timeline. With dropdown multi-select, you can search and choose multiple options you want from the form!
Note: When uploading files through Forms the maximum allowable size is 50MB.
Can I have multiple forms on one board?
You can! You can set up multiple forms on one board and even have the answers from each form fill a different group on the board.
Simply add a new form from the drop down menu as below:
Once you've customized your new form, you can easily go back and forth between the two form views on your board from the tabs above your board!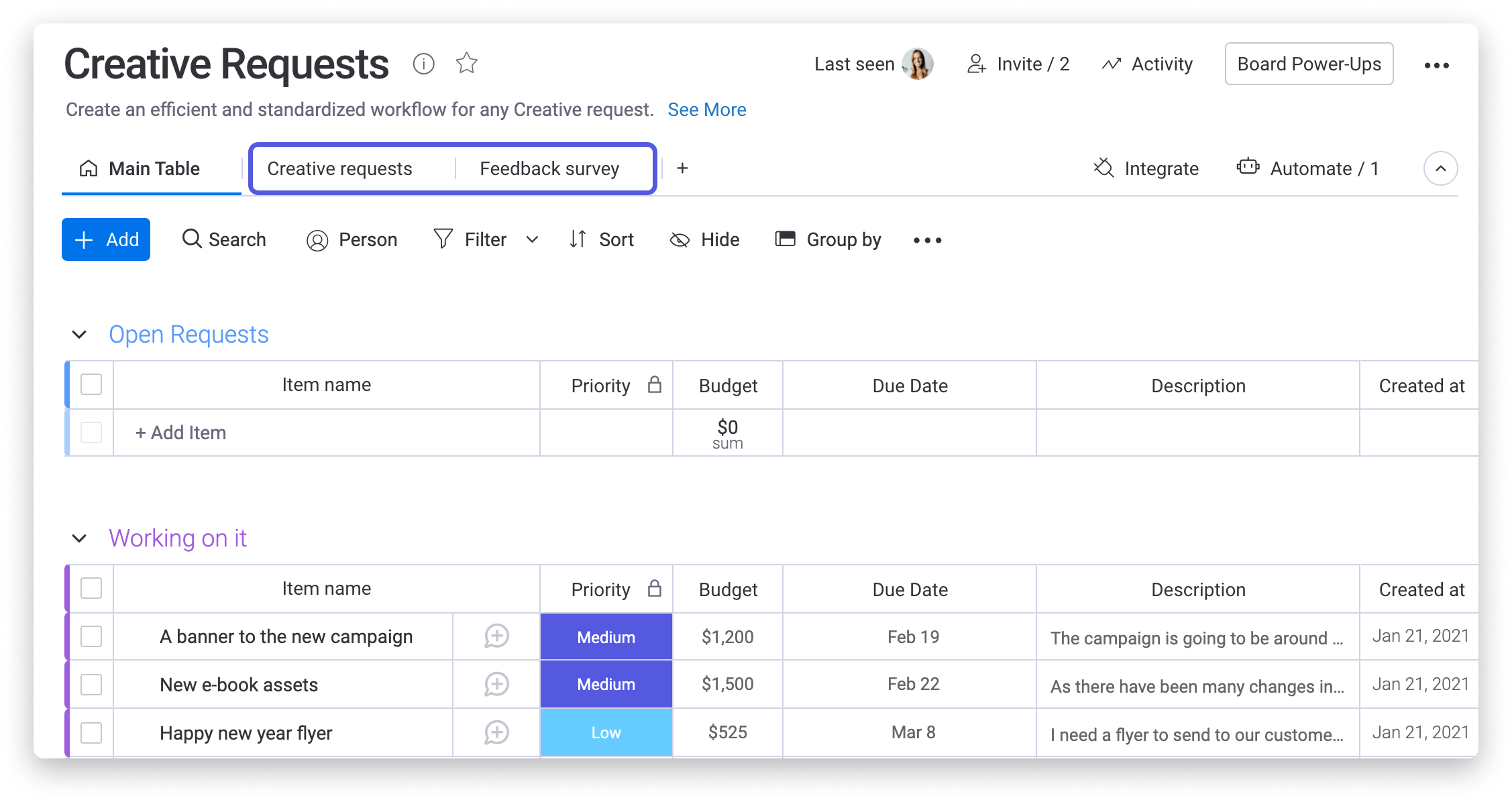 What happens when new columns are added to the board?
When new columns added to your board, they will show up on the form as new questions which will be hidden. You will then be able to click on the eye next to it to show the question and format it.
Do the forms display who submitted it?
You can add the Creation Log Column onto your board and the platform will recognize the person filling out the form as long as certain criteria is met! The following three conditions must be met order for the creation log column to recognize the form submitter:
The user who submitted the form needs to be a user on your account and have access to the board which the form is on (either main board or subscribed to the private/shareable board)

The user needs to be actively logged onto the monday.com account at the time that they submitted the form

The user needs to be logged into this account only and not another one
If a form is submitted and either of these three conditions are not met, the creation log will show the name of the person who created the form instead.
Tip: If the people filling out the form are external to your account and you would like to see who created the item through the form, we suggest adding a Text column onto your board and making "Enter your name here" a required field on the form!
How do I create anonymous forms?
You can make anonymous forms through the settings of the forms view, by checking "Anonymous Submissions" as so: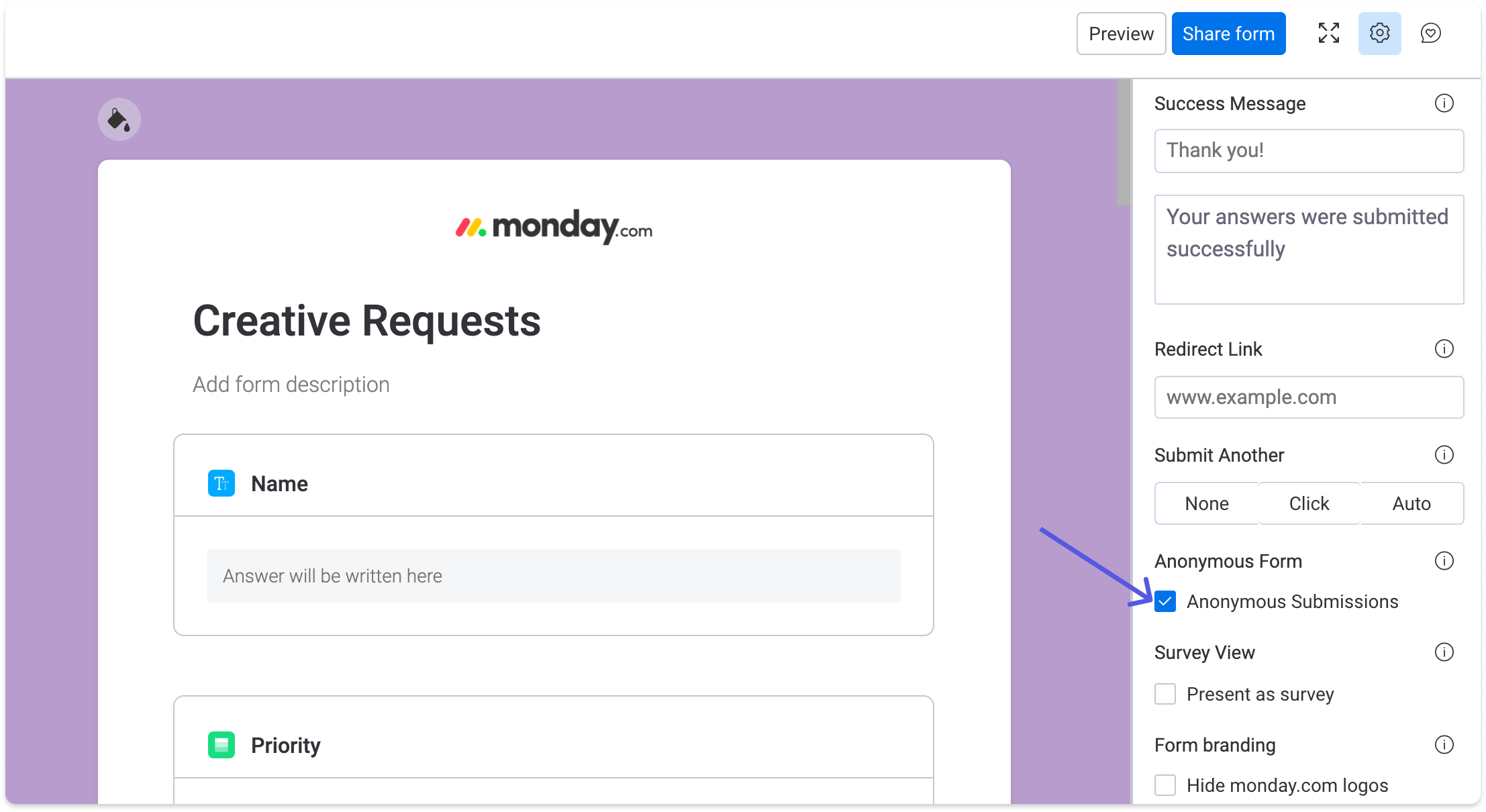 If an anonymous form was chosen then the user filling out the form will see a message informing them that the form is anonymous form. If it is anonymous - the user who created the form will appear in the creation log for all items. If a user has multiple monday.com accounts open when filling out the form we will recognize the user id of the last account they signed into.
Can I deactivate a form that has already been shared?
You sure can! Clicking on "Deactivate form" will shut down a form, even if it has already been shared. Anyone who has access to the deactivated form link or embedded page will see an error. You'll be able to activate the links by returning to the same share window and clicking the "Activate form" button: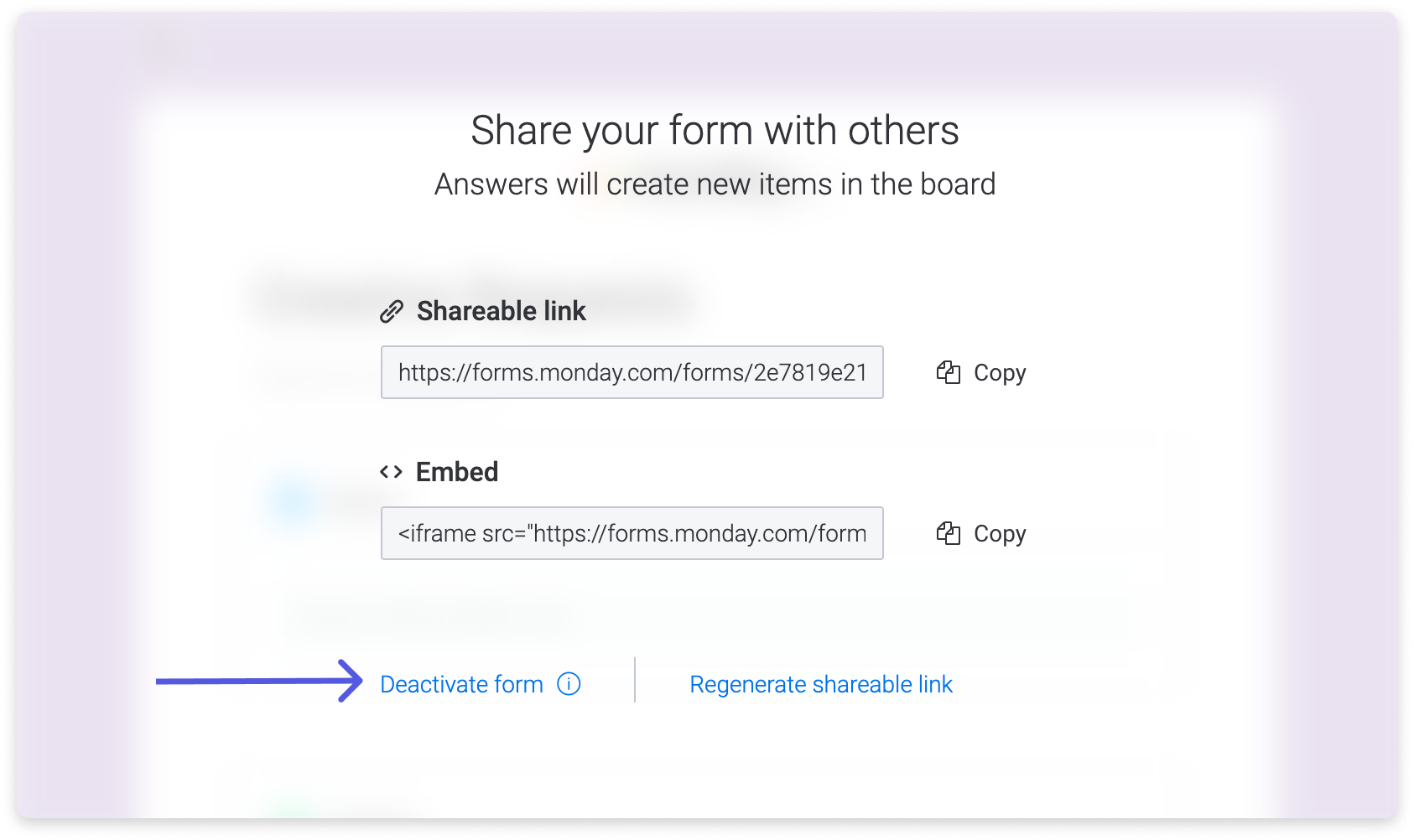 If you have any questions, please reach out to our team by using our contact form. We're available 24/7 and happy to help!