With monday.com, managing your files has never been easier! Upload your files, share them with your teammates and collaborate on them altogether. 🙌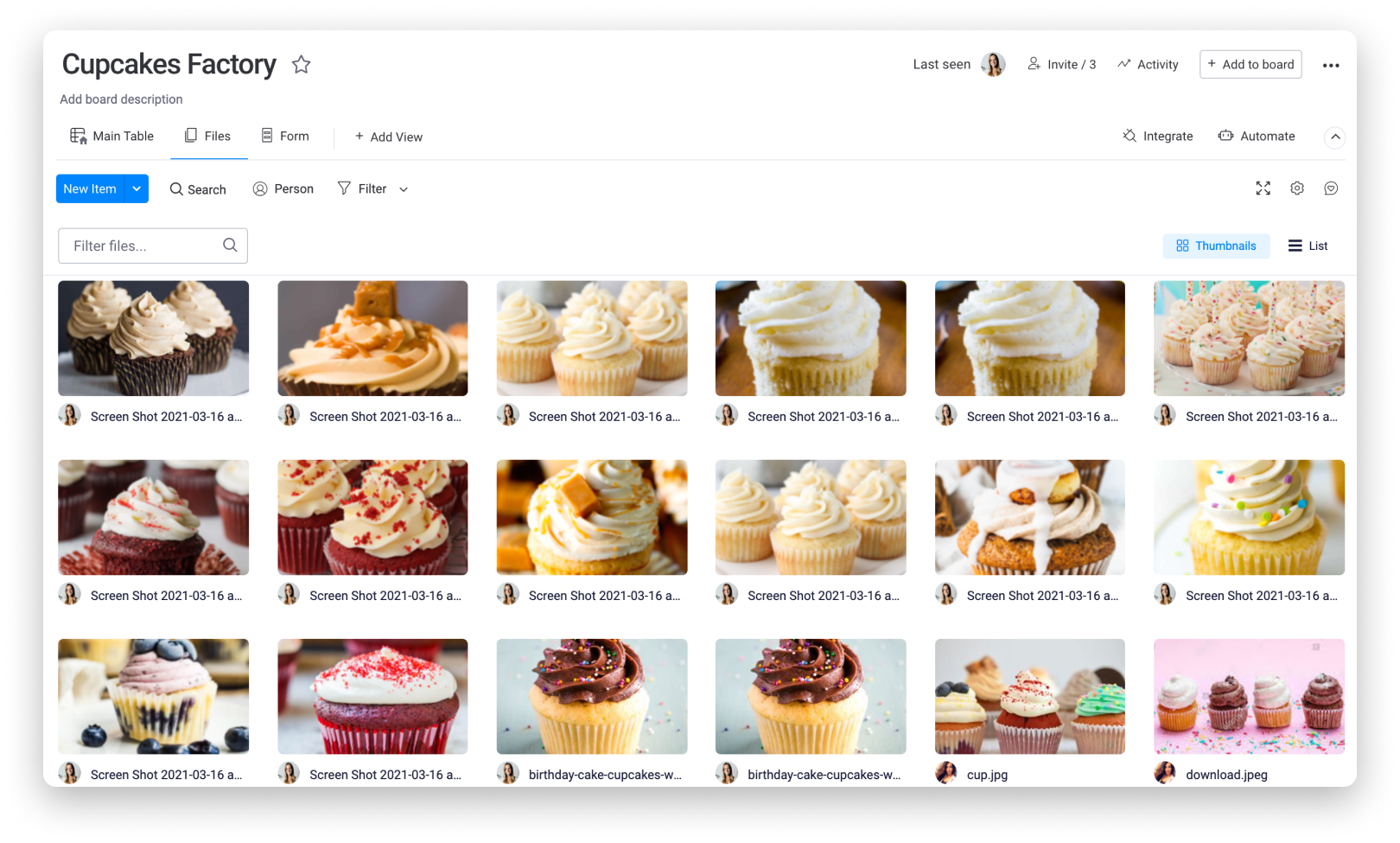 Note: Unlike other integrations, you do not set up Google Drive, Dropbox, Box.com, or OneDrive in the Integration Center. Read on to learn how!
There are three ways you can upload files and documents in monday.com:
The Updates section
The status box
The File Column
Let's go over each one of them.
1. Updates section
Click on the speech bubble icon on any item and inside you will see the Updates Section as below: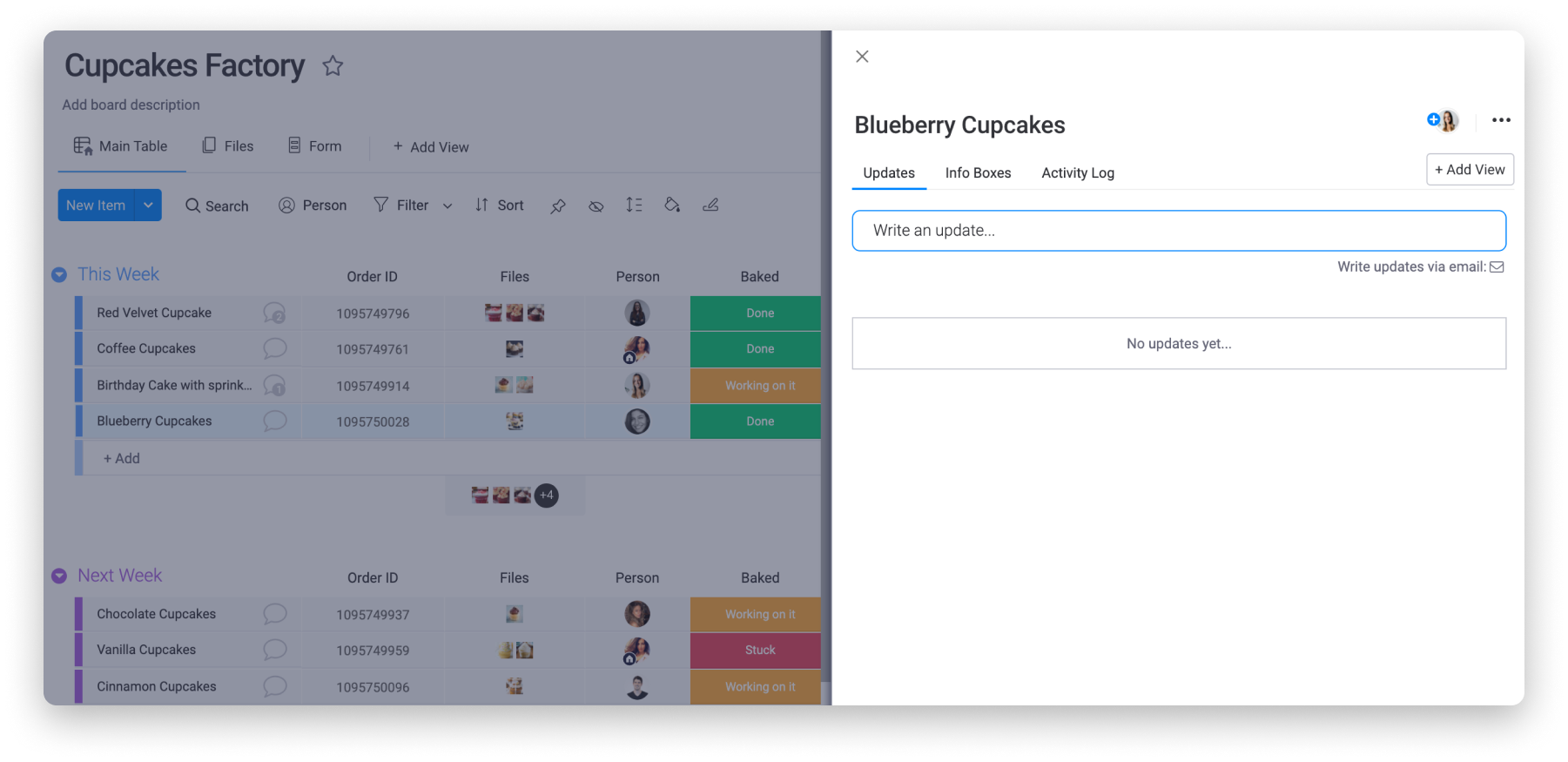 Next, click on "Add files" and select the file you would like to upload from either your computer, your Google Drive, your Dropbox, Box, or OneDrive. If you're having trouble connecting your Google Drive account, try clearing your cache and allowing third-party cookies.
Note: Google Drive isn't supported in the Edge Browser. Team Drive is not yet supported.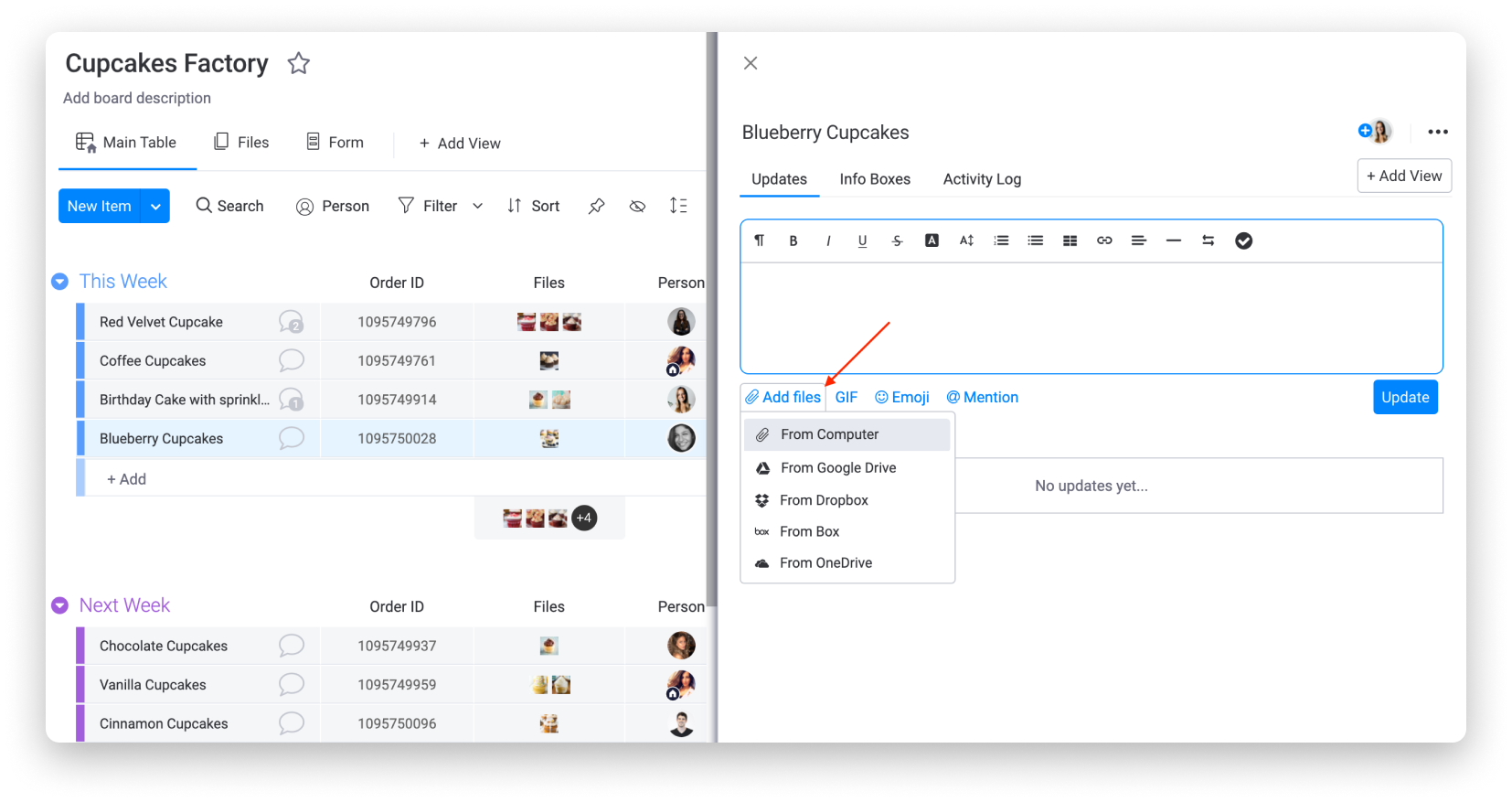 Select your file to upload and you are all set!
In case you made a mistake and would like to delete and/or edit the post, please select the arrow on the right of the update and select "Delete update for everyone" or "Edit update" to change the image inside the post.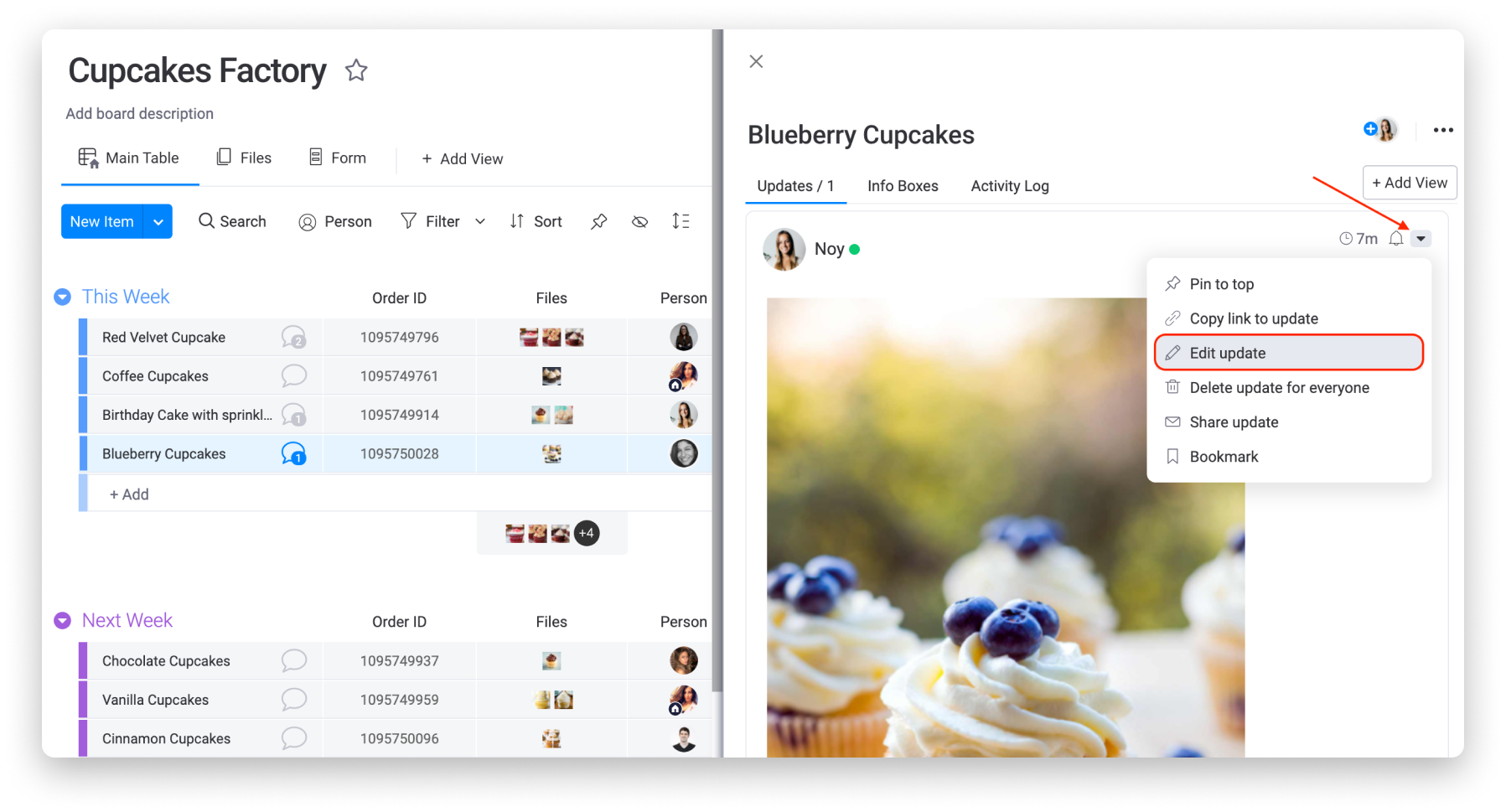 Note:
Your updates and files will continue to move down your page as you add new ones into your feed. If you would like to keep some updates always at the top, you can pin your update. Check out
our article here
on how to do that!
2. Status box
If you'd like to add an attachment to a status box on the board, click the + sign that appears on the right-hand corner of any status. Next, click on "Add files" and you'll see a drop-down menu appear for you to upload a file.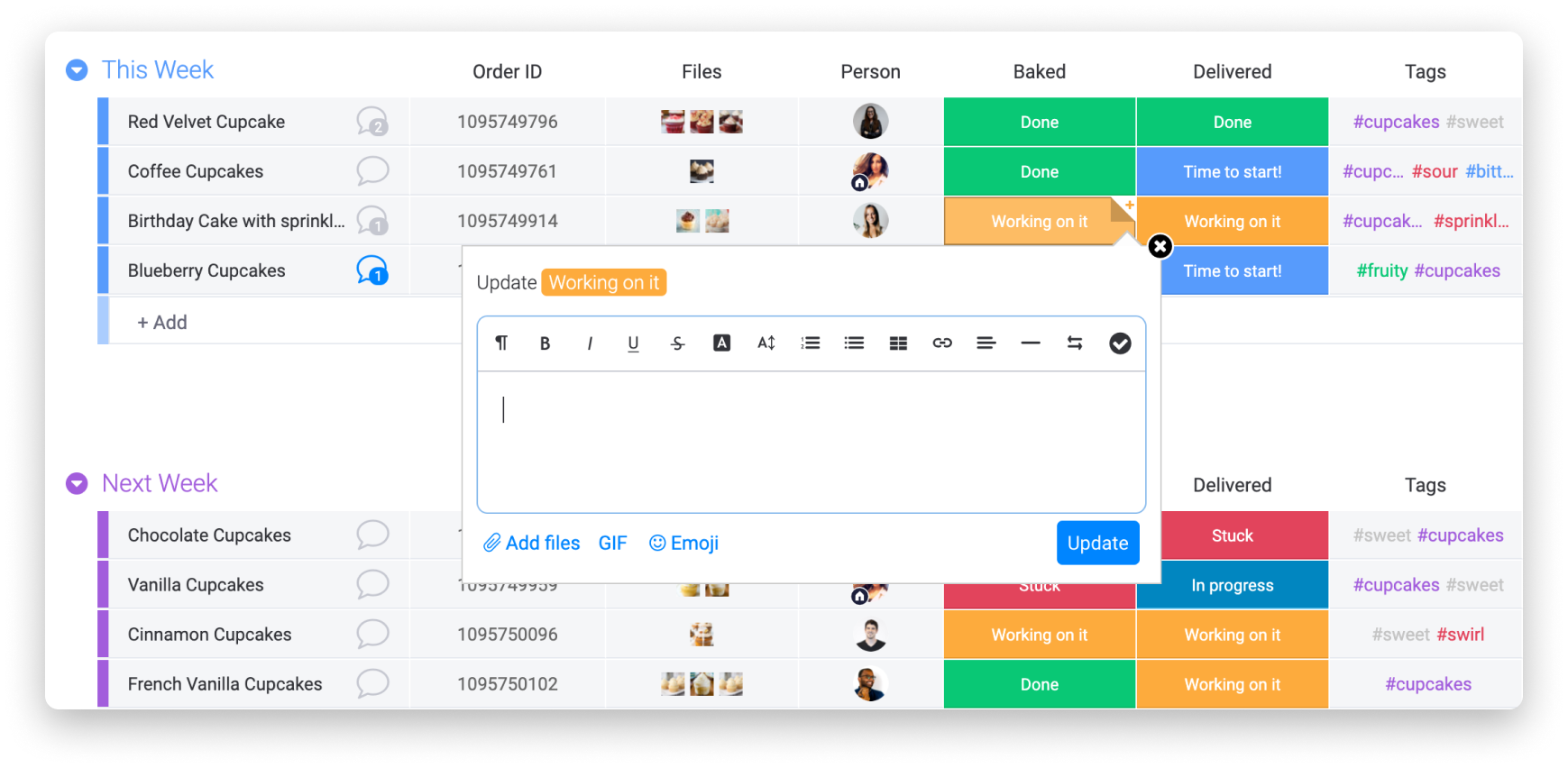 Add the attachment and you can see it at a glance if you scroll over that given status label. The snapshot of your status will also appear inside the update section of that item as seen below: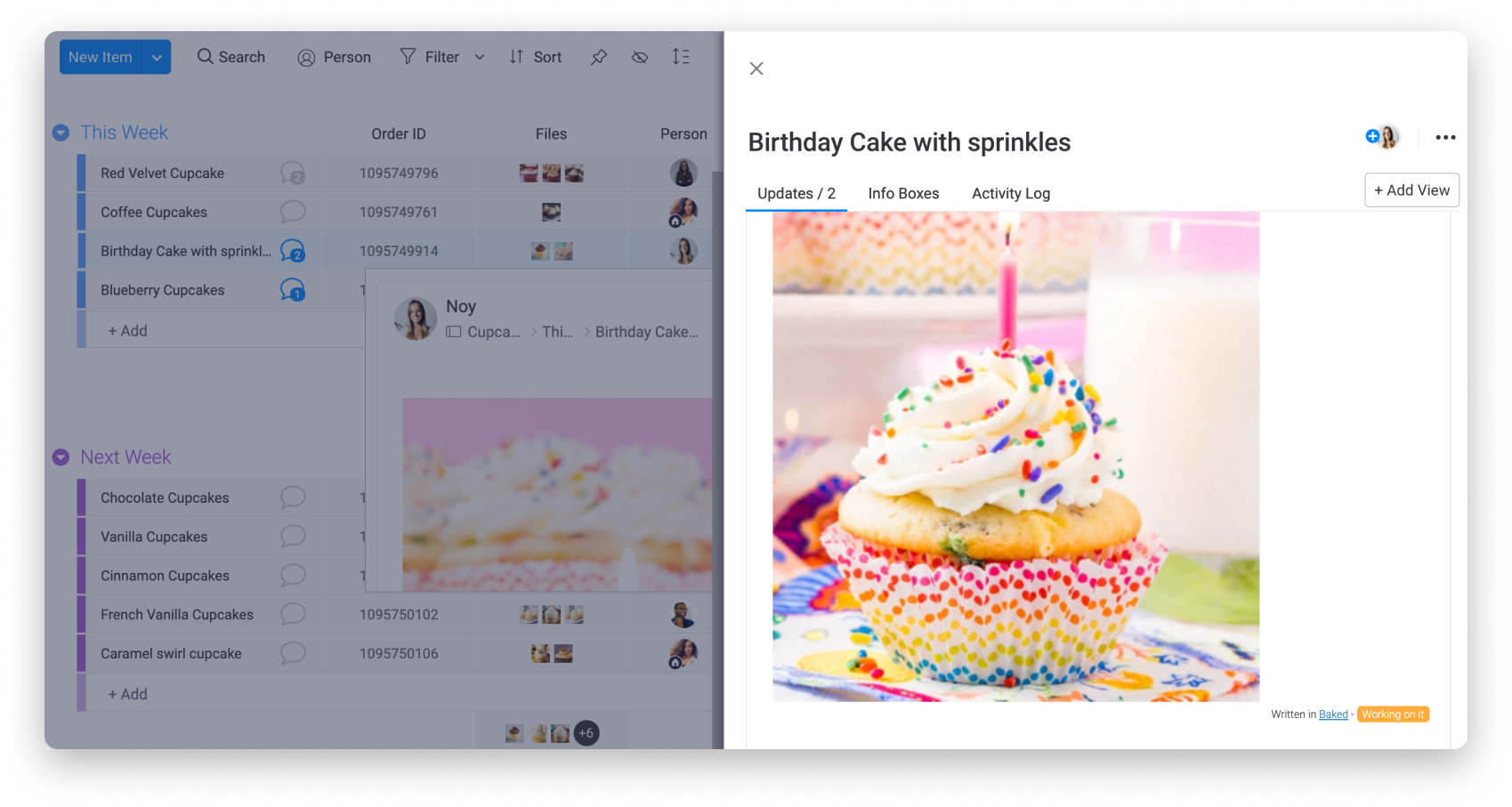 3. The file column
The file column allows you to add files to your board. To learn more about this column, check out this article right here. Simply click inside the cell and add your file. You can add files from your desktop, Google Drive, Dropbox, Box.com, or OneDrive. If you're having trouble connecting your Google Drive account, try clearing your cache and allowing third-party cookies.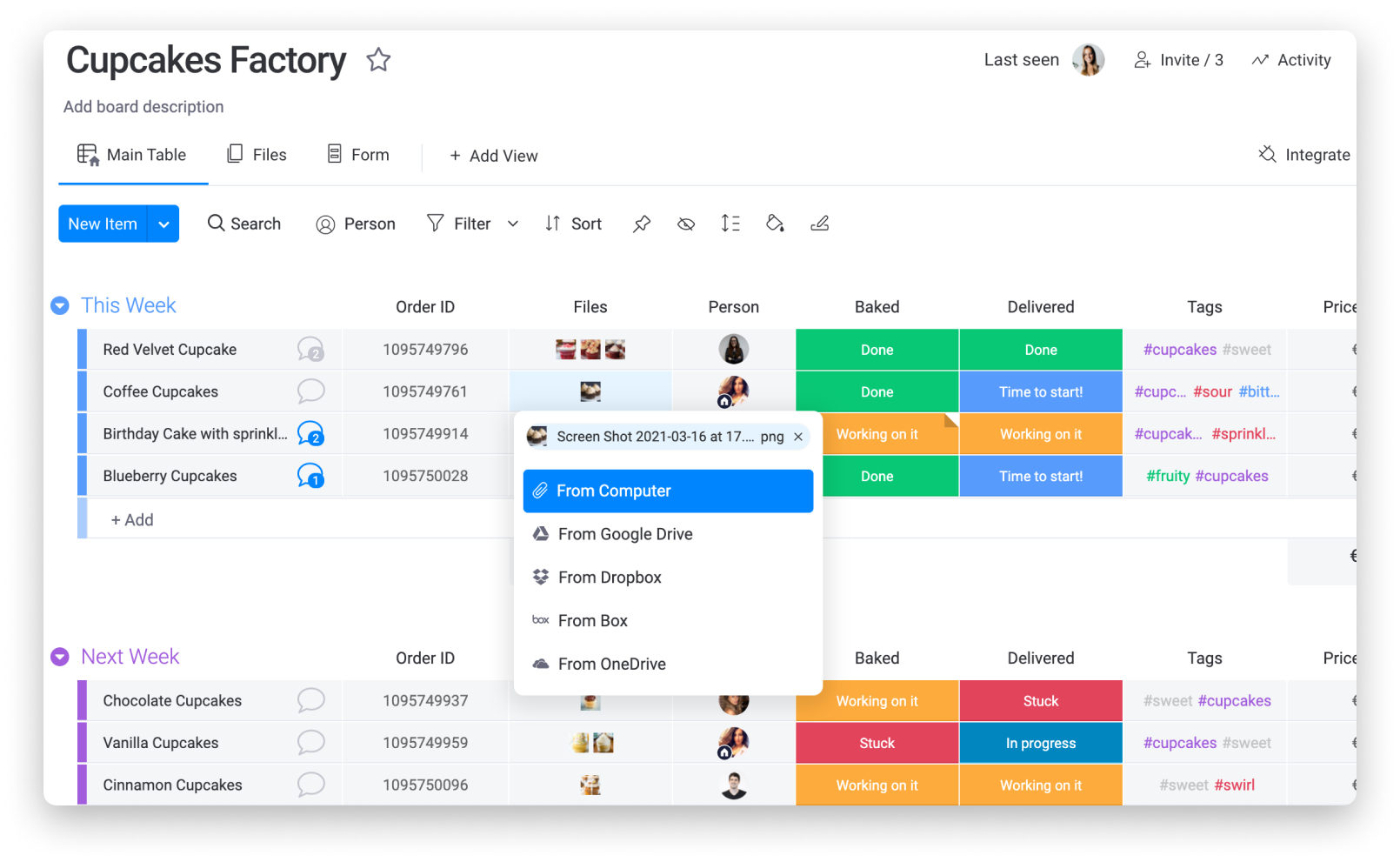 Once your file is added, it will look like this: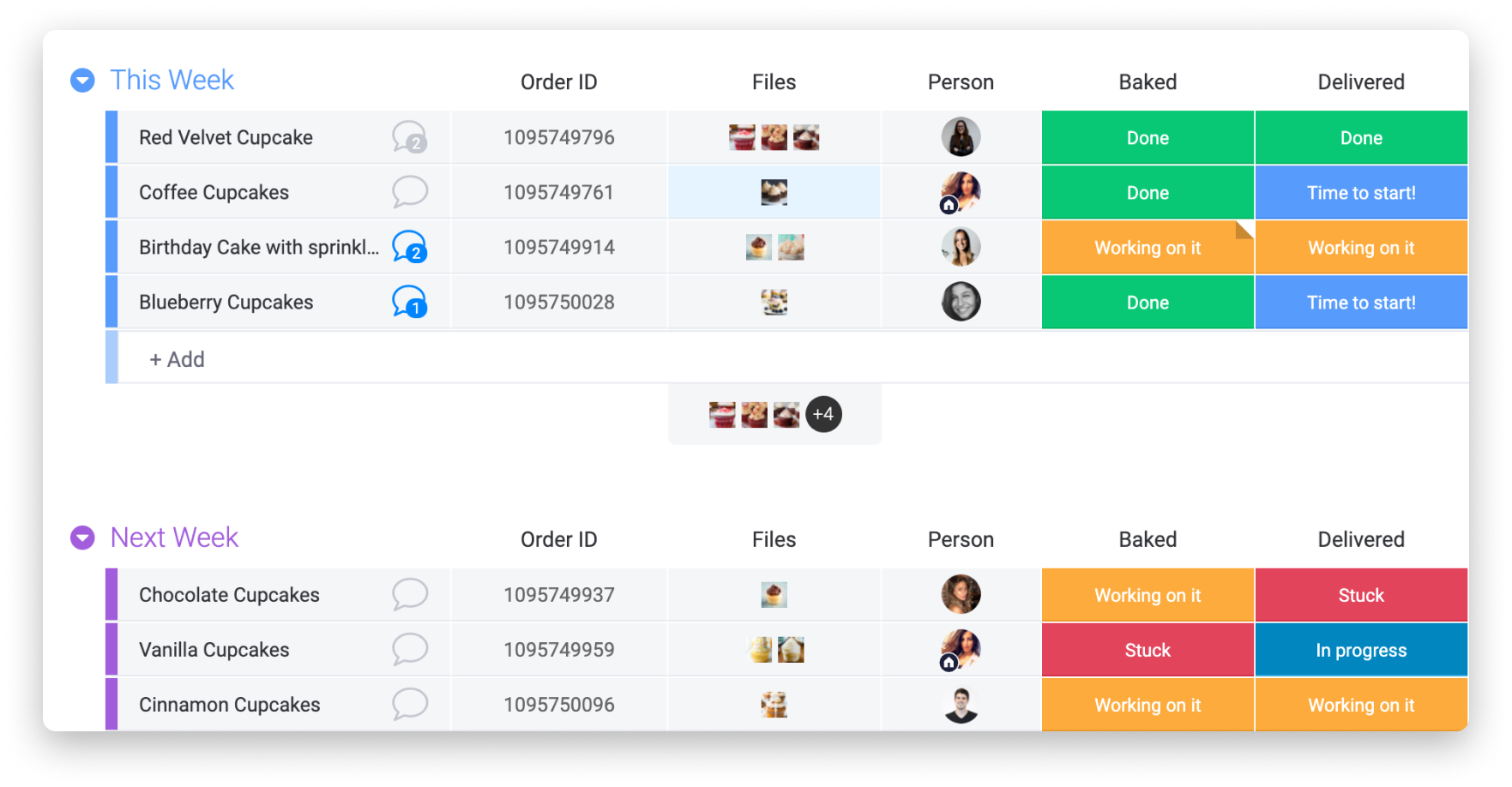 You can make comments and communicate on any documents with the help of the annotation feature. To do so, open your files from the files view or from the files column. From there, you'll be able to see comments previously added by your team members and add your own, without needing to leave your board.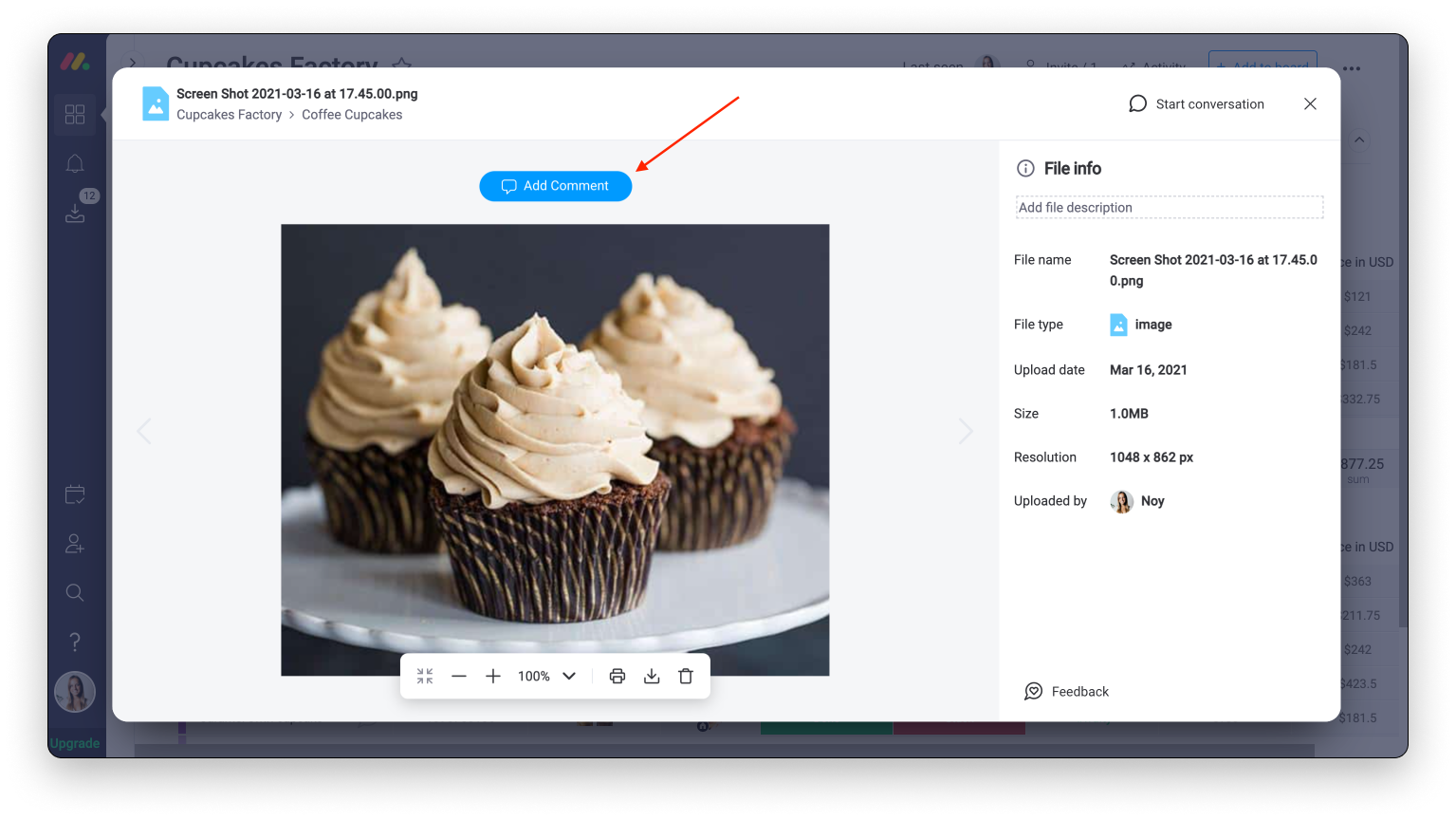 This will help keep things organized, manageable, and in context!
How to see all your files in one place
You can view and access all the files stored in your board in the Files View. You will find a step-by-step explanation of that view right here.
Once your files view will open up, you will be able to see all the files that have been uploaded to your board: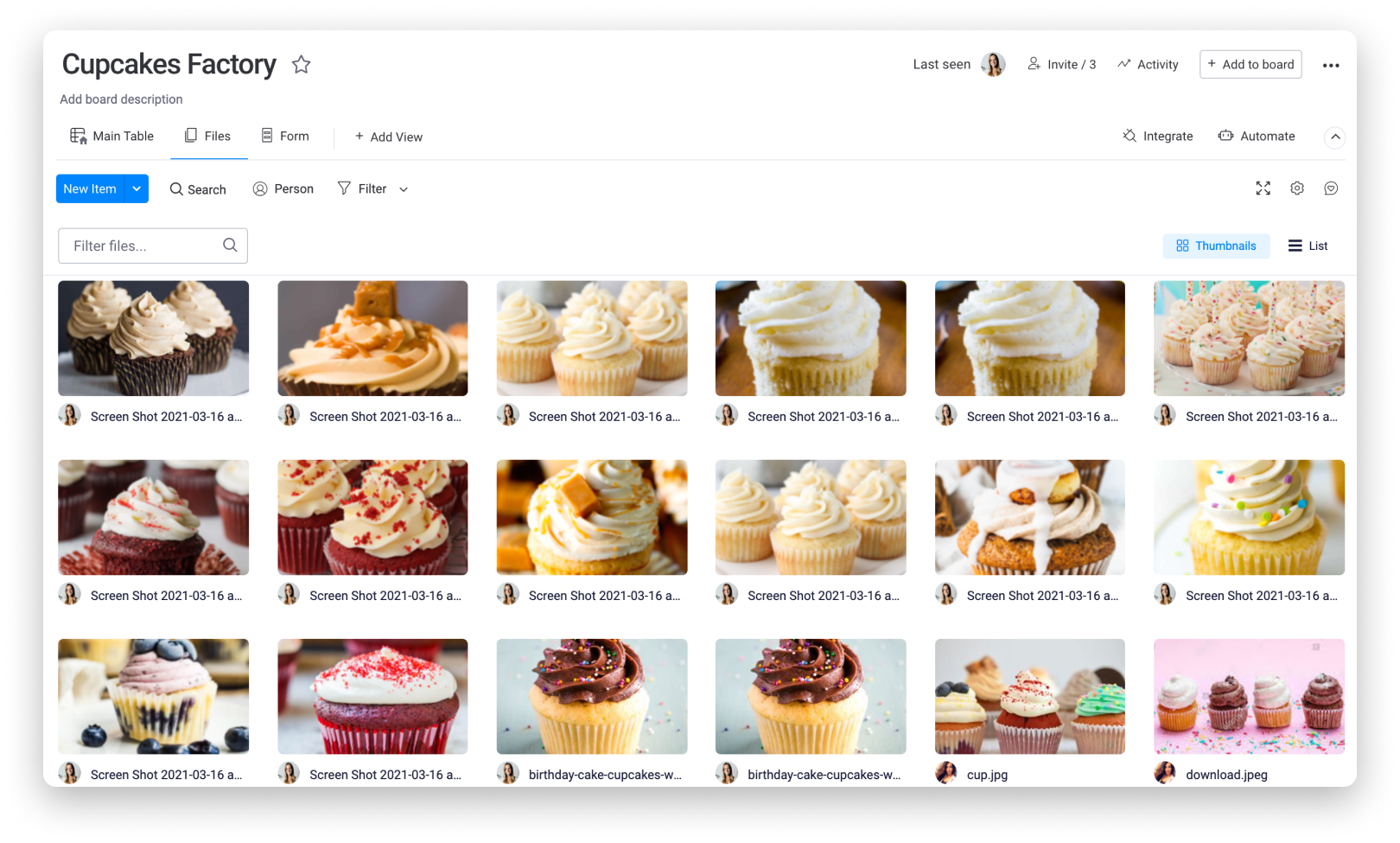 You can click on any of the files to easily communicate and collaborate 🙌
If you have multiple files uploaded to one item in the files column, you can download them all at once to a zip file! When you click on any file from the Files Column or the Files View, you can click on the download icon. From there, you can either click "Download file" to download the single file that you are viewing or "Download all as zip" to download all the files in the item into one zip file.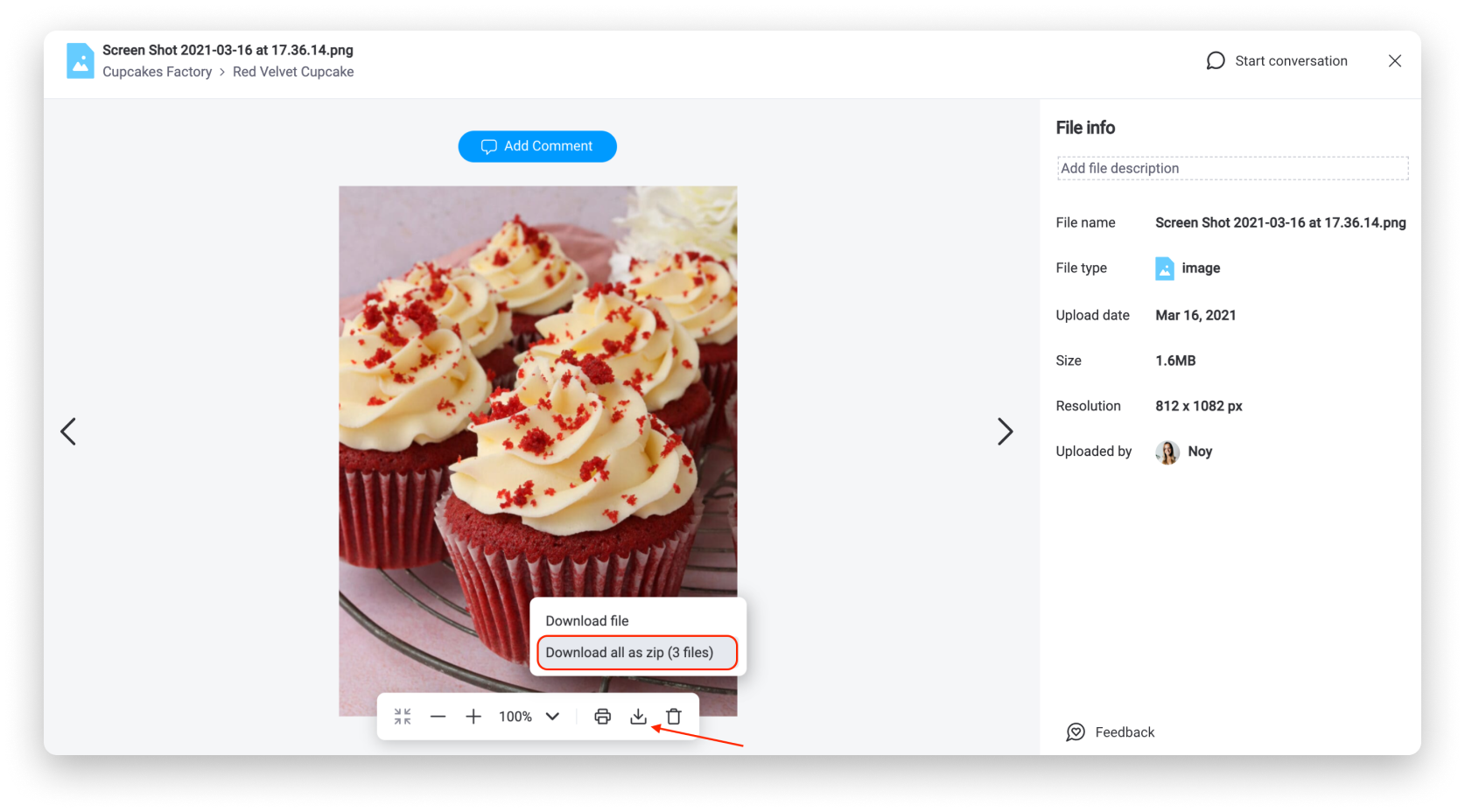 Currently, anyone that has access to your board will be able to download the files or edit them. If you would like your files to remain restricted, you can add them in the file column. Once added, you can set up board permissions allowing only owners of the boards to edit the board. Check out this article to learn more about it.
Admins of the account are now able to enable or disable link previews in your Updates section. You can read how to do it in this article :)
500MB is the maximum file size in each item. If you're finding that files you'd like to upload are bigger than that, you can create a zip file and upload that instead or upload from Google Drive, Dropbox, Box, or OneDrive.
We currently do not support HTML files. The best way to handle this would be to zip it and then upload it.
If you and your team plan on making lots of edits to your file, you might want to consider copy and pasting a link from either Dropbox, Google Drive, Box, or OneDrive so this way you won't have to continuously re-upload the latest version of your document.
If you have any questions, please reach out to our team by using our contact form. We're available 24/7 and happy to help!