Salesforce is a sales process management tool that helps you to track leads and manage your sales process from start to finish.
Now, with our Salesforce integration, you can streamline the customer relationship management process by incorporating valuable lead information into monday.com! 🎉
Important: Before setting up the integration
Note:
This integration is only available on our Enterprise plan.
In
order to set up this integration, you must also have a Salesforce subscription of Enterprise or Unlimited. Salesforce does not support integrations on its Essentials or Professional plans.
When you first set up the integration, you will see this message:
Before you are able to create and use this integration, a package has to be installed on your Salesforce account. This package can only be installed by a Salesforce team member with the 'API Enabled' permission. More than likely, this will be your System Administrator.
After the package has been successfully installed, the integration with a monday.com board can be created by any Salesforce team member with the 'API Enabled' permission. Reach out to your System Administrator for this permission.
Tip: If your SalesForce organization is a Sandbox organization, make sure to tick the checkbox.
Step 1
Go to your chosen board and click on the sparkplug button located on the upper right-hand corner of your screen: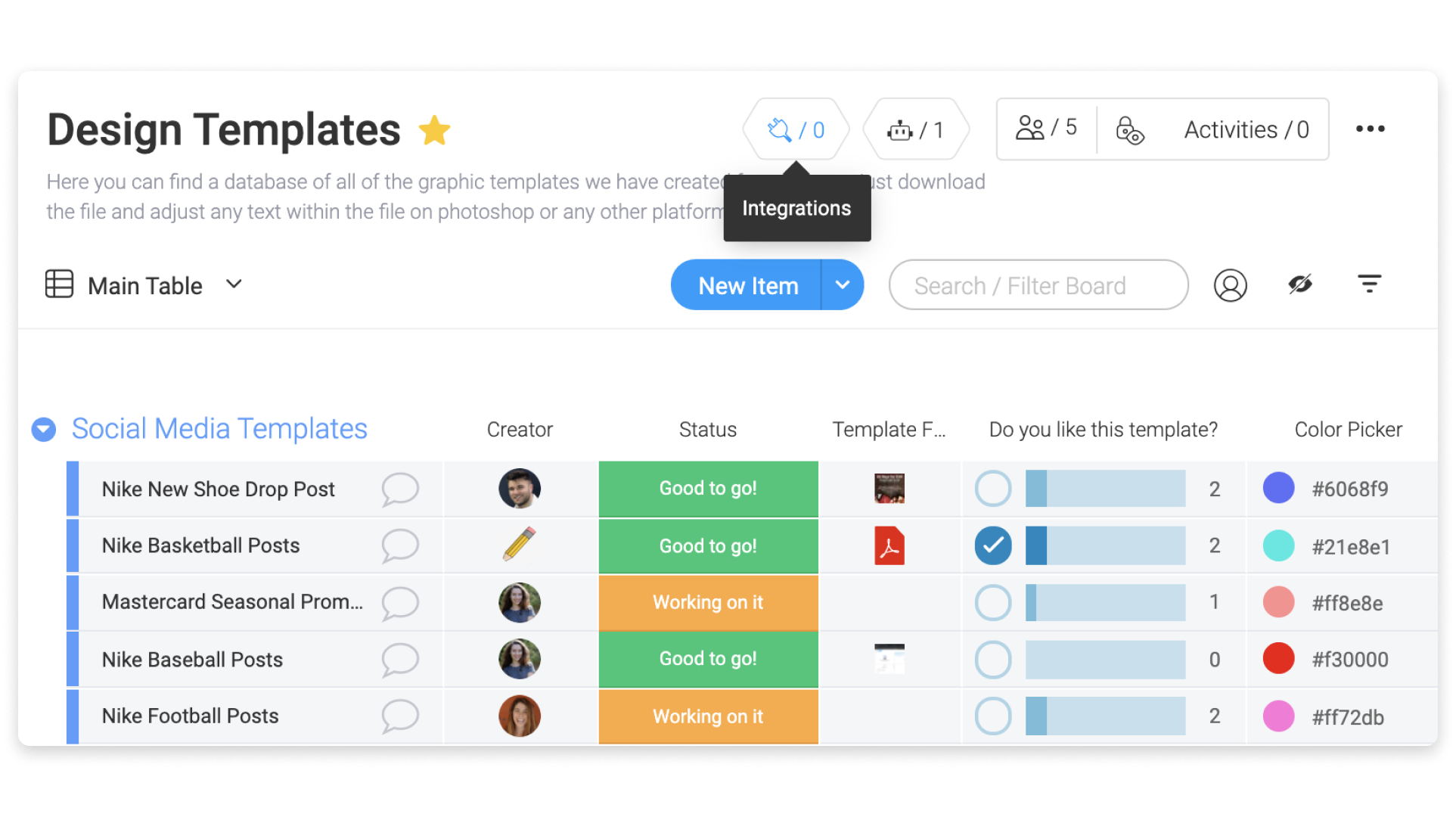 This will open the Integrations Center. Here you will see all of the apps that integrate with monday.com. Once in the Center, select "Salesforce":
Step 2
Once you click on the Salesforce banner, you will see the recipe currently available for integrating between monday.com and Salesforce. We focused, first, on syncing changes made in Salesforce with your monday.com boards.
Step 3
Once you click on an integration recipe, you will be asked to enter your Salesforce subdomain:
If you aren't familiar with your account subdomain, it can be found on the Account tab of your Salesforce homepage:

In the above example, the subdomain is "monday-dev-ed". Once you've entered your subdomain, click "Connect". And then, "Allow" access:
Step 4
Time to set up your integration!
To better understand how this integration works, let's dive into an example using the recipe "When an object is created, create an item and sync all future changes from Salesforce".
Choose an object to sync. In this example, we're going to use "Lead".
Note: You will not see custom entities under "Object", but you can sync custom fields when mapping the item.
Under "conditions" we'll choose what we want to filter into our board. In this case, we're filtering in Leads with the last name "Smith":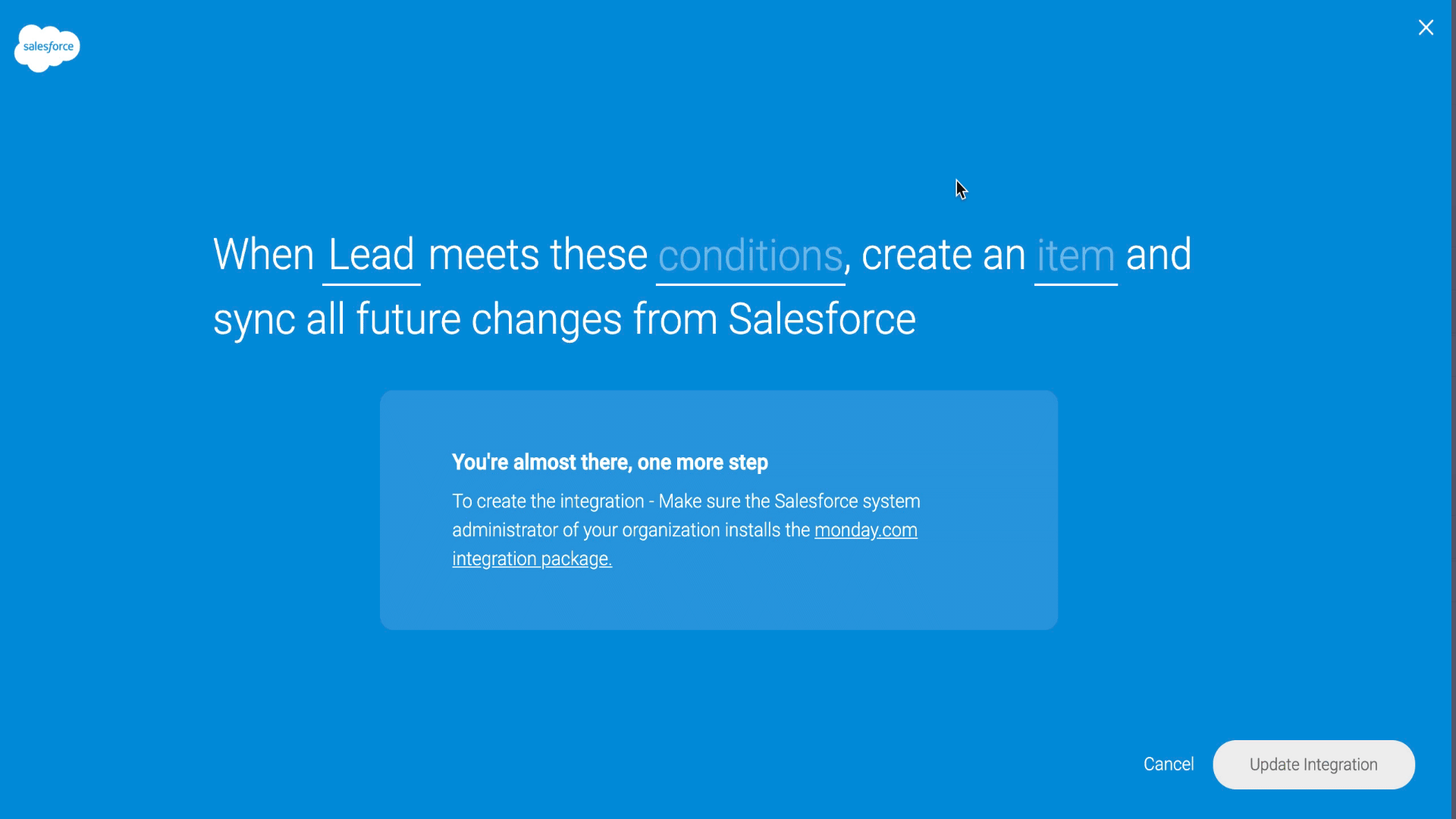 Now, under "item", let's select which data will be mapped into each column when the Lead is synced.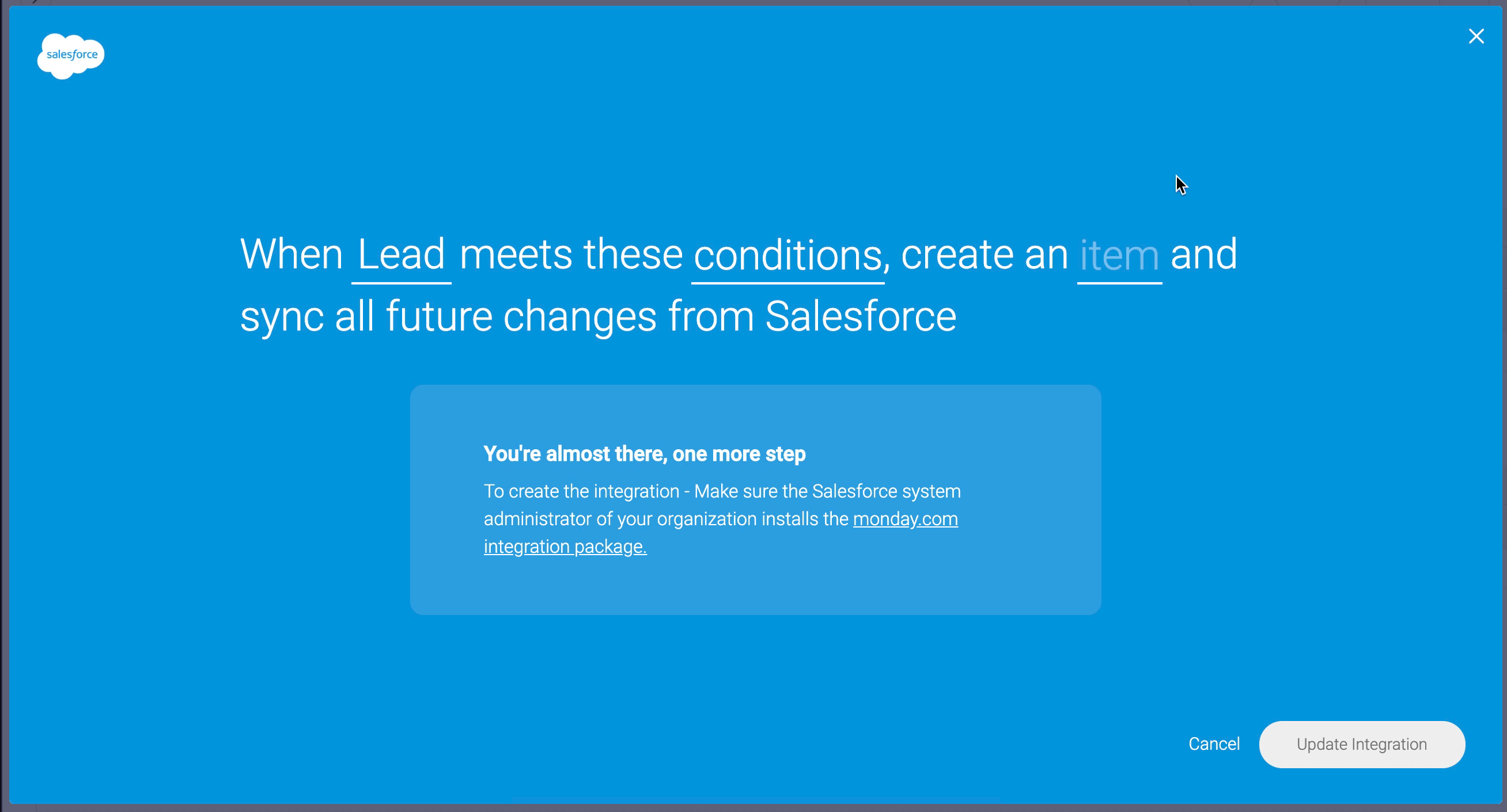 Note: When selecting which data will be mapped into each column, the Salesforce integration column will be added automatically. When you add your integration, a tip will appear to explain the column purpose. The purpose is to maintain the connection between the parameters in both apps
Now, when a new Lead is created in Salesforce...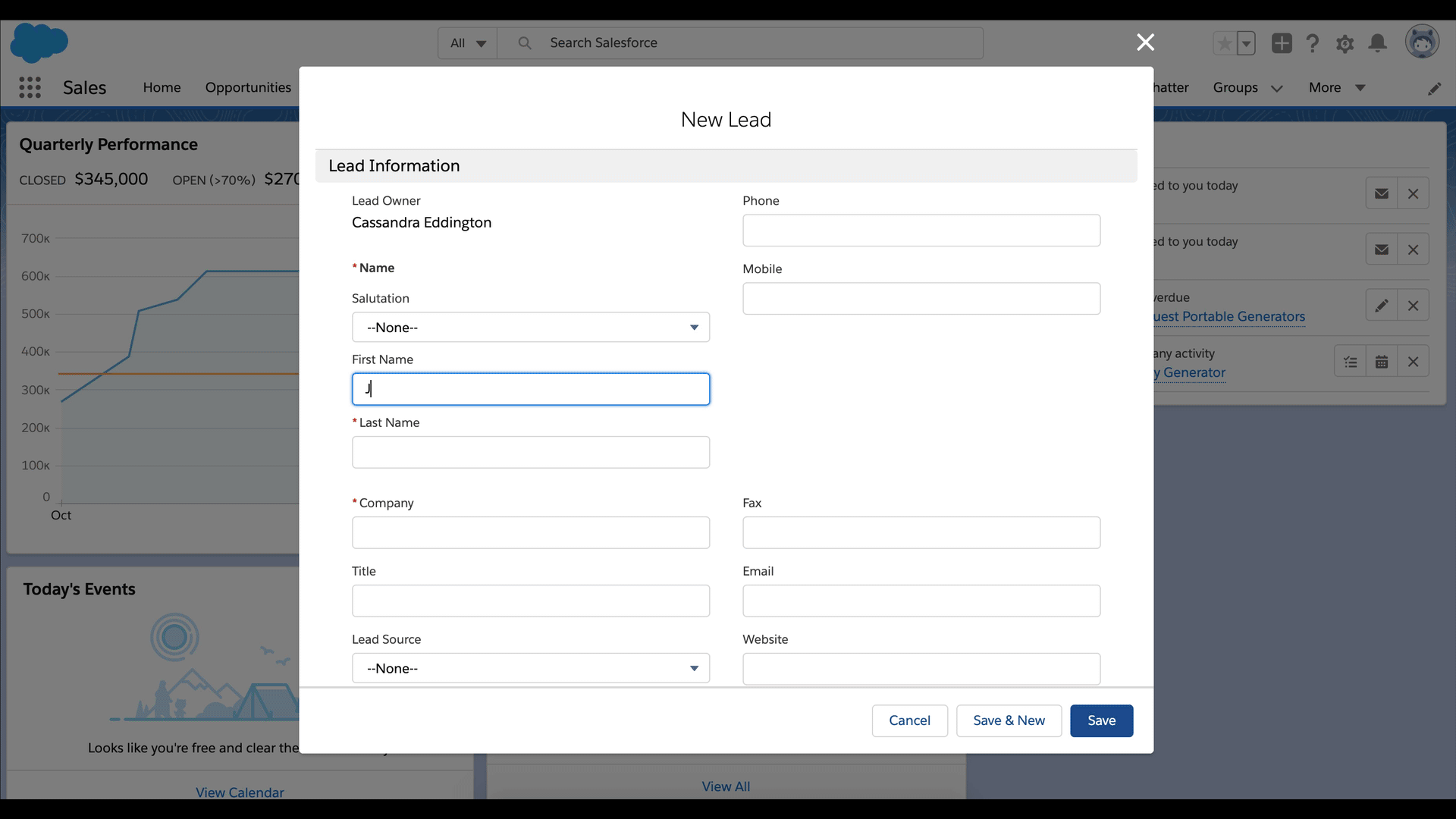 an item will be created in your monday.com board!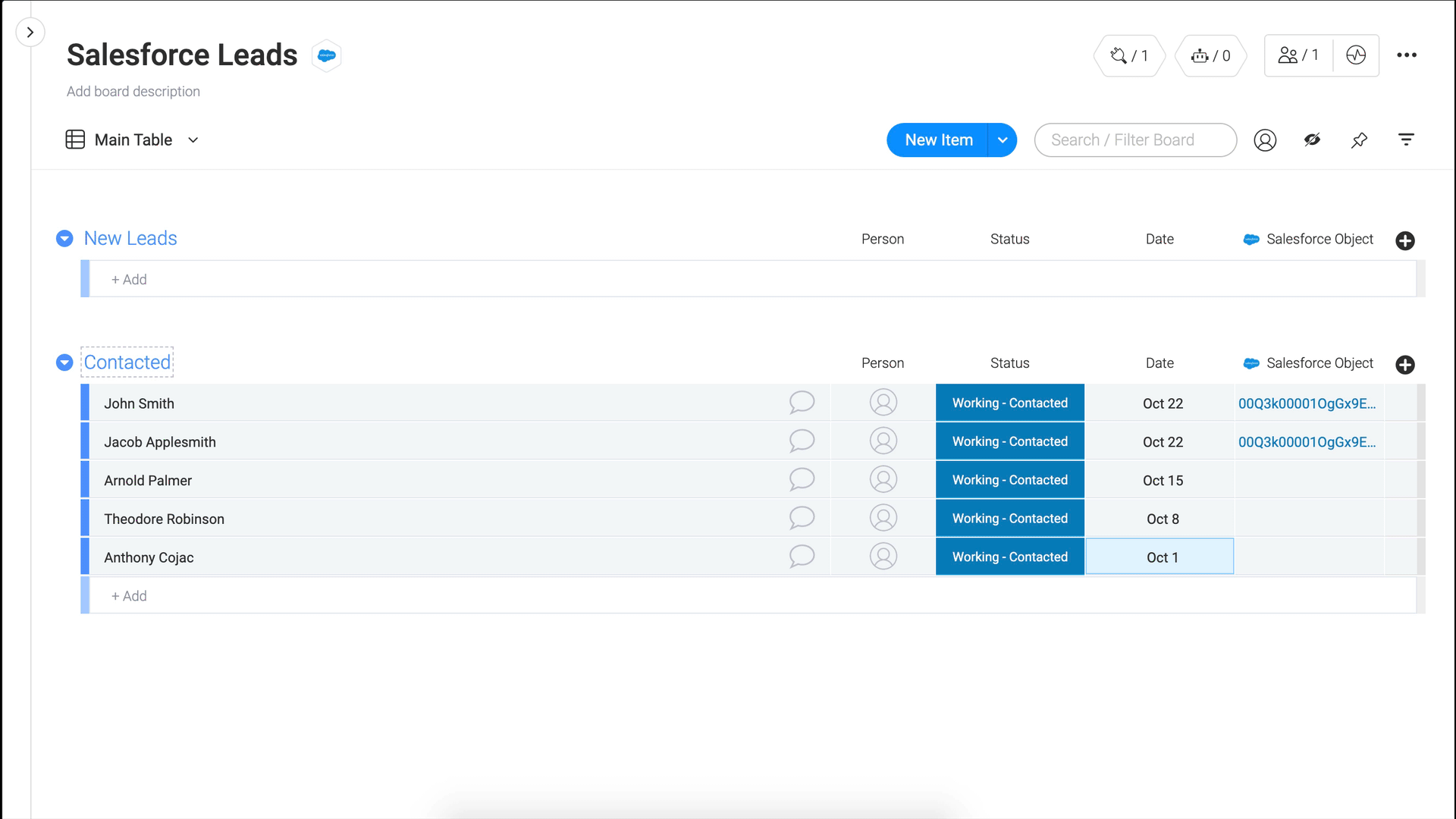 Standard Objects Supported: Campaign, Account, Case, Lead, Opportunity, and Contact
We do support all Standard and Custom Fields with the exception of the look-up field.
Note: Custom Objects are not supported.
More assistance
If you need help building custom integrations, we also have an option for paid assistance through our network of certified monday.com partners. If you're interested, please fill out this form and a member of the team will be in touch!
And if you have any questions about this or anything else in this article, feel free to reach out to us at customer success at [email protected]