4 min read
Guide
Ever found yourself aimlessly looking for a file that you need to use? Does your team have their hard-worked creatives scattered across platforms? With monday.com, you can customize your very own digital asset management solution, allowing your team to seamlessly organize, manage, and access all digital assets whenever needed. 🙌
What is digital asset management?
Digital asset management, or DAM for short, provides a solution for organizations to store all important digital files in a secure, organized, and easily accessible place. This allows teams to find the files that they need, when they need them, which can save loads of time when multiple different projects are being juggled at once!
In this article, we'll take you through a DAM board, as well as other tools, tips, and tricks to help you and your team manage your digital content in an effective way. 🌟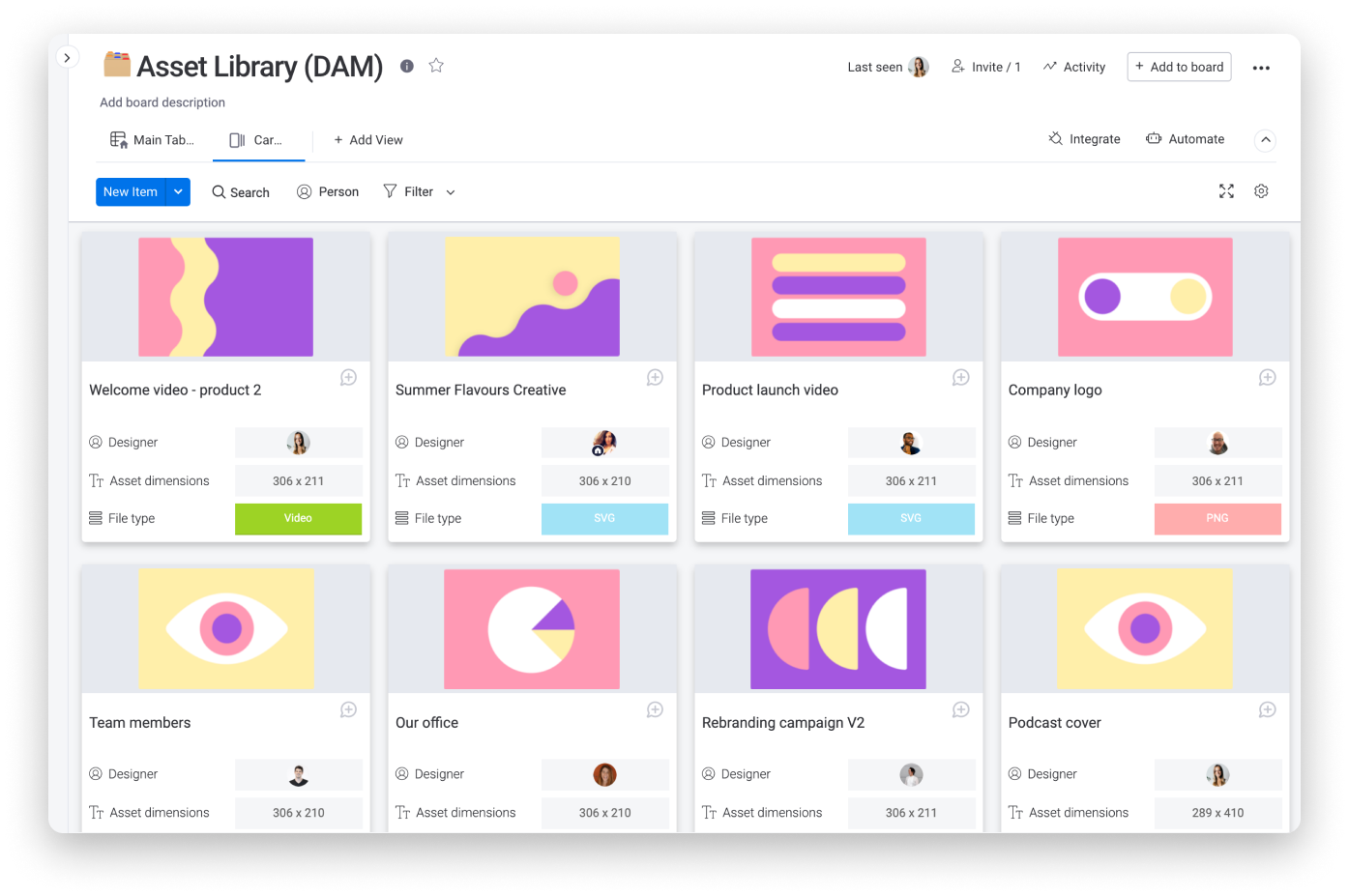 Digital asset management board
In this guide, we'll explore the Asset Library (DAM) board located in the monday marketer product. Alternatively, you can also use the tips mentioned in this article to help build out your own digital asset management board in the way that you wish!
Let's take a look at the below Asset Library (DAM) board.👇
How this board is structured
Groups: The groups on this board represent the types of digital assets that we have, with the top group indicating new assets that have been added to the board which still need to be categorized.
Items: The items represent each of the separate assets that we have.
Columns: The columns on the board display all of the information that we need for each asset such as its designer, status, the asset file, dimensions, and more! The Files Column is crucial here as it allows us to store the asset file itself for future use.
Tip: You can really get creative with the column types that are used here! Check out this article to learn more about what's available.
Visualize your assets with the Cards View
Take your digital asset management workflow one step further by using the Cards View! With this feature, you'll have a customizeable, gallery-like display for all of your assets with the important details that you need to see about each one front and center.
Furthermore, this view is fully interactive, allowing you to see and edit all of your asset data directly from here!
You can even sort the Cards View so that your cards are displayed in the exact that you want to see them!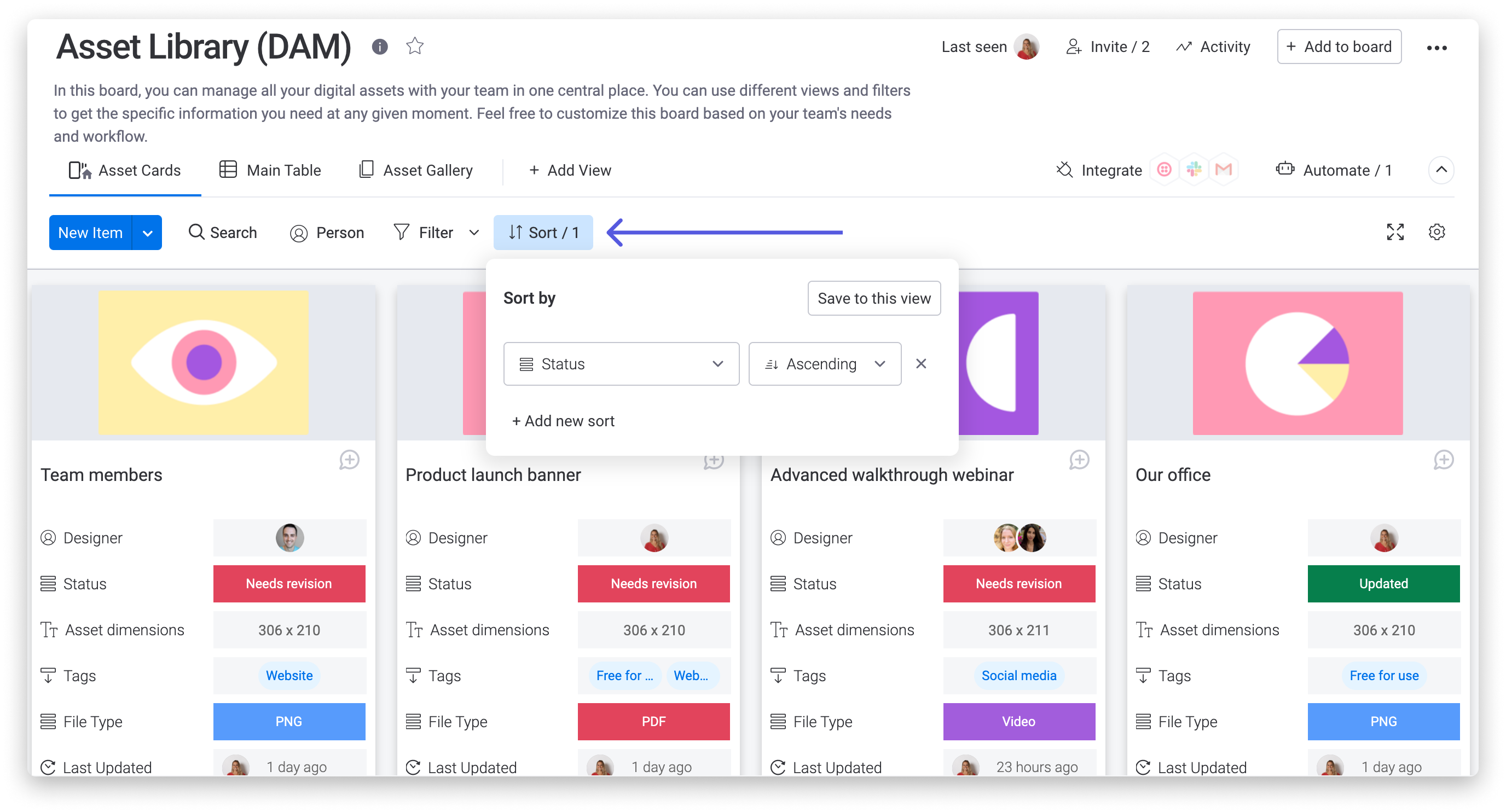 Note: The Cards View is set as the default view for this board so that every time you access the DAM board you'll be directed right to here.
Link your assets to a project
To help streamline your workflow, try adding a Connect Boards Column onto your board! Using this, you can easily connect to another board on your account and then link over the specific asset that is used for a given project. This will allow you to see and edit all the information you need for each project where an asset is used, all from your DAM board!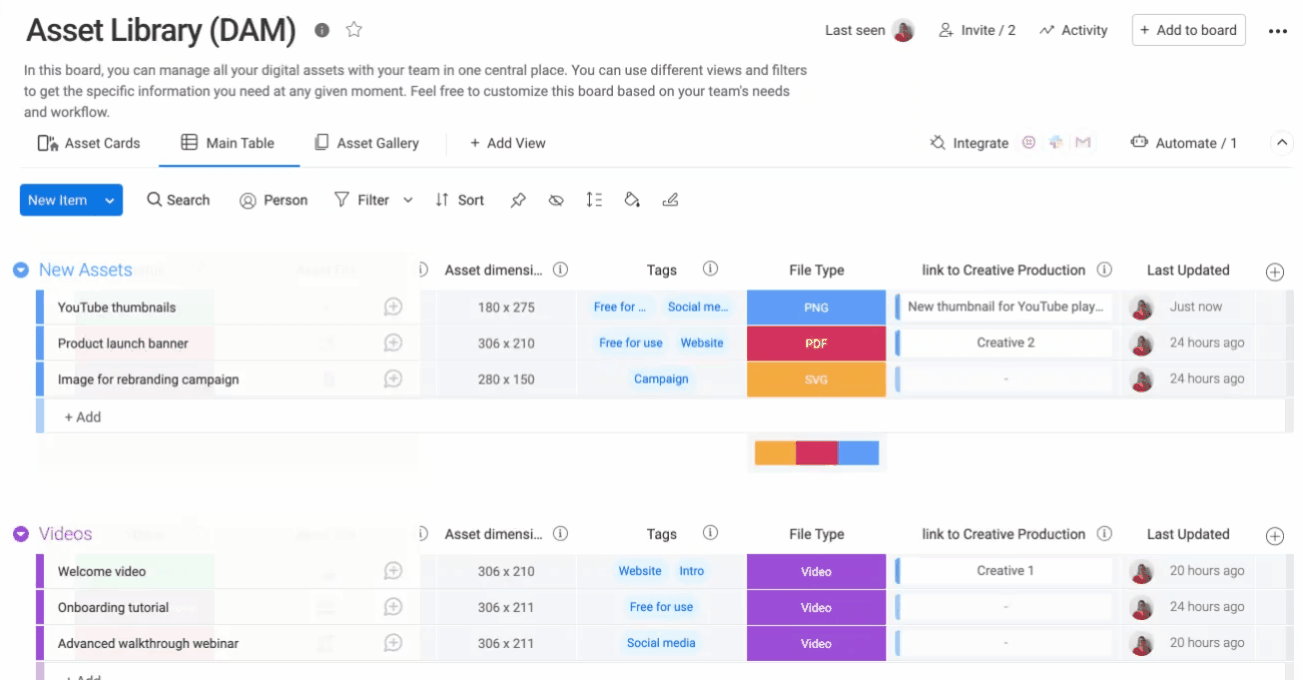 Annotate and set versions for your files
Finally, from your DAM board or the Cards View, you can seamlessly communicate and collaborate with your team on your files! Use our annotations to converse with your teammates directly on an asset, and utilize file versioning to easily upload and track multiple versions of the same file, making your digital asset management process a breeze. 🌟
If you have any questions, please reach out to our team right here. We're available 24/7 and happy to help.