6 min read
Guide
Managing a work team can be a constant juggle of multiple tasks. When you're buried in deadlines, it is easy for everyone to become overwhelmed. Built on top of monday.com Work OS, monday projects empowers project managers to complete their goals faster and more efficiently. By using monday projects, teams can effectively collaborate on every phase of any project or portfolio in one place. Read below to see the exciting components that really bring this all-in-one product to life! 🤩
Project Boards
Let's get started! Project boards allow you to see a quick overview of one or more projects at once so you always know where things stand. They can also be used by an entire team as a hub for collaboration and updates. Boards are structured in the following way:
Groups - groups highlight each phase of the project cycle
Columns - columns allow you to display and customize your data
Tip:
Groups and columns are
specialized for projects, but they are fully customizable depending on your individual preferences! Check out our Column Center for inspiration!
Tip: The boards included in your monday projects account can be used as templates for current projects already existing in your monday.com account. Fill in your information in the columns already set up in the board and add new items as they come up!
Create task dependencies
Once you have created a project board, you can set dependencies and see how much easier your workflow operates! A task dependency describes the relationship in which certain milestones or tasks rely on preceding tasks. Identifying task dependencies is of critical importance for both building and managing the project schedule.
Your team can set the dependencies between the various activities happening within the project and see how they are all related. This helps ensure that if a single activity is adjusted, the change will affect all dependent activities. Below we can see that Task 2 in our dependency column is dependent on the completion of Task 1. This means that Task 2 will not commence until Task 1 is completed.
Automate your workflow
Now that the dependency column is added, it's time to have fun with automations! An automation is automatically added to your board once a dependency is created. To check it out, click the "Automations" icon at the top right of your screen. The automation that's added ensures the dependent item never starts before the item it is dependent on:
Looking to ensure that you stay on top of all your deadlines? Never worry about missing a deadline again with automations! You can choose from our automation recipes in the Automations Center or customize your own. Below, we have customized an automation to send the owner of the project a notification one week before the project's timeline end date. Stress no more!
Tip:
Make sure to check out all of the awesome recipes in the Automations Center to get inspired on how you can make your workflow even smoother! Check out this article to learn more!
Use the Gantt Chart to stay on top of deadlines
The Gantt Chart goes hand in hand with our dependency feature! This view displays milestones and dependencies between items to help provide you with a clear overview of your project and its associated tasks. You are able to shift or extend the dates of dependent items on our Gantt's timeline as seen below and these changes will be reflected on your main board. Just click a timeline bar and drag it the exact number of days it has been delayed, and watch the magic happen!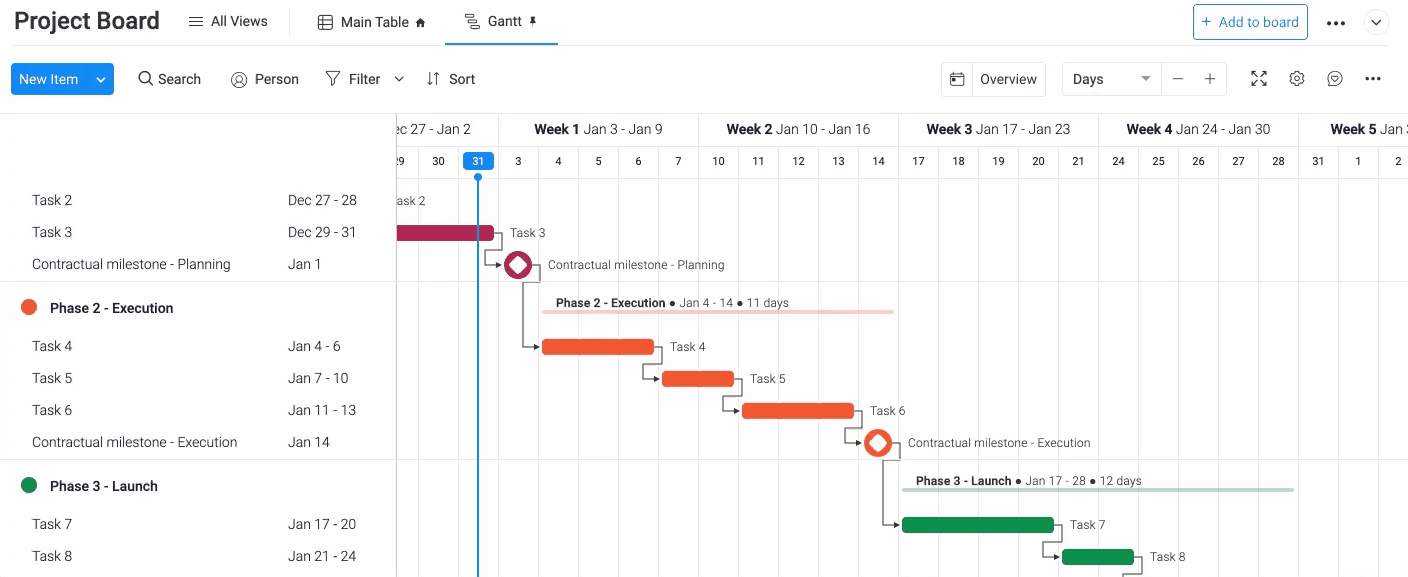 Tip:
Stay on top of your deadlines and enhance your Gantt experience in the process by using our Gantt Critical Path feature! Check out
this article
for more information.
Gain insights with board views
We have several different ways to display the information found in your board that can help you view all of your data with ease with our board views. The "Main Table" view, which is what we have showcased, is just one way to see all of your items and data! We also have useful views such as the Chart, Calendar, Workload, and Timeline.
Our Chart view allows you to create various reports for a specific board using different chart types. It's a great way to get analytics about your workflow! Check out this article for more information! 📈
The Calendar view allows you to visualize all your projects and tasks that have a date/timeline column in a calendar. You can customize your calendar view by day, week, or month. Check out this article to learn more about it. 🗓
The Timeline View gives you a visual representation of the dates and timelines of your ongoing projects. It allows you to see in a glance just how long you and your team have to complete a task or project in order to plan accordingly. Check out this article to learn more about it!
Manage your workload
Add the Workload view to your board and get a clear overview of how your team's work is divided! You can see in one glance who is over capacity and assign upcoming tasks accordingly. If needed, you can always reassign or change due dates to make sure everyone stays on target with the amount of tasks they can complete within that timeframe. Check out this article to learn more!
Use filtering to your advantage
Your boards can encompass a lot of information and our filter option helps you narrow down to the specific information you want to look at at a glance. One of our most convenient filters is filtering by person to see which tasks each person is individually assigned. You can see below that we filtered to a specific team member and their assigned tasks are immediately displayed. Check out this article to learn about all of our filtering options!
Tip: Save your customized filters within your view for future reference by clicking "Save to this view" in filter settings!
Visualize your data with Dashboards
Automatically gather project data for insights on budget, goals, schedules, resources, and more in an exciting visual format with Dashboards. You can add as many widgets and apps as you'd like from the Widgets Center to your Dashboard. Below you can see your main Dashboard that connects both project boards with the following widgets:
If you have any questions, please reach out to our team right here. We're available 24/7 and happy to help.