6 min read
Feature
If you're looking to learn more about how our pricing works with the new monday products that we offer, you've come to the right place! In this article, we will cover all the basics about our different product types and plans, and we'll show you step by step how to upgrade to a paid plan.
What are monday products?
monday products are complete end-to-end products built on top of monday.com Work OS to address the needs of a specific use case. Whether you're looking to use monday.com for marketing, project management, CRM, or software development, you can use our products for a full, ready-made solution that can be fully customized to suit your own needs.
As our products are built on the monday.com Work OS, choosing to purchase any product will provide you and your team with the same flexibility, connectivity, and ease of use that you already know and love from monday.com. 🌟
Available product types
We currently offer four different product types for you to choose from! They are:
monday marketer: a complete marketing product that connects all things marketing from social strategy to content planning, campaigns, product launches, and more.
monday CRM: an all-in-one CRM product that allows business owners and sales teams to manage all aspects of a sales cycle and customer data.
monday projects: a powerful project management product that provides one platform to strategize, execute, and collaborate on any project.
monday dev: a product for software development teams to collaborate together on product roadmaps, sprints, release plans, customer feedback, backlogs, and more.
Features included
Prior to purchasing a product, you may be wondering exactly which features and workflows are included in them. To get a full breakdown of the features within each of our products, check out our pricing page!
From the pricing page, select the product of choice from the left side and then scroll down and click on the arrow to the right of "Complete features list" as below.
Trial a product
If you'd like to play around with one of our products without committing to purchasing it right away, we offer a free two-week trial on the Pro tier of any one of our products at any time!
To start your free trial of a product, click on the plus sign on the left side of your screen and locate the product that you want to try out. Then, select "Explore product" and "Try for free" to get started with your free trial right away. 🙌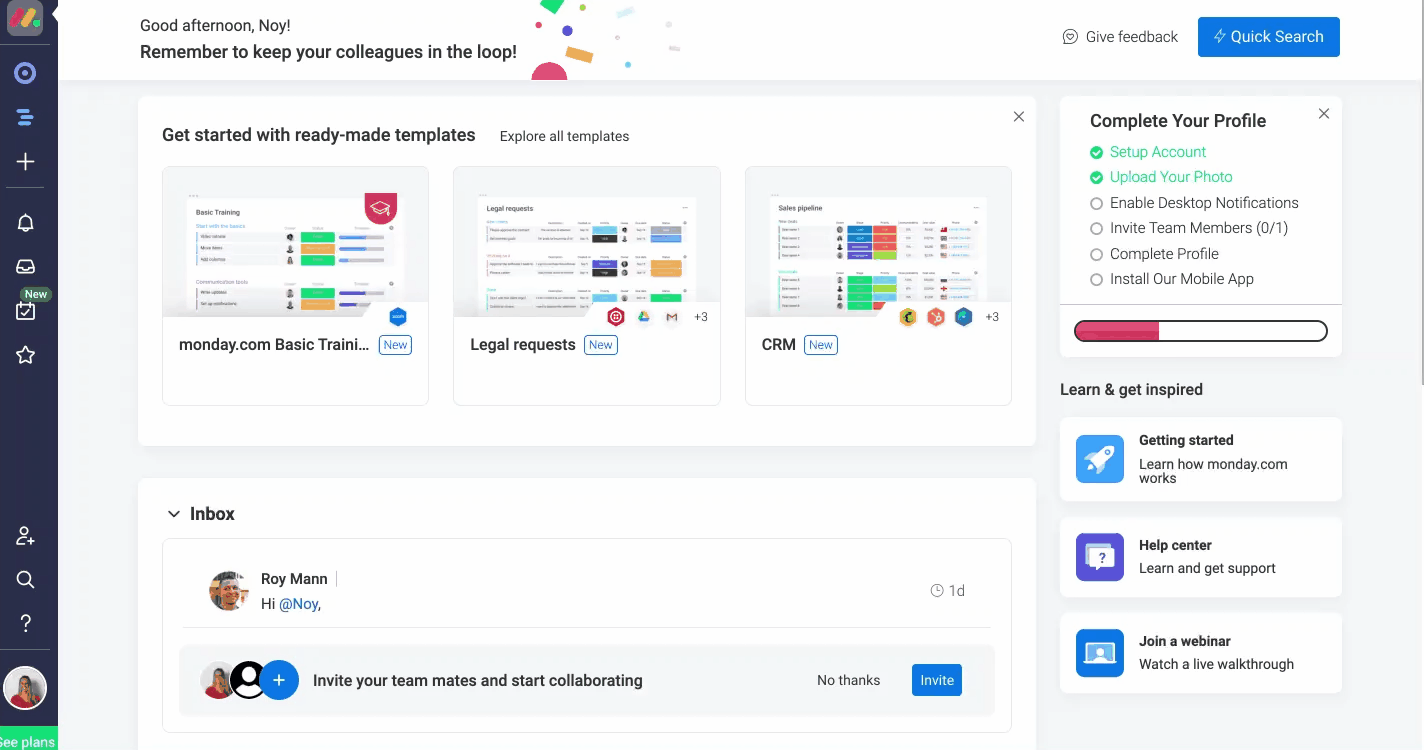 Purchasing a product
Once you're ready to purchase a monday product, it can be done with the click of a couple buttons! Follow the steps below to get started with a product right away.
Step 1: Choose your monday Core plan
Since our products are add-ons to the main monday Core platform, the first step would be to get started with a free trial on a monday Core plan (if you do not have a plan already). You can easily start a free trial from the monday.com homepage or from the pricing page!
If on the pricing mage, make sure to select the purple monday Core icon on the left side of the screen and then choose the plan tier that you'd like to go with (Free, Basic, Standard, Pro, or Enterprise):
Next, choose the number of seats you'd like to purchase as well as if you want to pay monthly or yearly (which includes an 18% discount!):
Once you've chosen your plan, you'll automatically start your free 14-day Pro plan trial! Should you choose to continue with us at the end of these two weeks, you will then start your paid plan of choice.
Step 2: Add products to your account
From your monday Core free trial or paid plan, you'll be able to easily add on a product (or multiple!) onto your account. To do this, click the green "See plans" button on the lower left side of the screen, or from the billing category in the admin section of your account.
From here, you can choose the products that you'd like to add to your account, as well as the amount of seats that you want for each of them (you can have a different amount of seats on each product if you wish!). To do this, simply tick the box to the left of the products that you want to purchase and choose the number of seats from the right side of each one.
Note: All products and the monday Work OS must be on the same plan type. For example, if you choose the Pro plan for the Work OS, all of the products chosen will have to be on the Pro plan as well.
Step 3: Review your plan summary and proceed to purchase
As soon as you've chosen your desired products and the number of seats for each, you'll find a full plan summary on the right side of your screen as shown below. Once you review your chosen plan, you can click on the blue "Continue" button on the bottom right to proceed!
After adding your payment details and submitting your purchase, you should then have all of your chosen products immediately added to your account! You can toggle between your products from the left side of your screen at all times.
This is just the beginning! We hope you enjoy using our brand new monday products, and we're excited for what's more to come. 🎉
If you have any questions, please reach out to our team using our contact form. We're available 24/7 and happy to help!