At monday.com, improving the way that you and your team work is our #1 priority. For this reason, we're working around the clock to create new features, enhance existing ones, and optimize platform performance so that you can work as efficiently as possible!
In this article, you'll be able to find a constantly-growing list of our most exciting new features and enhancements that we come out with in 2021. Let's dive in! 🎉
December
Video annotations: You can now add annotations directly onto videos uploaded onto your board! The ability to review and converse about a video has never been easier! You can read all about it here.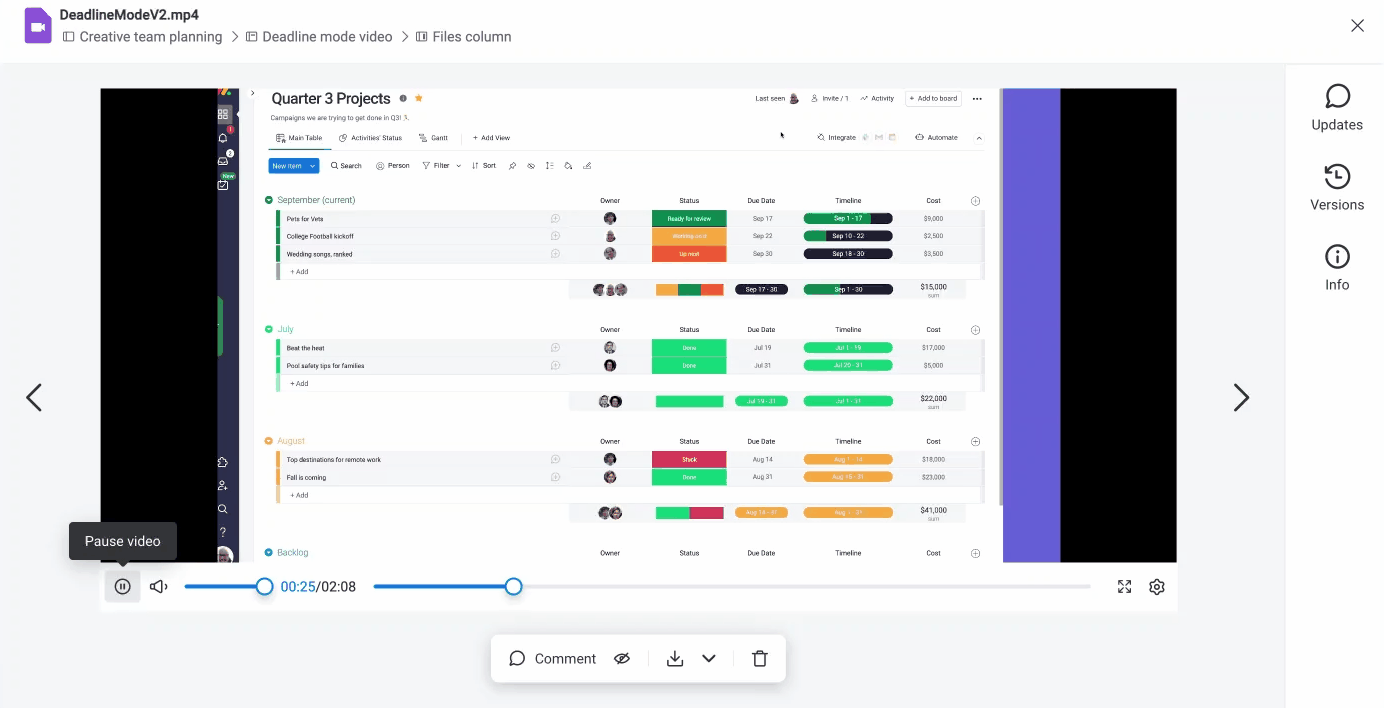 November
October
Bubble chart:

Introducing our brand new chart type, the

bubble chart!

Using this,

you can seamlessly display up to three different numerical values in relation to each other all in one place.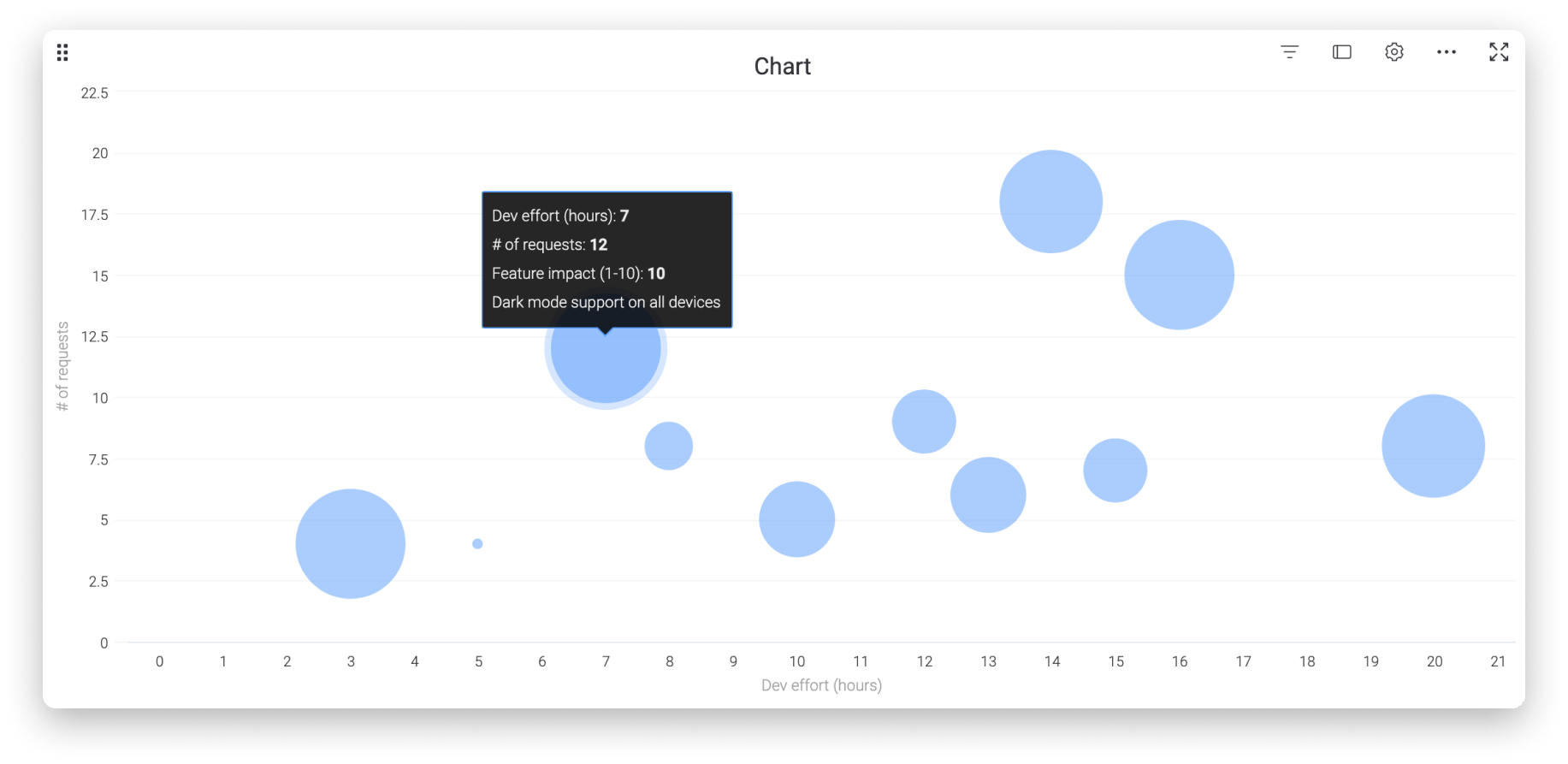 September
Cards View: The brand new Cards View allows you to view all your important item details in one very visual, gallery-like display. Learn all about it in this article!

Zapier 2.0:

We've improved our Zapier integration to include lots of new features and made it much easier for non-technical customers to build an integration.
New HubSpot recipe: A new HubSpot Integration recipe was added that reads "when new contact is created in Hubspot list, create an item and sync all future changes".

Semrush app:

Whether you're

creating content plans, managing campaigns, or more, you can use

the new Semrush app to build data-driven marketing workflows all in one place.

Hootsuite app:

With the Hootsuite app,

you and your team can plan, post, and optimize your social media campaigns faster, all from the comfort of your own board.

More supported columns in Kanban and Cards View: The Cards and Kanban View now support nearly all of the different column types to be displayed.
Night mode: With the new night mode display setting (which is even darker than Dark Mode!), you can reduce eye strain and work more comfortably in low light situations.
August
monday workdocs: we released a versatile multi-media "whiteboard" that allows you to communicate with team members, embed boards and widgets, and customize text any way you want in real-time. Check out the full article here!
Custom recipe builder "Send Email" blocks: Build more robust custom recipes using our new Gmail, Outlook, and Slack "Send Email" blocks.
Google Calendar two-way integration: We've added three new Google Calendar integration recipes to allow for a full sync between your board and calendar.
Advanced filters in dashboards: You can now use our advanced, condition-based filters directly on your dashboards!
Drag and Drop on Forms: Customizing your Forms has been made easier than ever with the ability to drag and drop your question fields to adjust the order.
"Workspaces I collaborate on" section: We've added an easy way to locate frequently-used workspaces through the Workspace Dropdown Navigation
Automatically set numbers to decimals and/or negative: you can now set a number column to a negative and/or decimal number using the custom automation builder
Subitem support in files view: When adding files to your Subitems, they will now be visible through the Files View.
Gray left pane: We've changed the left pane of the platform to gray to make it stand out more and easier to use.
July
Multi-board mirroring: You can now connect and mirror data from

multiple boards

into one Mirror Column, allowing you to

instantly update information in multiple places at once and increase visibility between projects and teams!
WEEKNUM platform alignment: We've updated all week number data on monday.com to be set according to the standardized ISO-Weeknum system.
Archive/delete item automation blocks: You can now use custom automations to archive or delete items to help keep your board organized and reduce manual work!

Audit Log enhancements:

We've updated the Audit Log UI and added advanced filters and events logs to provide a more robust auditing experience.

Emails & Activities improvements:

We've enhanced Emails & Activities to include custom activities, auto-capturing of external emails, dynamic templates, & more!

UX adjustments for custom builder:

UX improvements were added to custom automations

to allow for better distinction between a trigger, condition & action.

Integration connection indicator:

When connected to multiple accounts in an integration, we now provide visibility into which account is connected to simplify managing and troubleshooting integrations.
June
Convert Sub-item to Item and vice versa:

You can now convert your Subitems to items and the other way around with the click of a couple buttons. Gone are the days where this was done manually!
Cross Account Copier V2: We've improved the cross account copier to support Dashboards and to make transferring data between accounts as smooth as possible.

Subitem support in Chart and B

attery widgets:

You can now use the Chart and Battery widgets to summarize valuable data from the Subitems on your board!

Workspace Dropdown Navigation:

Moving

around between your Workspaces has been made easier than ever with our new Workspace Dropdown Navigation.
May
Color Gantt/Timeline values by Timeline or Date Columns: You can now color your items according to Timeline or Date columns in Gantt and Timeline Views and widgets, enabling the robust use of horizontal workflows.
Import excel file to existing board - automatic mapping: Now, when you import from Excel into an existing board, it will automatically

map out the information between the imported excel file to the current board.

Accessibility improvements: Our most-used navigation tools such as the left pane, board menu and quick search are now fully accessible.

Kanban Card - more columns supported:

We now support most columns to have displayed on the Kanban View!
Log outgoing automated emails in Emails & Activities: We've added the ability to save outgoing emails from your own email client automatically to Emails & Activities.
Allow admins to update users email: Admins are now able

to update their users emails through the

user management table!
If you have any questions, please reach out to our team right here. We're available 24/7 and happy to help.