From ongoing logistics planning, to budgeting, overseeing timelines, collecting and analyzing post-event data and more, managing a marketing event is no easy task! With this said, in order to ensure that all the moving parts are running smoothly and that a successful event can be completed, it's crucial to remain organized and to continuously track important aspects of the entire process.
In this guide, we'll take you through several board types, as well as some tips and tricks on how to use them, to ensure that you can manage your marketing events smoothly from A-Z. Let's dive in! 🌟
Using templates to easily get started
To help you seamlessly get started with managing your marketing events, check out our pre-made templates! Throughout this guide, we'll incorporate boards, views, automations and more that you can find ready-made to customize to your own liking. We'll explore two separate template packages, known as solutions, which can be found in the "Marketing" section of the template center: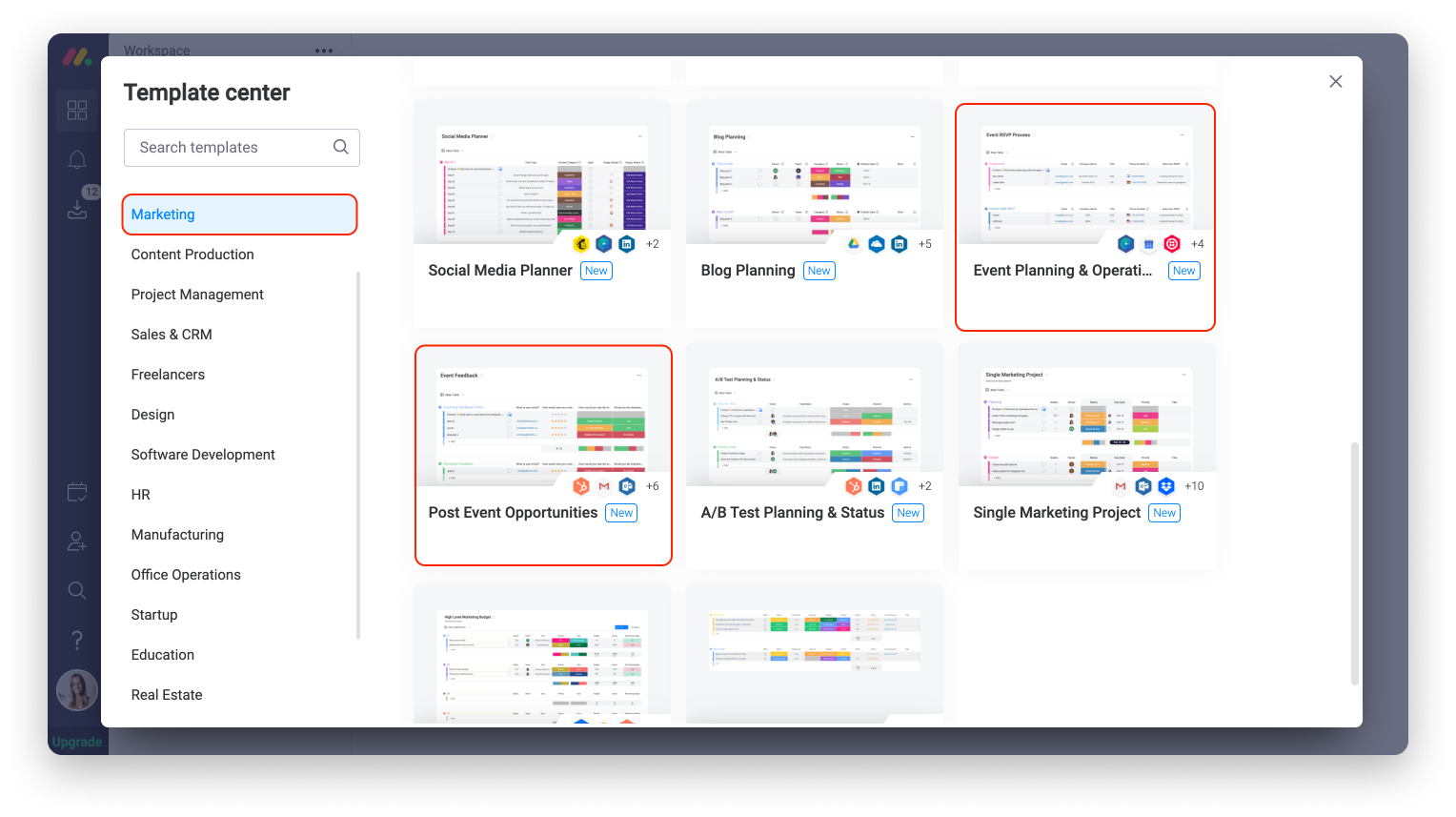 Let's get started!
Plan Campaigns for your Events
Prior to hosting a marketing event, one of the most important processes to complete is to plan and execute powerful campaigns for each event. Doing so is crucial to the success of any marketing event as it provides exposure and awareness to your event, so that the relevant group of people will know about it and be inclined to attend!
In the marketing solution, 'Event Planning & Operations', you can find an 'Event Campaign Planning' template board. We've gone ahead and customized this template to include all of our upcoming marketing events and the information that we are looking to track for each of their campaigns:
How this board is structured
As with any board template, the groups, items, and columns can be fully customized to show the exact details that you are wanting to see for your specific campaigns!
Zoom into campaign details
On this board, since each item represents a different campaign of ours, we chose to use Subitems to provide us with the lower-level details that we need to see for each specific campaign. For instance, for our event "Workforce Unplugged", we are working on multiple different tasks such as research, outlining the target audience, building the landing page and more, in order to complete that specific campaign: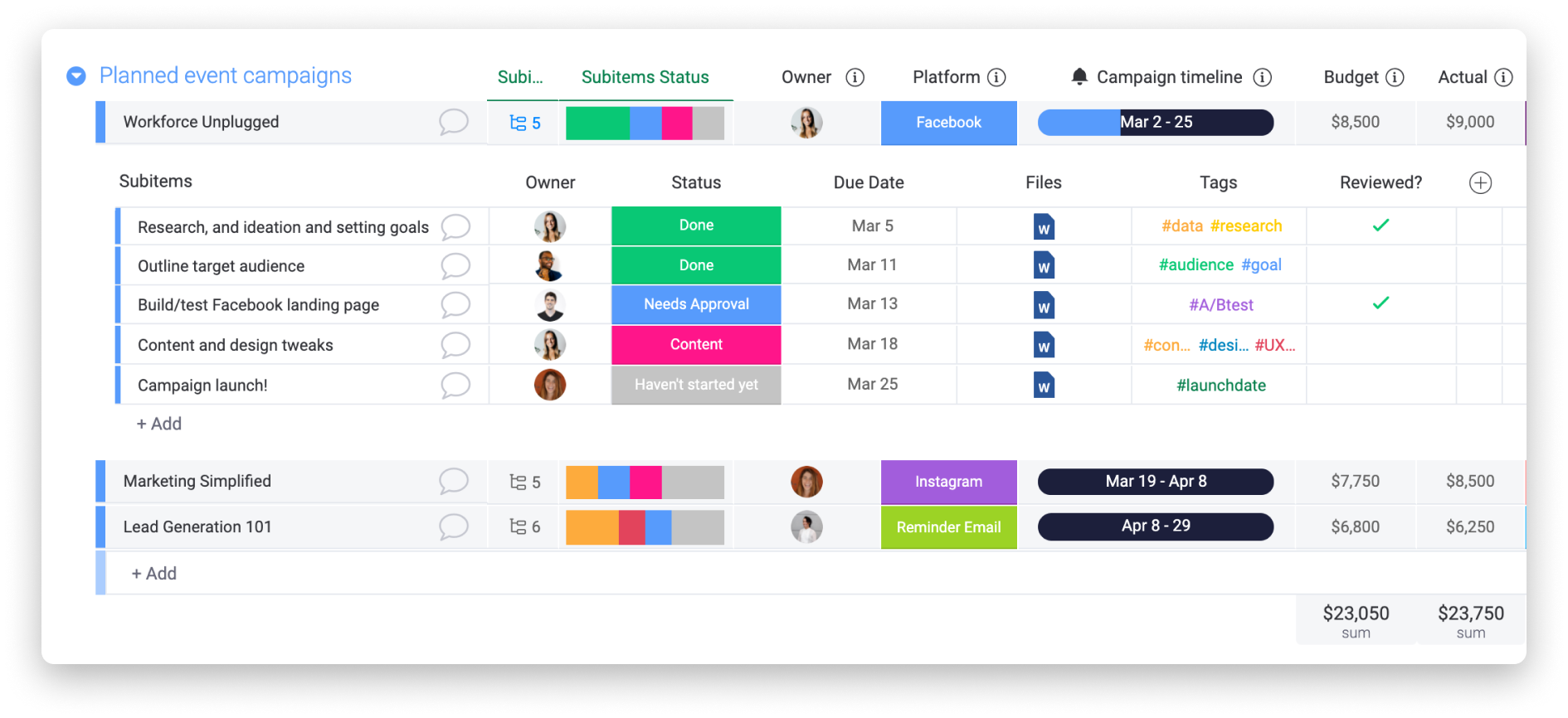 Tip: Subitems can be customized to have a different column structure than the parent items on the board, allowing you to display any campaign details that you need!
Visualizing Campaign Timelines
To push the time management efficiency of our campaigns even further, we've added the Timeline View to our board! We set it up to have our campaigns grouped by the People Column, so that we can clearly see the division of tasks between our team members, and which campaign everyone has coming up. We've also chosen to color all of our tasks according to their status. This gives us a visual understanding of how our campaign progress is keeping up with the timeline we planned!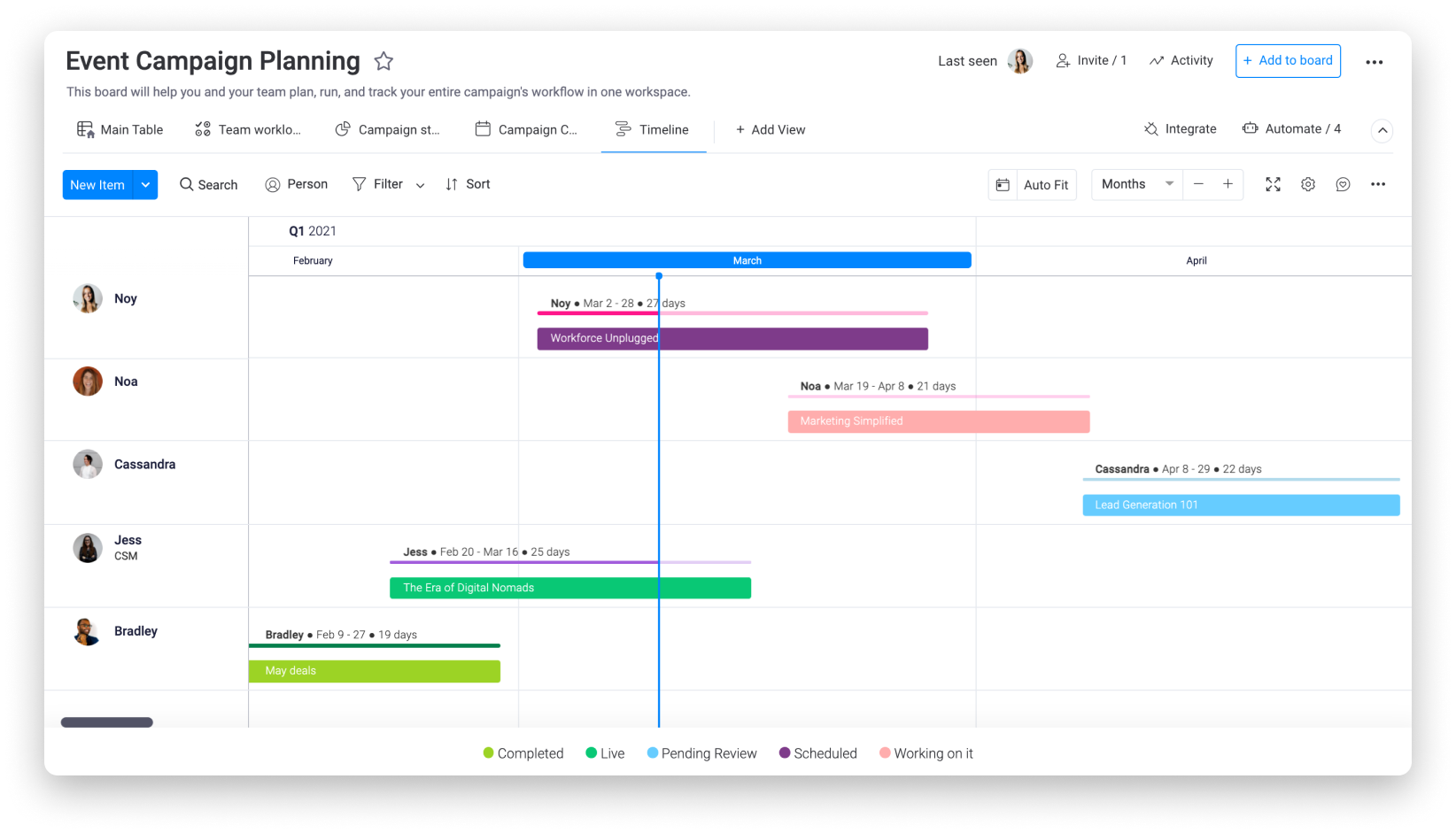 Tip: To learn more about planning your workflow with Gantt Charts, check out this guide!
With this board and view at our disposal, we can now have a clear overview of each of our planned, running and completed campaigns with all of the relevant data points that we need. Additionally, now that we can manage our marketing event campaigns in a breeze, we can ensure that the relevant audience groups will learn about this event taking place in order register and attend. 🙌
Oversee event registration
As we all know, the attendees are the bread and butter of any marketing event. For this reason, having one place to streamline the process of event registration, collecting attendee information and tracking whether they've attended or not is necessary to have prior to running any marketing event. Luckily, the Event Planning & Operations solution also contains the perfect board just for this!
For our very own marketing event that we are running, 'Workforce Unplugged' we've customized the 'Event RSVP Process' board to display all of the relevant information that we need when it comes to our event registration:
With this board in place, we can easily see who RSVP'd for our event, and to also keep track of their contact information, food preferences, notes and more!
Furthermore, this board is form-powered, meaning that items can be added to the board by simply filling out a form! We've embedded our form in our website, and added a link to it in our campaign emails, so that potential attendees can use it to RSVP for the event and submit other details as well.
Using this, potential attendees can fill out the form with their name, email, company name, food preferences, etc. Once the form is submitted, all of these details will be instantly transformed into cells in the boards columns for us to easily track!
Note:
To learn more about our Forms feature and how to customize the question fields displayed here, check out
this article.
Automate event reminders and confirmation
To take this workflow one step further, we chose to integrate our board with Twilio, a communication platform that allows you to automatically send and receive phone & text messages and perform other communication functions. To help streamline the process of registration confirmation, we've added the below Twilio recipe onto our board: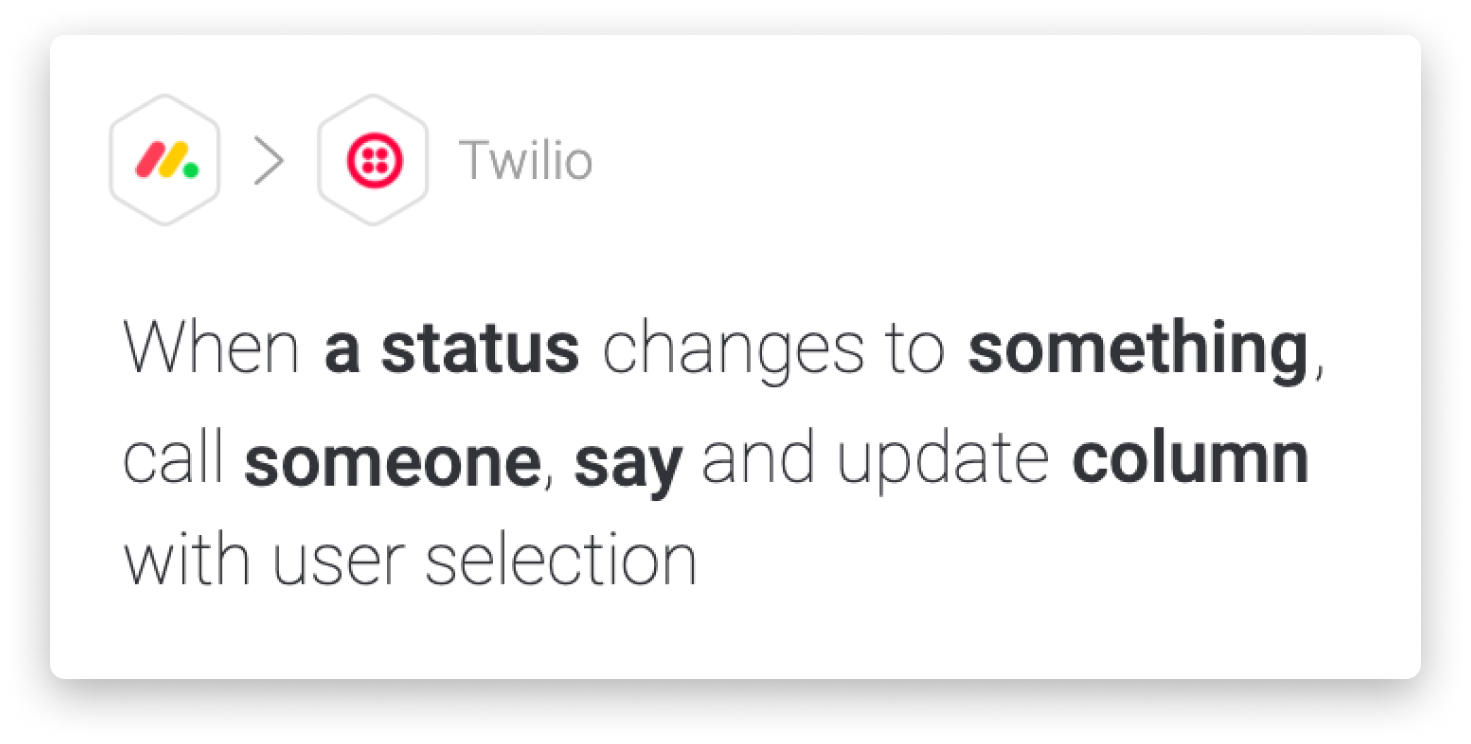 Since we want to automatically send out a call to the registrant to remind them to RSVP for the event and to update the board with their response, we configured the recipe as so: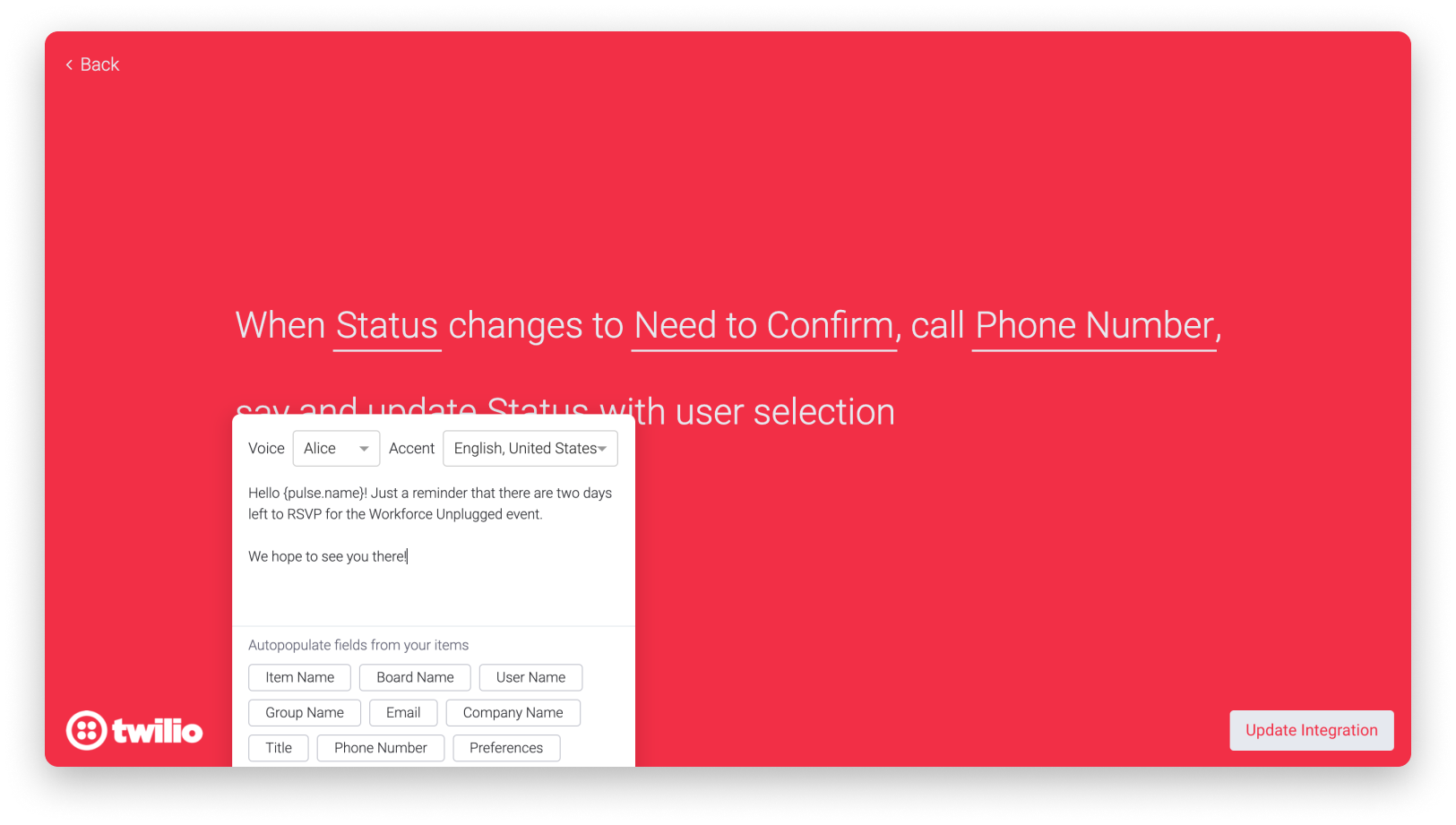 With this integration in place, once a status changes to "Need to Confirm" the registrant will automatically receive a phone call reminding them of the event and asking them to confirm. Not only this, but they can respond directly to the phone call to confirm their attendance or not and the board will be instantly updated in return - amazing!
By using a board to oversee attendee registration, a form to allow the potential attendees to seamlessly RSVP and a Twilio integration to set automatic confirmation reminders, you can be sure to stay on top of the entire registration process prior to your event taking place. 💥
Summarize and Analyze Event Data
To pull together all of our event data into one overview summary, we've implemented the pre-made "Event Dashboard" into our workflow! Using a dashboard is a great way to centralize important parameters of our data into one high-level report.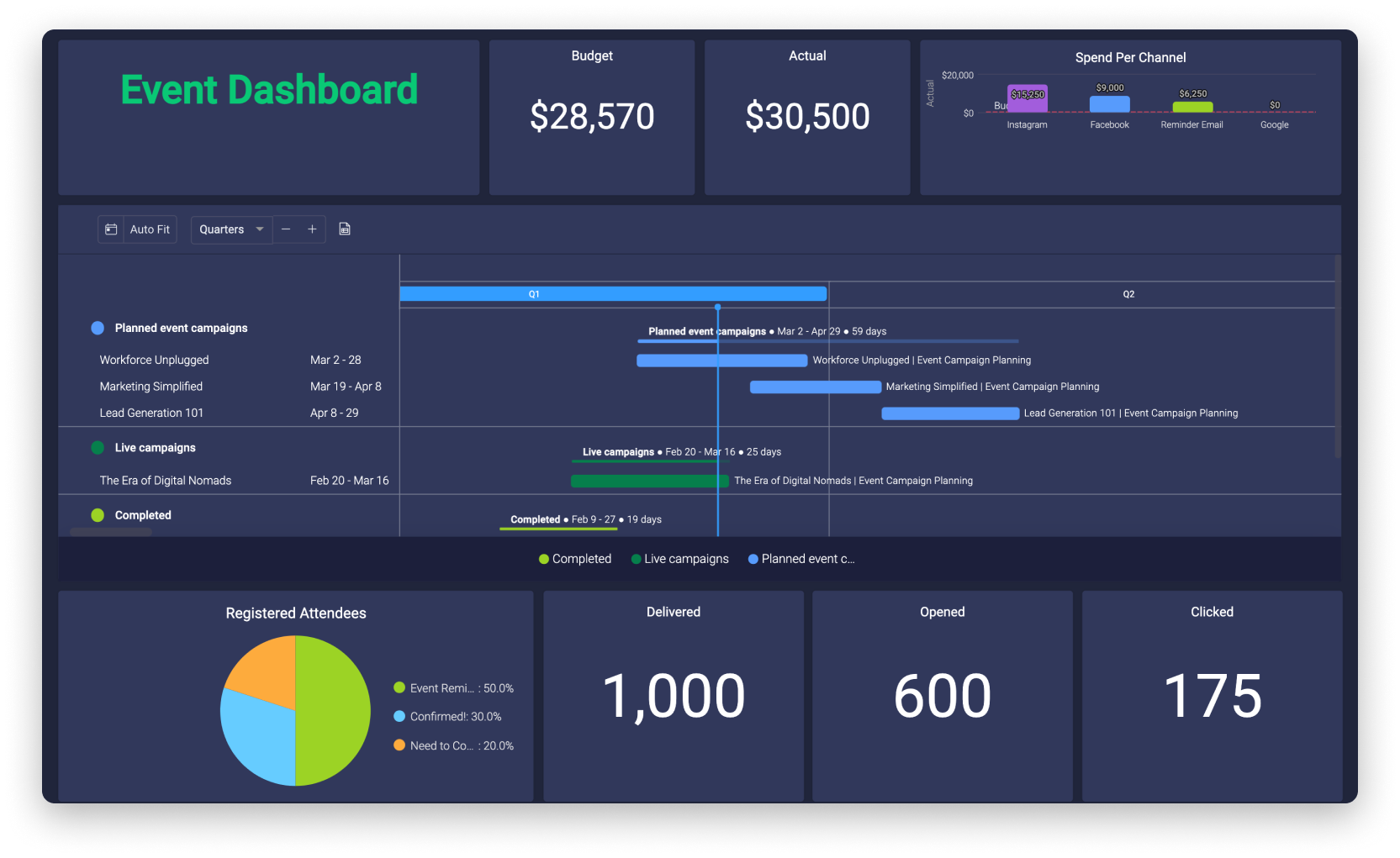 On this dashboard there are several widgets used such as multiple Numbers Widgets, Chart Widgets, The Timeline Widget, and more to see an overview of our event budgeted amount versus expenses, a spending breakdown per channel, and campaign summaries as well!
Collect Feedback on the Event
With a completed event, it is now time to collect feedback in order to understand how the event performed and to continue improving moving forwards! The solution 'Post Event Opportunities' has the perfect event feedback template for you to customize and use so you can collect the data that you need from those who attended the event.
Similar to the RSVP process mentioned earlier, we'll use a Form to gather feedback from the event attendees! Each response to the form will then populate directly into the board above so we can easily analyze the feedback received.
Once all the feedback has been submitted, we can easily review and analyze the data that has been populated to our board!

To take this workflow up a notch we can use Automations to reduce the manual work that we have to do. We've gone ahead and utilized the following three automations that came ready to go in the 'Post Event Opportunities' solution: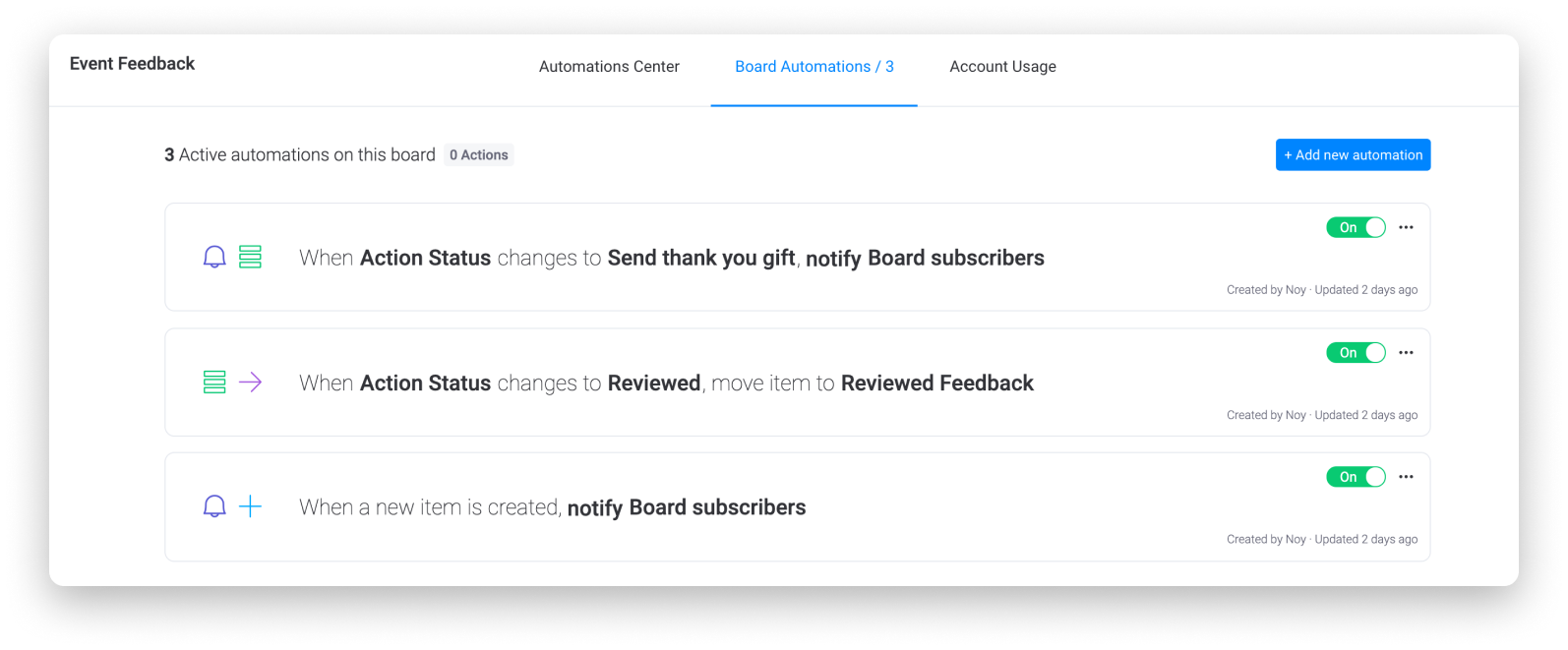 With these automations in place, the entire team will be notified if an attendee was qualified to be sent a thank you gift, reviewed feedback will automatically jump to the 'Reviewed Feedback' group, and the board subscribers will be aware of newly submitted feedback!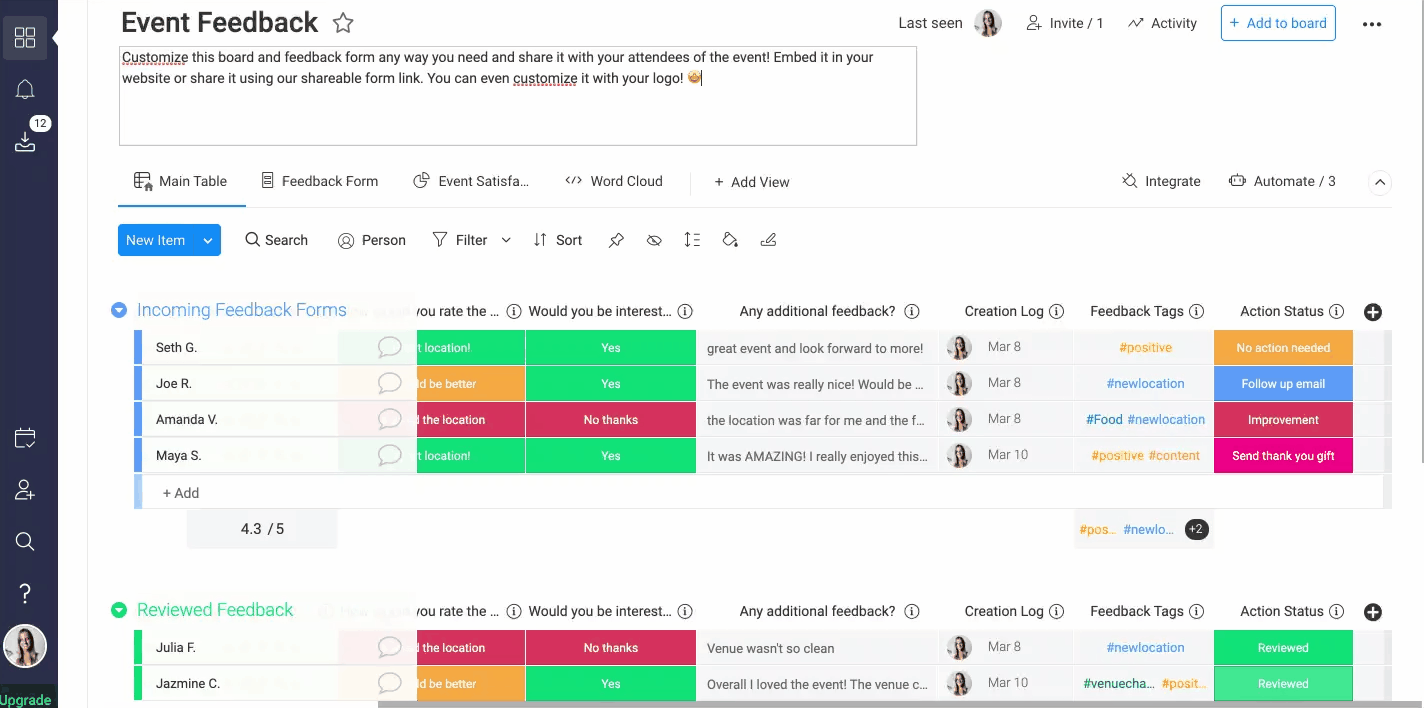 Using charts to analyze feedback
With the event feedback data reviewed and organized, it's time to analyze the performance of the event! To do so, we've chosen to make use of the Chart View which allows us to view the data from our board in a customizeable graph according to the parameters that we set.
Since we're looking to get a breakdown of the event satisfaction ratings, we've chosen to display a pie chart with the labels showing the percentage of each rating received. With this chart in place, we can see at a glance that we've received a five-star rating from over 50% of our event attendees!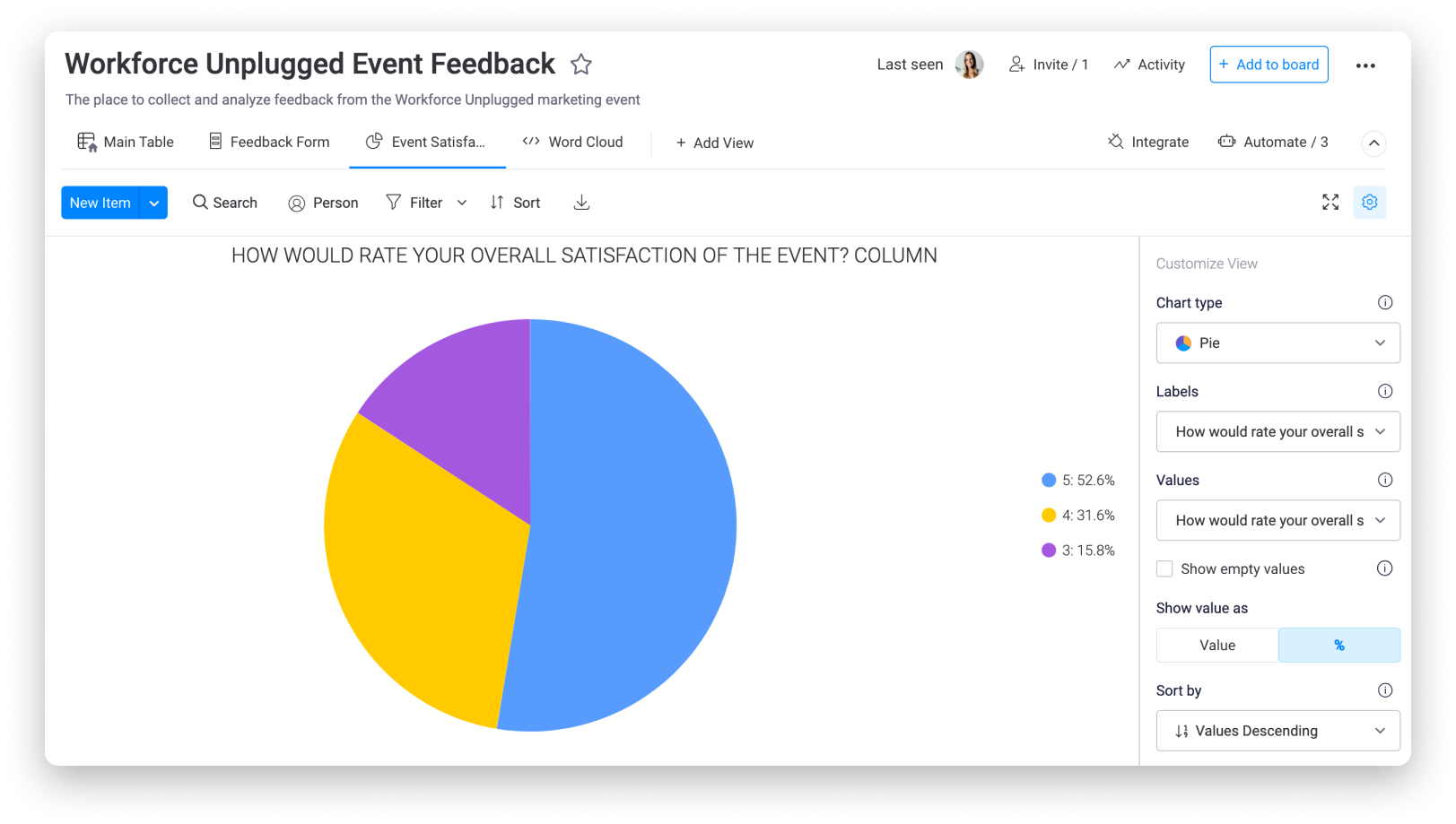 We can also add on additional views to help further breakdown the information on our board such as the Word Cloud, allowing us to display a report of the textual data that we have.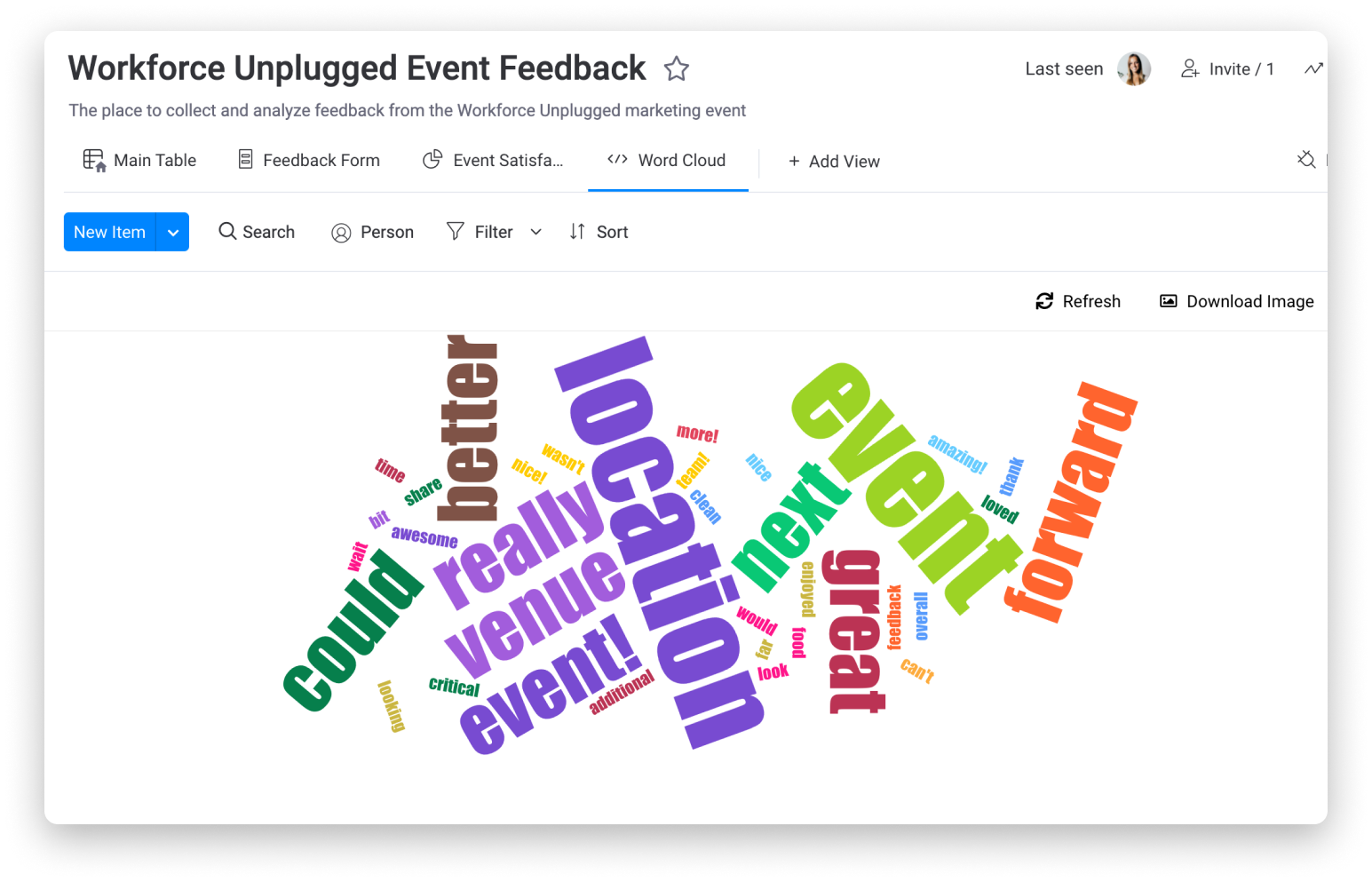 With a feedback board and various board views in place, we can be sure to track and analyze the feedback from our event in order to best improve and prepare for our future events!
Turn Event Prospects into Leads
Any marketing event provides a valuable opportunity to convert highly interested attendees into leads for your company. Our 'Event Feedback' form and board provided us the perfect platform to identify satisfied event attendees who may be interested to become our long-term customers!
For this reason, we've tailored the final board from the 'Post Event Opportunities' solution to act as a sales pipeline, allowing us to turn interested prospects into our very own clients!
To streamline the process between the 'Event Feedback' board and the 'Event Sales Leads' board, we've gone ahead and added the following automation recipe onto the feedback board to automatically create an item with all the relevant details as soon as it has been given with the "Sales Lead" status label:

Now, with the click of a button, a qualified lead will be transferred onto our 'Event Sales Leads' board so we can assign a sales rep to them and follow-up right away!

With our sales reps assigned and the pipeline up and running, we've made use of the chart view once again to easily break-down the total deals by the status of each deal to keep the team accountable against their goals: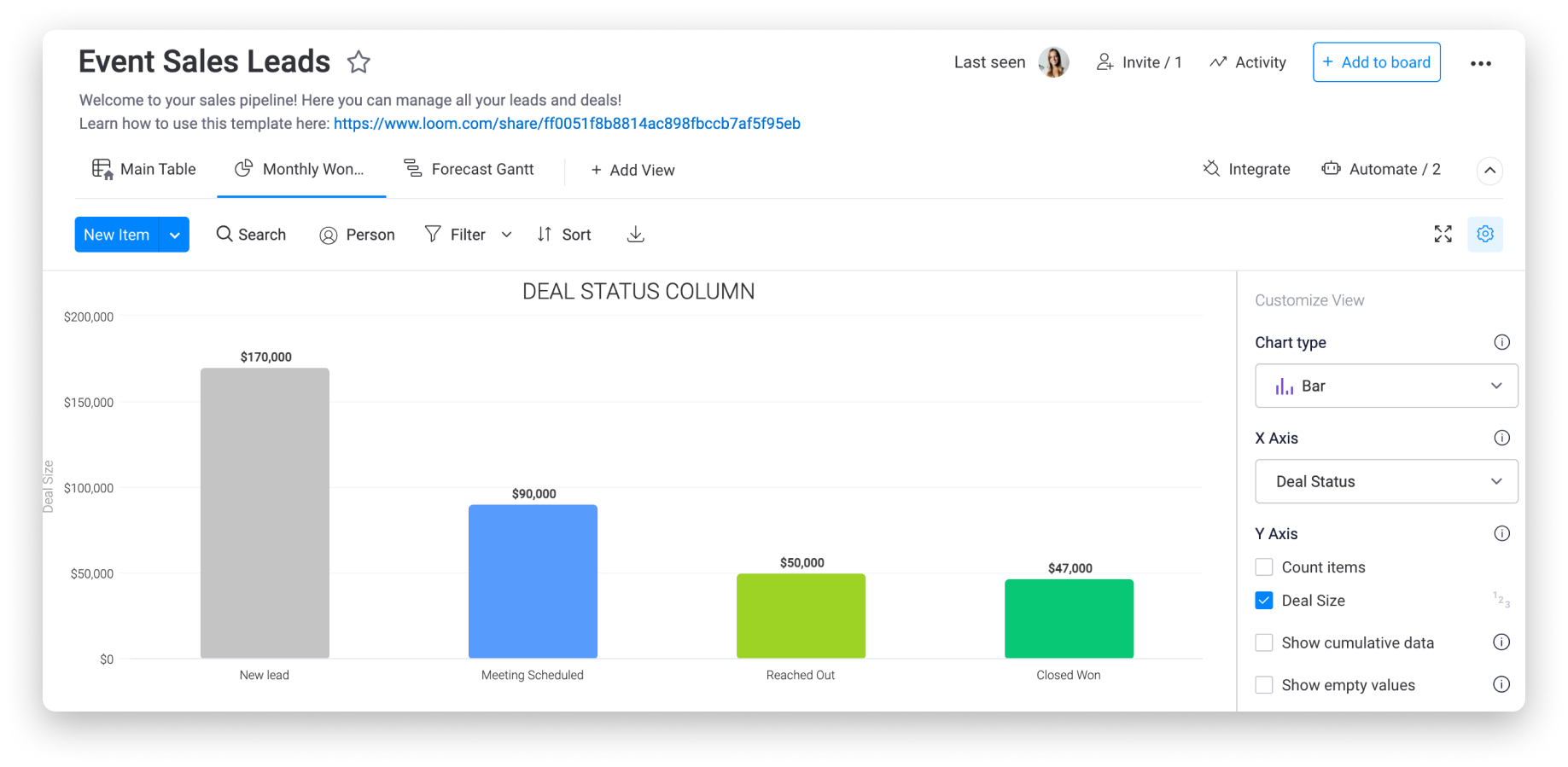 Gather Post-event Data into a Dashboard
To give us a great visual overview of all of our post-event data, we've customized the dashboard included in the 'Post Event Opportunities' solution to help display our feedback ratings and comments, to analyze aspects of our sales pipeline, to add a forecast Gantt, and more! Let's check out a few widgets that help us to get a big-picture view of our completed marketing event: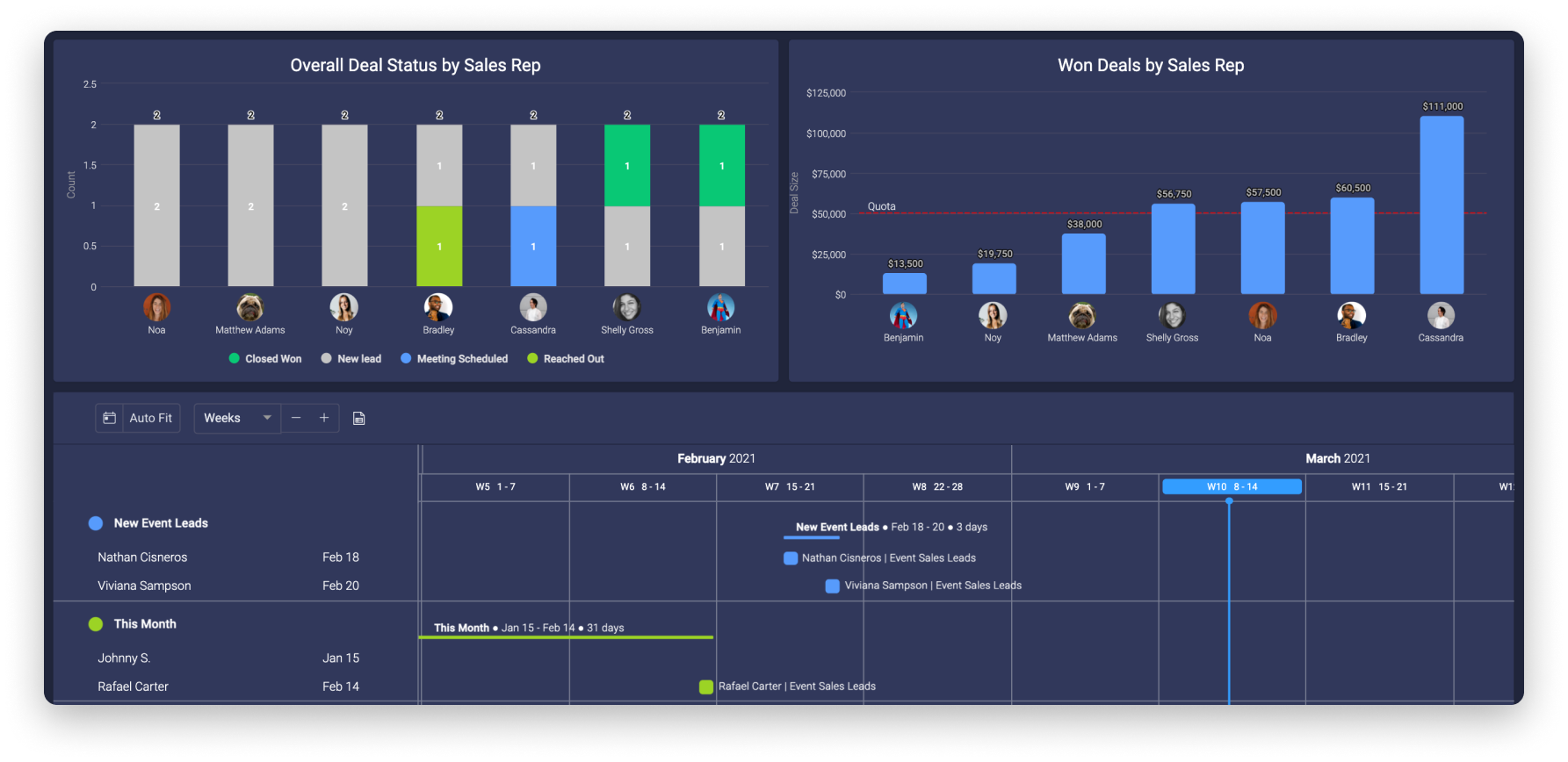 Get creative!
These boards, views, automations, and dashboards are intended to be a starting point to help you translate your marketing event planning processes into a monday.com workflow! You can use these exact boards in your workflow if they're right for you, but don't be afraid to experiment and test out all of the amazing features on monday.com! Make sure to check out other prepared templates and explore the Columns Center to see all of the ways you can use columns as building blocks to customize your own one-of-a-kind board! You can make your own automations and enable integrations to really connect the dots in your marketing event planning workflow!
If you have any questions, please reach out to our team by using our contact form. We're available 24/7 and happy to help!