5 min read
Guide
So you've found monday.com and have decided to use our platform as your work OS. We're delighted to have you! Now it's time to get your team on board. This guide will give you some ideas on how to do just that. Read on to learn more. 👇
Building your workflow
Before you begin to introduce your team to monday.com, it's best to have the basics of your account set up and ready to go. Building your workflow is a highly individualized process, but we have some pointers to get you started.
If you're still becoming familiar with the monday.com vocabulary, check out our How to get started with monday.com article. If not, we recommend setting up a pre-prepared template or solution.
Solutions are groups of templates that work together to create the perfect pre-prepared workflow which often contain two or three connected boards complete with automations, views, and more!
You can find solutions integrated amongst all of the other templates in the Template Center, the only difference is that a solution appears all together neatly in a folder when added to your account.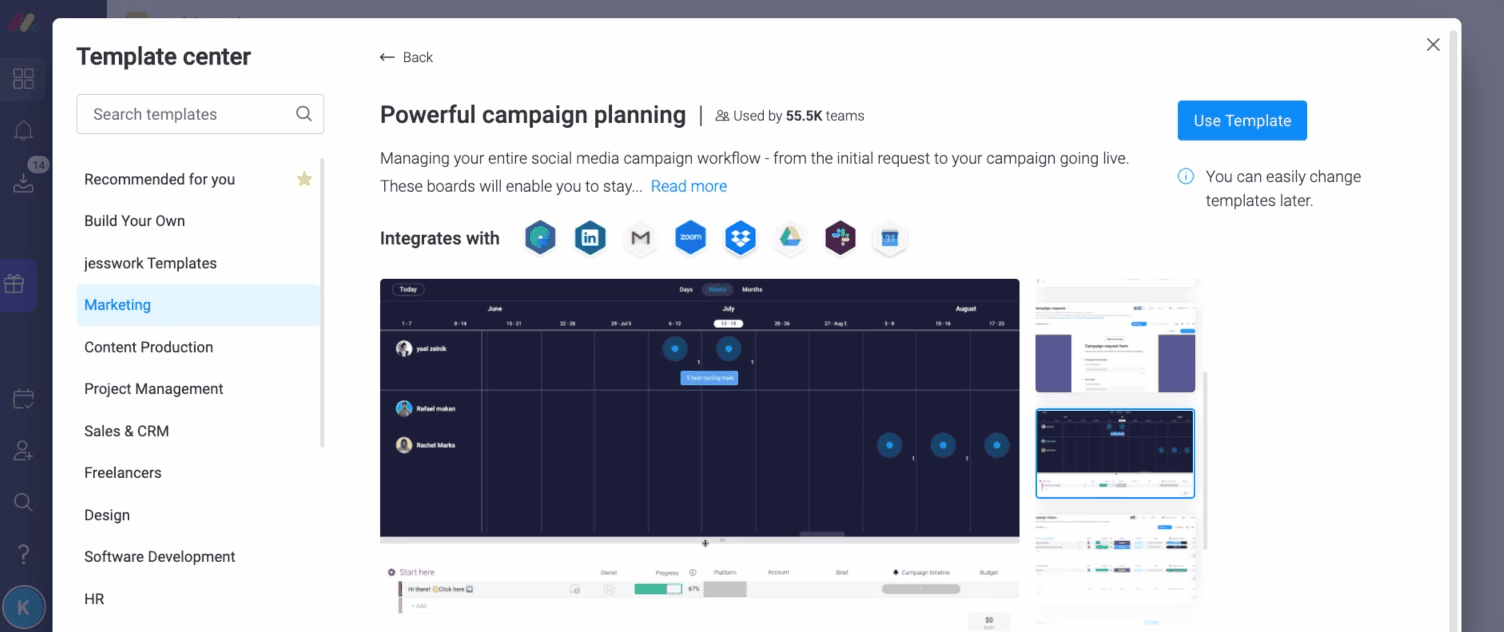 Solutions will almost always come with lots of screenshots, descriptions, and videos explaining how to make the most of your solution, so be sure to look through the Template Center preview to learn all about it!
Inviting your team members
Once your workflow is ready for your team's input, you can invite them to your account.
You can invite your team as members, guests, or viewers. You can also make any member of your team an admin. To learn more about the different roles your team can fill, check out this article.
When you invite your team, they'll receive an invitation via email as shown below. The invitation has the account's URL and the email address they should use to sign in:
Set up custom profile fields
Encourage your team to set up their profiles. To make it more fun, you can include custom fields in the profile. Adding a custom field (like "favorite pizza toppings" 🍕) can help your team to feel like they belong in this new environment and help everyone get to know each other better.
Subscribe your team to your workflow
Once your team has signed up, start subscribing them to boards and assigning them to tasks. Adding teammates as board members allows everyone to stay up to date on all the updates posted on your preferred boards and items.
Even better, when you assign teammates to an item, everyone can take responsibility for their own tasks, projects, or clients. It's a great way to promote ownership and transparency among your team!
Make it fun!
Mentions and communication
As soon as possible, start mentioning your team on updates. When you keep the communication in one place, you can start to eliminate long email chains. Believe us, this makes everyone happy! An added bonus, mentions and notifications are a bit like social media and are far more interactive and engaging than emails!
Our mobile app makes work accessible on the go. Your team can check-in and stay on top of their tasks no matter where they are.
monday.com makes work fun! Allow your team to create boards for lunch orders or suggestions, ERG events, and team outings. Make monday.com a hub for all things work. From roadmaps to culture initiatives, monday.com can help you get things done.
Resources for your team
monday.com is a hands-on experience. Invite your team to learn as they go. Once they learn the building blocks, it's easy to begin to imagine how they can make the platform their own.
Some people prefer to learn through videos. They can watch our popular getting started webinar right here. And if they prefer short, informative videos, we encourage them to visit our YouTube channel.
We also have an option for paid assistance and training in your language through our global network of certified monday.com partners. If you are interested, please fill out this form and someone will be in touch shortly.
If you have any questions, please reach out to our team right here. We're available 24/7 and happy to help.