3 min read
Feature
Do you ever wish that you could use your commute to work to catch up on your monday.com notifications but don't have phone service on the subway? Have you ever tried to update your boards out in the field but can't get a cell signal? Well then, hold on to your hats because this one is going to rock your world! Introducing... offline mode on your mobile app! 🤯
What is offline mode?
Offline mode allows you to make changes to your boards and check notifications and updates without an internet connection any time anywhere! It will allow you to work seamlessly regardless of your cell reception or wifi, meaning that you can access your data no matter where you are! Whether you're a remote worker, working in the field or on-the-go, on the subway, on a plane, in an elevator, out on safari, scuba diving, camping, or trapped on a desert island, you can still use monday.com!
How does it work?
Checking notifications and changes
When your mobile device is connected to an internet server, we'll fetch all your data for you so that you can get to it whenever you're ready. When offline, you will be able to access all of the changes to your account that happened while you were online! Since you are not connected to the internet, you will not receive any new updates or notifications while you are offline.
After you have carried out all of your offline actions, we will hang on to them until you have re-connected to the internet. As soon as you are back online, we'll upload all of your changes one by one!
If someone else has made changes to the same item, your change will override theirs as soon as you are connected to a server.
Note: At this time, there is no indication that lets you know you are working offline.
What can I do offline?
You can currently carry out 70% of all board actions while working offline! These are some of the most crucial and common actions across your account, but don't worry - we're still working hard on this awesome feature and hope to conquer them all!
Here are all of the actions you can perform offline based on your operating system:
iOS:
Change a column's value (such as a label in the Status Column or assigning someone in the People Column)
Android:
Change a column's value
Create a new item
Rename an item
Delete an item
Delete a column from a board
Delete a group from a board
Change an item's position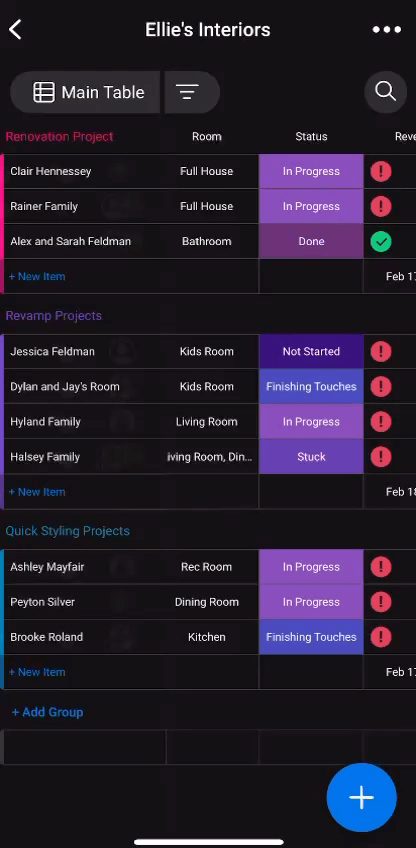 So wander off, get lost, and explore the most obscure internet-barren places - you'll still be able to use monday.com!
If you have any questions, please reach out to our team right here. We're available 24/7 and happy to help.