2 min read
Feature
Who can use this feature:
Admins
Available only for Enterprise accounts
Looking for more robust insights into your monday.com account usage? Want to understand which of your teams are using your account the most, and how to optimize your usage even more? Look no further! The new Account Insights section will provide you with all the analytics and stats you've been waiting for to make sure you're on top of your company's usage at all times.
Where to find it
To access your Account Insights go to your profile picture and select 'Admin'. Open the 'Usage Stats' section and click on the 'Insights' tab as shown below.
Note: Account Insights can only be accessed by Admins on the account.
How it works
The Account Insights is comprised of different widgets, each one displaying important information about the account. The widgets will update daily to display the most updated information. Let's dive into each one individually.
Note:
All widgets (besides the Active Users widget- see below) provide stats for the account over the past 30 days.
Coming soon.. the ability to adjust the time frame to show a customized time period.
This widget will display basic stats about the account over the past 30 days in comparison to the previous 30 days. It will show the following:
New members - all new members who have joined the account
Items created - all new items created on Main, Shareable and Private boards
Tasks done - all tasks marked as "Done" on Main, Shareable and Private boards.
Board actions - all board activities that took place on Main Shareable and Private boards

such as item creations, deletions, archives and column edits. Board actions will take into account only manual actions, not those triggered through automations.
This widget will show the number of users who performed at least one action over the past 30 days, by their type. So, admins can see exactly how active their guests, viewers and account members are on a monthly basis.
The Account Network widget is a reflection of the connections between employees across your entire account. It will provide a visualization of the top 100 strongest connections between users. Connections are defined as the frequency in which users mention each other, reply to one another and like updates. The users connected by a line communicate the most with one another. This provides you insights into exactly which team members are working alongside others and collaborating the most.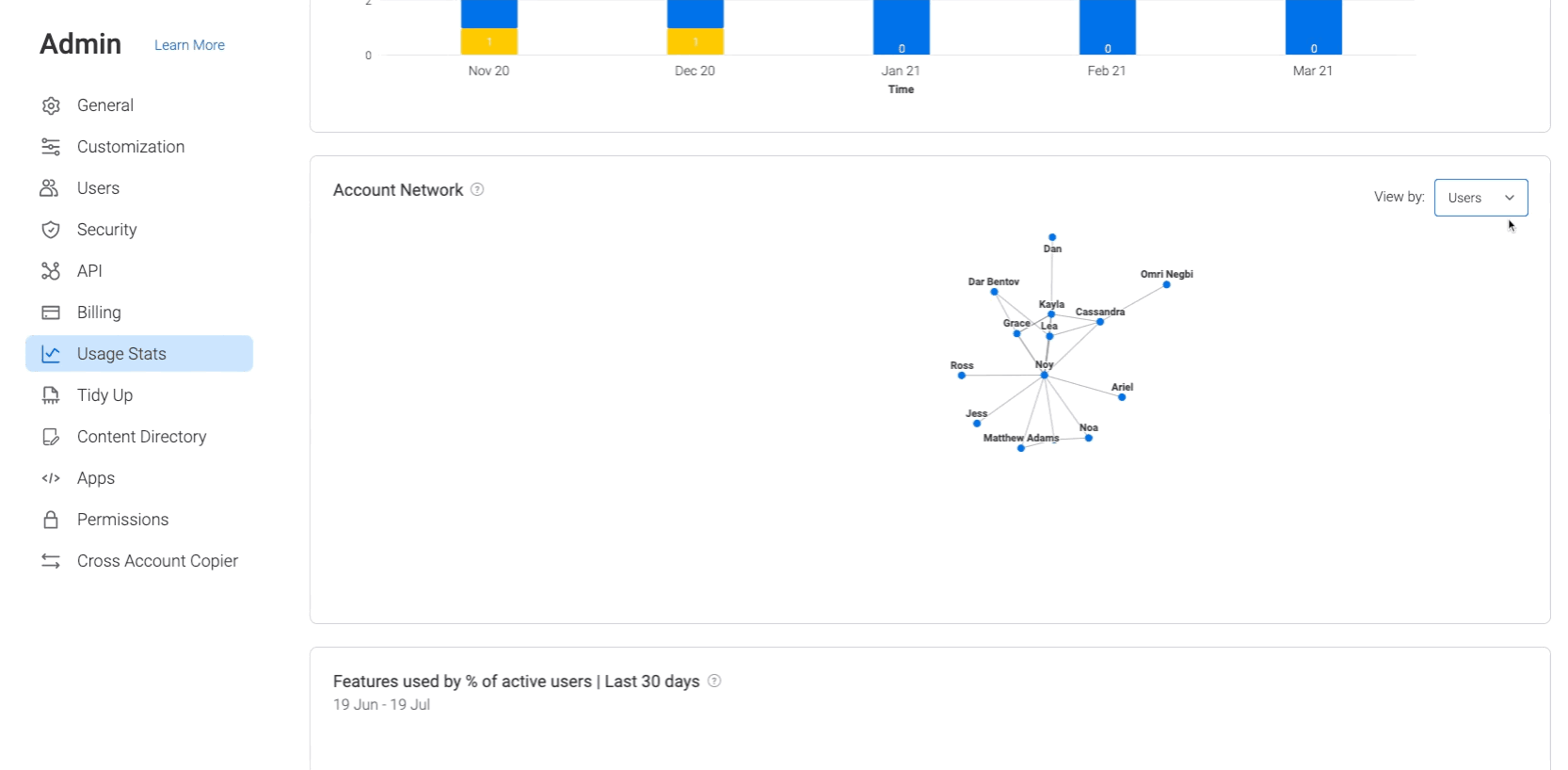 Note: You can switch to see the connections between entire teams or simply employees on the top right corner of the widget!
Features used by % of active users
This widget will show the features used by the active users on your account, in percentage, over the past 30 days. So, as per the screenshot below, this means that a 58% of active users used automations, while 46% of active users used the dashboards throughout the past 30 days. "Used" refers to automations triggered on the account; and views, boards and dashboards that were viewed or created.
There you go! Start tracking your account usage with Account Insights📈!
If you have any questions, please reach out to our team right here. We're available 24/7 and happy to help.