6 min read
Guide
Agencies, freelancers, in-house teams - this guide is for you! Creating content, whether it be videos, radio, or television, requires a streamlined, step-by-step process to ensure a top-notch end result. It also requires a strong organizational tool that will allow you to see where all projects stand at a glance and ensure you're moving forward as planned. Luckily, we have just the answer!
This guide will focus on video production in particular and will walk you through setting up a simple yet functional workflow to help you get started managing your media and productions on monday.com. Let's dive right in!
Set up your Clients board
The first board we've set up is our Clients board, which will be used to provide a point of reference of all our clients and their information. Here, we can track and manage our potential clients, existing clients and our past clients; and store any important files shared along the way.
Power up this workflow with Automations
A couple of simple automations can go a long way. These can help save you time on manual steps, make sure nothing is overlooked, and ensure that all stakeholders are in the loop with the help of reminders.
We've added 3 simple and efficient automations to this workflow, which will automatically move the clients to the relevant group, based on the change of a status.

Note: We'll see soon how this board will be connected with our Video Production board.. Stay tuned!
Set up your high-level Video Status Board
This board is going to tie everything together, by enabling anyone on the team as well as team leads and managers to see where all projects stand at a glance.
As requests for new videos come in from all different clients (or internal departments!), these will be added to the "Incoming Video Requests" group, and work their way down until completion in the "Done" group. Here, the high-level details of each video will be stored such as the video lead, priority, due dates, estimated budget, brief details, sources of inspiration, locations, and more.
Gather

video requests

easily and efficiently with Forms!
Working with clients requires spending a lot of time and effort communicating. We get that. With the help of the Form view, you can streamline a major step in the process by simply gathering all video requests from across your client base and internal departments through a shareable link. No more wasted time on rummaging through old emails or notepads when you have this easy method.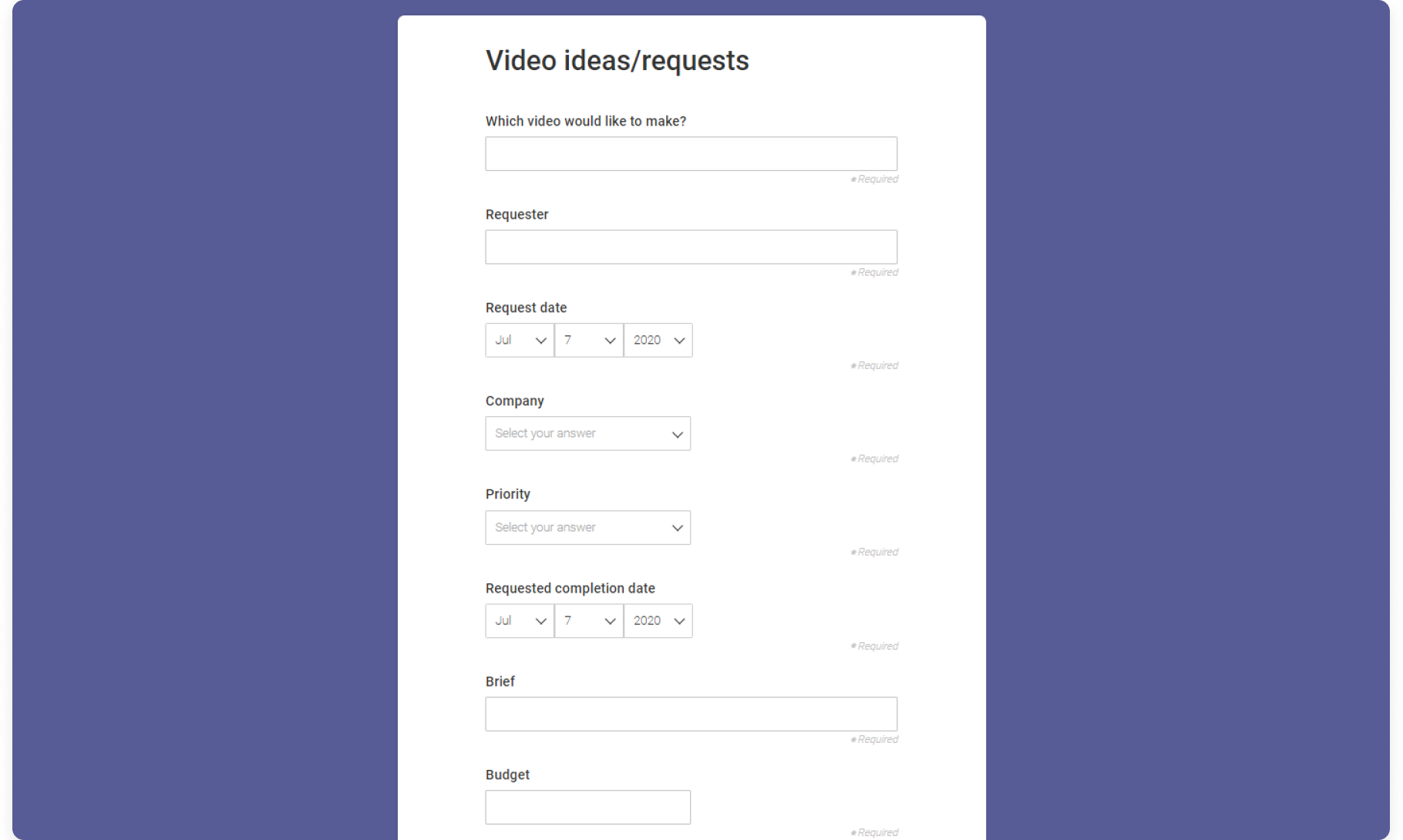 Cut down manual steps further with Automations
Once again, automations boost this workflow by eliminating manual steps and making sure nothing falls between the cracks. On this board, we've added the following reminder notification to notify the video lead three days before the release day arrives, that the video is due. No more excuses or last minute cramming!
We've also created a chain of useful automations which will help move things into place into the relevant groups whenever the status is changed.
Check out how it works in action 👇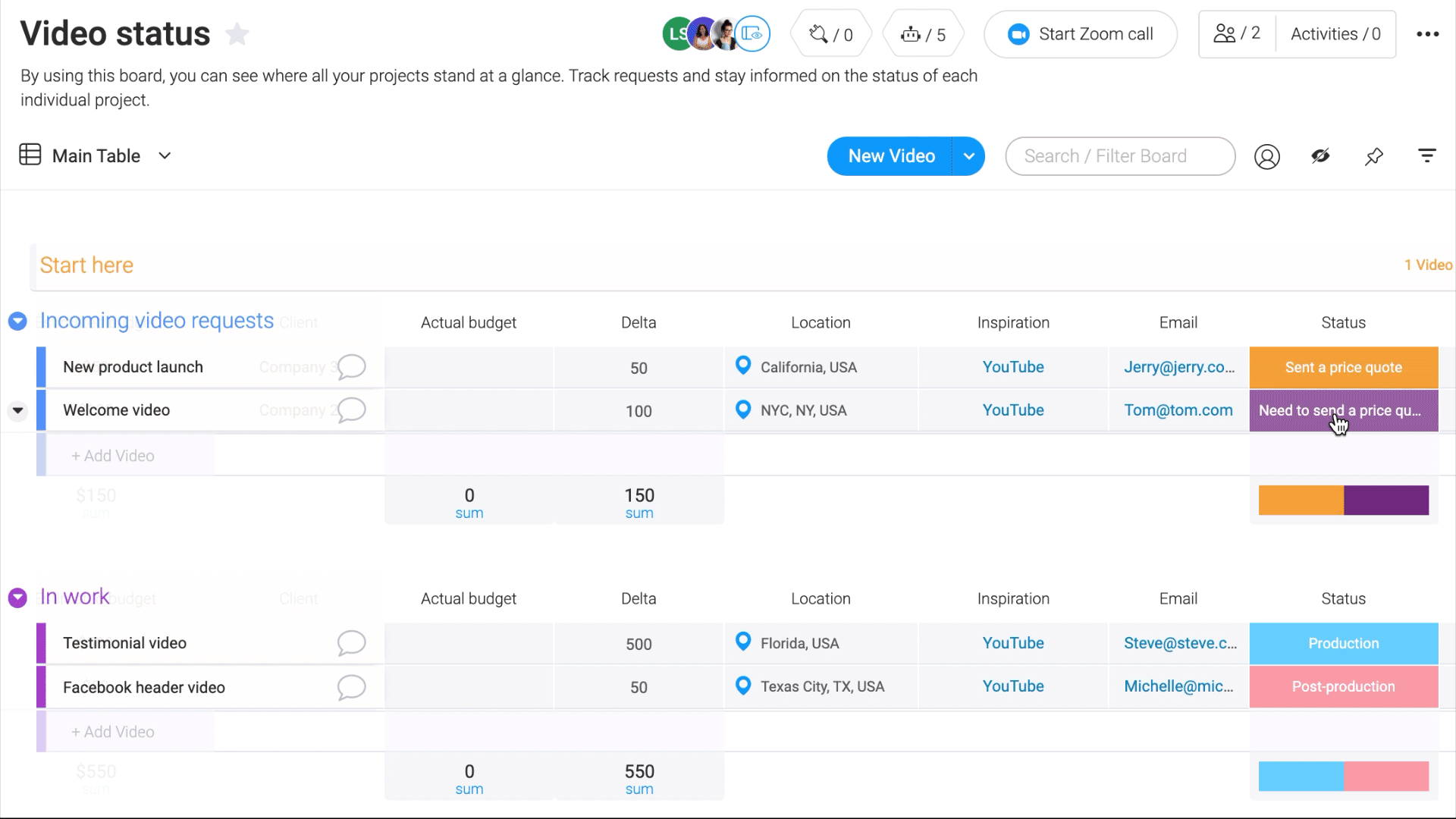 Integrate the Clients and Video Status boards
Now that we've set up our two boards - the Clients and Video Status board- let's connect them to keep all information in sync and in context. To do so, we've added the Connect boards column on the Clients board, which allows us to link up every client to their video/s that are being worked on in the Video Status Board. This is made even more powerful by mirroring the video status of all those projects onto the Clients board so we can have all important details in one single view.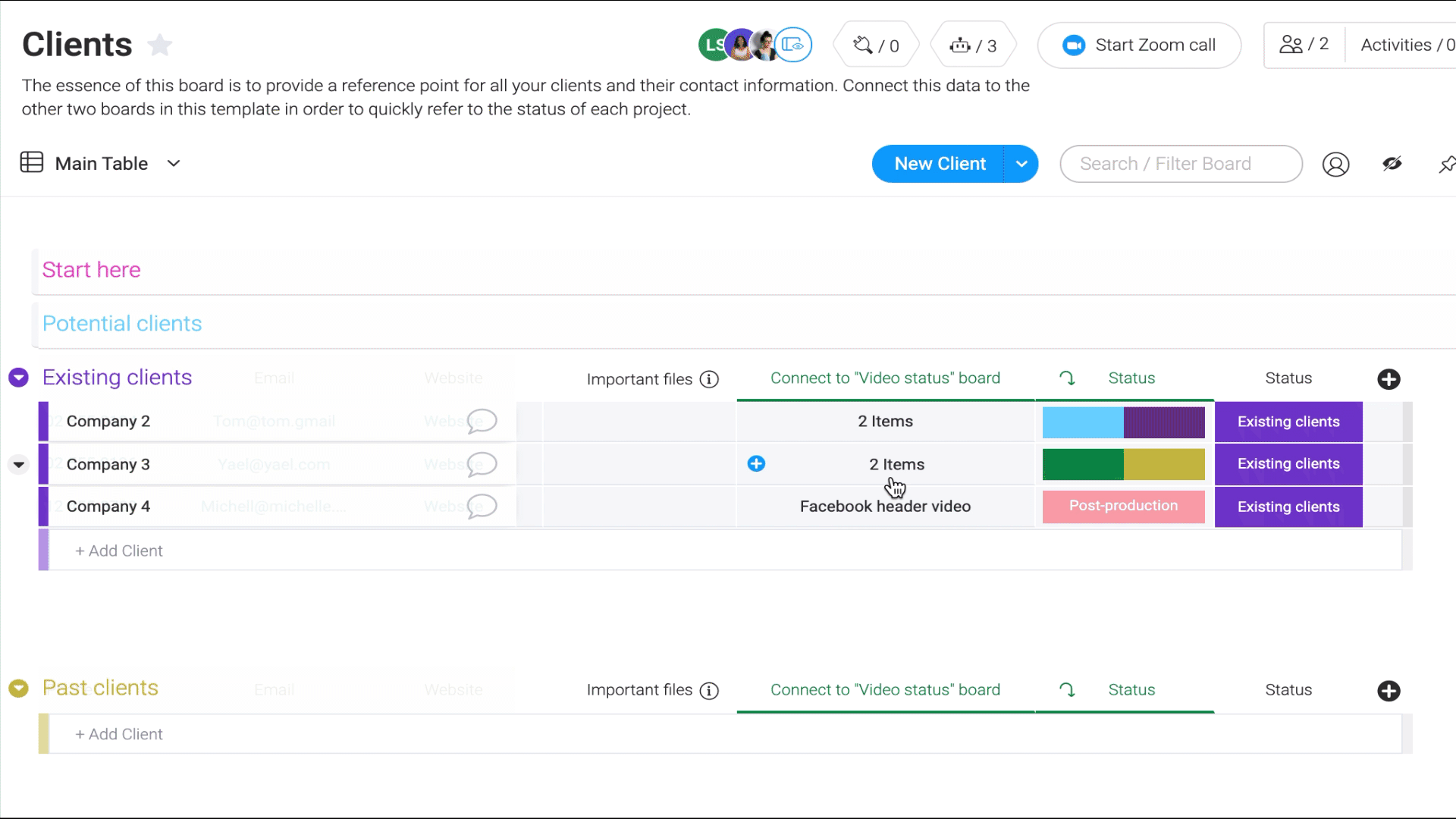 Create your low level Video Production Process Board
Get down to the nitty bitty details and start working on the day-to-day tasks with this low level board. The essence of this board is to breakdown each video or project into its different components and to work our way through each stage until its successful completion. This is the place of execution and details.
Tip: Use the cross-board automation below to automatically create this board as soon as the status on the Video Status board (previous board) changes to "Pre-production": "When status changes to Pre-production, create a new board and notify Video lead".
On this board, each project will be broken down by the different phases and tasks, allowing us to assign each task to the different team members, add specific deadlines, draft files and links as well as calculate budget disparities.
Share this with your clients for better collaboration
Why not collaborate directly with your clients themselves with the help of Shareable boards? That way, you can keep them in the loop on the status of each phase, easily share drafts to gather feedback and manage everything form one interactive space.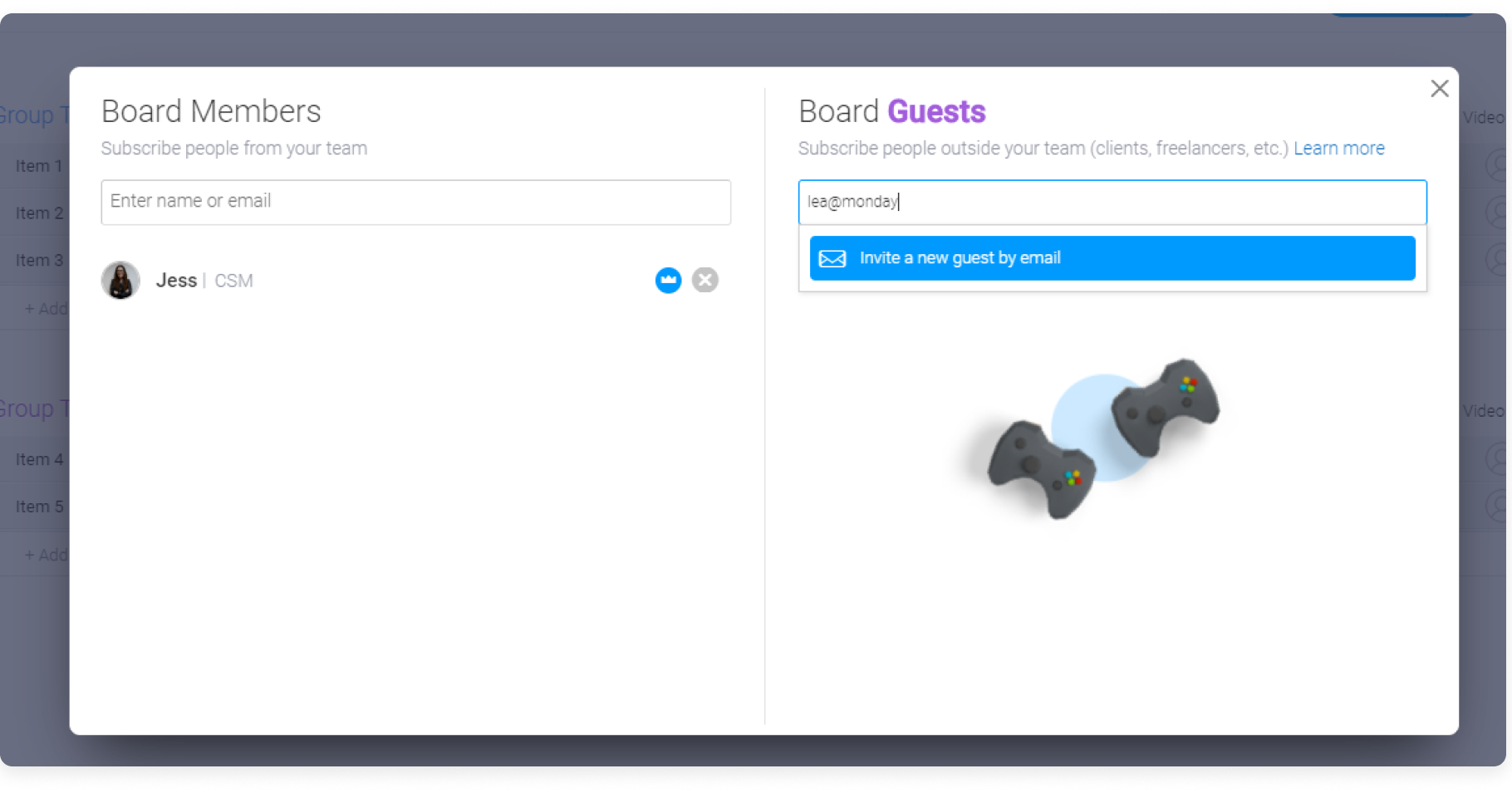 If there's certain information that you want to keep private (such as priorities or budgets), no problem - add column and board restrictions to maintain confidentiality.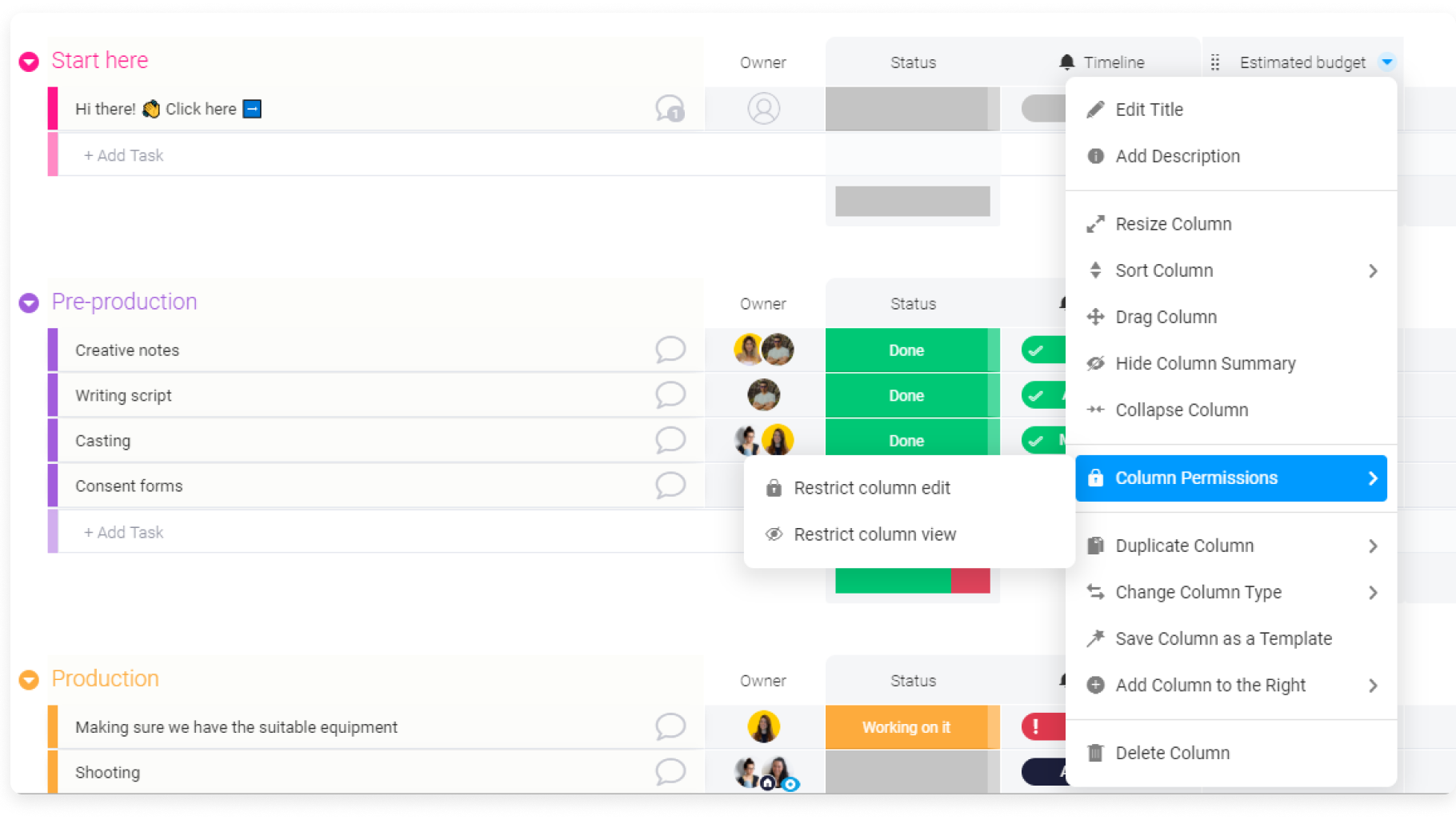 Tip:
Empower your clients to make comments and annote easily, with the
Annotation feature
in the files column.
Gain data insights to enhance your production process
Board views and dashboards give you the tools to get high level overviews as well as in-depth breakdowns of your data for better decision-making and planning later on. While views allow you to get insights from individual boards, dashboards are a great way to display all important metrics from across your account in one place. They allow you to keep the team focused and motivated on high-level goals and boost productivity!
Chart View
This view allows you to gain a snapshot of any data important to you. In our case, to see an overview of the statuses of all ongoing projects or a breakdown of the type of clients we work with (Enteprise, Medium or Small businesses). To learn more about the Chart view, check this out.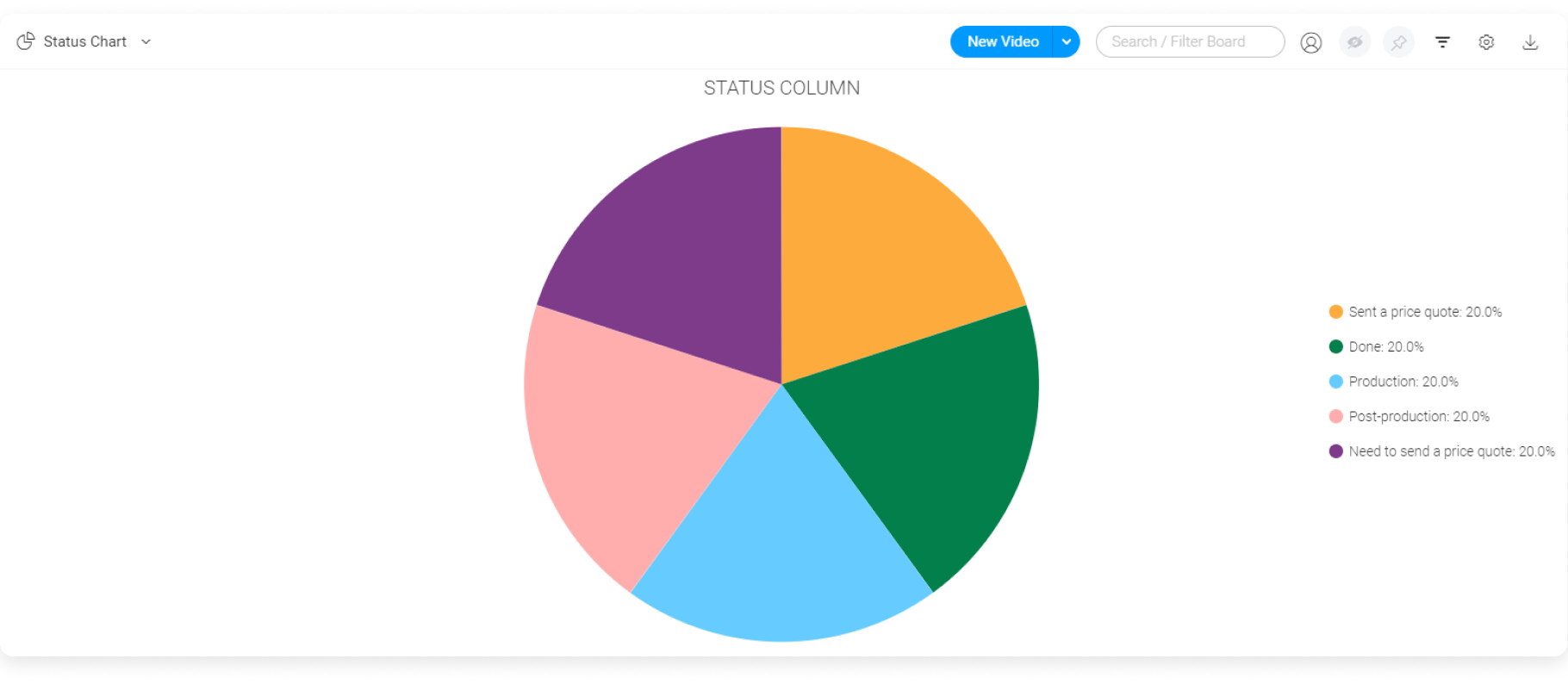 Performance Insights
This view allows us to dive even deeper and see how much time was spent on each status, to plan and optomize this better in the future. To learn more about Performance Insights, check this out.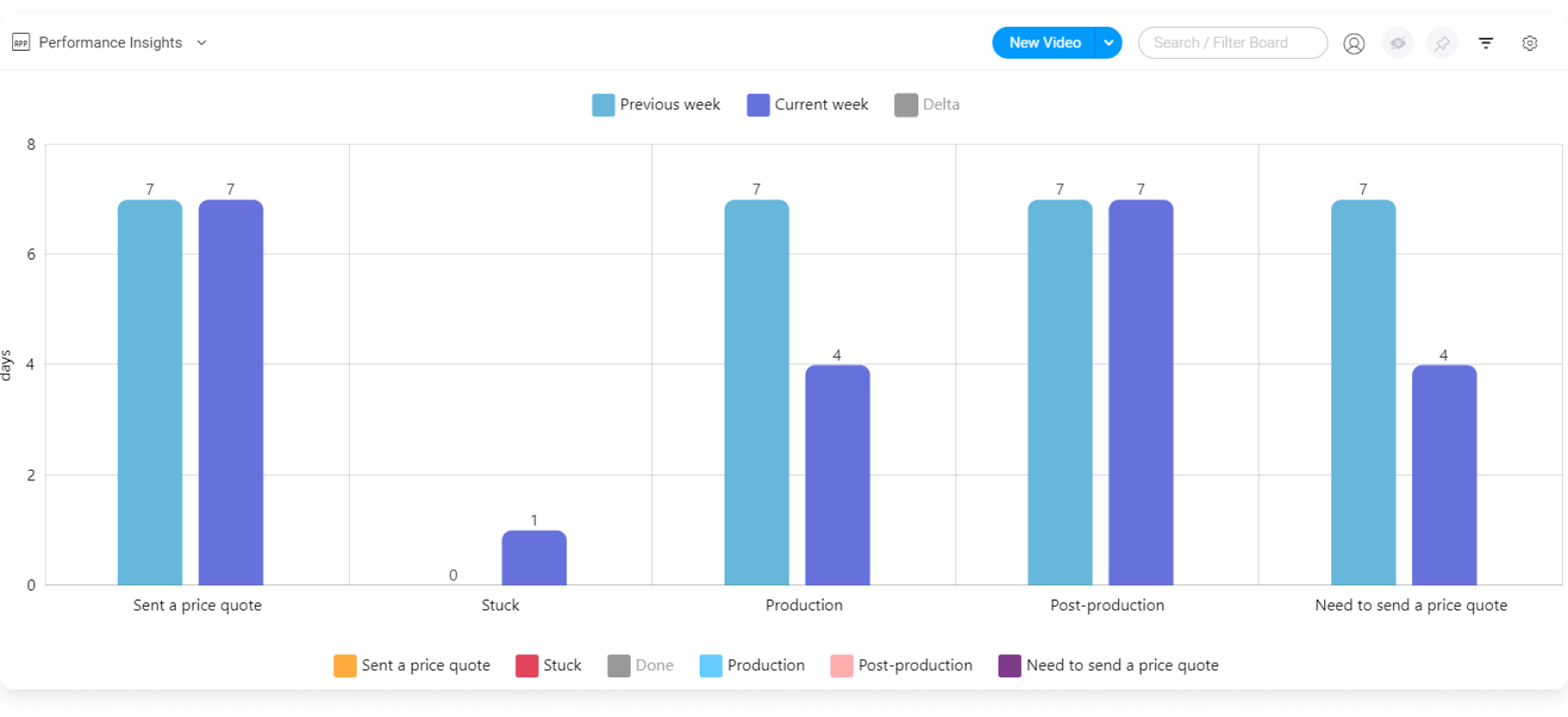 Tip:
To gain cross-accounnt insights from all relevant boards, check out
Dashboards
.
Summary
To summarize our video production workflow:
Clients are organized and managed on our Clients board.
Automations on that board make sure things move around smoothly, and the board stays organized at all times.
A high level Video Status board will allow us to track and monitor the overall progress of all video requests (including incoming, in process and completed videos).
New requests will enter this board through the Forms view.
Reminder notifications will ensure the video lead never misses a deadline.
The Clients board will be linked up with the Video status board, tying up the clients to their respective videos in production.
The entire production process will be executed on the low level Video Production Process board and to track more granular details.
The Video Production Process board can be shared with clients for better collaboration and to keep everyone aligned.
The Video Production team can use the analytical tools such as Chart Views and Performance insights to improve processes, make informed decisions and gain a big picture of all business operations.
There you have it- three simple yet effective boards to help you manage your media and production worklows on monday.com!
If you have any questions, please reach out to our team right here. We're available 24/7 and happy to help.