Seamlessly connect your monday.com projects with Microsoft teams with our monday.com app! With this amazing functionality, you will be able to connect your monday.com boards to selected Microsoft teams channels and view them as tabs. Unlike the MS Teams Integration, you do not need to be an Office 365 Administrator to access and use the app.
To boost things even more, use our monday.com bot to receive notifications from your preferred boards and transform any conversations into action items!
Keep reading to learn how to set this up. 🙌
Note:
Viewers
are not able to use this app.
Add your monday.com board to your MS teams channel
This awesome functionality allows you to add a board as a tab in a selected channel and enjoy the full capabilities of monday.com features.
Step 1 - Install the app
To install the app please go to the wanted channel or chat and click on the '+' icon.
Next, search and choose monday.com. Once done, you will be asked to login. If you don't have a monday.com account you can sign up straight from there 😊
And you are all set! Now you can start choosing a board! 🙌
Tip:
You can also install the app by clicking on
this link.
Step 2 - Choose a board
Choose the board you'd like to view in the channel.
Or create a new board!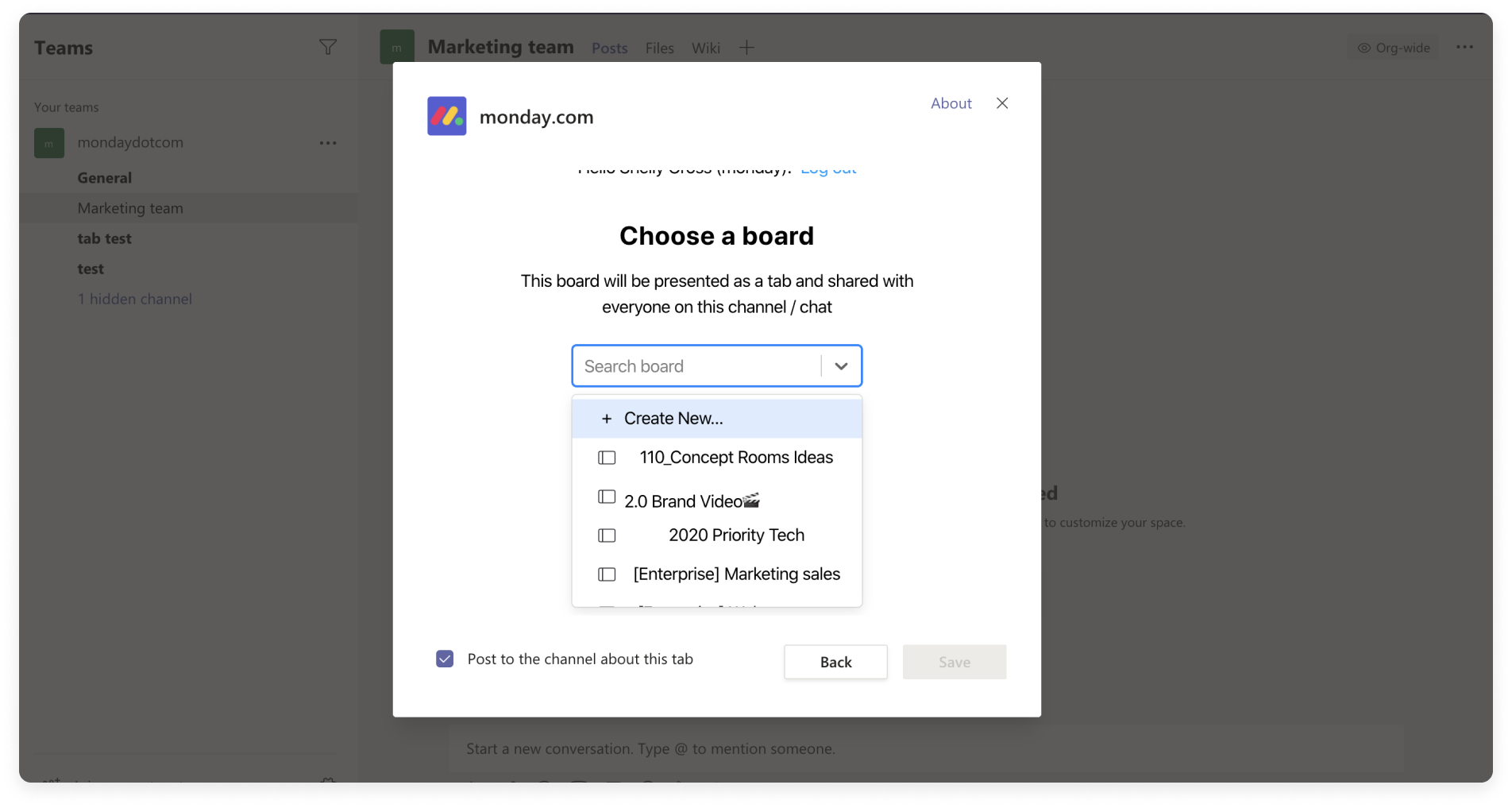 Note: When creating a new board in MS teams it will be added to the Main Workspace in monday.com
Select the board and add it to the channel as a tab.
Note: There's no limitation to the number of boards you can add as tabs to a specific channel
Step 3 - Enjoy all the features
Once the board is added as a tab in the channel you're able to use all of our amazing features such as our automations, integrations, board views, advanced board filters and so much more. You can actually edit and manage the board, and your teams work, right from the comfort of your channel!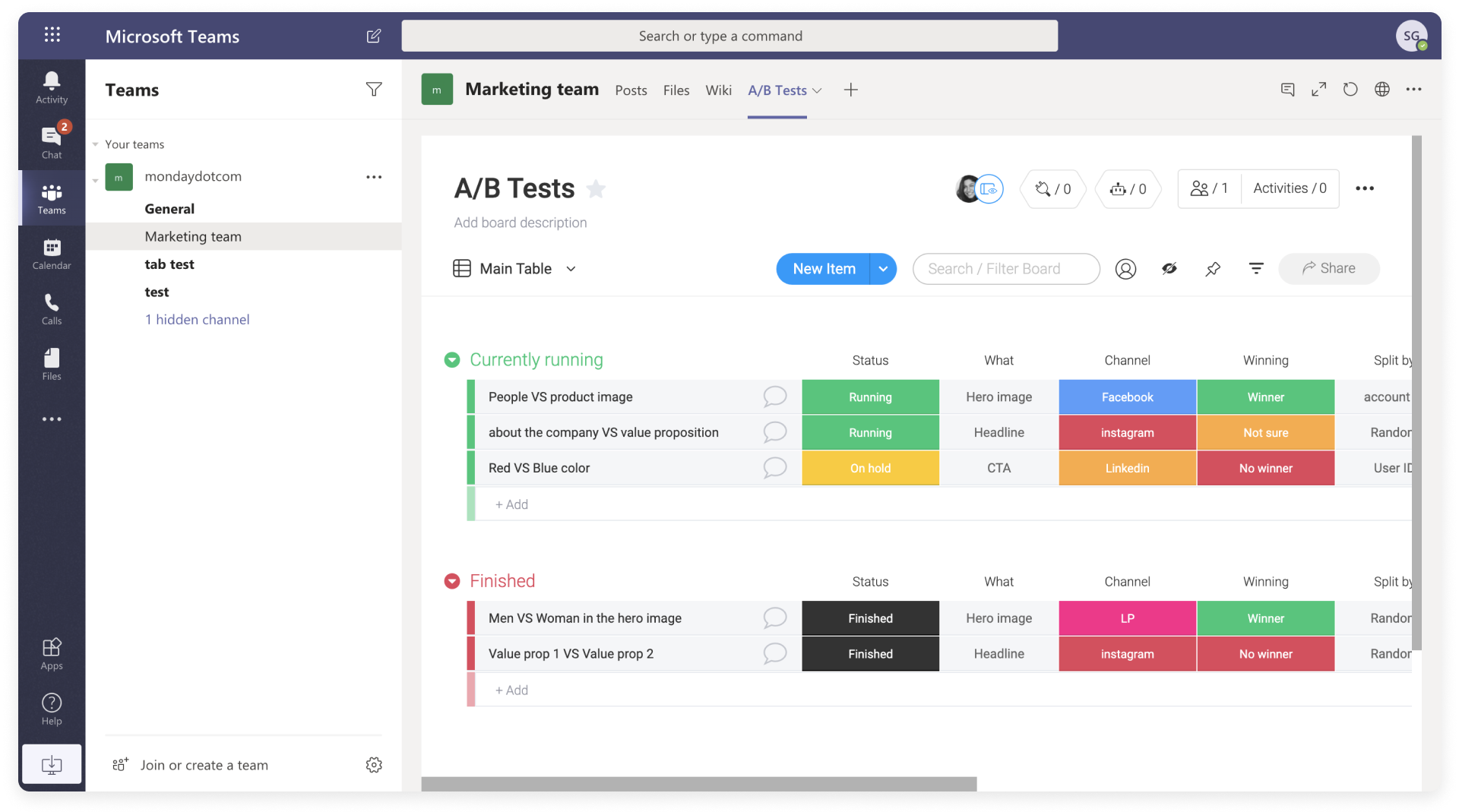 Can I have tabs with monday.com boards from different monday.com accounts?
Yes! When you go to add a new board you can logout of your monday.com account and login to another account and select a board from that account.
Who can see my monday.com boards that I open?
Everyone in the channel will be able to see the tabs that you open with your monday.com boards, however, only those who have access to those boards will be able to see the content of the boards.
If the board is a private board, anyone who is not subscribed to the board will see this:
Note: When adding a shareable or private board to a channel, the tab will default to the name of that board. If you do not want members of the channel to know the name of the board you can change the tab in MS Teams and it will not affect the name of the board
If someone in the MS Teams channel is not a part of a monday.com account, or the account in which that board resides, they will click on that tab and see the login page for the account in which that board resides.
Receive notifications from monday.com to MS Teams
With our monday.com chatbot you're able to connect to your monday.com account to receive notifications from selected boards directly to Microsoft teams. You can also transform conversations into action items by creating new items right from the chat!
Step 1 - Install the bot
To install the bot please click on the 3 dot menu at the bottom of your channel/chat conversation, choose to type in monday.com
Step 2 - Connecting monday.com
Go to the chat feature in Microsoft teams left pane, there you'll find monday.com bot conversation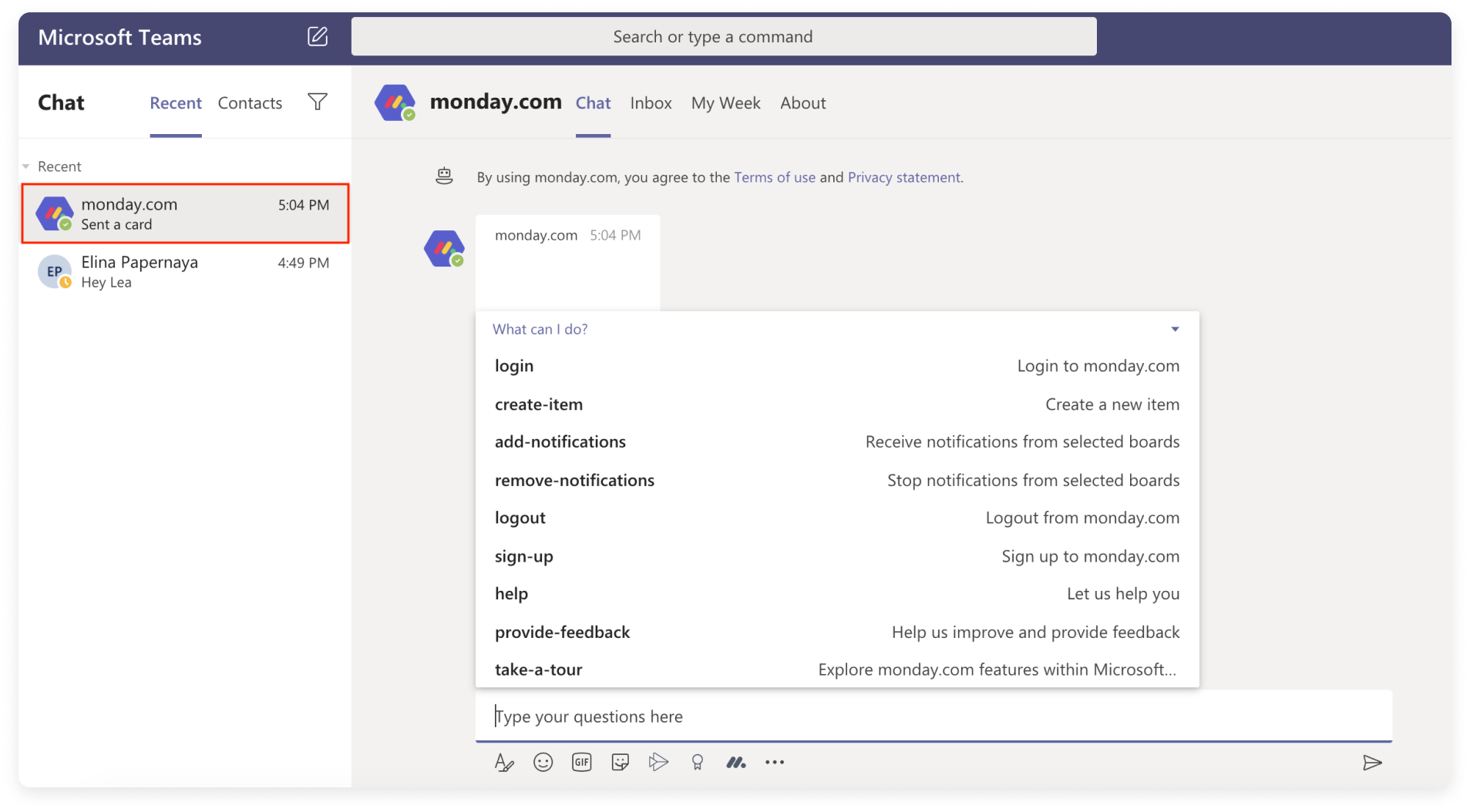 First, please connect to your monday.com account by choosing 'connect' or giving the 'log-in' command.
Step 3 - monday.com bot commands
If you don't have a monday.com account and wish to use the monday.com chatbot you're welcome to use the sign-up command and start your free trial with monday.com!
This command allows you to add notifications from selected monday.com boards. Once you're logged in type the 'add-notifications' command in the chat conversation and select the board you'd like to receive notifications from
This command will allow you to remove notifications from monday.com boards
This command will allow you to create items on a selected monday.com board right from the chatbot. This is so great if you're having a brainstorming chat with your team and need to add action items right on the spot!
First, you'll have to select the board in which you'd like to create the item:
Second, select the group you'd like to create the item in and choose the item's name:
Click "next" and you're done! You can then view your item on your monday board by clicking on "open item" as below:
If you wish to disconnect your monday.com account or switch between monday.com accounts simply use the log-out command. Don't worry, you can always log in again later.
As this is a brand new integration we'd love to hear your thoughts. Your feedback will help us improve and we're eager to hear it!
If you feel like you could use a hand, simply use the help command.
Search and share relevant items and boards
This awesome functionality allows you to share boards and items from your monday.com account directly on your MS Team chat or channel!
Open any of your channel and click on the three dots menu below:
Next, search for the item you'd like to share on your channel from your monday.com account.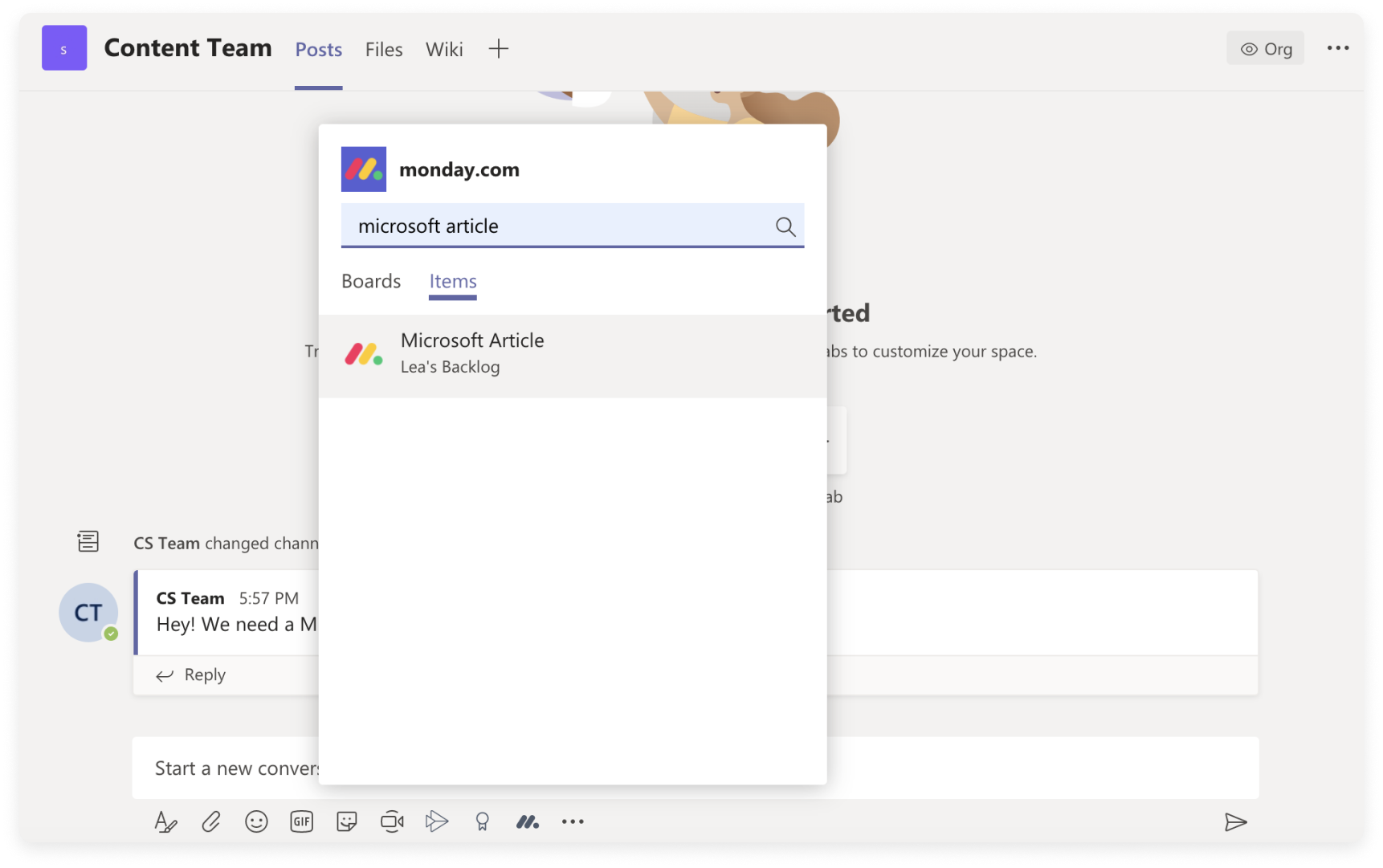 And you are done!
Microsoft Teams Integration
In addition of the Microsoft Teams App, you can also use the Microsoft Teams integration. You may wonder, what's the difference between both? Keep reading to find out 👇
The Microsoft Teams App allows you to add any monday.com boards directly into your Microsoft teams channels. With this App, you will also be able to customize which notifications from your monday boards you'd like to receive. These notifications will be sent only to you through the monday chatbot.
Microsoft Teams integration
The Microsoft Teams Integration allows you to trigger specific actions when a condition is met.
Unlike the Microsoft Teams App, with the Microsoft Integration any notification from a trigger will be sent to the whole channel.
For more info about our Microsoft Integration check out this article.
More Assistance
If you need help building custom integrations, we also have an option for paid assistance through our network of certified monday.com partners. If you're interested, please fill out this form and someone will be in touch shortly!
If you have any questions, please reach out to our team right here. We're available 24/7 and happy to help.