WooCommerce is an e-commerce platform for online stores and retail point-of-sale systems. Now, with our WooCommerce integration, you can get a high-level view of your store and automatically track your products, inventory, and orders all in one place.
How to add it to your workflow?
To add an Integration, go to the board you want to create an Integration for and click on the Integration button, located on the upper right of your screen as below:
Once on the page, you will see all of the amazing apps we offer to integrate with, then go ahead and select "WooCommerce":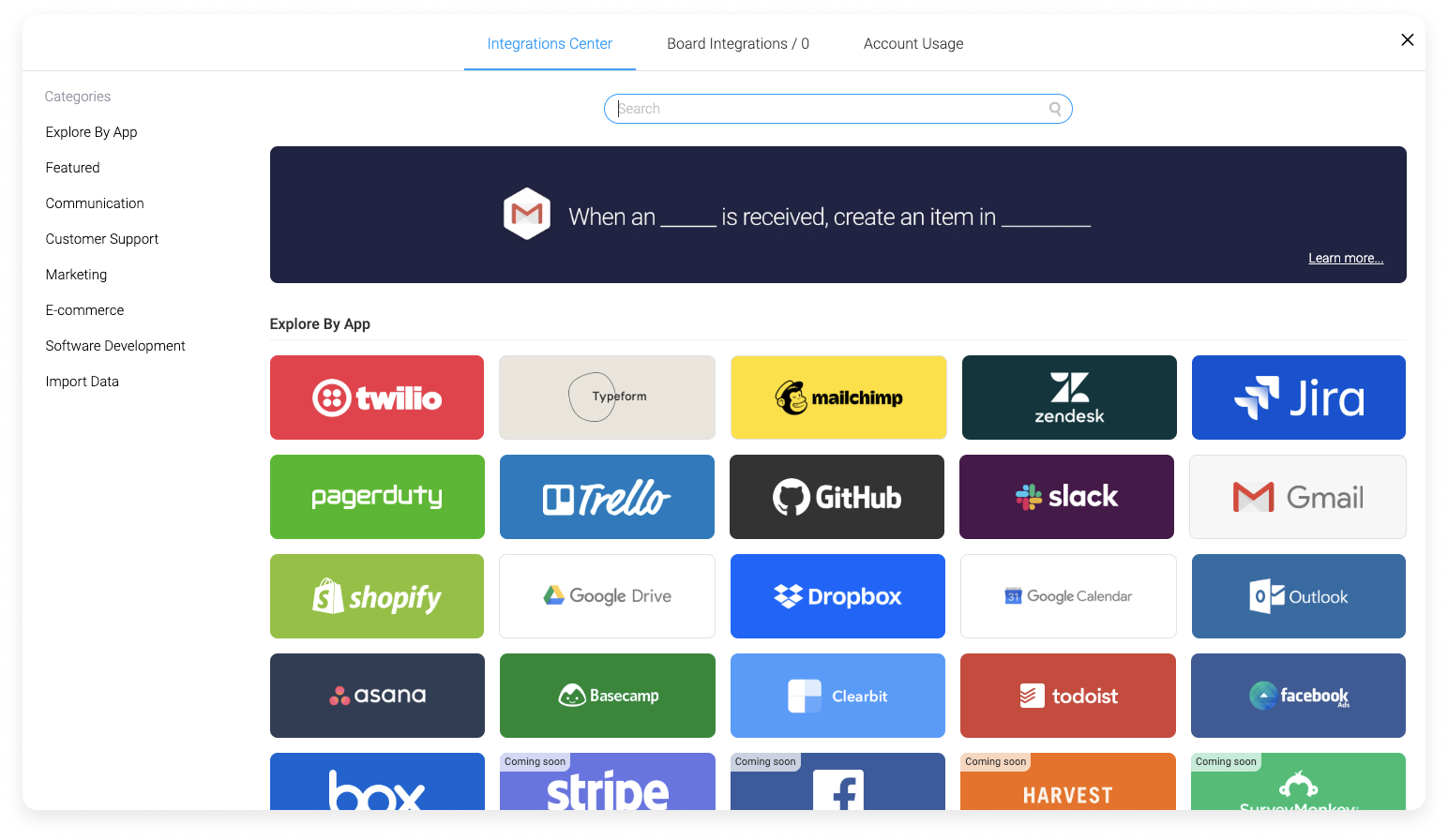 Once you click on the WooCommerce integration banner you will see all the recipes we offer in terms of integration between both platforms, we focused on making monday.com as a command center from which you will be able to manage every aspect relating to your online shop - from keeping track of inventory to approving new designs for your products.
When an order is created, create a new item and sync future updates from WooCommerce
When the status of an order changes to something in WooCommerce, create a new item
When a product is created, create a new item and sync future updates from WooCommerce
When a product's inventory level in WooCommerece is below this number, create a new item
Select the integration you wish to create.
Generate API keys
Once you click on one of the recipes located in the WooCommerce integration banner you will then need to connect your WooCommerce details.
Note:
Y
ou would have to be an admin in WooCommerce to access the Admin panel.
The WooCommerce REST API works on a key system to control access. These keys are linked to WordPress users on your website. To create or manage keys for a specific WordPress user:
Step 1
Go to: WooCommerce > Settings > Advanced > REST API.
Note: Keys/Apps was found at WooCommerce > Settings > API > Key/Apps prior to WooCommerce 3.4.
Step 2
Select Add Key. You are taken to the Key Details screen.
Step 3
Add a Description.
Select the User you would like to generate a key for in the dropdown.
Select Read/Write access for this API key.
Select Generate API Key, and WooCommerce creates API keys for that user.
Step 4
Now that keys have been generated, you should see Consumer Key and Consumer Secret keys, a QRCode, and a Revoke API Key button.
The Consumer Key and Consumer Secret can then be entered into monday.com using the WooCommerce API, and the app should also request your URL.
So how does it work?
To understand better how this integration works, let's dive into an easy example: When an order is created create an item and sync future changes. First, connect your WooCommerce account:
Then pick the recipe that you want to use:
Then, choose the group to add the new order to. In this case, it might make sense to have a "New orders" group so you can see all of your incoming orders.
Map in the fields you'd like to pull in from WooCommerce and click on "Update Integration." It's that easy 🎉
What Woocommerce fields are supported?
The following fields from WooCommerce are supported by our integration:
Order Number, Created Via ,Status, Currency, Date Created, Date Created (GMT), Date Modified, Date Modified (GMT), Discount Total, Discount Tax, Shipping Total, Shipping Tax, Total, Total Tax, Prices Include Tax, Customer Note, Payment Method, Transaction ID, Date Paid, Date Paid (GMT), Date Completed, Date Completed (GMT), Billing Name, Billing Company, Billing Address 1, Billing Address 2, Billing City, Billing State, Billing Postcode, Billing Country, Billing Email, Billing Phone, Shipping Name, Shipping Company, Shipping Address 1, Shipping Address 2, Shipping City, Shipping State, Shipping Postcode, Shipping Country, Line Items, Shipping Items
Name, Slug, Permalink, Date Created, Date Created (GMT), Date Modified, Date Modified (GMT), Type, Status, Featured, Catalog Visibility, Description, Short Description, SKU, Price, Regular Price, Sale Price, On Sale, Purchasable, Total Sales, Virtual, Downloadable, External Url, Manage Stock, Stock Quantity, Stock Status, Backordered, Sold Individually, Weight, Shipping Required, Shipping Taxable, Shipping Class, Average Rating, Rating Count, Purchase Note
More Assistance
If you need help building custom integrations, we also have an option for paid assistance through our network of certified monday.com partners. If you're interested, please fill out this form and someone will be in touch shortly!
If you have any questions, please reach out to our team by using our contact form. We're available 24/7 and happy to help!