4 min read
Feature
If you're taking a vacation, working for home, or even going offline for a quick break, you want your teammates to know when you're not available. Instead of sending everyone an email, you can easily change your "Working Status"! You can even turn off your notifications so they don't bother you during your time off! ⛱🏝
Turn off your notifications
If you need a quick break, or are working from home and are ready to call it a night, you can turn off your notifications! This way you can step away from your work and take your well-deserved break so that you can come back rested with fresh eyes!
All you have to do is click your profile picture and toggle "Do not disturb" to 'On'.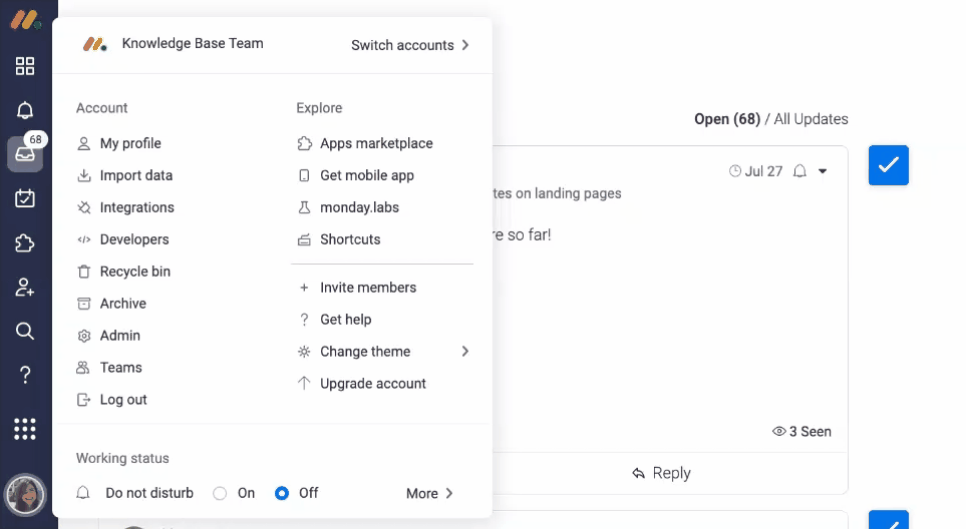 Notice that your bell and inbox notifications have disappeared and there is an icon added to your profile picture.
When you're ready to get back to work, you just have to toggle 'Off', and all of your notifications will appear exactly as they were!
Change your working status
To set your working status, just click your profile picture and then click "More " to open the working status menu. Select any status from the menu that reflects your off time.
At any time, you can change your status by selecting a new one, or you can set it back to 'Online' by clicking 'Clear Status".
You'll see your working status displayed beside your profile picture. You can also see the working status of everyone on your account beside their profile pictures!
You can hover over any team member's name to see a pop-up with some contact details and where they're working from!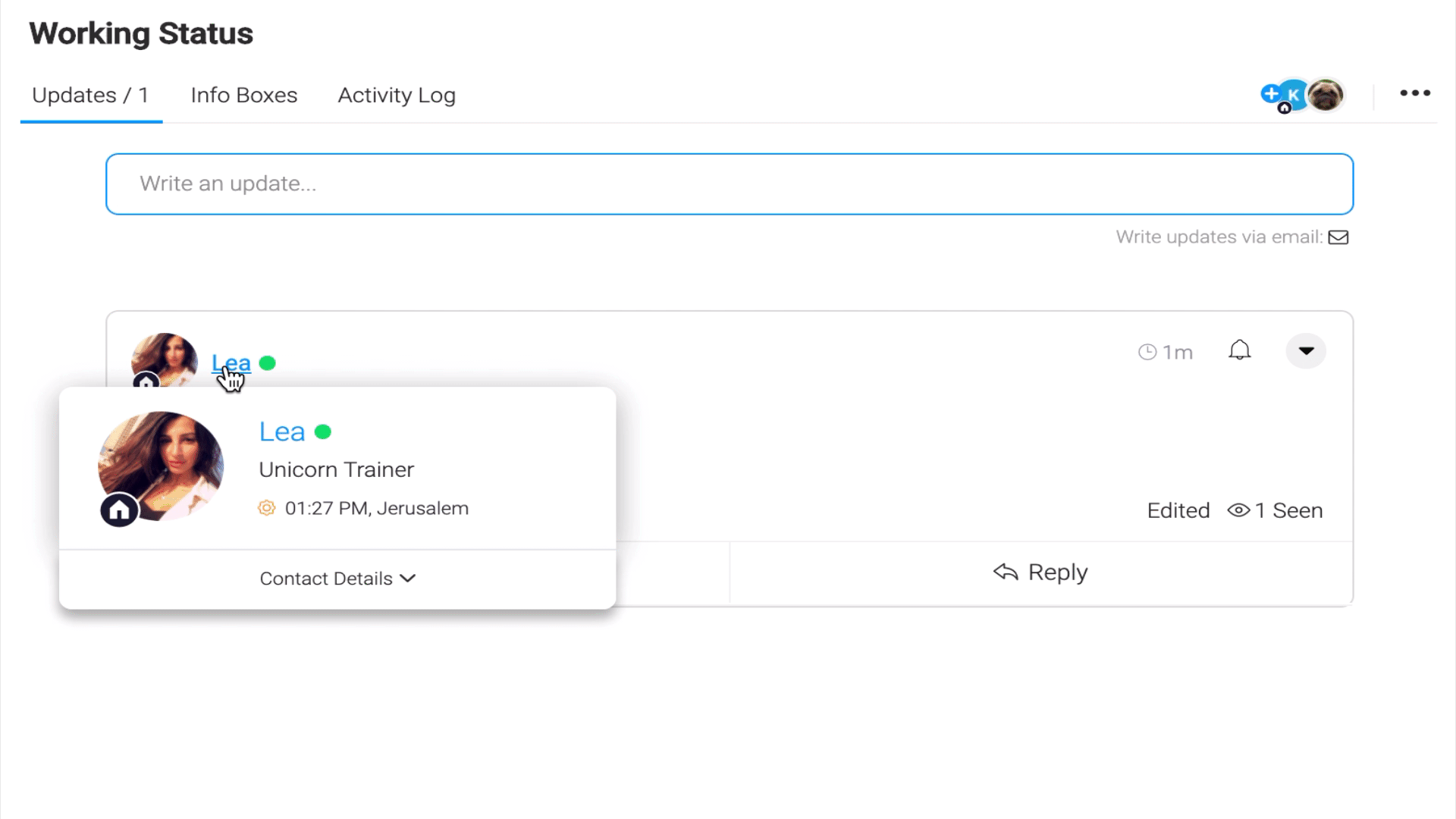 Turn on/off the working status for the entire account
Account admins can turn on and off the working status for their entire account! First click your profile picture and select "Admin". Next, select 'Customization' from the left panel and go to the 'Features' tab.
Scroll down to the "Online Activity Indicator" section at the bottom of your screen. From here, you can choose to show or hide the working status of all of the users on your account! Make sure to click "Save Changes" when you're done.
Plan ahead
That's it - you've finally finalized that family vacation you've been dreaming about all year! You have enough things to worry about the day of your flight, so we don't want you to worry about changing your working status! You can set your "out of office" status ahead of time!
Click your profile picture, "My profile", and then open the "Working Status" tab.
Select "Out of office" or any other relevant status, and then click the arrow beside "Choose dates (optional) to select the dates you'll be away from a pop-up calendar like we've done here:
If you want, you can click the checkbox below to disable all email and mobile notifications for the dates you set, or any other time you have your status set to "Out of office":
Note: At any point, you can also select "Disable online indication" if you don't want to show any status at all. When you disable your working status, you won't be able to view anyone else's either.
Keep track of your team's working status
While you can view the working status of each team member individually throughout your account, The Working Status View and App will track everyone's working statuses together!
You can add the view to any board to see the working status of all the users on that board, so you know who's available to work on what! You can add the widget to your dashboard under "Apps by monday" or search for it in the searchbar.
You can use this app to create a pie or bar chart displaying the working status of all your team members so you always know what's going on with your team members!
If you have any questions, please reach out to our team right here. We're available 24/7 and happy to help.