We're sorry to hear that you want to leave us, and we'd love to know if there's anything we can do to continue working with you! :(
If you are certain about closing the account, please read the following notes first.
A Few Notes
Only an admin of your account can close it. If you're sure you would like to cancel/delete, deactivate, stop or close your account, an account admin should follow the steps below.
Trial users don't need to do anything at all! You can continue to use your account until the end of the trial. After that, you will no longer have access to the account.
If you want to stop your trial early, follow the steps below for paying users. Closing or stopping your account is the same as deactivating or disabling it.
No credit card information was taken when you signed up for the free trial.
Paying users, you can cancel account at any time during your subscription.
Cancelling Your Account
Note: To cancel your account, please make sure to use the web version of monday.com. Only admins can cancel an account.
Step 1
Click on your avatar (profile picture) and choose Admin from the menu.
Step 2
Select Billing from the menu on the left.
Step 3
Click on Close my account in the first screen of the Billing section. You will see a message asking you to confirm the cancellation of the account. This will state the final date on which you will have access to your account before it is closed.
Step 4
Click on Cancel account, and you will see one final screen, offering you to freeze your account for 14 days, 30 days, 60 days, or 90 days.
Freezing your account will block your access and stops the timer on your subscription. Your information will remain in the account, and you can return to it when you want to reopen your account.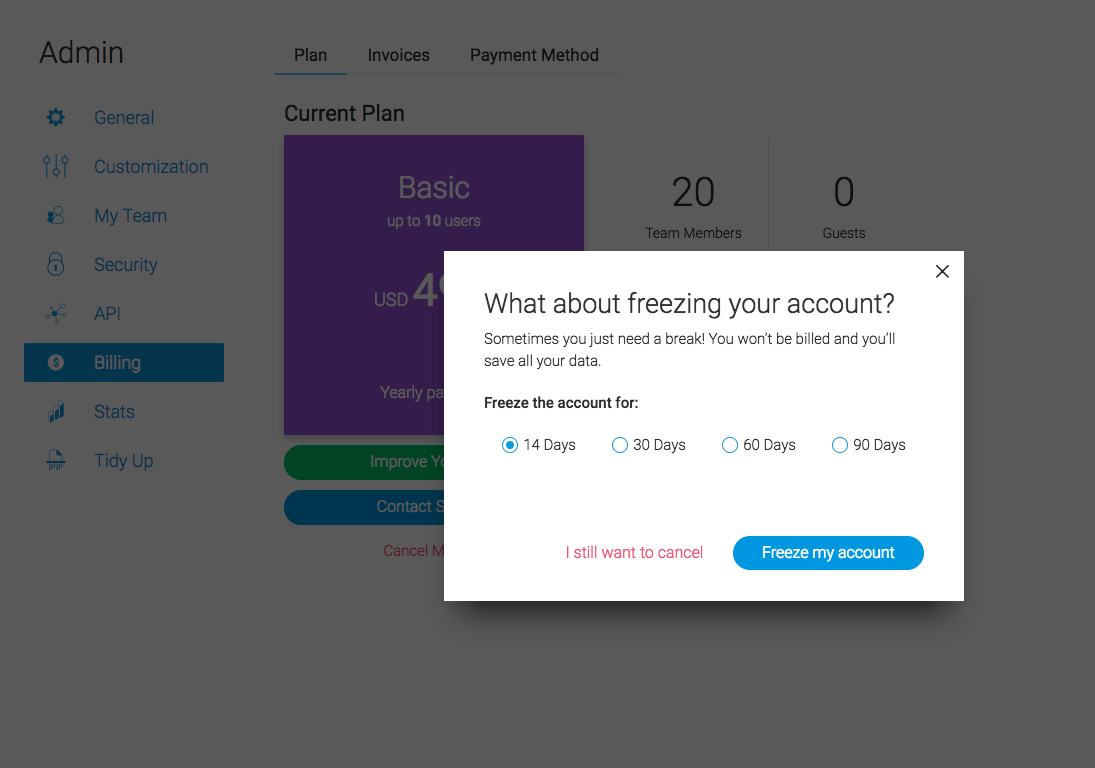 Fig3. - View of freeze account pop-up invitation for 14 days, 30 days, 60 days, or 90 days.
Step 5
If you're certain you want to cancel, click on 'I still want to cancel," which will cancel your account and block you from using the account on the next billing date.
Note: Our refund policy allows for a refund for yearly or two-yearly plans that have been cancelled within 30 days of purchase. This does not apply to monthly plans.
Note: If a refund is requested, your account will be closed immediately upon request of refund, and you will no longer have access.
What Happens to My Data If I Cancel?
Once you cancel your subscription, you will be able to decide whether or not you would like to keep the data to access it later or if you would like to delete it. Currently, our policy is to keep all data available by default so that it will be available in case you would like to access it later. However, we can not guarantee that we will continue this practice indefinitely, and we reserve the right to delete data from an inactive account at any time.
Note: Please note that once an account is completely deleted, it cannot be reversed.
How can I unsubscribe from any emails?
If any email happens to sneak through, please click the "Unsubscribe" button at the bottom of that email. This should prevent you from receiving any emails from us.
If you have any further questions about cancellation, please contact our Customer Success team at [email protected].
We hope you will check us out again in the future! 😊