The Chart View is a great way to see the analytics side of your workflow. With our chart widget, you can now pull out information from several boards and gather them all in one chart! This widget is a must have to enhance your workflow! Keep reading to learn how it works. 📊
How to add it? 
Simply click on "Add New" at the top of the Dashboard page to see the list of options or click on the + sign in a blank widget.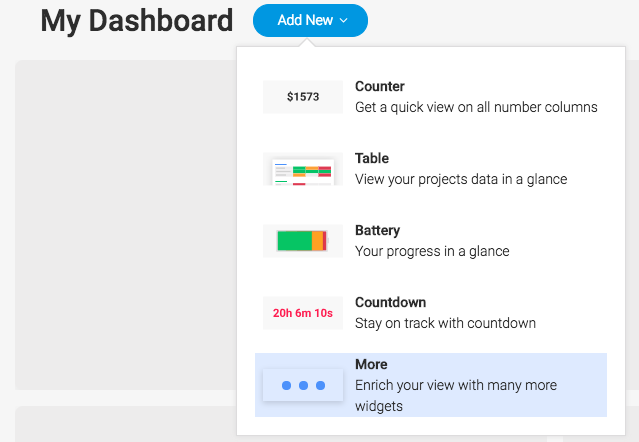 From the drop down list, click "more" and then choose the "chart" from the Dashboards Center.
How does it work?
Step 1: Choose your boards
Click on the settings button and choose the boards you would like to get values from:
Step 2: Choose your chart type
You can display your information in a pie, bar or line graph. Once done, select the columns of each board you'd like to display the value from. In this example, I want to see the status column. 
Step 3: Choose your groups
You can pick which specific group of each board you'd like to see the value from. In this example, I am only interested to see the operations group. You can also select all the groups of each board.
Step 4: Add weight to your items
Choose a 'Number' column to add weight to items. For example, some tasks takes longer than others or are more expensive than others etc... 
Step 5: Enjoy!
How to rename it?
Once added, you can rename your widget. To do so, click on the arrow on the right of the widget's title and select "rename": 
How to delete it?
To delete your widget, click on the arrow on the right of the widget's title and select "delete":
Have any questions? Let us know at support@monday.com and we'd be happy to assist :)