Need to see how much time each team member spent on tasks across your boards? The Time Tracking widget shows total time spent on pulses across multiple boards—both on an individual level (for the people assigned) and for the entire team!
Great for resource management, making sure there's a fair spread of work across the team and for easy reports for billable hours.
How to add it?
Simply click on "Add New" at the top of the Dashboard page to see the list of options or click on the + sign in a blank widget.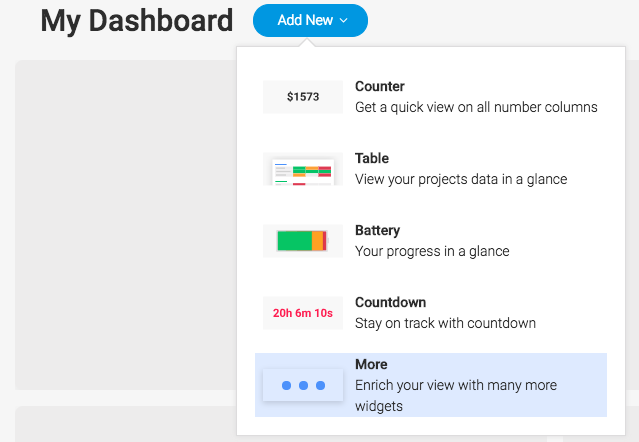 From the drop down list, click "more" and then choose the "board updates" from the Dashboards Center.
How does it work?
Step 1: Choose your boards
Click on the settings button and choose the boards you would like to get Time Tracking values from:
You can pick up to 5 boards. 
Step 2: Choose which "Time Tracking" columns to include
The Time Tracking widget is based on the Time Tracking columns used in your boards, so you will need to have those columns set up in your boards first. Then, select in the widget settings which Time Tracking columns you want to see displayed :
Step 3: Choose which "Person" columns to include
The Time Tracking widget will show the total time tracked for each person. Choose in this section which "Person" columns to take into account in each board:
Step 4: Choose which groups you want to see
You can choose to see the Time Tracking values for specific groups in each board, or to see the values for all the groups in your boards:
Step 5: Choose an "Hours threshold" to get a visual indication of the total time spent
You can get a visual alert if the total time spent for each team member goes over a specific threshold. For instance, you can choose to see the values in red if the time spent for a team member is over 10 hours. 
Go to the "More Settings Options" section, and choose there the number of hours threshold that will trigger the visual alert. You can also choose a specific color to get that visual indication:
In that example, you will then get the Time Tracking values in red if a team member is spending more than 10 hours in the selected boards:
Step 6: Enjoy!!
You can now see the total time spent by each team member across multiple boards, as well as the total time spent by your entire team! 
How to rename it?
Once added, you can rename your widget. To do so, click on the arrow on the right of the widget's title and select "rename": 
How to delete it?
To delete your widget, click on the arrow on the right of the widget's title and select "delete":
Have any questions? Let us know at support@monday.com and we'd be happy to assist :)