Shopify is an e-commerce platform for online stores and retail point-of-sale systems that offers online retailers a suite of services to help them operate their online store.
Now, with our new integration, you can get a high-level view of your store in one place and automatically track your products, inventory, and orders.
How to add it to your workflow?
Step 1
To add an Integration, go to the board you want to create an Integration for and click on the Integration button, located on the upper right of your screen as below:
Once on the page, you will see all of the amazing apps we offer to integrate with, then go ahead and select "Shopify":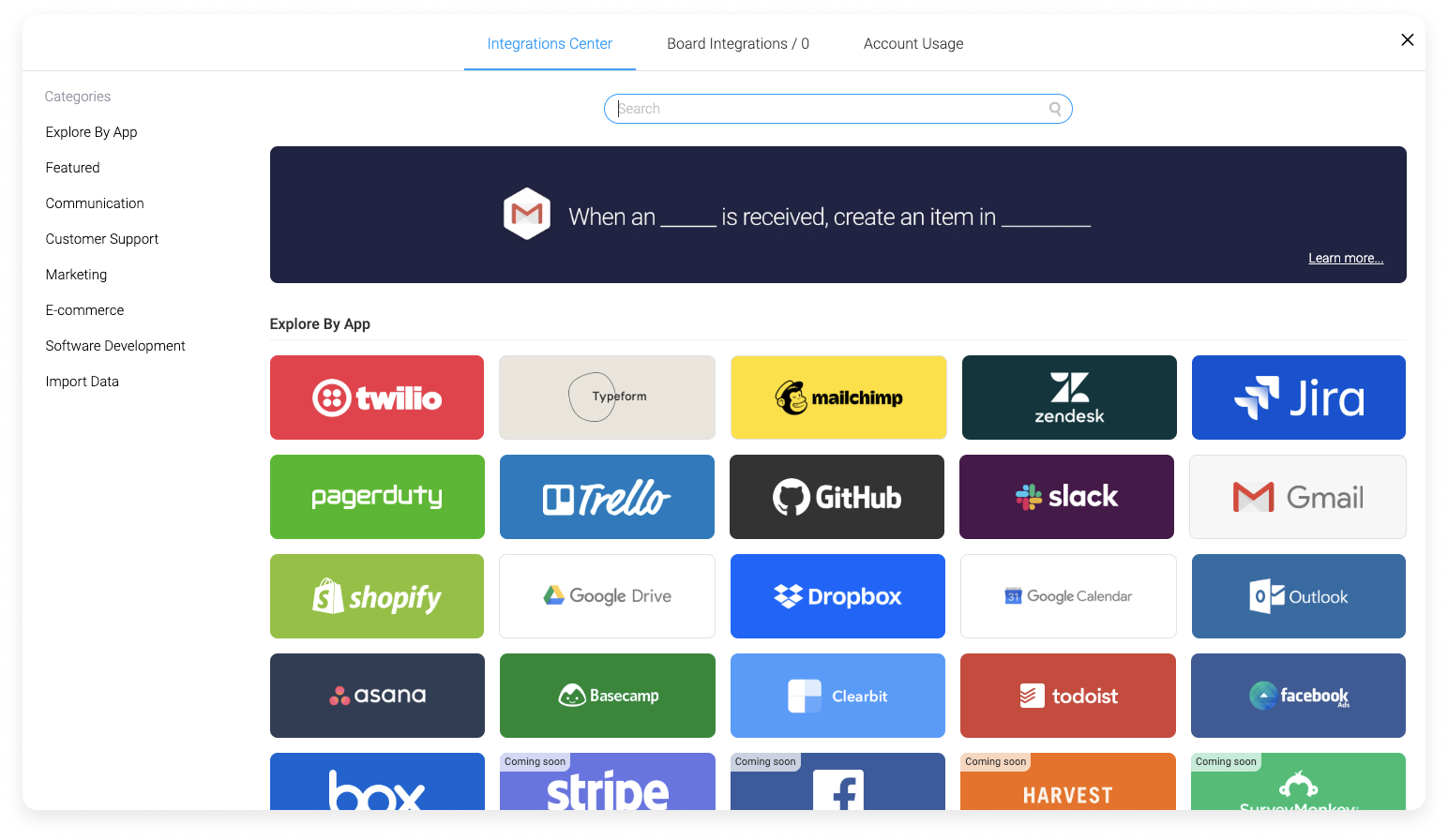 Step 2
Once you click on the Shopify integration banner you will see all the recipes we offer in terms of integration between both platforms, we focused on making monday.com as a command center from which you will be able to manage every aspect relating to your online shop - from keeping track on inventory to approving new designs for your products.
Step 3
Once you click on one of the recipes the Shopify integration banner you will need to connect your Shopify details:
The first thing we need to do is create a private app on Shopify. Once you enter your information and log into your Shopify account, you will need to copy your API key in order to connect with monday.com. In your Shopify account's dashboard click on "Apps":
Then, click on "Manage Private Apps" at the bottom of the screen:
Create a new private app. Enter a name for the app (for example "monday.com"), enter your email and then save the app by clicking on the save button on the top right:
Next click "I understand, create the app", and voilà you have a new app!! In the Admin API section of your app, you will see the API key and Shared Secret that you need for the integration. Copy them into you monday.com integration screen.
Tip:
You can copy the API key and Shared Secret by clicking on the clipboard icon as below
So how does it work?
To understand better how this integration works, let's dive into an easy example: when a new order is placed in your Shopify store, create a new pulse in a group. First, connect your Shopify account:
Next, choose the group to add the new order to. In this case, it might make sense to have a "New orders" group so you can see all of your incoming orders:

Click on "Update Integration" and you are done 🎉
Supported Shopify fields
Currently, the following fields in Shopify are supported by our monday.com integration:
Currency
Email
Order Number
Subtotal Price
Total Discounts
Total Price
Total Tax
User ID
Error when authorizing
The Shopify integration does require API 'read' access. If you are getting an error please follow the below steps in your Shopify account:
Go to apps
Click on manage private apps

Click on the app you registered with

Make sure you have this permission granted as shown in the image
More assistance
If you need help building custom integrations, we also have an option for paid assistance through our network of certified monday.com partners. If you're interested, please fill out this form and someone will be in touch shortly!
And if you have any questions about this or anything else in this article, feel free to reach out to us at customer success at support@monday.com