Need a way to manage tasks, issues, bugs in your Jira Cloud and monday.com? Now you can with our Jira integrated monday.com automations!
How to add an integration?
Step 1
To add an Integration, go to the board you want to create an Integration for and click on the Integration button, located on the upper right of your screen as below:
Once on the page, you will see all of the amazing apps we offer to integrate with, then go ahead and select "Jira":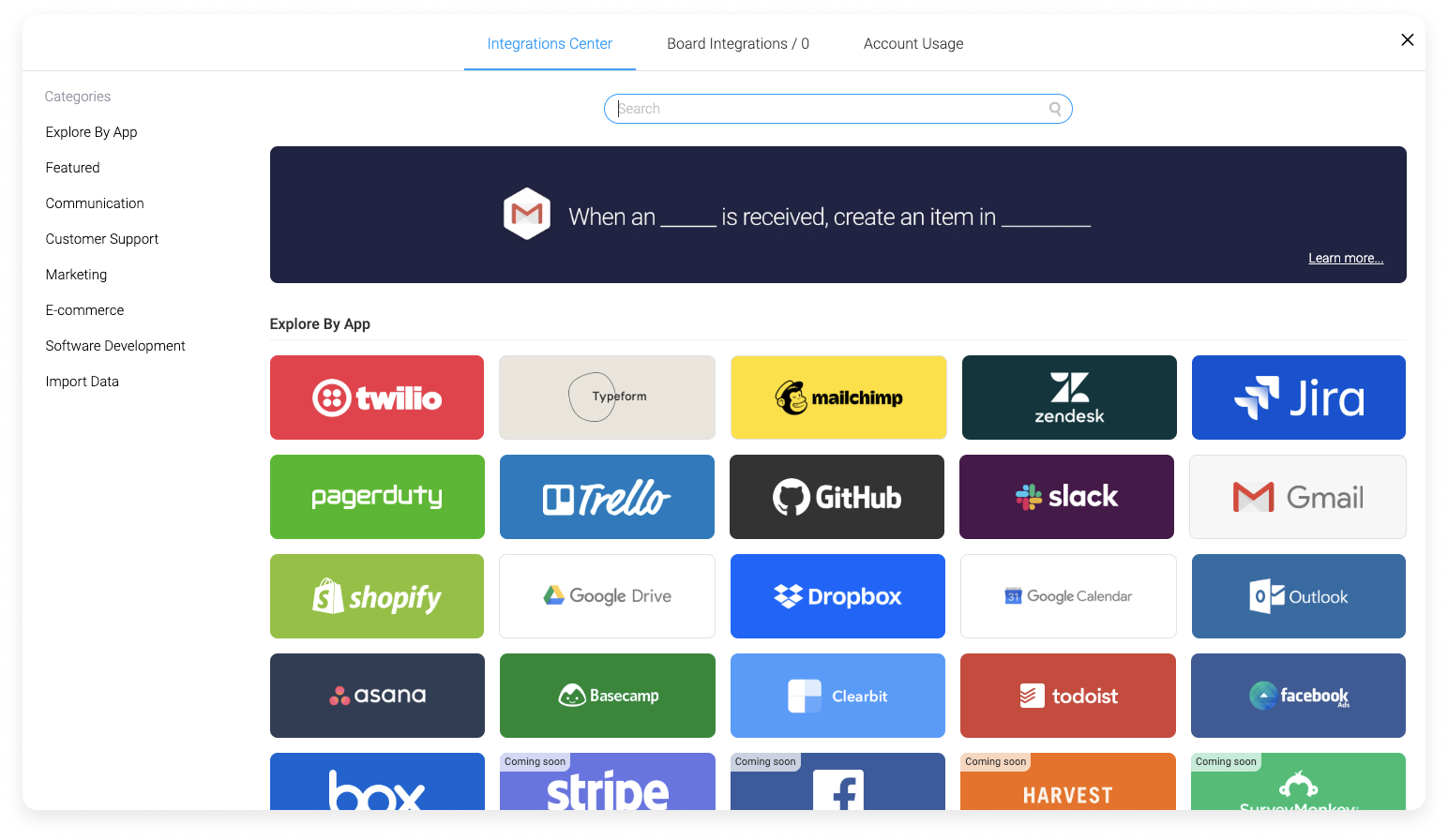 Step 2
From the list, select the recipe you want to add-
Step 3
Connect your Jira account with the Jira token to monday.com-
How to get/create JIRA API token?
When in Jira, go to Profile > Manage Profile
Next, click on security and select Create and Manage API tokens
Create an API token and enter a label to save -
Copy the token to enter into the automation setup within your monday.com account. It's that easy!
How to customize the integration?
Once the token is added, you can customize your recipe any way you want with the applicable fields. For example, when an issue is created in a project in Jira, you can create it as an item on your board-
You can also set a reminder if you want to update your team members with a summary of an issue in your projects in Jira-
Note: The JIRA integration doesn't work retroactively. It will pull in only new issues, epics, etc. created in JIRA.
How to delete it?
You can turn off and/or delete your integration in the integration menu-
You can also edit the integration and the Jira account you want to connect it to in case you change your mind later!
Supported Fields for Mapping
Currently, the following fields are supported for mapping the integration between Jira and monday.com: issue key, issue type, project, string, priority, user, status, option, resolution, number, watches, time, date, progress, and votes.
All Jira custom fields can be mapped into a status column in monday, as long as the custom field type is one that is supported (see above).
Note: At the moment, next-generation projects are not supported.
More assistance
If you need help building custom integrations, we also have an option for paid assistance through our network of certified monday.com partners. If you're interested, please fill out this form and someone will be in touch shortly!
And if you have any questions about this or anything else in this article, feel free to reach out to us at customer success at [email protected]