Tenemos 3 tipos de tableros: Principal, Compartible y Privado. La estructura de cada uno de estos tableros es la misma. La diferentes es el nivel de acceso en cada uno.
¿Que son los Tableros Principales?
Main boards are visible to anyone who is a team member within your account. Anything you will create in this section will be accessible and transparent to your users. These boards are available on all our plans and there is no limitation to the number of boards you can create.
Los Tableros Principales son visibles para cualquier persona que es un miembro dentro de su cuenta. Cualquier tablero que existe en esta sección será accesible y permite tener transparencia para tus miembros. Estos tableros están disponibles en todos nuestros planes y puede crear un numero ilimitado tableros.
¿Que son los Tableros Compartibles?
Los Tableros Compartibles se usan cuando desea compartir un tablero con personas fuera de su equipo o empresa, como clientes, pasantes o profesionales independientes. Puedes invitar a estas personas como invitados dentro de tu cuenta. Para ver cómo invitar a un invitado en su tablero para compartir, haga clic aquí.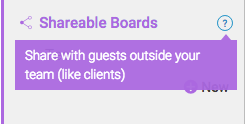 Cuando invite a un invitado a un tablero que se pueda compartir, él / ella solo tendrá acceso a ese tablero específico al que haya sido invitado. Sus invitados no tendrán acceso a ninguna otra información dentro de su cuenta. Para ver qué puede hacer un invitado externo en un tablero que se puede compartir, consulte ¿Qué ven y hacen mis invitados en mi tablero para compartir?
Los Tableros Compartibles están disponibles en los planes Standard, Pro y Enterprise.
¿

Que son los Tableros Privados?
Los tableros privados solo pueden ser vistos por el usuario que creó el tablero y por los usuarios específicos que él/ella invitan a unirse a este tablero. Los tableros privados son solo para usuarios internos, lo que significa que no puede invitar a invitados a un tablero privado. Los tableros privados se encuentran en los planes Pro y Enterprise.
Si tiene un proyecto que no está del todo listo para divulgar o información confidencial, ¡los tableros privados es la solución para usted!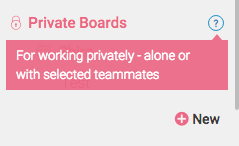 ¿Necesitas más ayuda? Revisa nuestro centro de información aquí, o contacta a un miembro de nuestro equipo escribiéndonos a support@monday.com.