Let's say you have a bunch of important items or groups that you want to keep an eye on, but they're spread out across several boards. Many of our different Widgets pull out specific data from our boards, but they don't show us the entire item.
That's why we created the Table Widget! The Table Widget lets you pull together entire items and groups from multiple boards into one Widget on your Dashboard! You can use it to group items with similar topics to give you the full picture on a project, pair high-level and low-level boards together in one view, or to see the big picture of your team!
How to add the Widget
To add the Table Widget to your Dashboard, just click '+ Add Widget' at the top left corner of your Dashboard and select 'More...' to navigate to the Dashboards Center.
From the Dashboards Center, select 'Table'.
How to set it up
In the right panel, you can set up your Table Widget with completely customizable settings! Let's go through each of the categories of settings together!
First, under 'Boards', we can choose the boards we want to see in our Widget. We've chosen to connect all 3 of our most central boards to our Table Widget.
The first board we connected is our "Tasks" board, which is our to-do list. This board contains all of the tasks we need to do in our garden center, organized by two-week increments.
The second board is a log of all of our scheduled promotions, including some stats to let us know how effective they are.
The third board is where we track all of our orders for delivery.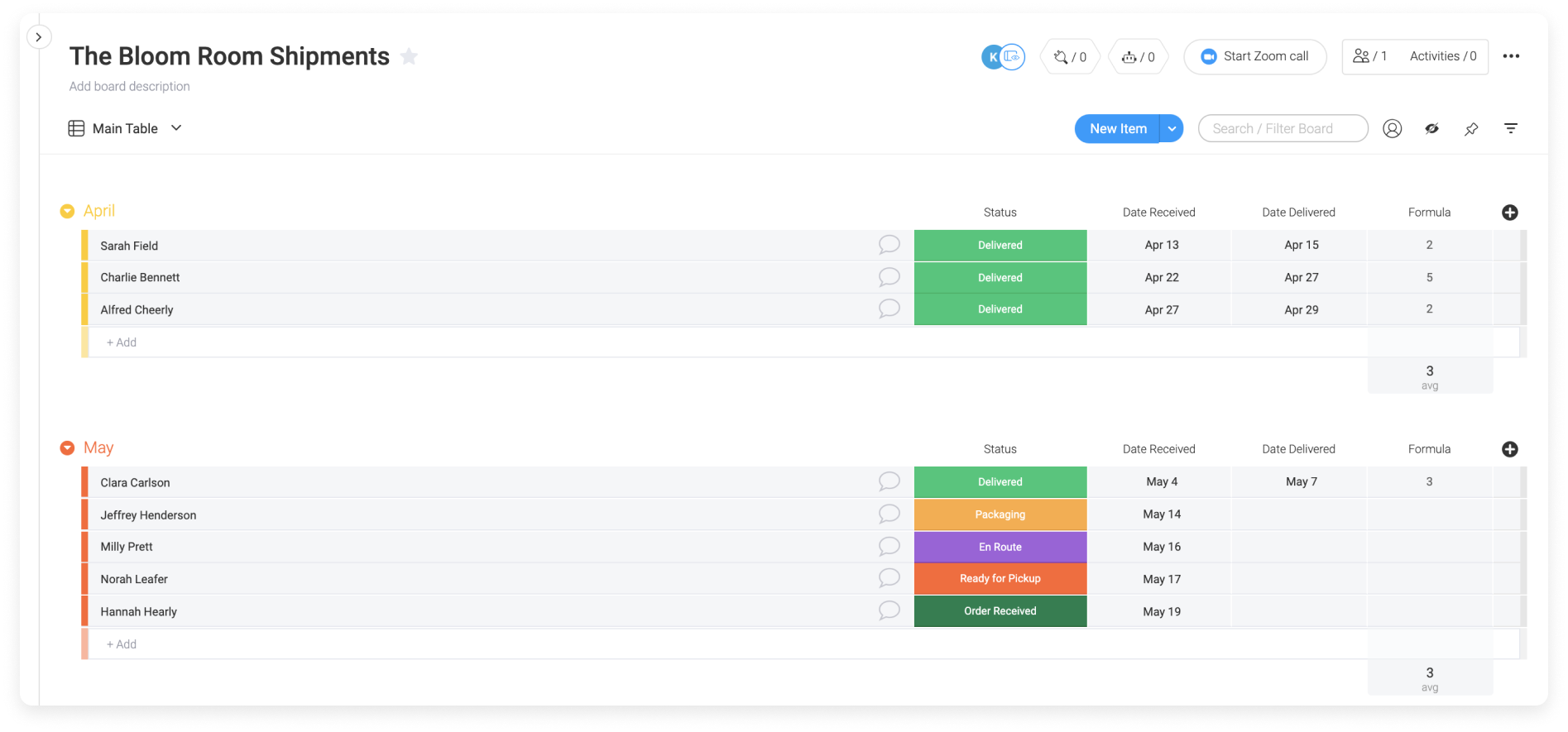 It's really important for us to be able to glance at all of the crucial things we have coming up each week or each month so that nothing falls between the cracks!
Under 'Choose groups', we can pick which groups from each board we want to display in our Table Widget. We're given a list of each group in each of our boards, and we can either choose "All groups", just the "Top group" or select whichever other groups we want. At The Bloom Room, for now, we'd like to see only our upcoming items, so from our task board, we only chose the group that shows this week's tasks. From our Shipments board, we chose only the "May" group so that we only see orders for this current month, and from our promotions board, we want to see all upcoming promotions so that we can prepare accordingly.
Within all of our selected groups, we can see all of our items, including subitems! We can collapse and expand our subitems right from the widget!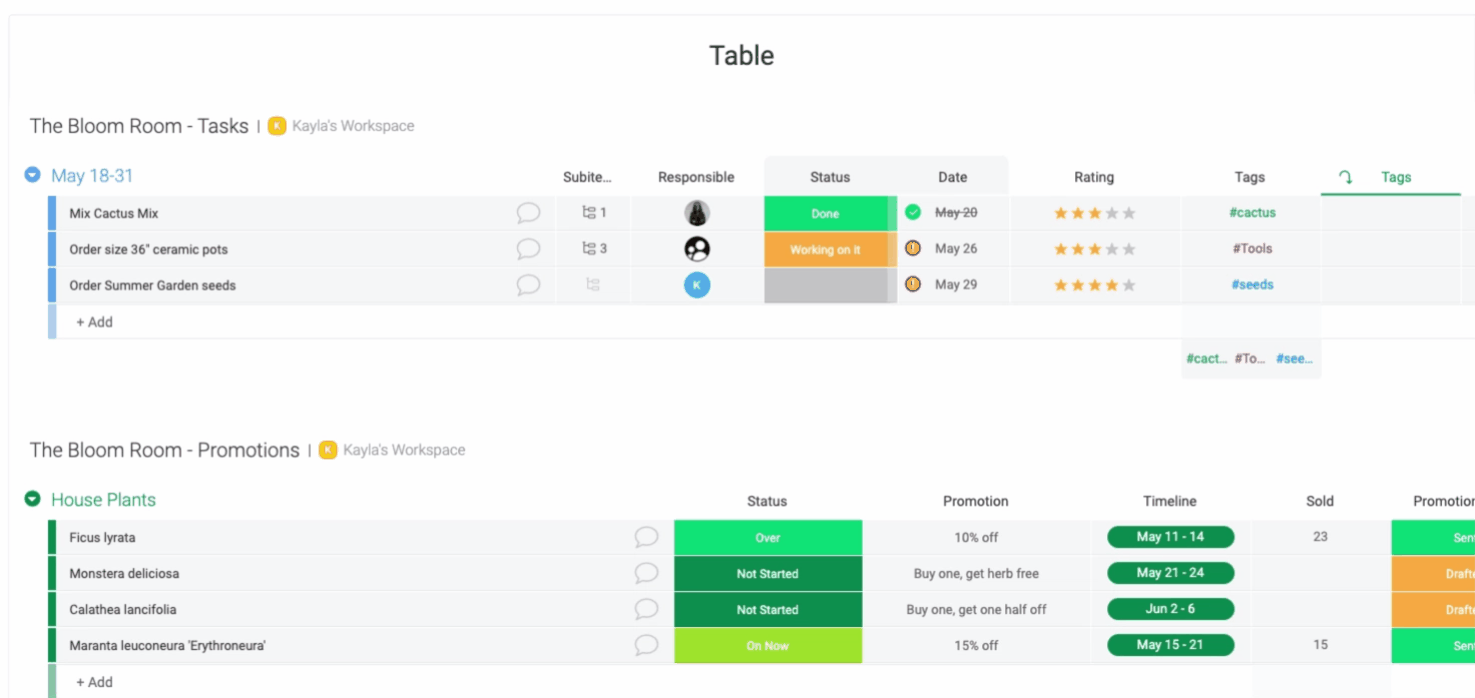 Under 'Choose which columns to show', we can pick from all the columns in our board! When we tick the box beside the column's name, it will be displayed in the Table Widget, and when we click to remove the checkmark, we hide it from our widget! This way we only have to see the most relevant details in our dashboard!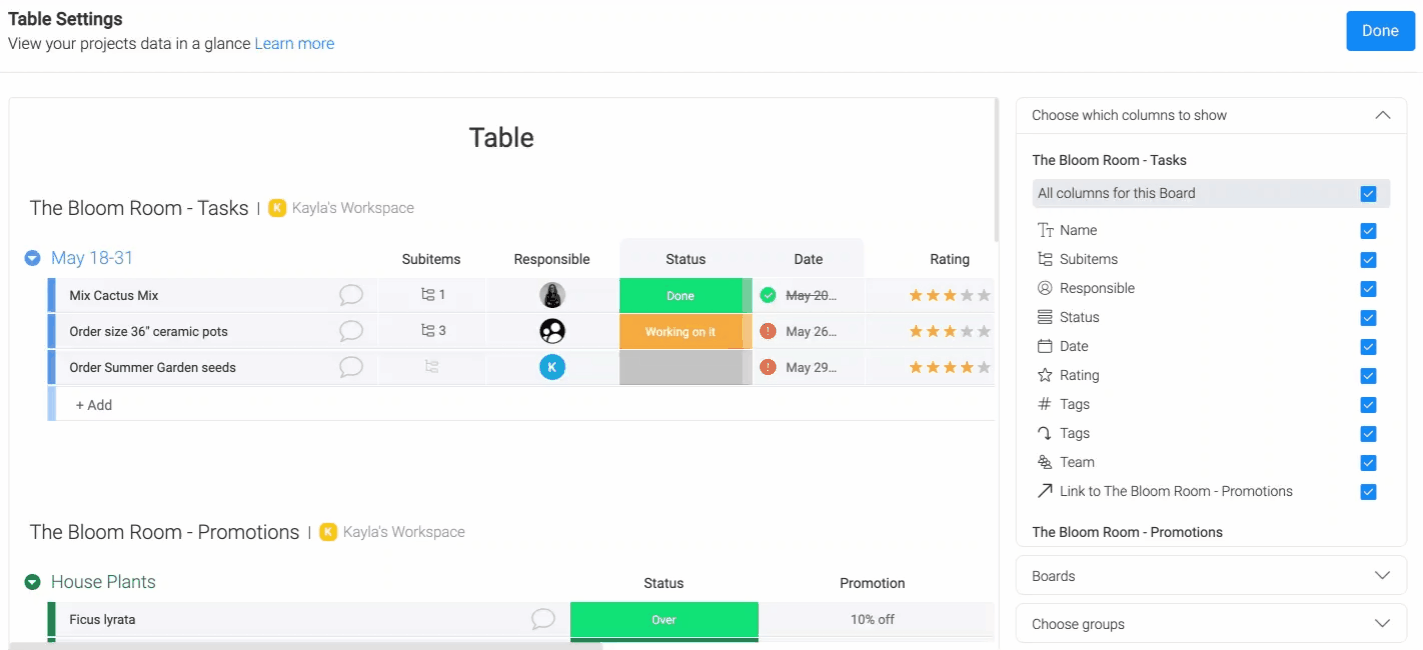 Filter Your Table
If we don't want to see all of the items connected to our Table, we can click the tornado icon to filter out our information! 🌪We can filter each board individually by its columns and dates.
At The Bloom Room, we're interested in seeing which projects need an extra push, so we've filtered each board accordingly! For our "Tasks" board, we've filtered by the group containing tasks for this current week, and by the person responsible for completing the task, so we can see how much Kayla has on her plate this week!
To filter our next board, we have to click the arrow next to the title of our board at the top left corner of our filter window, as shown in the image below. In the "Promotions" board, we want to filter by all "10% off" promotions going on in the garden center!
If we want to return to this view the next time we open our Dashboard, we can click 'Save to this widget', and our Widget will remain will this filter until we click 'Clear' in our filter menu.
Export to Excel
You can really easily export your table to Excel when in "Editing mode" by clicking the 3 dot menu and then selecting 'Export to Excel' like this: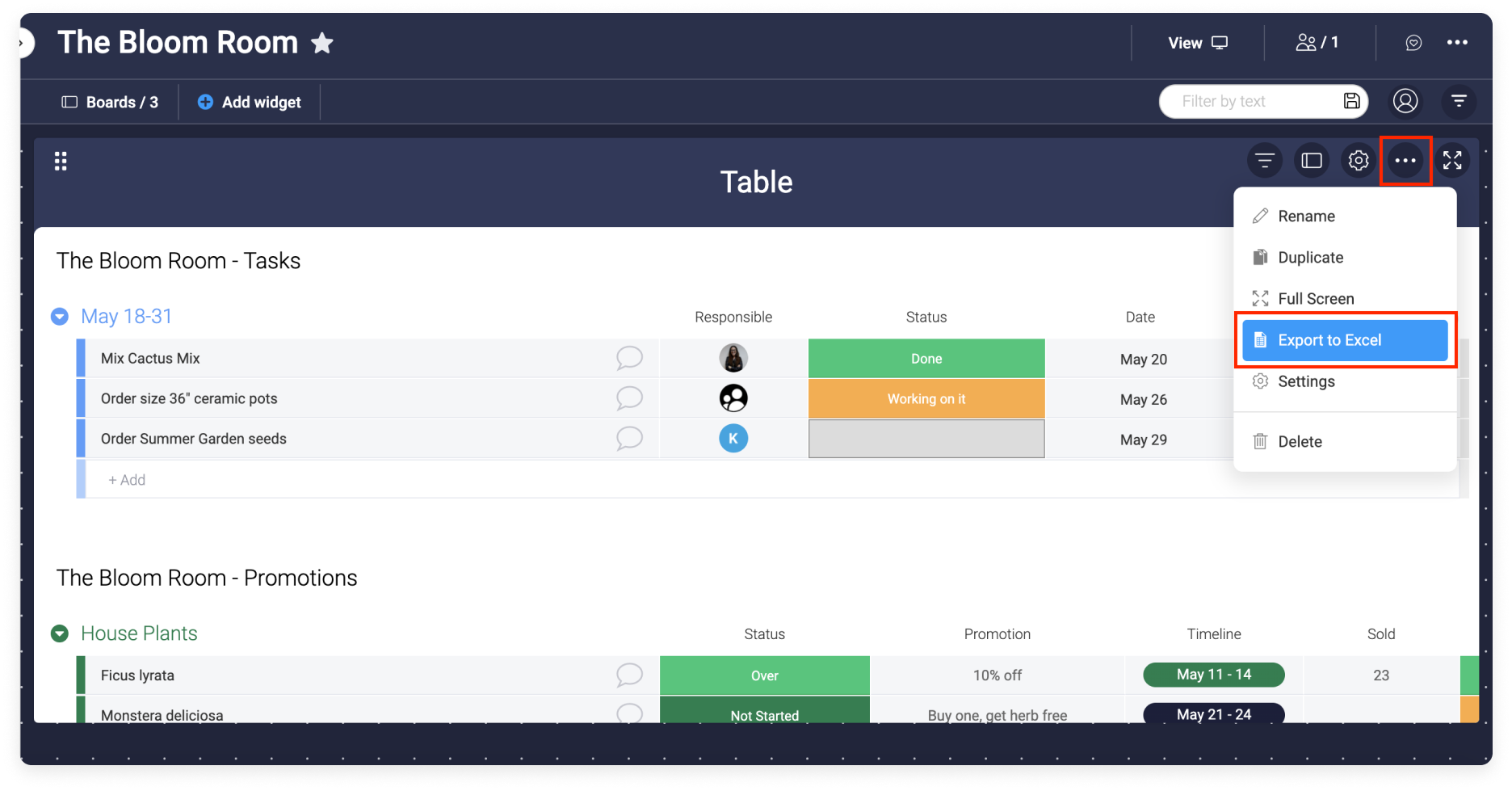 Just check out how great the Table Widget looks in our Dashboard!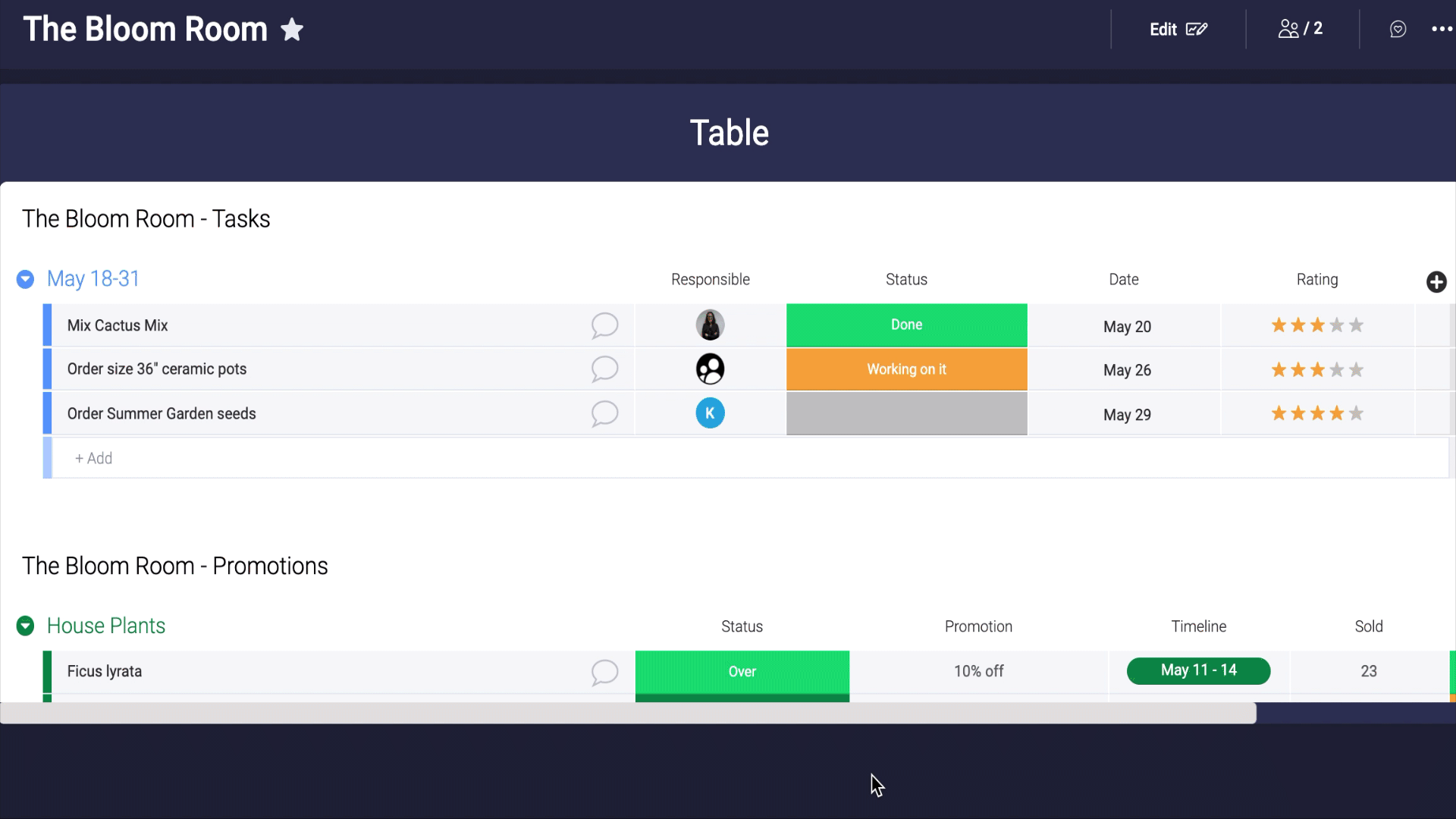 If you have any questions, please reach out to our team by using our contact form. We're available 24/7 and happy to help!