Have just been invited to join a monday.com account and feel completely lost? We understand! It can be very overwhelming at first, which is why we have created this article! We will cover all the basics you need to know to master our platform. Keep reading to learn more. 👇
Step 1 - Set up your profile
Before starting, you might want to customize your user profile. To do so, click on your profile picture located on the upper right of your screen and select "My profile" as below:
From there, you will be able to upload a profile picture and edit your details.
You can also change your email and password. To learn more about it, check out this article.
Tip: Having a profile picture will make it easier for your teammates to quickly identify that it's you!
Step 2 - Subscribe to the boards that are relevant to you
To understand better what a board is, check out this article. You have three types of boards in your monday.com account. This article explains the difference between the three.
How to subscribe to a board?
When joining an existing account, you might see a lot of boards on your left section. You can subscribe to your preferred boards in order to stay up to date to only these specific boards. For instance, you may want to join the boards that have been created by your team. To subscribe to an existing board, you just need to click on the blue "Subscribe" button on the right of the board. If you are already subscribed to a board, this button will be white and say "Unsubscribe" instead.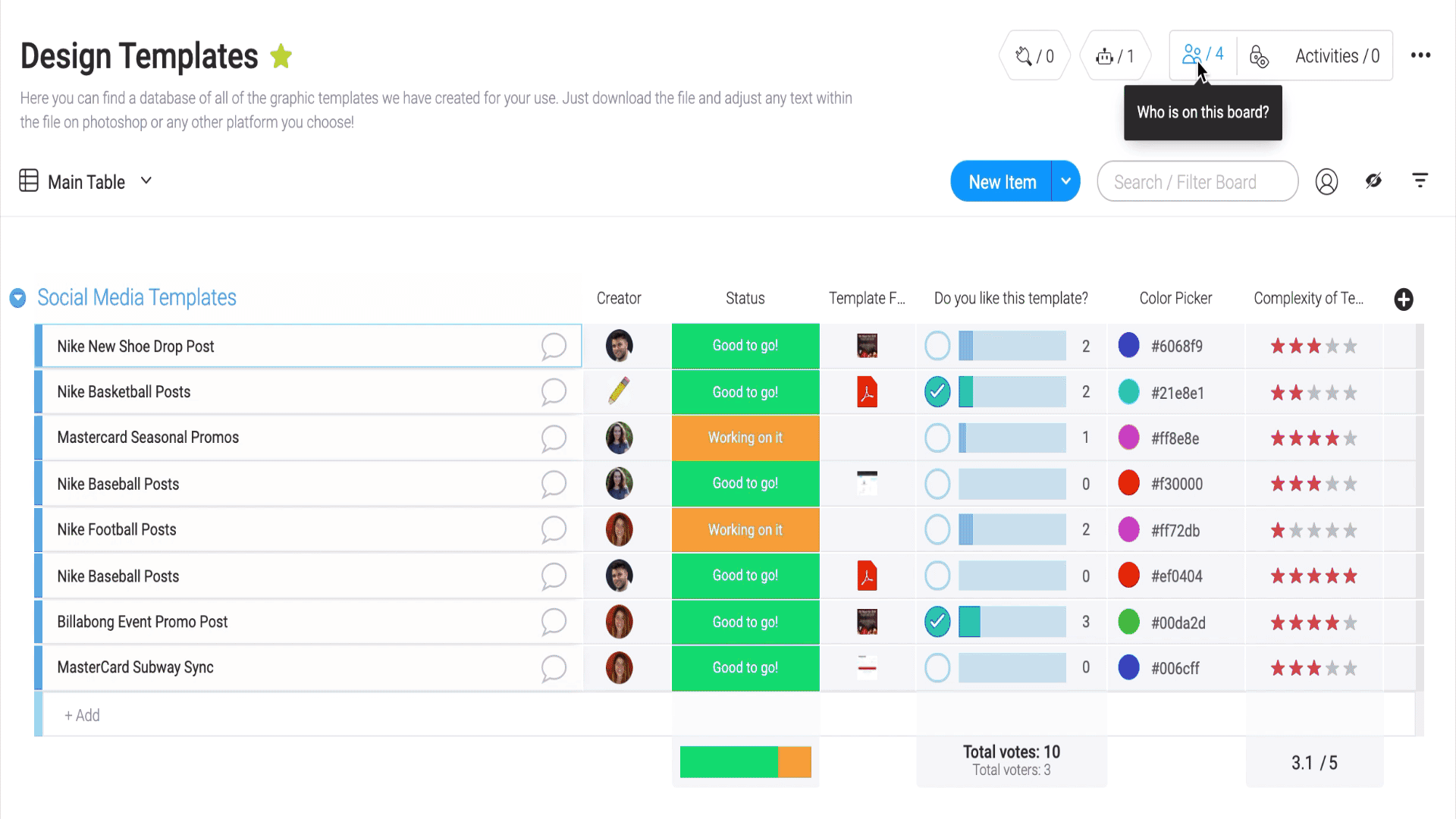 Learn more about the subscribe option right here.
Step 3 - Understand the different notifications
The Bell Icon 🔔
You will receive notifications in the Bell Icon whenever someone:
Crowns you as an admin on the account
Assigns you to an item in a Person column
Mentions you in an update or a reply to an update
Mentions a team you are a part of in an update
Replies to an update you wrote
Subscribes you to an item or board
Deletes an item or board you are subscribed to
Archives an item or board you are subscribed to
The Inbox
The Inbox is where you will see all updates from board you are subscribed to, even if you are not specifically mentioned in that update or assigned to each item. You can think of this as a news feed, where you can see everything your team has posted on those specific boards.
Email Notifications
By default, all email notifications will be turned on for each new user, but you can go to your profile settings to change that. To manage your email notifications, just follow these steps-
Click on your Profile Picture (avatar)
Then click your Profile
Click Notifications
Step 4 - View all the tasks assigned to you
"My Week" is a great way for you to see everything you and your team need to accomplish this week, next or even what is overdue. It works by collecting all the tasks across your monday.com account that are due in the current week. You will find My Week in the left pane of your monday.com account as below: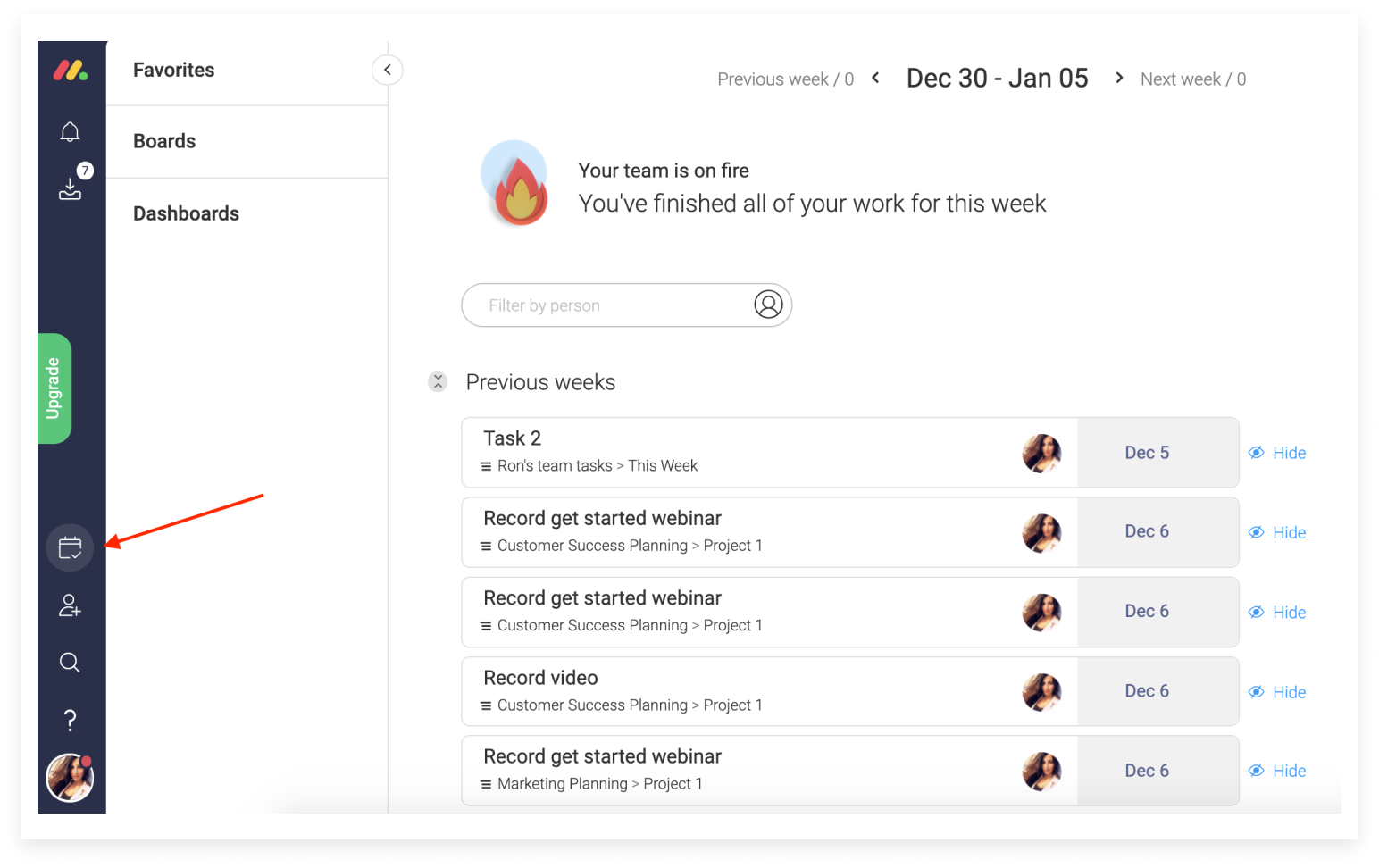 To learn more about how to set a deadline, check out this article right here. Once this is set, you'll see all your tasks for the current week in the my Week area:
To learn more about it, check out this article.
View the tasks you are assigned to within a board
In order to see all tasks you have been assigned to within a board, you can use the board filter. This filter allows you to either search within the board for key words (a person's name and "Done") or filter the board to present a certain view (a person's name, "Working on It" and "This Week"). Type-in a keyword (from every column or item) in this filed and voila!
To learn more about it, check out this article.
View the tasks you are assigned across your monday.com account
Let's say you want to look for all the tasks that have been assigned to you. Simply type your name in the search everything bar and press enter.
Check out this article to learn more about this feature.
Step 5 - Communicate with your team
Being able to communicate in context will save you from sending back and forth e-mails.To send a message to a team member, simply open the item you wish to communicate on and use the @mention followed by your message.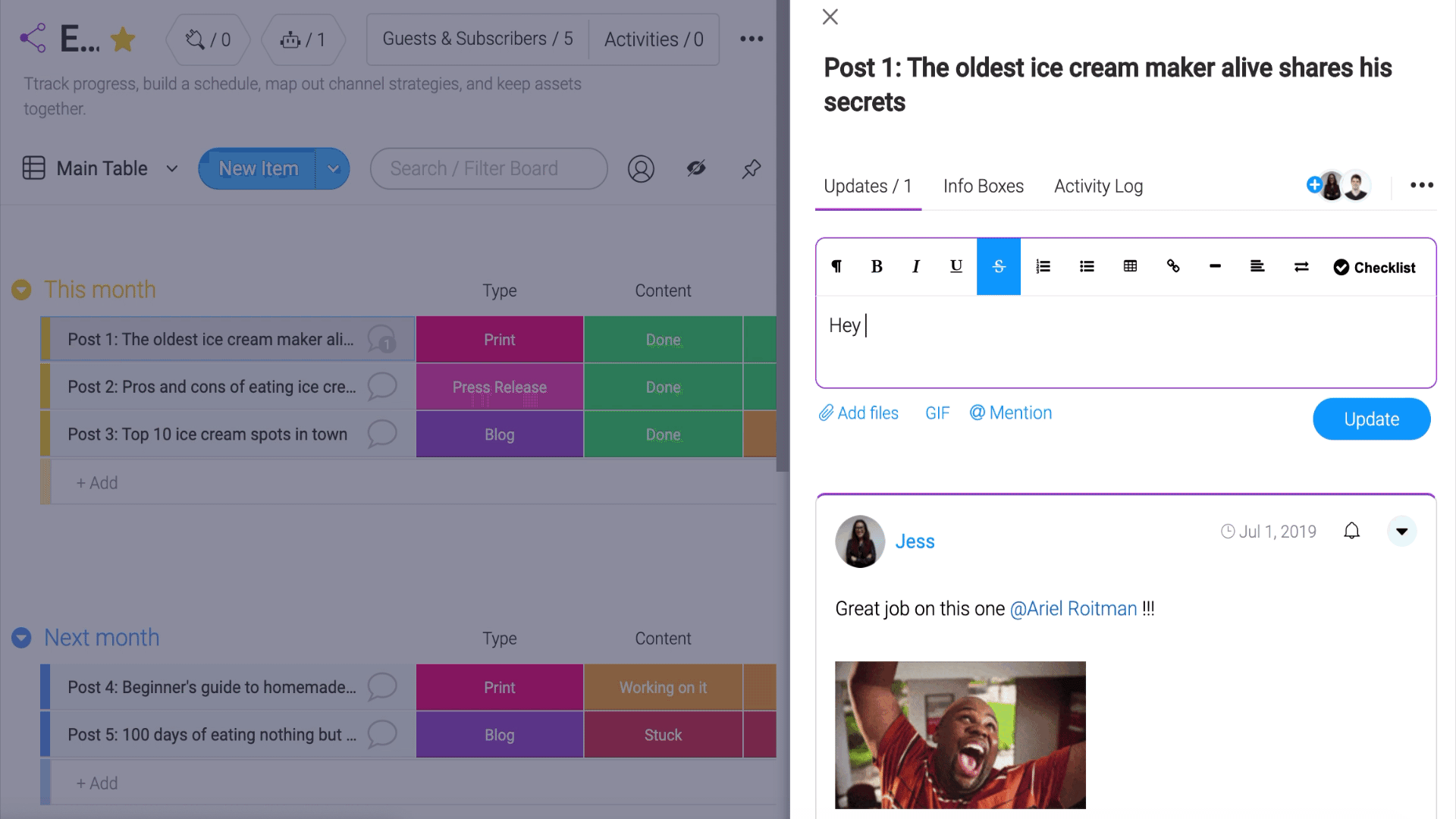 Your team member will receive an instant notification on his bell located on the upper left the screen. He/she can also turns on his/her email notifications to receive an email about it. You can even see if your team member read your message by putting your cursor on the little eye located on the bottom right of the update.
To learn more about it, check out this article.
Resources
The five tips mentioned above should help you out starting in your monday.com account. If you are looking for more information about the features, we are running webinars and coffee talks. You can check them out right here on this page.
You can also reach out to our customer success team at [email protected]. We are here for you 24/7 😊