Yes, you can have as many monday.com accounts as you want! You can even stay logged in to them all at once!
Note: It is currently not possible to switch between account from the desktop app. We recommend using your preferred browser.
How to switch between accounts on my browser?
To switch between accounts, click on your profile picture, located on the bottom left corner of your screen, and then click on "Switch accounts" to open the menu of accounts you are part of.
Click on the account you'd like to use, and log in!
Tip: If you stay logged in to all of your accounts, your switch between them will be seamless! No need to log in each time you switch accounts!
Help! The switch function doesn't work
In most cases, it means that your browser doesn't acknowledge the fact you have multiple accounts. To solve this, follow these easy steps:
Open 2 tabs in your web browser, and log in to the 2 different accounts individually. You can do this by directly visiting the account's unique URL. In other words, you'd log in to

Example1.monday.com

and

Example2.monday.com

at the same time in both tabs.
Refresh both browser tabs.
Check to see if the "Switch accounts" option is now available.
How to switch between accounts on my mobile app?
Yes, you can! This option is currently only for iOS users but we are working on implementing it for the Android app very soon!
Click on the three bars menu located at the top right of your screen to open the left pane menu. Click "Settings", like this: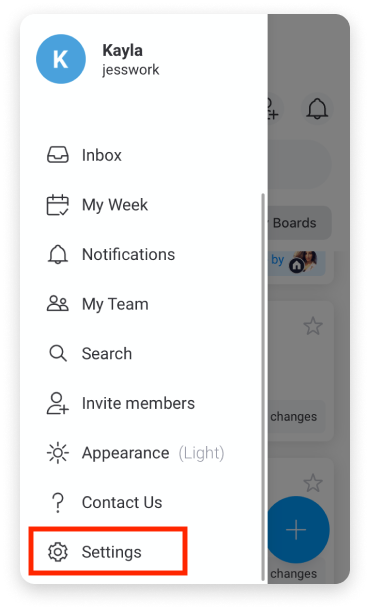 Beside "Account", you can see which account you are currently logged into. To switch to a different account, click "Switch Accounts".
The green circle indicates the account you are currently logged into. You can click another account to switch to that account on your app!
To delete an account from this list, click the 'X' to the right of the account name. You can also add an account to this list by clicking "+ Add Account" and then logging in! Next time, you will be able to switch to that account without logging in again!
Can I merge two accounts?
For security reasons, you cannot entirely merge two accounts together. You can duplicate your boards one by one and transfer them to another account. Check how it works right here.
Can I use the same email address for two different accounts?
Yes, absolutely you can!
If you have any further questions, don't hesitate to reach out to our Customer Success Team right here. We are available 24/7 and happy to help!