What are recurring tasks?
Making a task recurrent allows you to get duplicates of a task at a specific date and time automatically. You can create repeating or recurring tasks by setting up a monday.com automation on your boards. With this amazing feature, you won't need to do any manual work. Keep reading to learn how it works! 👇
How to add it?
To add the automation in your board, click on the automation icon located on the upper right of your screen as below: 
From there, you will see a list of automations that you can add to your board. You can find the recurring automations under the "Recurring Actions" category (and you can expect this category to keep growing!).
With these automations, you can either create a recurring task (item) or a recurring group. Let's dive deeper into how to set it up.
How to set it up?
Click on the automation you'd like to use. In this example, we want to create a recurring task so we will choose "every time period, create a item". Click on every time period to pick your date and time. 
We can schedule a recurring task or group in three ways:
1. Every Day
2. Every Week on certain days
3. Every x months on certain days
You can also pick a specific time of the day right here at the bottom: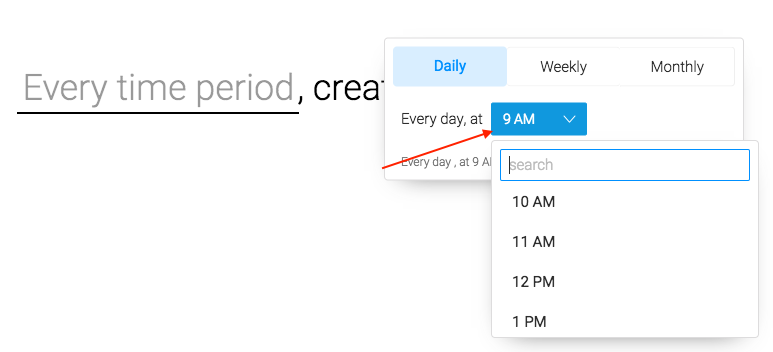 How to edit/delete it?
Once you have added your automations to your board, you can toggle it on and off using the switch icon. You can also use the pencil icon to edit the Automation or the trash can to delete it entirely.
If you have any questions, feel free to reach out to our customer success team at [email protected] :) We'd love to hear from you!