Zapier is a popular third-party integration platform that allows monday.com users to build custom integrations between monday.com and the various platforms available within the Zapier system. It's especially useful if monday.com doesn't currently host a native integration with a platform that you use!
Every connection you make within Zapier is called a zap. This article will show you how to create one. But first, to get started, you can view the list of Zapier supported platforms here.
Step 1: Pick the apps you want to integrate with monday.com
In this example, we want to turn the first row on the following Google Sheet into an item on monday.com: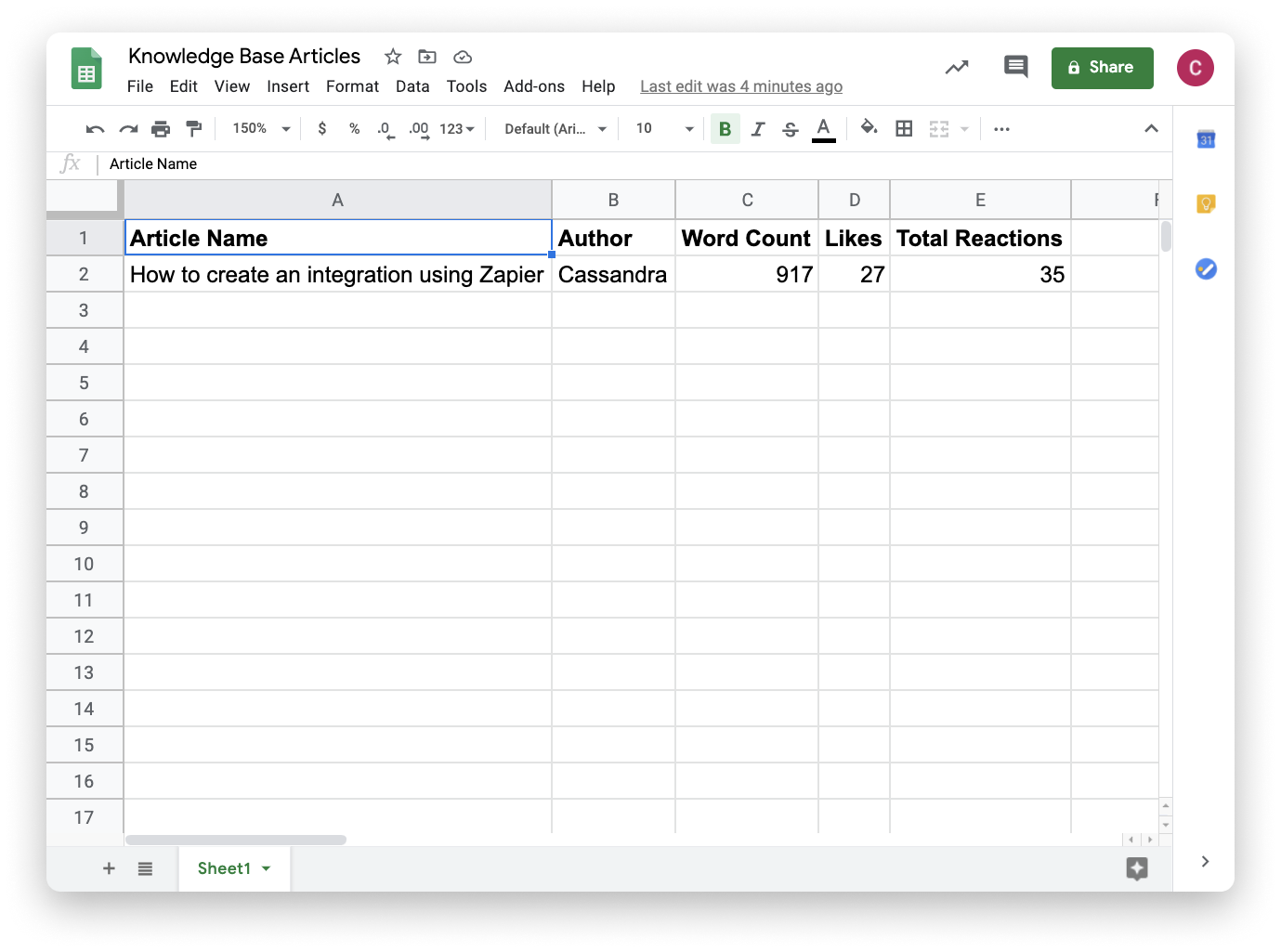 To get started, navigate to this page. Once there, select which app you want to use with monday.com. You can use the search to do this. Selecting an app from the search will take you to that app's page.
Once you navigate to the Google Sheets page, you'll select the trigger and action you want to use.
In the following example, the trigger is every time a row is created in Google Sheets. When a new row is created in Google Sheets, a new item will be created in monday.com. This is the action.
Here's how to get started in Zapier: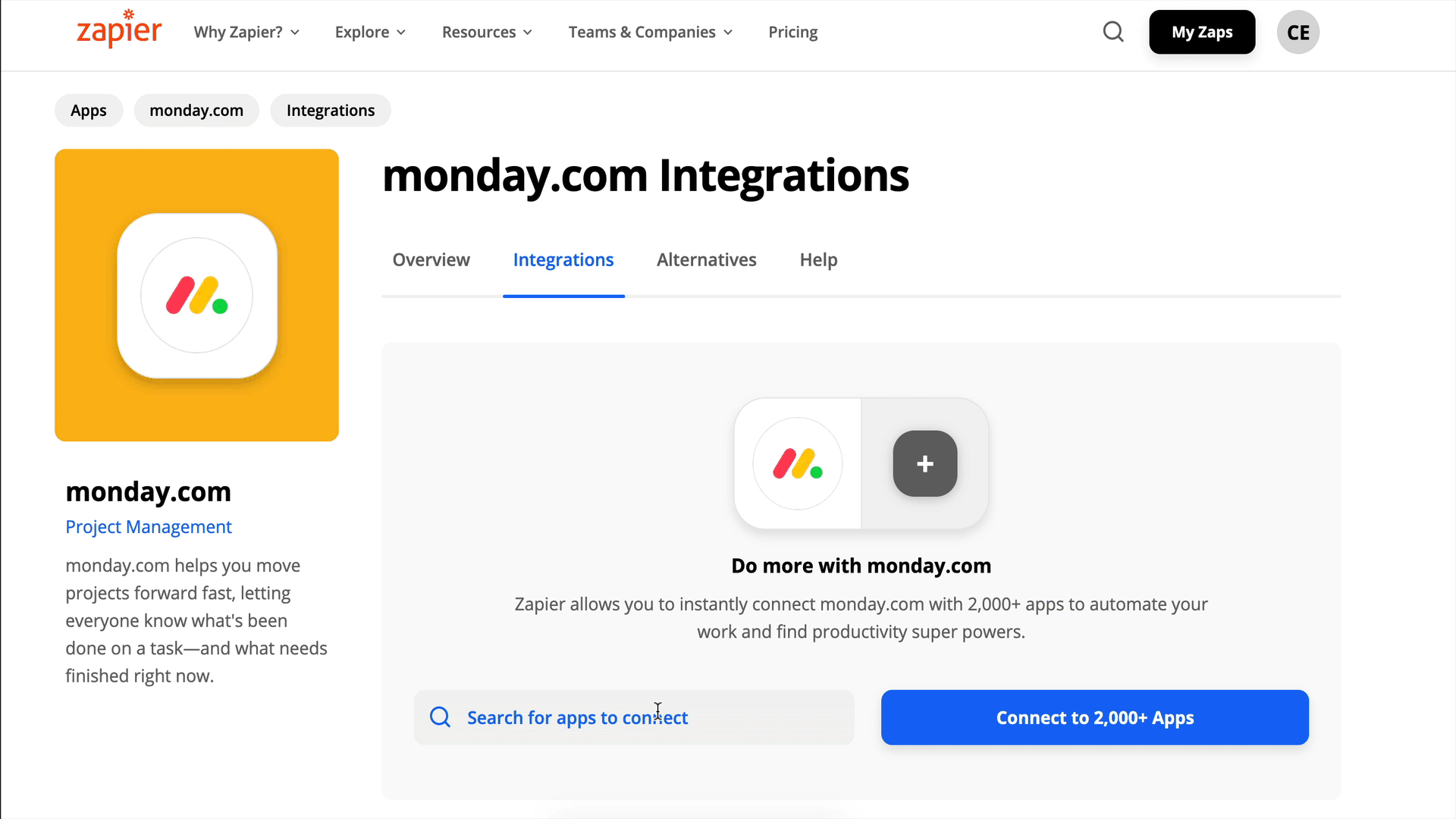 After you select "Connect monday.com + Google Sheets" you'll land on a page that outlines exactly what you've selected. On this page, select the button that says "TRY IT":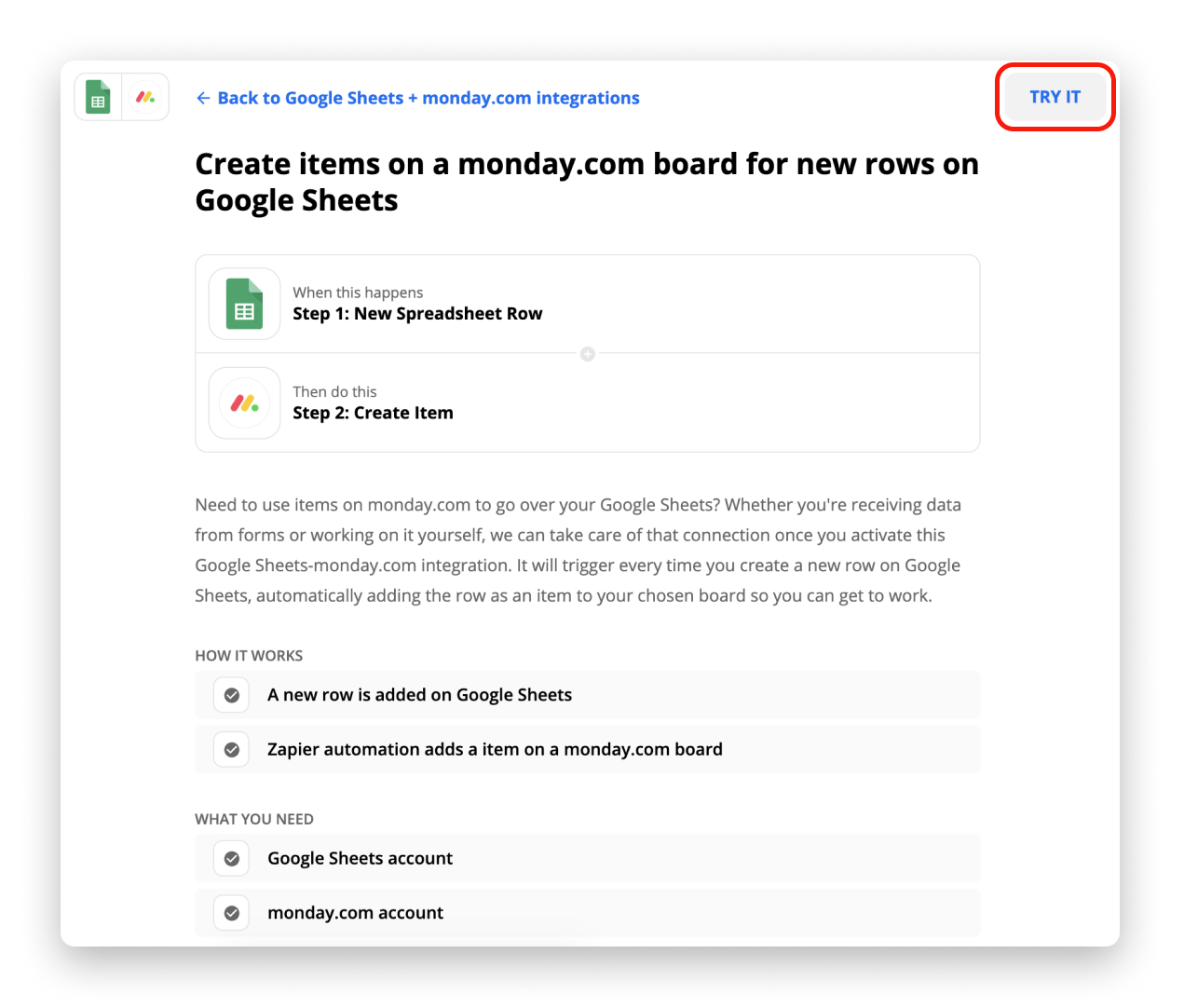 You're well on your way to setting up your first zap!
It's time to connect this zap to the relevant Google Sheets account. If you've used Zapier in the past, select your Google Sheets account from the dropdown menu or select the "Add a New Account" option.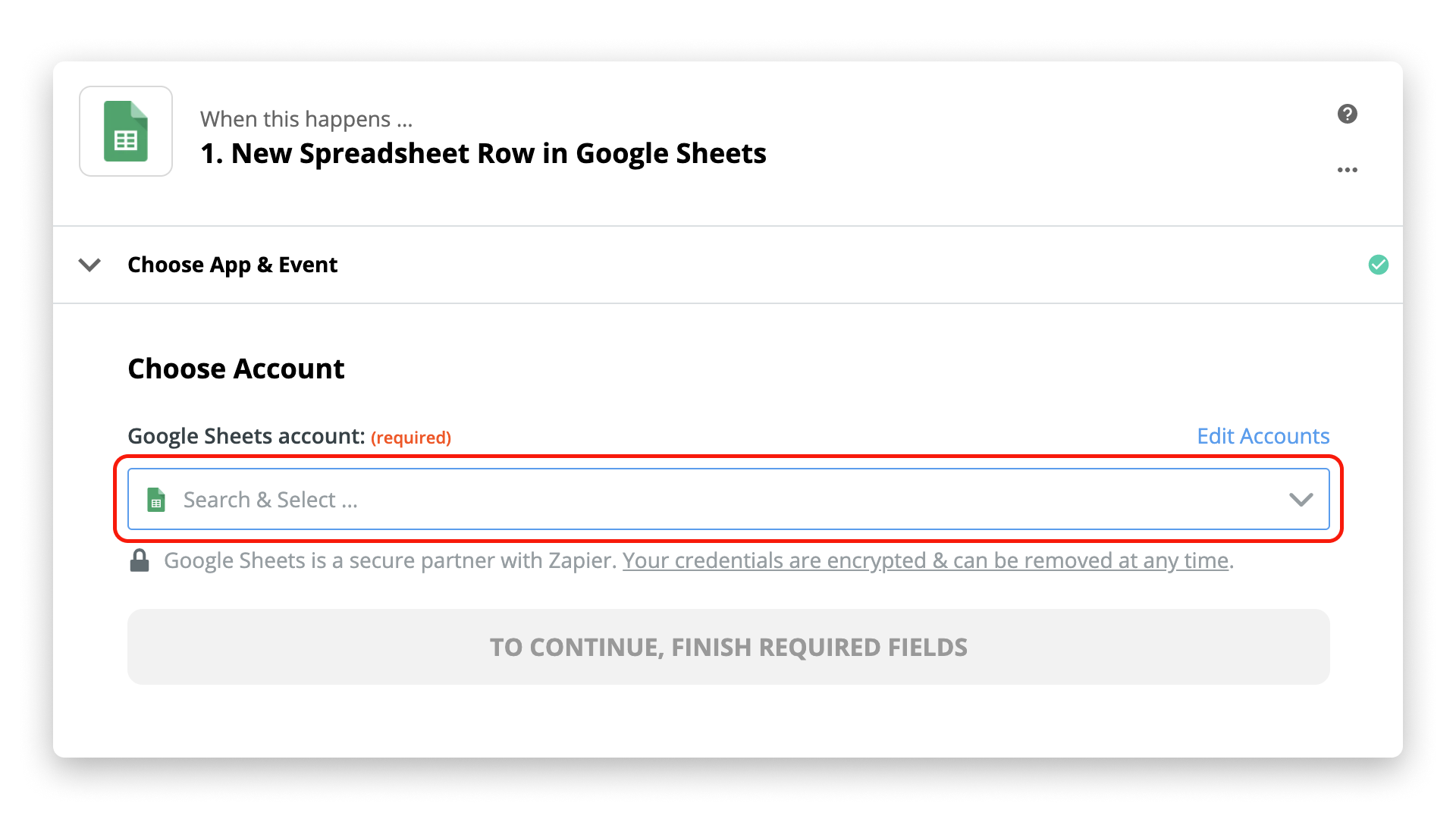 When adding a new account, follow the on-screen instructions to login to your Google account.
After selecting or adding your account, select the blue "Continue" button. This will then prompt you to select the spreadsheet and worksheet that you want to use with this zap. After choosing your spreadsheet and worksheet from the dropdown menus, select the blue "Continue" button again.
Zapier will then allow you to test the trigger by selecting the blue "Test trigger" button. This ensures that you're working with the appropriate data within your Google Sheets account: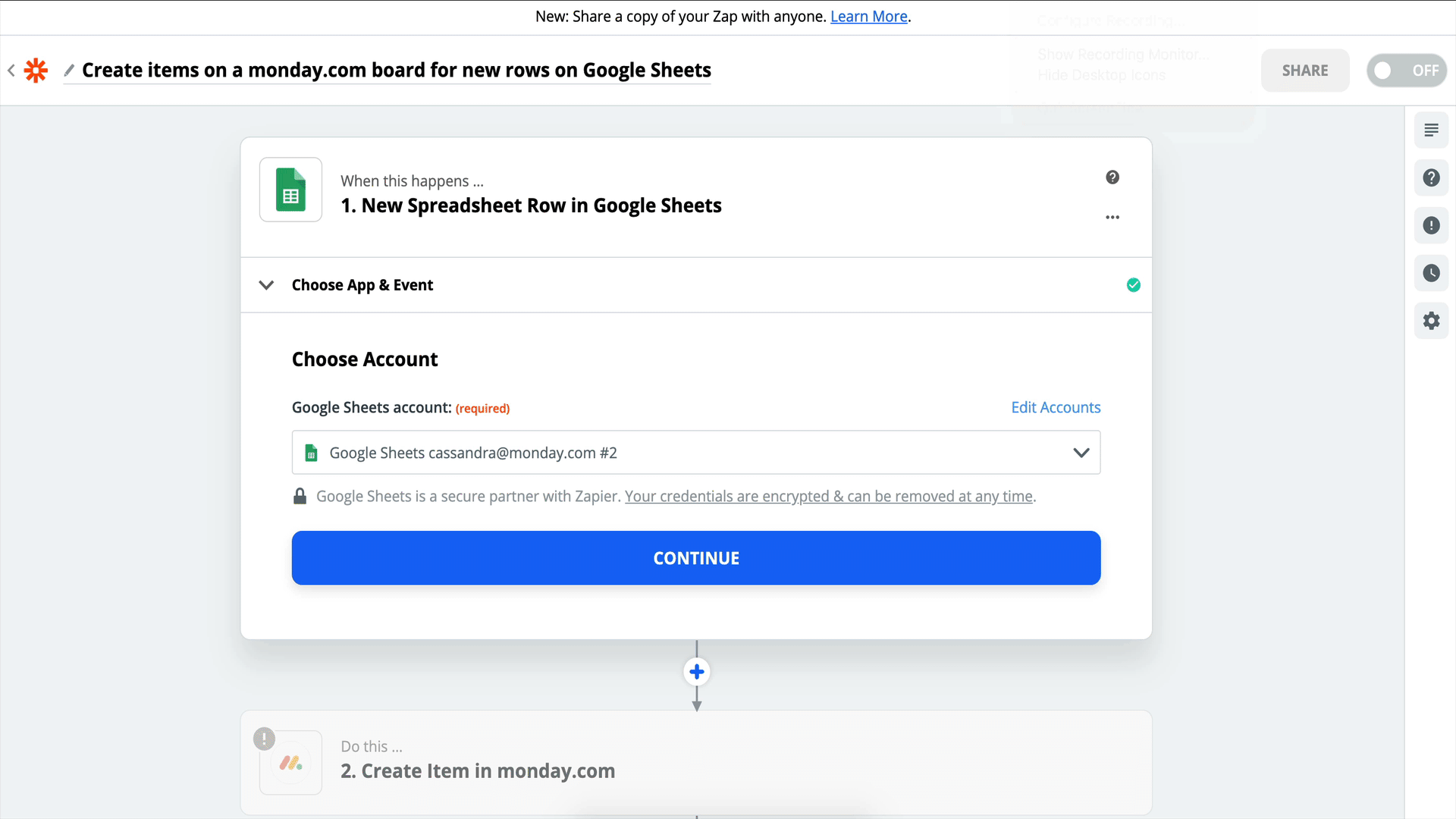 Once you've confirmed that the correct data was pulled for your trigger, you can select the blue "Continue" button.
We can now move on to setting up our action!
Step 2: Edit your action
After selecting "Continue" at the end of the last step, the first screen you'll see confirms that you want to work with the selected app for your action. In this case, the app we're working with is monday.com! 🎉 And the action event that we want is to create an item in monday.com: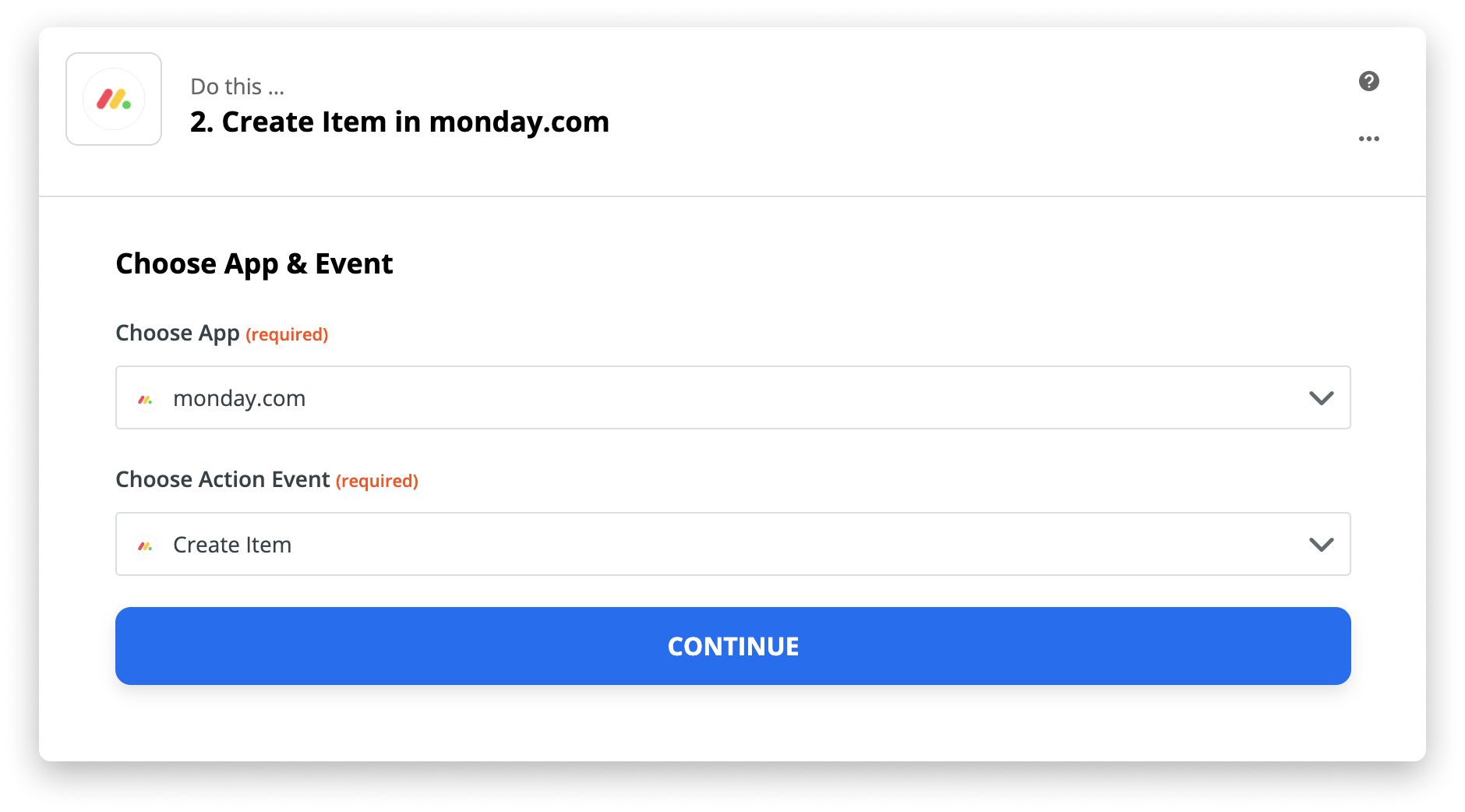 Click the blue "Continue" button once you're satisfied with the selected app and action.
Next, you will need to connect your monday.com account to Zapier. If you haven't already, select "Sign in to monday.com":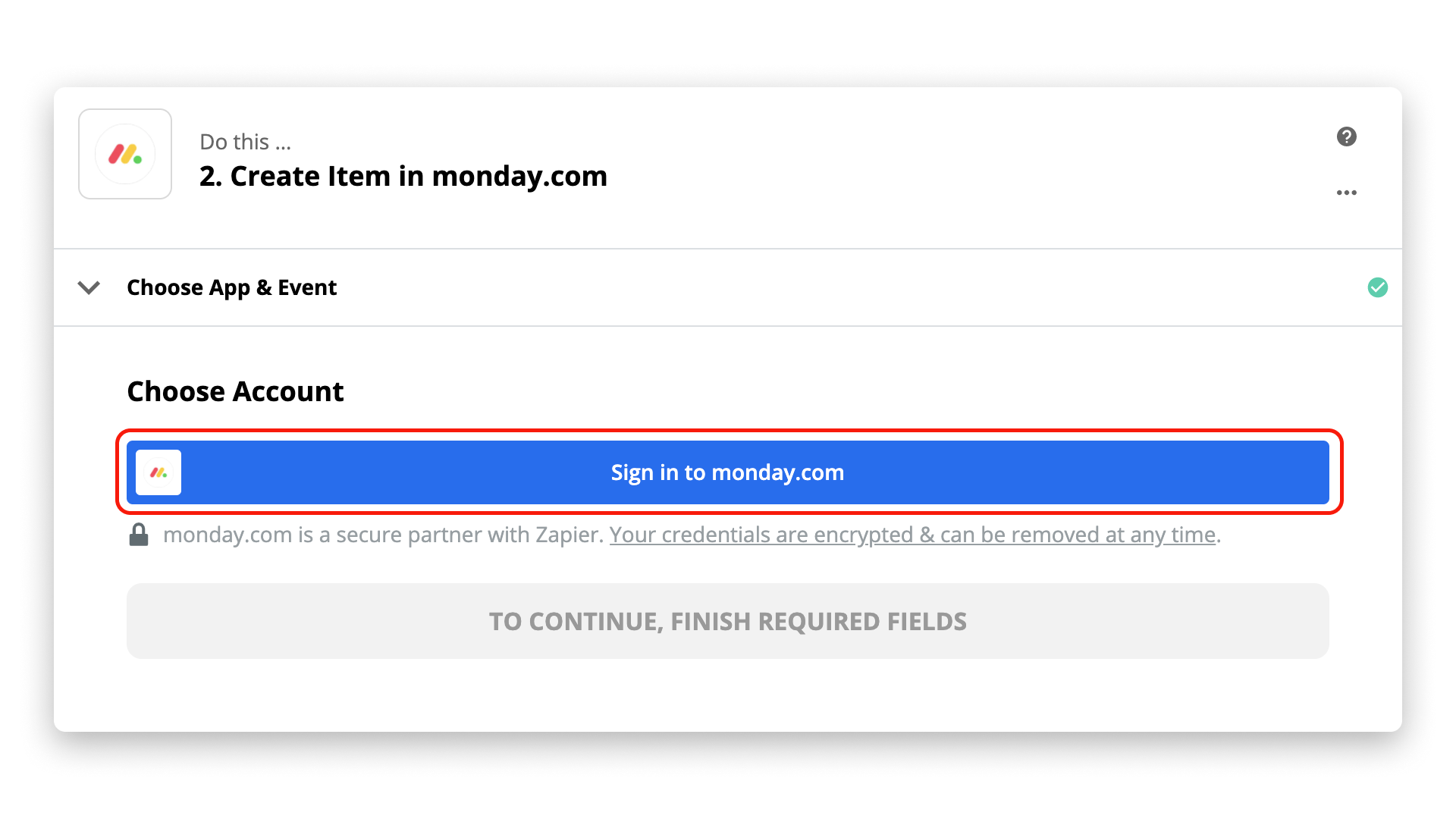 You'll then get a pop up window asking for your monday.com API v2 Token:
To access this token, log in to your monday.com account, select your avatar in the bottom left corner of your screen, and select "Developers":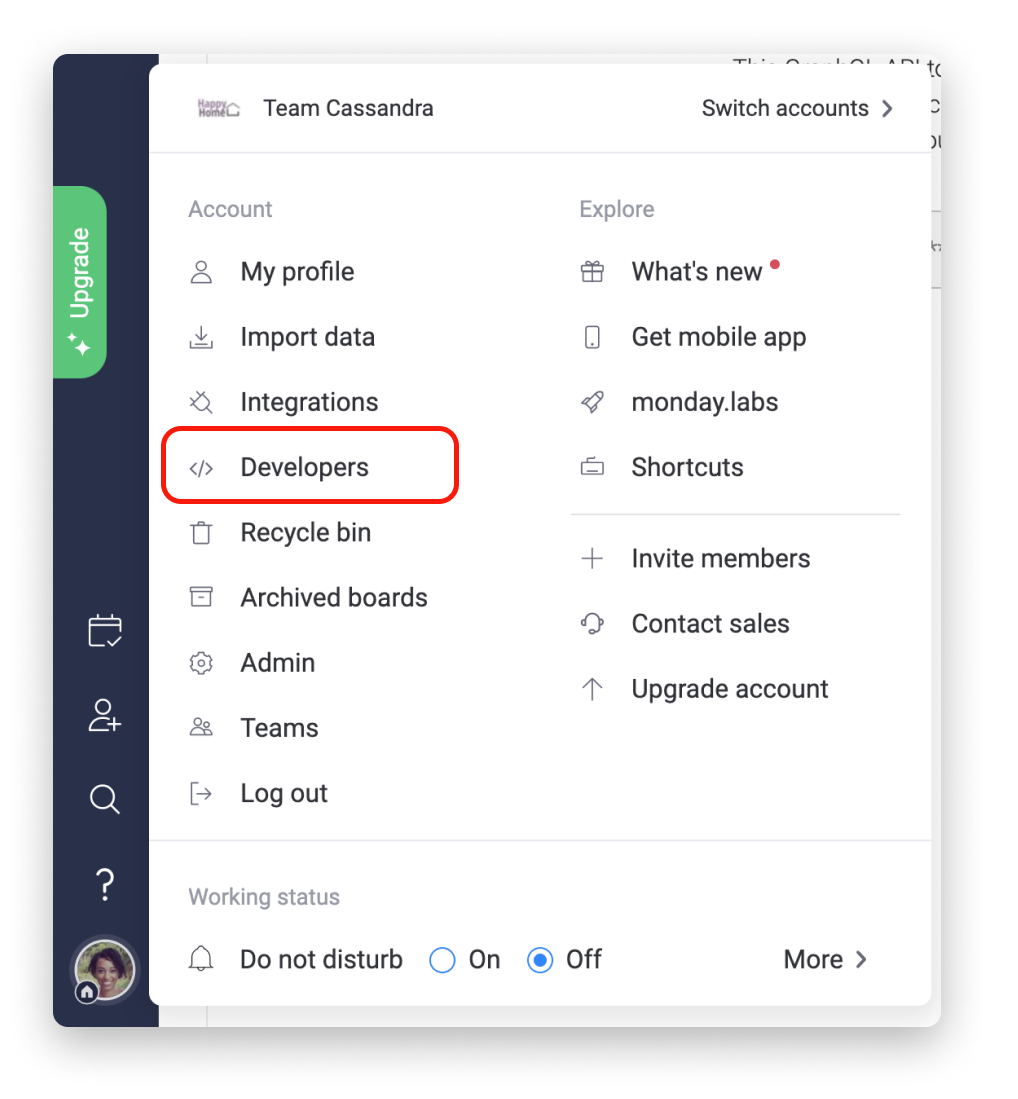 Select "My Tokens" at the top right corner of your screen. Select "Show" and then "Copy". This will copy your API v2 token to your computer's clipboard:
Paste this token into the Zapier pop-up window, and select the orange "Yes, Continue" button:
You've now successfully connected your monday.com account to Zapier! You can select "Continue" to proceed.
Now you'll be instructed to select which board and group you want to create these new items in, as well as what to name the item, and the various column values you'd like to set for this item.

In this example, we'll be taking the "Article Name" column from our Google Sheet and utilizing that as our Item Name:
We'll then take the "Author" column information from that row in our Google Sheet and input that data into a Text Column on the monday.com board. We'll need to do this within a JSON format.
JSON stands for JavaScript Object Notation. JSON is a format used for transporting data. The formatting is different for every column type within monday.com. Find examples of the JSON formatting for our most commonly used column types, check out this article: Zapier JSON Formatting Examples
In the screenshot below, "text" under Column Values is the column ID. This column ID will be different for every single column on your board, regardless of its type. For example, if you have two Text Columns, one ID may be "text" and the other might be "text1". Every Text Column will have a different, unique column ID.
Check out the Number Column IDs in the following screenshot under Column Values to see an example of this.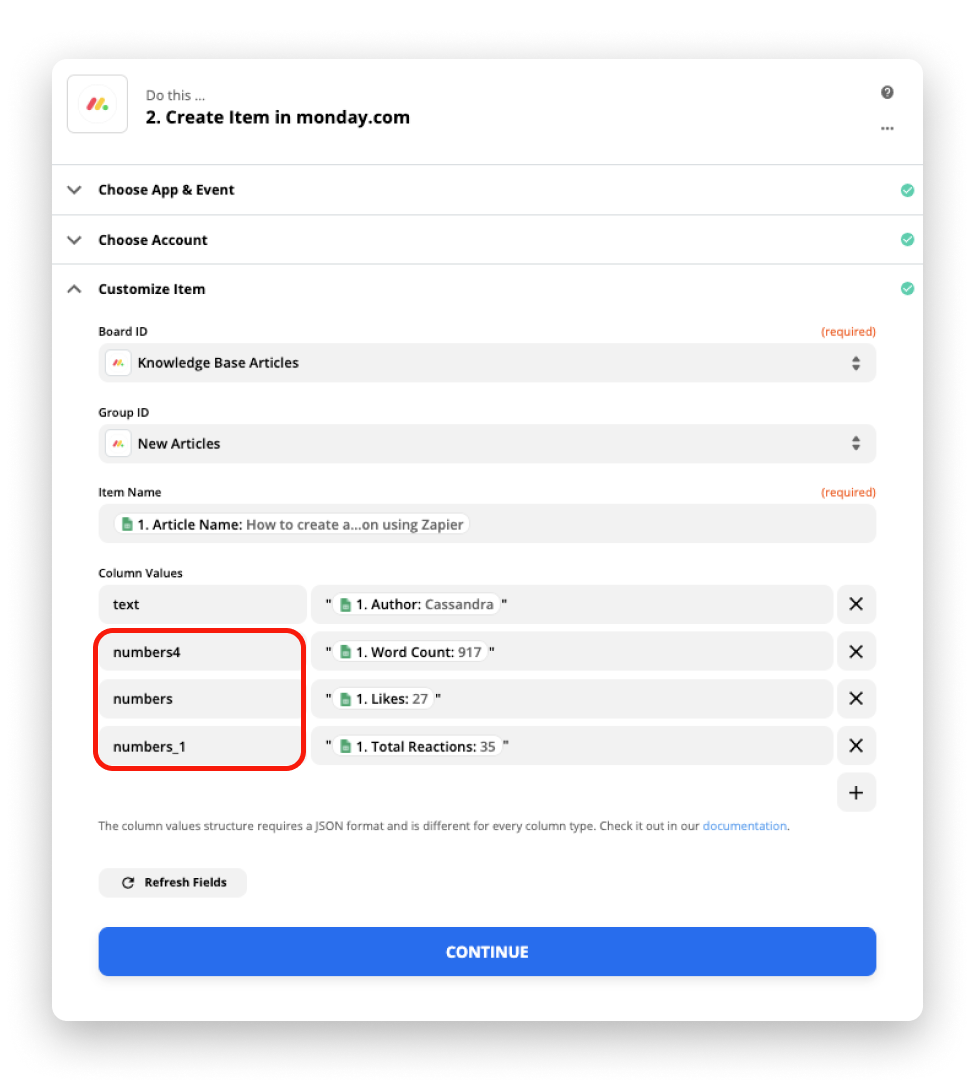 If you click "Continue", this will take you to the "Test & Continue" option. If everything is set up correctly, selecting the "Test & Continue" button should then create an item in your selected monday.com board.
The above set up results in the following item on monday.com:

Woohoo! You've now successfully created a zap that automatically transfers data from Google Sheets to monday.com.
Recently, we at monday.com updated our available Zapier integration to use our new and improved API v2.
Any zaps you set up utilizing monday.com's previously available Zapier app will now have a "legacy" tag. This will not impact them for now. These zaps will still work. Although, in the coming months, we will be deprecating our previous API v1. When this happens, you will need to rebuild these older zaps utilizing our API v2.
All new zaps moving forward will be required to utilize our API v2.
See JSON formatting examples for our most commonly used column types here: Zapier JSON Formatting Examples
If you need help building custom integrations, we also have an option for paid assistance through our network of certified monday.com partners. If you're interested, please fill out this form and someone will be in touch shortly!
If you have any questions, please reach out to our team by using our contact form. We're available 24/7 and happy to help!