At monday.com we believe in the numbers and constantly measure everything: performance, progress, kilograms of almonds eaten this week by the team - anything. And of course we understand how important it is for any business to analyze how you are doing and generate regular reports.
While monday.com doesn't offer traditional automated reporting, it is built so that you could see the big picture at a glance and analyze various aspects of your projects and processes.
So, let's have a look at several examples of what reports we can have and build!
Reporting per User
Part 1: Reports on performance of the team
For example, let's say you want to evaluate the performance of a sales team. This is what your board could look like:
This boards serves for multiple purposes: helps stay on the top of all leads received, track progress, and also analyze the results.
So what kind of reports could be relevant for a sales team?
Amount of money we've earned in each period.  




For this we can use Numbers column & Grouping of the items.


You can create several groups of items: "Bucket" group where you put all the leads, and then when the sales moves forward you drag and drop them to a group of "Won" or "Lost" deals. By using the numbers column you can see how much money has been earned so far in the bottom of the group of items.

How much commission did every sales person earn or will earn.
For this you can use the Formula column from the Column Center:

You can find more information about Formula column and instructions on how to add the formulas here


How effective each salesperson is.
For this you can use Filter function and see how many leads s/he is working on or has already earned for your company
You can also see how many leads each person is working on at the moment in the nice visual Timeline:


 Note:
 T
he Timeline is color coded, so all Active leads in this example are blue, won are green, and red are those deals that were lost.
So, you don't need to have dozens of files about the performance of one team, you can check everything on the spot, it's very visual. And if you really need reporting, you can export the board to Excel through the Hamburger menu: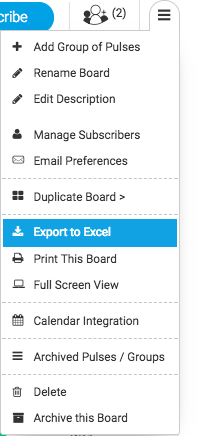 Part 2: Track user's progress in multiple projects
This type of report is relevant, for example, when you are assessing an employee.
In this case Search everything feature comes to action: using it you can search all details on a certain project & combination of key words, i.e. name of the project + status "Working on it" or person's name + status "Working on it" + set Filter by date in the upper right-hand corner like this: 
This way you can see the what tasks the person is currently working on, how many have been completed, and also how loaded it the person at a specific period of time.
High-level reporting - Overview of multiple projects
Running multiple projects at the same time can be overwhelming, and we understand had how hard it is to stay on the top of everything. That's why we've built monday.com this way, so that you could see the big picture at a glance and analyze various aspects of your projects and processes.
Let's imagine that you are working in the event management agency or R&D team - you have a dozen of different projects that usually have the same milestones.
You can create two types of board to track these projects:
Low-level board which you use for a more detailed tracking of the tasks completion like this:

Here you can also track who has made the changes and when using the Activity Log in the upper right-hand corner:
And you can also create a High-level managerial board where you can set and track more general information about the projects: the milestones, if the project is completed in time, who is in charge:
This board will give you a big picture of all the projects and help you stay on the top of everything.
In order to connect the high-level and low-level boards, you can add a Text column to the low-level board, and in each cell you can add a project name. Using Search Everything bar in the top of the screen you can see all the related to the project items in one view, even if they are in different boards:
You can do the similar thing by using Tags - this way you don't need to use Search Everything, but can just click on the tag.
What else should you know about the boards?
To keep your monday.com account the same visual it's important to keep it neat and not overload the boards. That's why don't forget to archive completed items & boards during the project or move them to a separate group of items.
You can archive a board using the Hamburger menu of the board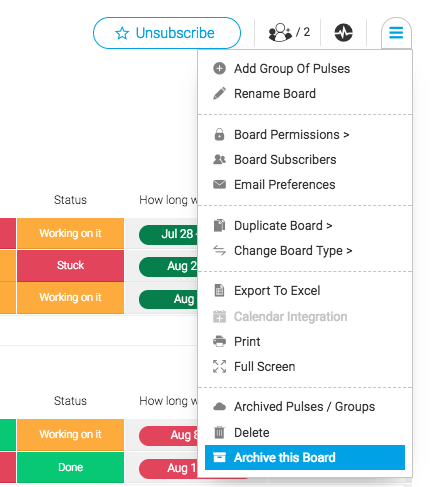 In the end of the project you will be able to restore them for report and analysis purposes from the Archived Boards section:
Tracking User Engagement and Storage Capacity
If you are an admin on your account, you will have access to data regarding engagement for all users as well as the storage data for the account. Here are the options for viewing these stats:
Basic Stats
This page shows a 60-day overview of the number of boards updated, number of people who posted, and number of updates posted. It also shows an overview of storage used so far, people who have been active, and how many boards were created.
Storage Stats
The Storage Stats page shows the amount of storage you have left and the file types that have been uploaded so far. The file types are listed by the amount of space used.  
If you have any further questions please don't hesitate to reach out to us at support@monday.com!