A good organization of your left panel is super important and will help you having a better visibility of all your boards. We have a few tips for you :)
Drag the board to organize them the way you want
Simply click on the board's name and drag it in the order of your choice. For example, you can sort your boards in alphabetical order.
Use the folders to store your different boards.
A folder is a way to group and organize all of your boards so that your account can stay neat and clean.
You can create folders per department, per projects, per month, anything you need.
To create a new folder, click the "+ New" sign on the left sidebar, select "New Folder," and type in a folder name. Folders show in the left panel with a little folder icon next to their names.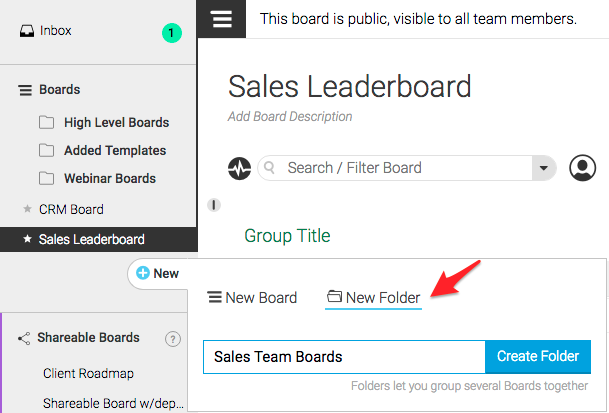 Once your folder is created, you just need to click on the board you want to add to it and drag it under the name of the folder of choice.
Put your high level boards on the top
If you are using a high level overview board or a "company's goals" board, we recommend you to put them at the top of you boards list to make them more visible to all your team members.
If you have any further questions about the organization of your boards, please feel free to reach out our customer success team right here.
We are here 24/7 and we would be happy to assist :)