The Checklist is really handy when you want to break down a task or an actionable item in to smaller tasks. This article explains how to create a checklist and all cool things you can do with it.
 How to create a Checklist?
Open the item page, 'Update' section, by clicking on the item title
Click into the text field
Select the , on the right of the text tool bar
Start adding to your Checklist and then click on "Update" to save.
How does it work?
To mark your Checklist items as complete, click the circle to the left of the list item. This will check the circle and mark it green for complete. It will also cross the list item off as well. 
You can easily edit your checklist at anytime by clicking the drop down arrow at the top right of the update and select "edit update." 
Lastly, when you have created a checklist in an item update, you will receive this little indicator next to the name of the item letting you know it's there.  
When should I use checklists?
You're almost a checklist monster! Let's now dive into when you should use checklist. Below are a couple examples of what you can do with checklists.
List items needed to start a task.
Let's say you would like to bake a cake. You need to make sure you have everything you need before you can start. You can use the checklist to add a list of all the ingredients you will need, such as flour, sugar, water, eggs, etc.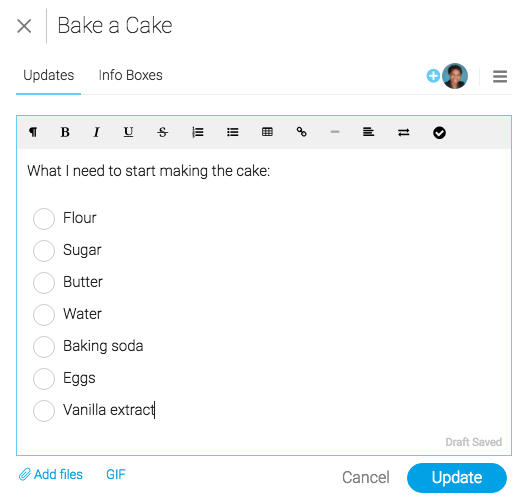 Check related information (from other items/boards).
Let's say you have a number of items you should check on before starting this one. Perhaps you need to make sure that your team members have completed certain tasks before you start yours. In this case, check to make sure that Team Member 1 bought the ingredients and that Team Member 2 took a headcount so you know how big the cake needs to be.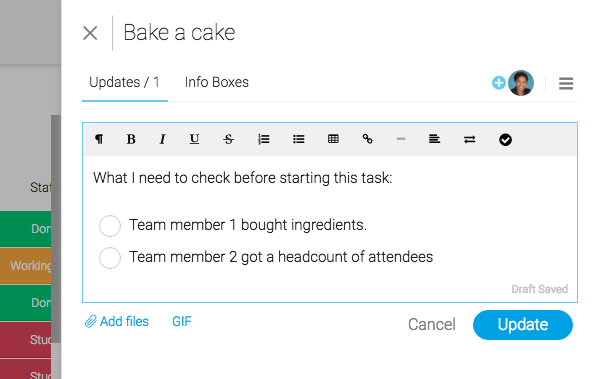 If the items you are referencing are on different boards, it might be helpful to include the URL to the related item, as shown below.
 Tip:
Learn more about our philosophy on Checklists vs Subtasks
here on our blog
.
If you have any questions about this or anything else, feel free to reach out to our customer success team at [email protected] :)