Follow these simple steps:
1. Open the Shareable Board that you'd like to add guests to: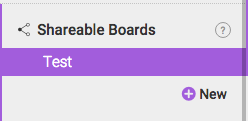 2. Click the Sharable Board and click on either Company Members OR Guests.

3. It will open up to adding Company Subscribers and Guests, type in the email of the guest that you'd like to add.
4. The guest will only see the board that he/she has been invited to once they have accepted the invitation. Click here to find out what your guests can see and do on a shareable board.