Hooray! monday.com now has checklists! But we all know that using checklists to create subtasks kills productivity, so when should you use checklists instead?
Here are some examples of when to use checklists:
List items needed to start a task.
Let's say you would like to bake a cake. You need to make sure you have everything you need before you can start that task. You can use the checklist feature to add a list of all the ingredient you will need, such as flour, sugar, water, eggs, etc.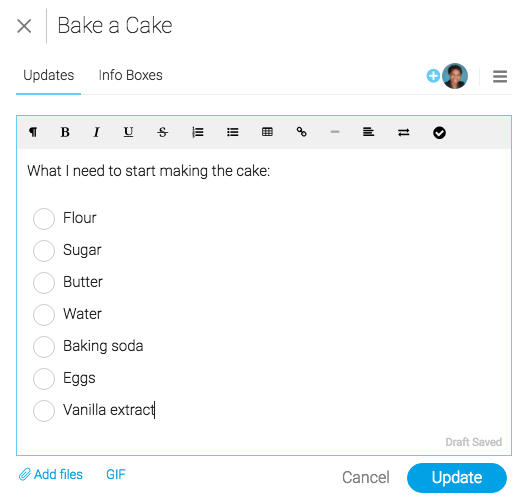 Check related information (from other pulses/boards).
Let's say I have a number of other pulses I should check on before starting this one.
Perhaps I need to make sure that my team members have completed certain tasks before I start mine. In this case, I am checking to make sure that Team Member 1 bought the ingredients and that Team Member 2 took a headcount so I know how big the cake needs to be.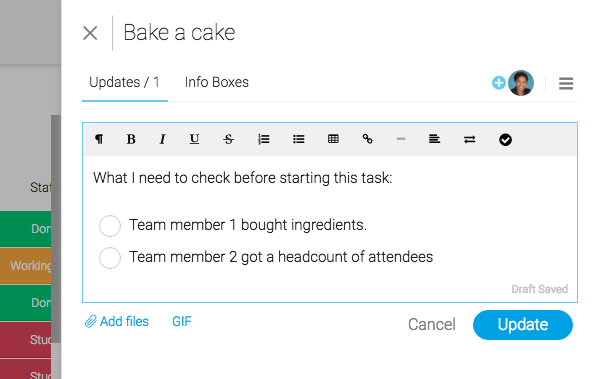 If the pulses you are referencing are on different boards, it might be helpful to include the  URL's to those related pulses, as shown below.
These are a couple examples of what you can do with checklists. If you have suggestions to add to this list, or any feedback, please leave a comment below!

You can also reach out to our customer support team at any time. We're here 24/7 to help :)