The Timeline is the view that allows to see all your tasks in one view that shows where these tasks are being worked on. It's just like the Gantt chart, but more beautiful!
 Note:
 The Timeline feature is available on the Standard plan and up. For more information, please check out
our pricing page
.
How to add it?
All you need to do is add Timeline column by clicking the '+' sign on the right of a group of pulses to add a 'Timeline' column to your board.  Once you have done that, you will be able to click into a timeline cell and a calendar view will pop up.  From there, you are able to select your Start and End date.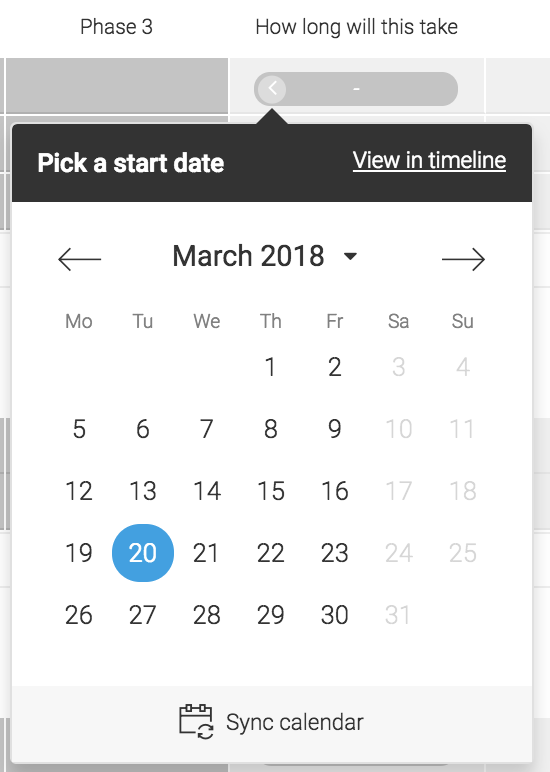 You can also open the Timeline view by clicking on Add board view button in the upper right-hand corner and choose the Timeline as below:
Once you have set up your Start and End dates, you are able to click into any Timeline cell to open up the Timeline View.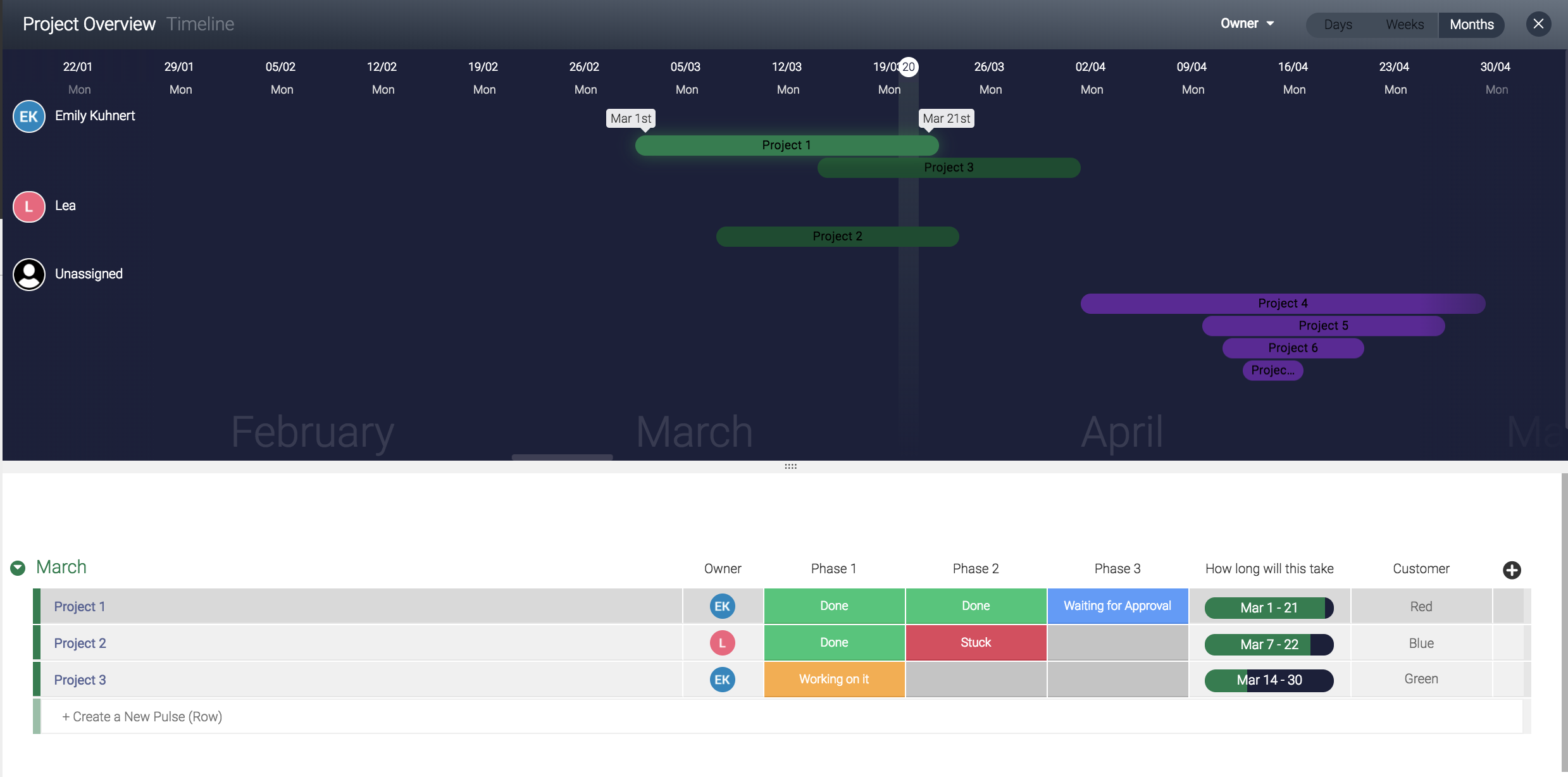 Note:
 We currently do not have a Timeline in hours or years, but this might be something we will implement in the future! :)
Visually manage your tasks
The timeline is really great when you have a project or tasks that span over multiple days. It allows you to get a visual representation of your projects, so you can see who is working on what,  and when it's expected to be completed. 
Let's say you have several large projects scheduled for this month. Your team is already working on these projects, some are yet to start or have been delayed due to unexpected circumstances.  You have created a high-level overview board so you are able to see all scheduled projects, and it looks like this: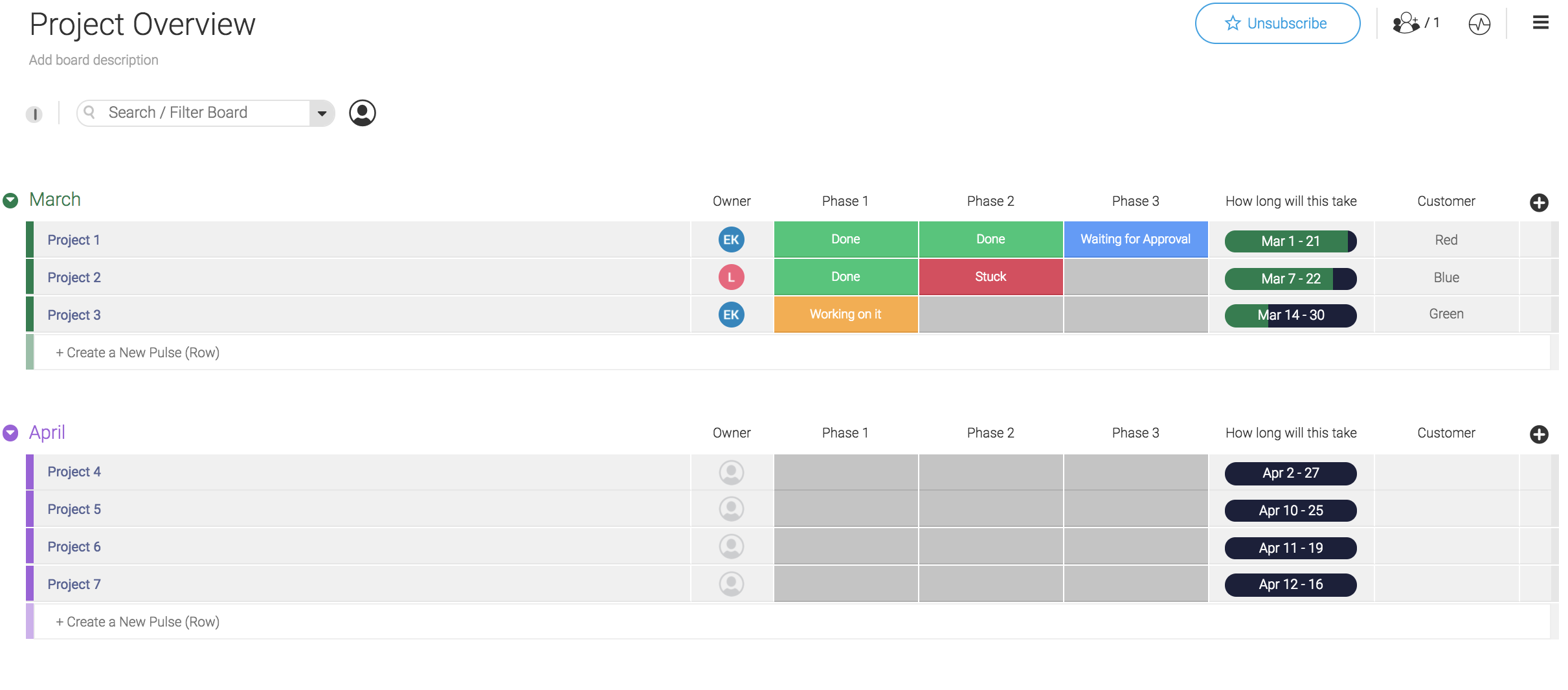 As you can see, you are able to see which phase each project is in, but it is a little bit harder to see how much time the project is actually taking, especially if there are any delays.  
This is when the timeline view steps in: once you have set up your Start and End dates, you are able to click into any Timeline cell to open up the Timeline View.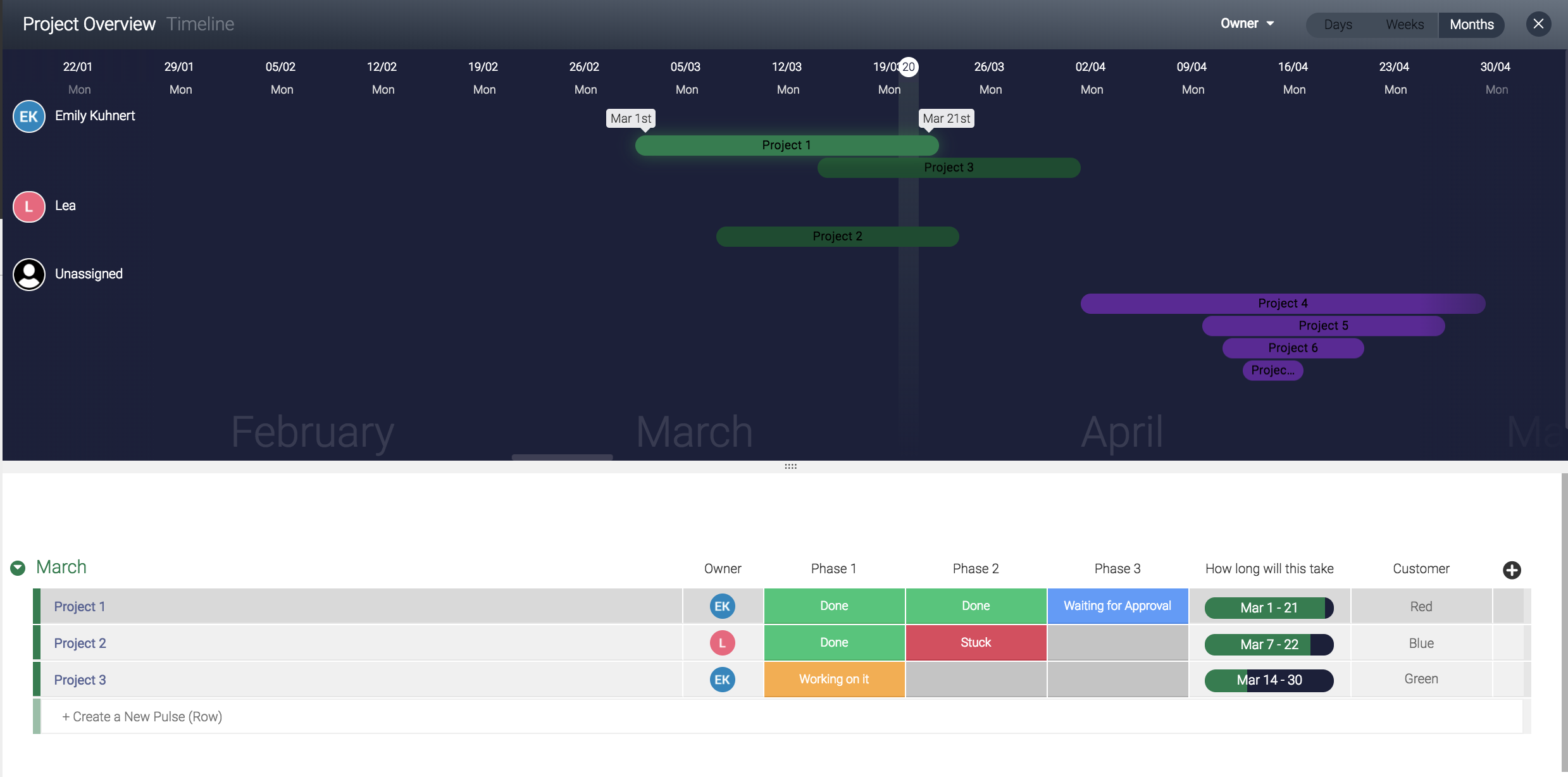 If the dates in the Timeline change due to a delay, you can adjust the Timeline quickly by simply dragging and dropping the timeline bars like this: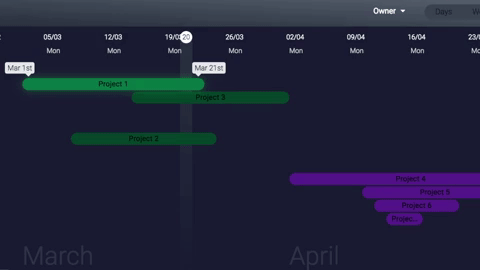 Visually manage your resources
The Timeline is helpful to control the workload of your team. Imagine this situation: your long-term client is begging you to squeeze in one more job this month. You are not sure if you will have enough time or capacity to work on this project, but don't want to say "no" to a valued customer! You are able to see your teams workload and decide whether or not your team can handle one more project.   
By filtering display by person you can see exactly what each team member is currently working on as well as what's their workload for the next couple of months.
Also, the Timeline is color coded! As you can see, the color displayed in the Timeline view corresponds with the color of the group of pulses it came from.
Shift your timeline by "X" days
Imagine that you have a workflow board with a timeline column. Each pulse is a task, and its timeline begins when the previous task's timeline ends. You finish all your tasks on time, but now your manager adds an unexpected offsite day. You will need to move each pulse's timeline begin and end date by one day...
Not anymore! Now you can select the pulses you want, and shift all their timelines by how many days you want.  
Get Alert reminders when a task is due
The best part about the Timeline is that you can also sync it with your calendar, here's how! You can also set up the deadline mode on your timeline to receive alert notifications. Check out this article to learn more about the deadline mode. 
How to remove the Timeline from the board views?
To remove the timeline from the views, open the timeline and click on its title located on the upper right of the view. Click on the bin icon and you are done!

Can I print or export the timeline?
Yes you can! Your timeline can be exported to Excel. Check out this article to learn more about it. 
Want to see how other users used the timeline in their workflow?                                     Visit https://monday.com/stories/ to find real stories from our users through a variety of categories, explaining how monday.com helps them to set their goals and improve their teamwork.
If you have any other questions about the Timeline, feel free to reach out to us at Support@monday.com!