Have you ever been in a situation when you have multiple things happening at the same time and struggle to stay on the top of everything, despite all the updates you are receiving from the colleagues?
We feel your pain! And for this reason, we created the Timeline – the most visual tool that gives you power over your projects. It's similar to the Gantt chart, but prettier 🙃 
Now, let's look into several examples of how you can use the Timeline.
Let's say, you have several large projects scheduled for this month. Your team is already working on these projects, some are yet to start or being delayed due to unexpected circumstances, and your high-level overview board looks like this:  

While with the phases you understand visually where the things are, with all the last-minute changes and delays it's hard to understand how much time each project takes de facto and when it's happening.
This is when the timeline steps in. All you need to do is add Timeline column and set the dates when the project starts and ends. All the rest is already in the board, you don't need to add anything else!


And if the dates change due to a delay (which is common thing in real life) – you can adjust the Timeline quickly by simply dragging & dropping the timeline bars like this: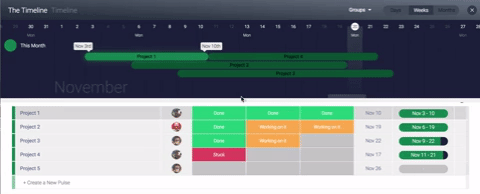 The Timeline also helps you to control the workload of your team: by filtering display by person you can see exactly what each team member is currently working on as well as what's their workload for the next couple of months.
The Timeline is color coded: all pulses are displayed in the same color as the group of pulses they belong to. In our example, all the projects happening this month are green, and all the projects scheduled for the next month are yellow, so it's very easy to understand at a glance what's happening when:
The Timeline is also helpful to control the workload of your team. Imagine a situation: your long-term client is begging you to squeeze one more job this month. You are not sure if you will have enough time and capacity to work on this project, but don't want to say "no" to a valued client.
The Timeline allows you to plan your time accurately and give your client a realistic timeframe of when you can work on this project.
And the best part about the Timeline is that you can also sync it with your calendar! Here is how.
Why would you need it you ask? Firstly, this allows you see events from multiple boards in one place. And secondly, if an important personal event (i.e., a birthday of your significant one) is on the same day as a project launch, with this sync you will be able to arrange leaving early on that day in advance.