While there isn't a calendar view in the traditional sense, we have a few suggestions that could work for you, depending on what you are trying to do!
I want to see all of the pulses from my board on a monthly calendar view.
Luckily, we have a way to sync all the due dates from a board to a Google calendar or other calendar app! Just follow these steps:
Once you have created your board, you can click the plus sign on the right of a group of pulses to add a Date column to your board.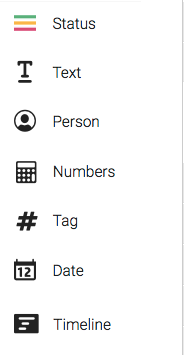 Next, click into a box under the Date column to add a due date for a pulse, and a calendar will appear
**NOTE: Each date column box cannot have more than one date, but you can use the Timeline feature instead.
**You can set the first day of week to Sunday or Monday. Here's how :)
I want to see all of the tasks/projects for my team across all boards in one place.
Here is an article that can help you do this! :)
I want to see a timeline for a group of tasks/projects.
We also have an article for this one here! :D
If you want to see a calendar view for a reason that is not listed here, please feel free to send an email to support@monday.com. We're here 24/7, and we're happy to help! :)