A board is the place where your groups of pulses are held. It's a virtual whiteboard where projects are stored as a way to keep track of everything from everyday tasks to month/year long projects... but so much better!
Here's an example of a board with multiple groups of pulses :)
To create a new board, just go to your left sidebar, click "+ New" and select "New Board." Then type in a name and click "Create Board."
Once you create a board, you will see it in the list on your left sidebar, as shown below.
A folder is simply a storage space for boards. Folders make it easy to organize all of your boards so that your account can stay neat and clean.
To create a new folder, click the "+ New" sign on the left sidebar, select "New Folder," and type in a folder name. Folders show in the left sidebar with a little folder icon next to their names.
To add boards to a folder, you need to create the board first, then you can click on board in the left sidebar and drag and drop it under the name of the folder you want to place it in. You can always expand or collapse a folder by clicking on the folder icon next to the name of your folder in the left sidebar.
Folders are a great way to keep similar boards together. They are also useful for companies that have a number of different departments. For example, you could create sales, marketing, design, and HR folders, and then drag and drop all the related boards under the corresponding folders :)
Another main difference between a board and a folder is how to delete them. You can easily delete a board and all of its contents through the Hamburger Menu icon (3 lines).
However, to delete a folder, you need to delete or move all of its contents first. Once you have removed all of the boards from the folder, you can delete it by clicking the 'x' next to its name in the left sidebar.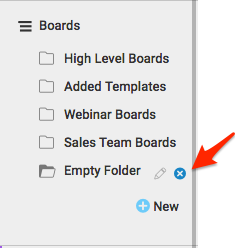 If you have further questions about boards vs folders, please feel free to reach out to our customer success team! We're here 24/7, and we'd be happy to assist :)