While we aren't multilingual yet, what you can do is log onto Google Chrome and it will translate the page for you :) You also are able to write all of your pulses, statuses, notes, etc. in your mother tongue whether that's Spanish, French, Portuguese, German, Hebrew, etc. You can also write from right to left in your update section. Click here to see how. 
We also have an option for paid assistance and training in your own language through our global network of certified monday.com partners. If you are interested, please fill out this form and someone will be in touch shortly. 
Our glossary is currently available in several languages as below:
We are constantly making updates, changes, and introducing new features, but as we perfect the platform more, we will start translating it into other languages :) 
*Good news!*
Our basic webinars are now available in multiple languages. Feel free to check the page https://monday.com/webinars/ to get a recording. 
The Hamburger Menu is also designed with symbols as well to go alongside the commands as seen below so that it's visibly easy to understand.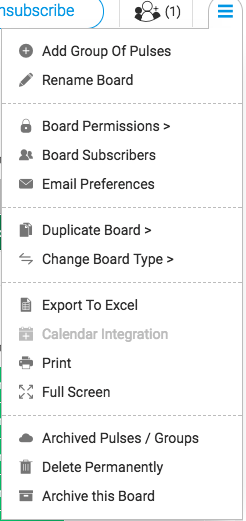 We also have a customer success team speaking French, Spanish, Hebrew and Russian :)
If you have any additional questions please don't hesitate to reach out to us at support@monday.com. We are available 24/7 for any questions you may have.