Everyone loves a great project roadmap - a concise, clear, and simple high level glance at how your project is coming along. With monday.com, you have the ability to create a high level board which will simplify your major milestones at a glance. Use a high level project board for mapping out long term company goals and then keep it updated using status columns to mark your major progress.
Start by creating your board, then listing out all of your company's long term projects. You can organize your projects however you like using groups and pulses. Add a few status columns and you've really got something good here! Rename your status columns to reflect major milestones such as "Design Phase", "Phase 1", "Testing Phase", or "Delivered". Be creative and use the terminology that best suits your business!
See the High Level Project Tracking Board below reflecting two projects with three important high level milestones. You can even level up your high level tracking board by adding a "Text" column and placing a link to a corresponding project board.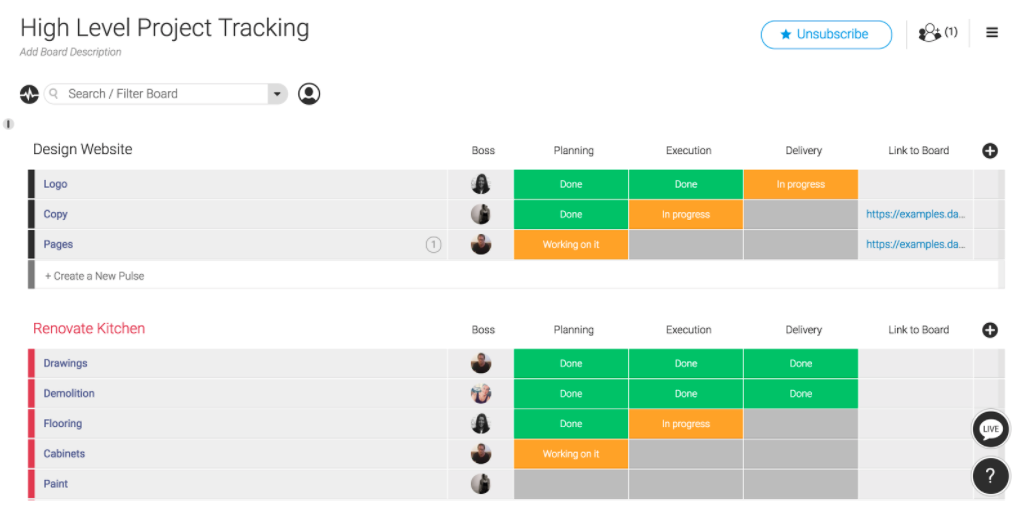 If you are curious to see more, check out this step by step high level board video to walk you through how to best set up your high level tracking boards.
If you're curious about monday.com's roadmap, please contact our support team right here to find out what lies ahead in the near future!