Remember the phrase "We currently don't have this functionality", so no more. 
Let me introduce our brand new automation flow. 
Our Automation allow you to use an event inside
monday.com
 (like the changing of a status) to trigger an action (like sending a notification /email update). This is done by using predefined automation flows which we have created for you to choose from. How does it work? Keep reading to find out. 👇
So how can we set it up?
Step 1: Add it to your board
To add an Automation, go to the board you want to create an Automation for and click on the Automate button, located on the upper right of your screen. 
Once on the page, click on + add automation at the top right as below: 
You will then see a list of available automation flows to use. Right now, we have the option to add notifications sent inside monday.com, or by SMS through Twilio, based on a range of triggers. Pick the automation flow of your choice and click on "Add to board".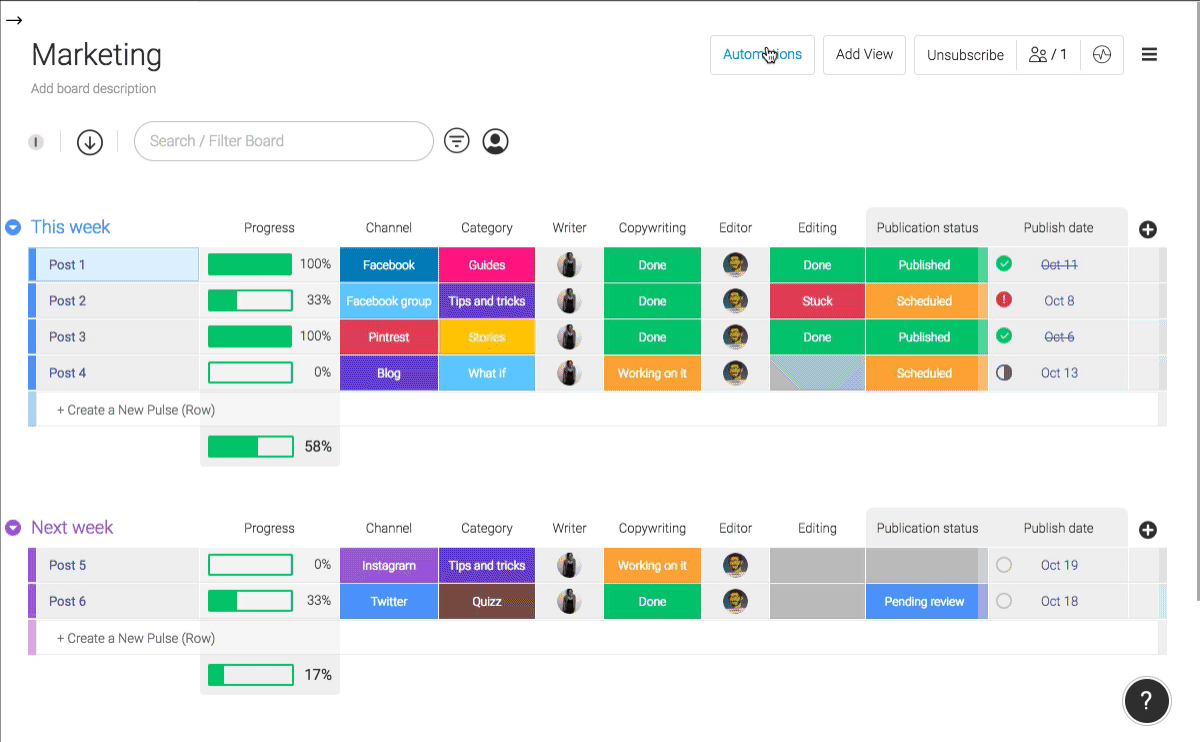 Step 2: Set your parameters
Once you've picked your automation flow, you will need to add your parameters. Anywhere in the flow which is

underlined 

is a parameter. In our example, let's say that whenever the "Copywriting" status column updates to "Done", the associated assignee in the "Editor" person column, will be notified.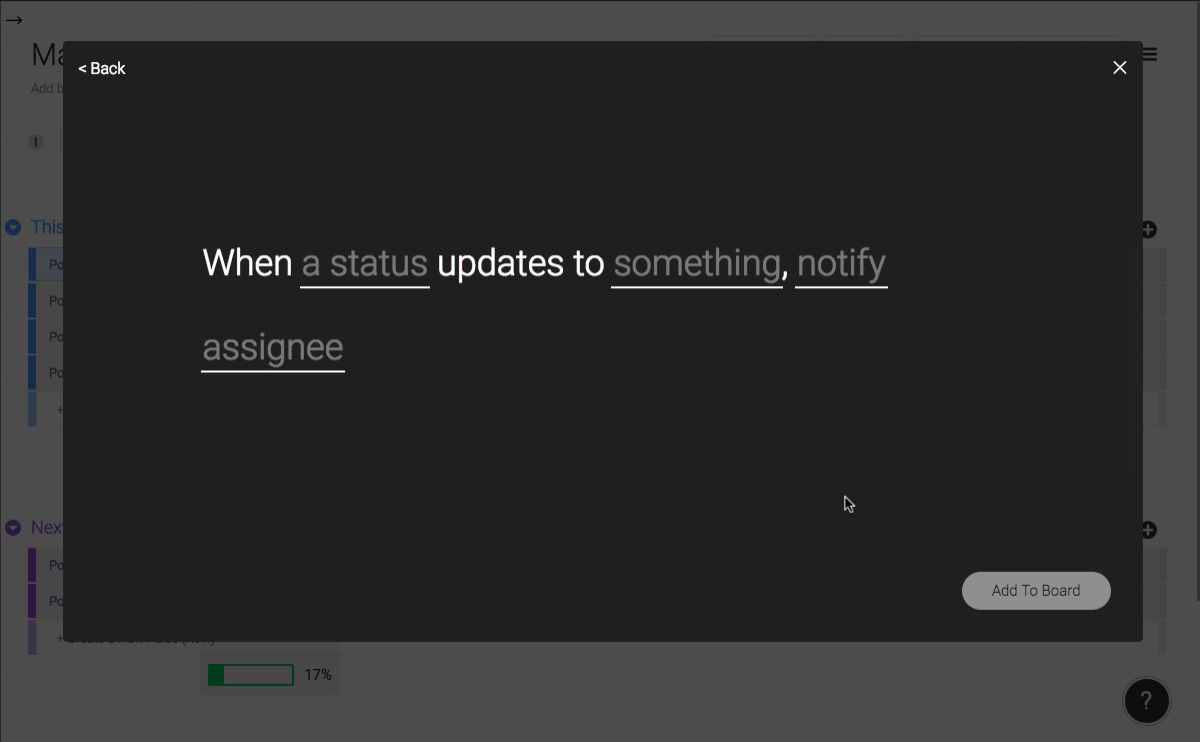 After clicking on the "notify" parameter you should type out what you want your notification to say. Then, for the purpose of this example, select the "Editor" column for the "assignee".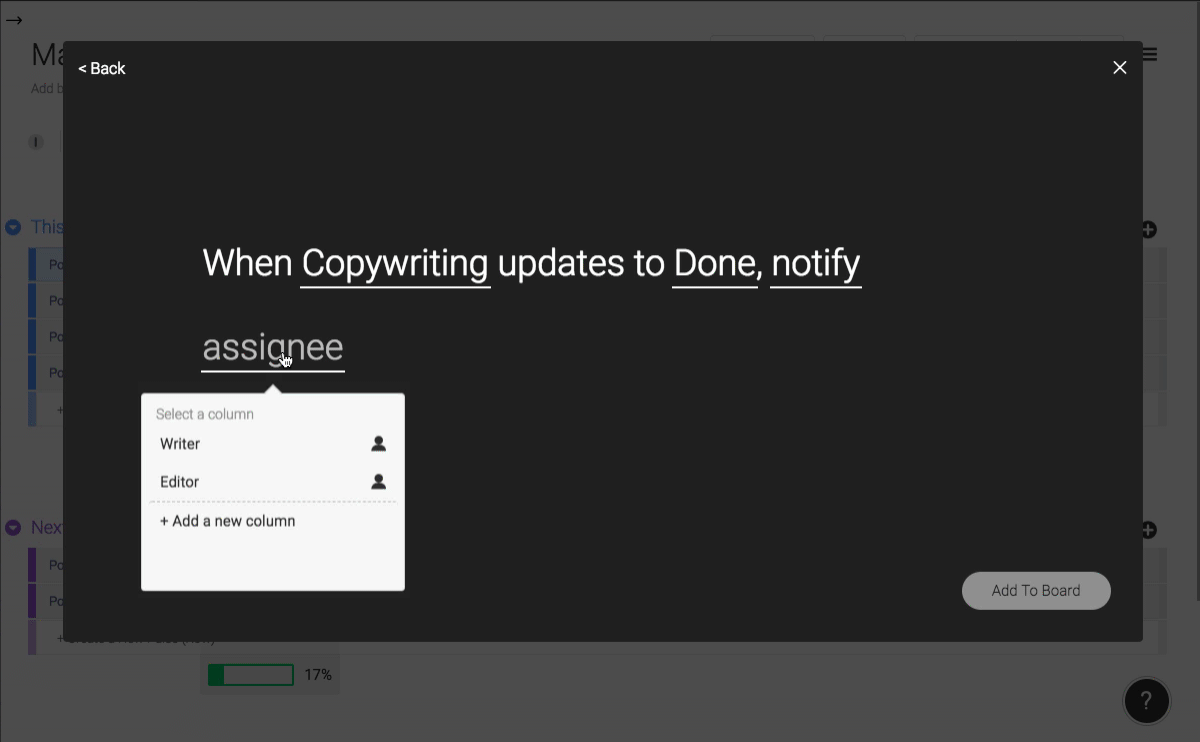 After clicking "Add to Board", the Automation will be turned on.
Now each time the Copywriting status is changed to Done, the person assigned in the Editor column will automatically notify twice : 
1. A notification in the bell icon
2. And via email, as an email update 
What's next :)
Want to know more about our new inside and outside automation we offer?  
Check out our Automation article- here and join the party :) 
If you have any further questions, feel free to reach out to our customer success team at support@monday.com. We are always happy to help :)