Your monday.com boards are made up of groups of pulses. A pulse is an individual row (or line item) in a group. The content of a pulse is totally up to you and will depend on what the board's plan is — from a list of projects to weekly tasks.
How do I add a pulse?
To add a pulse to a board, simply click into the box which says + Create a New Item (pulse) and type what you want the pulse to say.  Then press Enter.
You can also add a pulse below an existing pulse by clicking on the drop-down arrow to the left of the pulse and select "Create new Pulse below".
 Note:
To learn how to add steps under your pulses, check out
our "Checklist" article here
. 
 Note: 
You can also create pulses from your email address. Check out
this article
to learn how. 
How do I delete a pulse?
To delete a pulse, you can simply:
Highlight the pulse you want to remove.
Click the menu button that appears to the left.
And then select Delete. 
If you have accidentally deleted a pulse not to worry! You can restore the pulse within 30 days from the Recycle Bin. You can also archive a pulse instead of deleting it, in case you would like to restore it at any point. 
How do edit a pulse? 
You can edit the name of a pulse (task or project) anytime. Just follow the below:
Hover over pulse title.
Click the "Pencil" image.
Type new title.
Press Enter.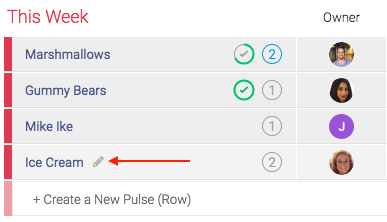 You can also edit several pulses at once by using batch actions. 
How to sort my pulses?
Sorting your pulses is a really easy way to keep yourself organized.  It helps you understand what you have to do in order to get your tasks done. You are able to sort your pulses in two different ways.
Manually drag and drop pulses into the order you want them to be in: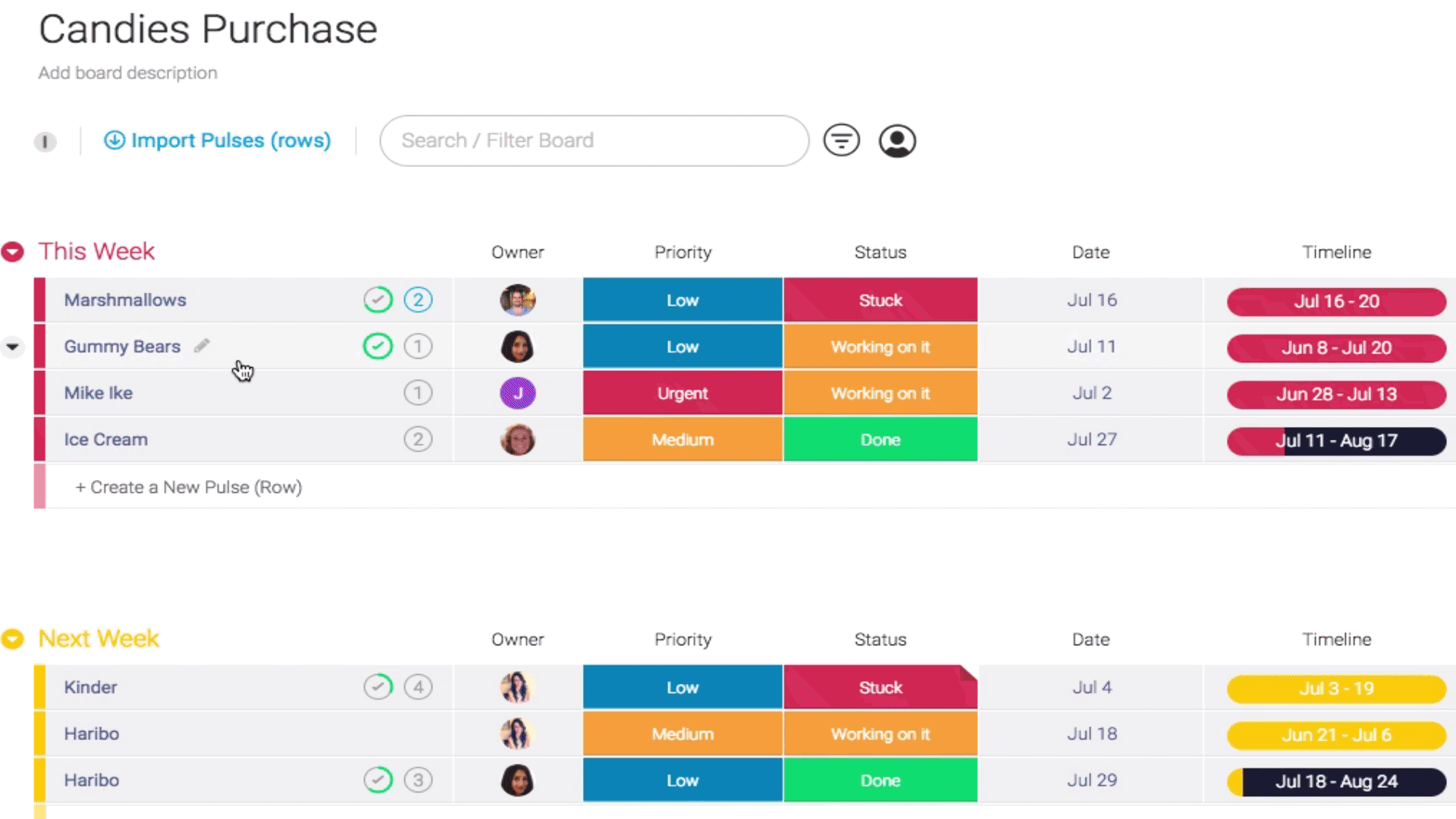 You can also use the sorting option found above each column in each group of pulses. Clicking on the sort button once will sort your pulses one way. Clicking it again will sort them the opposite way.

Once you have sorted a column, you can click on the tick button to the left of the sort button to save the sort. You will see a pop up which will ask you if you want to save the sort for just the specific group you sorted or for the entire board.