A task board, or team task board, is the board to use to manage time and people (although we are not believers in micromanaging). A task board can be used to manage daily and weekly tasks. It also can be used as a simple to-do list as well! Task boards are really helpful for you to keep organized and make sure that you are completing all of the things that you need to get done!
How to build a task board?
Start by creating each group as a week. To add a new group to your board, hover over the title of any existing group and you will see a arrow appearing on the left side. Click it and choose "add group of items".
Step 2: Add your tasks
Once done, you can start adding the tasks that need to be completed in each week. To learn how to add a task, check out this article.
Step 3: Assign your tasks
Utilize the person column or team column to assign tasks to your teammates. Assigning tasks to your team members is a must when it comes to project management. It allows you to visually see who is responsible of what and give ownership of tasks to your team.
Step 4: Start turning things green
Once all your tasks are assigned, you can slowly start turning things green! Use the status column to keep track of the status of each tasks. At monday.com we love green for done! You can add to your board as many columns as you like. Check out our list of column choices right here.
Tada! 😊 This is what a task board should look like: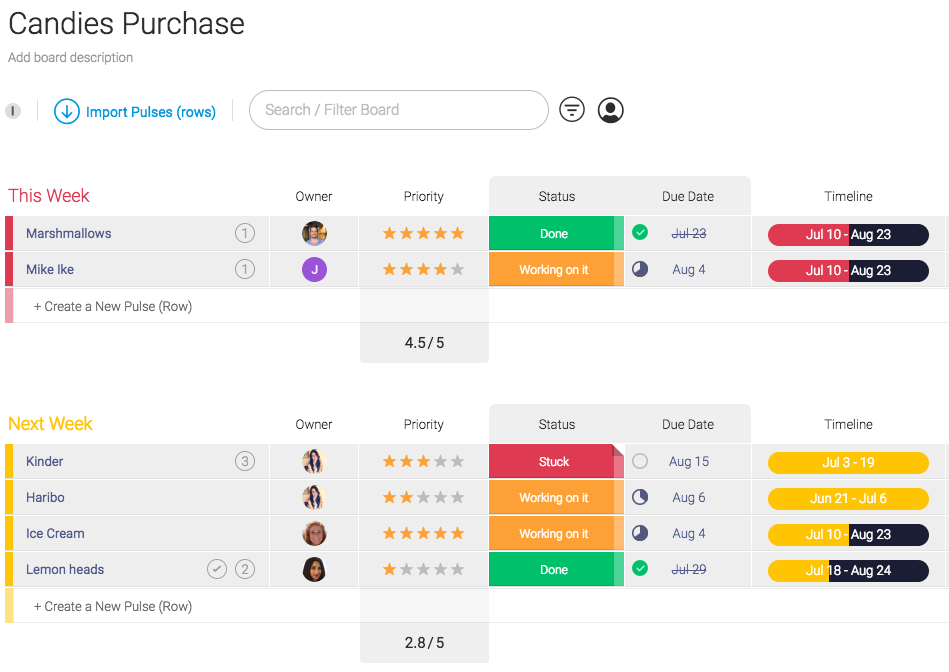 Why are task boards helpful?
The task board should be a board which individuals think realistically about what they need to achieve this week, which is also meant to view a team member's workload.
By having the ability to complete tasks and report this back in a visual task board, you can significantly reduce the need for delegating work and micromanaging. If you're looking to manage processes, click here to learn about High Level Boards.
Tip:
You can add a task board directly from your template list. To learn how to use a template,
check out this article here
.
If you have any further questions please feel free to reach out to us at [email protected]. We are available 24/7 and always happy to help 😊