Creating folders allows your team to keep your boards organized. Folders are a great way to keep similar boards together. They are also useful for companies that have a number of different departments. For example, you could create sales, marketing, design, and HR folders, and then drag and drop all the related boards under the corresponding folders :)
How do I create a folder? 
Simply click the New Tab and then choose New Folder.
With folders, all boards related to one topic can be found inside of them which keeps your monday.com left-hand pane very clean and sleek looking!
The ability to open/close folders is possible so that not all the boards need to be seen, but rather by the folder name. If the folder is open, you have the ability to drag/drop boards into other folders.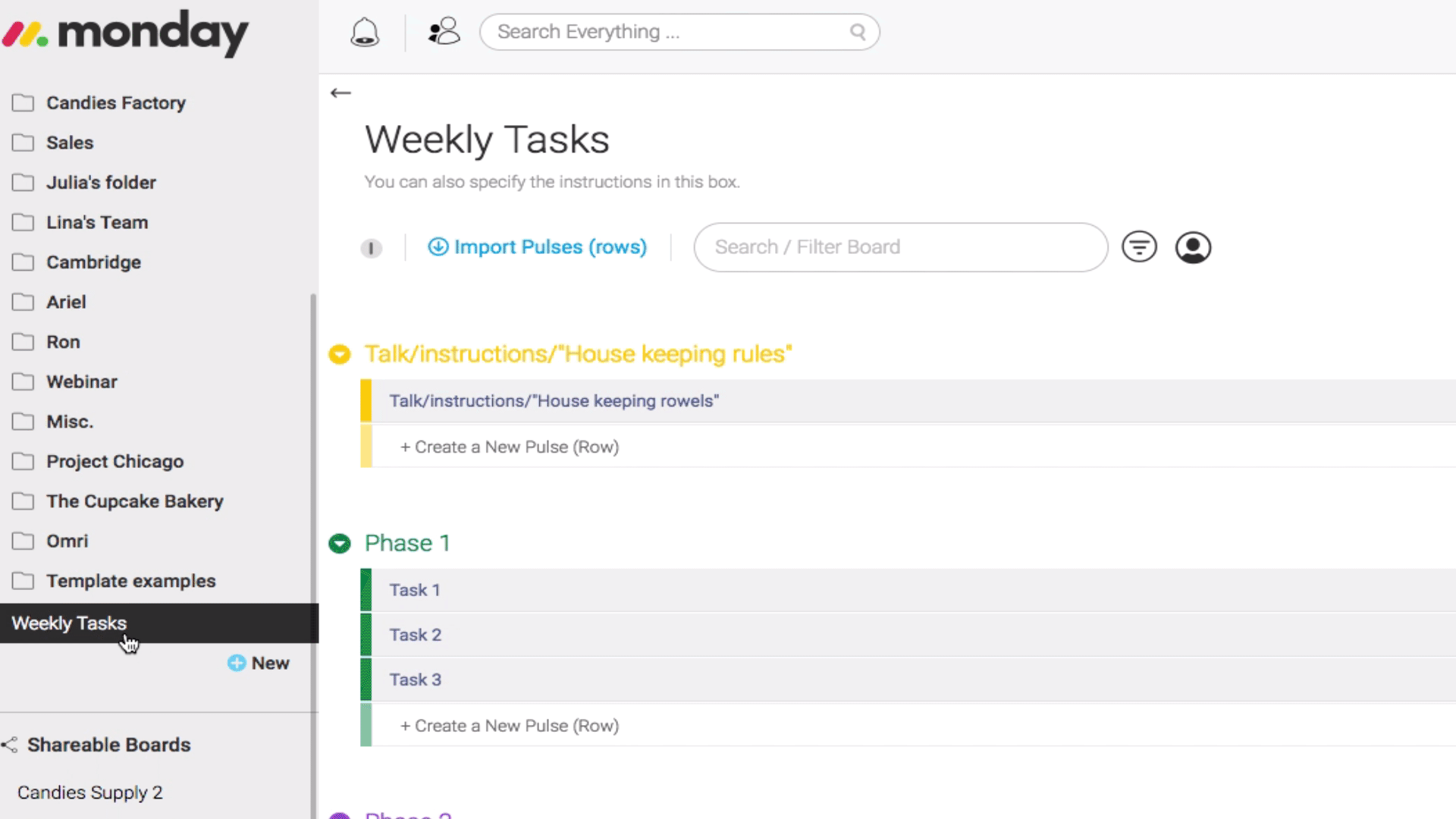 How do I edit or delete a folder? 
Deleting or editing a folder is simple 😊
Hover over the folder that you wish to delete
A pencil and X will appear
Click the X to delete the folder
Click the pencil to edit the folder name
 Note:
To delete a folder, you need to delete or move all of its content first, Once done, you can delete it by clicking the 'x' next to it's name in the left sidebar.
If not, you will receive a notification like this one below. 
What's the difference between boards and folders?
A board is the place where your groups of items are held. It's a virtual whiteboard where projects are stored as a way to keep track of everything from everyday tasks to month/year long projects... but so much better! Check out this article to learn more about boards. 
A folder is simply a storage space for boards. Folders make it easy to organize all of your boards so that your account can stay neat and clean.
To add boards to a folder, you need to create the board first, then you can click on board in the left sidebar and drag and drop it under the name of the folder you want to place it in. You can always expand or collapse a folder by clicking on the folder icon next to the name of your folder in the left sidebar.
Can I share folders?
If you have created a folder within the Shareable boards section, you cannot share it. But, you are able to share all of the boards in your folder and have your team member create their own individual folders! To do this, you will first have to invite your guests and team members to the shareable boards (*note, Shareable boards are only available on the Standard plan and up). 
 Note:
Subfolders are not available in monday.com, but this might be something we implement in the future. 
If you have any questions about best practices on keeping your boards organized using the folders, please don't hesitate to contact support@monday.com :)