Creating folders allows your team to keep your boards organized.  Some ideas of ways you can keep your boards organized is by project, department, client, team member, or any other way you best see fit!  
Simply click the New Tab and then choose New Folder.

With folders, all boards related to one topic can be found inside of them which keeps your monday.com left-hand pane very clean and sleek looking!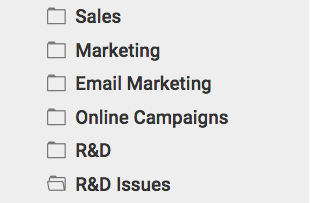 The ability to open/close folders (as seen above) is possible so that not all the boards need to be seen, but rather by the folder name. If the folder is open, you have the ability to drag/drop boards into other folders. 
** Subfolders are not available with monday.com, but it something we are looking in to adding, so stay tuned!
If you have any questions about best practices on keeping your boards organized using the folders, please don't hesitate to contact support@monday.com :)