We all know the saying "you can't teach an old dog new tricks", but this guide will help change that! Get all the tools needed to really get your team engaged with monday.com. This guide is broken down to the key factors in getting the team more involved--learn all the tricks we have to start getting results!
Tip:
You can watch our recorded webinar on how to onboard your team right
here
:)
Ownership & accountability
Providing your team with personal ownership and accountability will always bring success, so how do you do this with monday.com?
Let the team feel like they own their tasks! Assign people to all tasks, projects, to-do's they are responsible for. The person column notifies the team member instantly and is easily visible to everyone within the account. People care more when they know they own a task, it isn't just another to-do to add to the list, but it is hers/his responsibility to execute and complete the task. This drives accountability, everyone can see who is responsible for the task, they are the go-to person for all questions as well as being responsible for executing the task. It is clear who is accountable for any errors, delays, or achievements.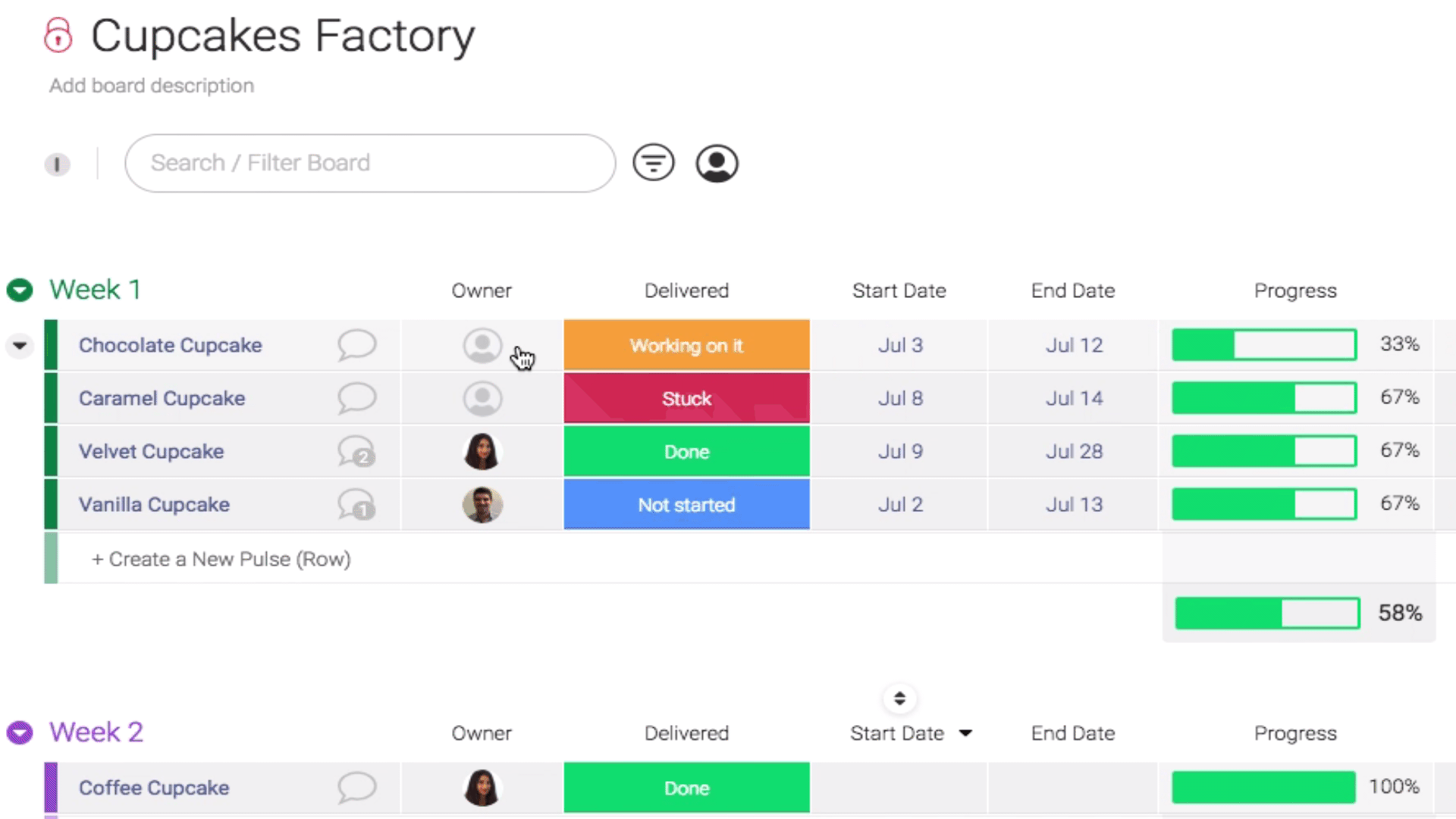 Social proof
This can help bust the emotional connection your team will have towards their work. Today we use social proofing in all our personal lives, you know the dopamine rush, through Facebook shares and Instagram likes, so why not add this into our professional life. Start liking your team's comments with
in the comments section, just like on Facebook, you don't have to say much to give support, just have click "like".
Also, use the updates section to comment within items, it can be constructive criticism or just a small praise. Knowing there are people taking the time to acknowledge one's work helps motivate success. If you find the thread interesting you can always subscribe to the individual item, to never miss an update.
Achievable goals
Build boards that have achievable goals.
Weekly Task Board
Create a weekly task board, make each item a task that can be accomplished within a week time frame. Having tasks broken down into actionable goals, will help the team realistically complete tasks and you will constantly have results. If you haven't already created a Task Board--we have the template for you-- just create a new board and choose the "Team Tasks" template**.
Checklist
Take even one step further with the checklist feature! Use it to break down tasks and projects into smaller "to-do" steps. The checklist sits within an item, in the updates section and can help create structure for each item. List all the steps needed in completing your tasks--this can be created by the board owner or the person assigned to the task. Think of it as guided steps to successfully achieve your goal.
How one fits in the bigger picture
People want to find relevance in their work, so understanding where each team member fits in the big picture can motivate engagement and success.
Timeline
Add the Timeline feature to your boards. The Timeline makes tasks more visual, see when and how long your tasks will take but also see how it fits in the full project. Use the Timeline to evenly distribute tasks but most importantly to allow the team to see what other teammates tasks are dependent on their own. Once people are aware of their role in the big picture, the want to complete their part will be more significant.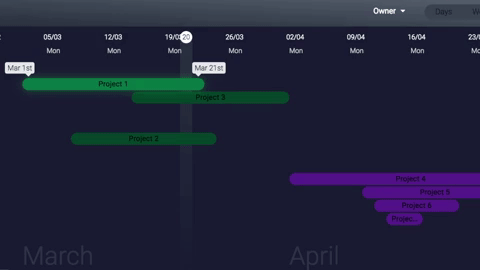 Main Boards
Build boards in the main boards section, encourage transparency. We have proven that transparency increases employee engagement, read more about this here. Having all your boards visible to the full team, allows everyone to see the overall goal for the team--why each project is being worked on, why each task is important and most importantly where they all come together. Transparency will increase the overall happiness of the team and reduce management energy. Say good-bye to the need for micro-managing when peers can encourage and manage each others tasks.
Celebrate success
Work to make success a reason to celebrate.
GIFs
Liven up your comments with GIF's--get a few giggles out of the team, make work just that much more fun. We have an endless variety of gif's but most importantly we also created our own monday.com GIF's, you can make "done" a fun GIF.
Now you have all the tools to get your team more engaged, so get started in monday.com account!
If you have any questions, please reach out to our team by using our contact form. We're available 24/7 and happy to help!